9 Most Expensive Christmas Items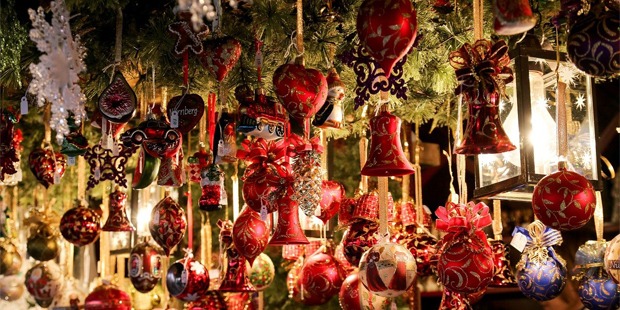 Christmas is a time where families come together and enjoy the festivities of the holiday season. It's also a time where establishments ramp up the spending to showcase lavish and grandiose items. Here are eight of the most expensive Christmas items you can find around the world right now:
1. Swarovski Christmas Stand - $14,000
The majestic Swarovski Christmas stand will make any Christmas tree feel like a thousand bucks. Selling at $14,000, this high-end Christmas stand comes with a gold plate sprinkled with dozens of Swarovski crystals.
2. Henry Cole Christmas Card - $26,000
Christmas cards have apparently lost their way in the advent of technology. Although there are still a few that send out cards, the majority has seemed to move on to more advanced methods when sending the holiday cheer to family and friends. People may no longer send each other colorful hand-written Christmas cards, but the value of these items has actually increased in recent years, especially when it comes to vintage cards sent in the 1800s or early 1900s.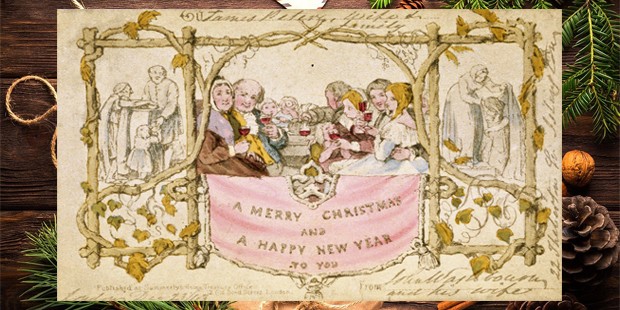 The Christmas card sent by Sir Henry Cole to his grandmother in 1843 may just be the most expensive Christmas card that ever existed. Aside from being an educator and artist, Cole was also the inventor of the Christmas greeting card and many believe that the one he sent this grandmother was one of the first Christmas cards ever made. It was also colored by prominent English illustrator John Calcott Horsley. The vntage and ultra-rare card was sold for £20,000 ($26,000) at an auction in 2001.
3. Gold and Diamond Christmas Bauble - $110,0000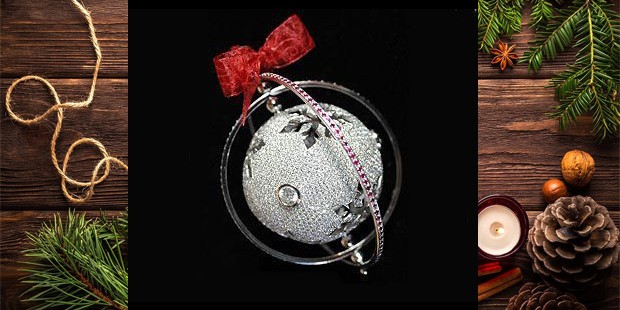 The £82,000 or $110,000 Christmas bauble is the world's most expensive Christmas ornament. Designed by Embee Jewels of London and Hallmark Jewellers, this dazzling holiday ornament is composed of 180-carat white gold, 1,578 diamonds, and three Roman Rub-over set one-carat diamonds. The bauble is also orbited by two gold rings sprinkled with 188 rubies. Designing this expensive Christmas item took more than a year to complete.
4. Diamond-Studded Christmas Star - $950,000
The shining glory of every Christmas tree; the Christmas star is one of the most important decorations of the holiday season. But unfortunately, the star oftentimes takes a back seat to the bright lights and sparkling ornaments. The diamond-studded star designed by London-based 77 Diamonds isn't looking to take a back seat from any Christmas decoration. This luxurious Christmas item valued at $950,000 (£700,000) is made from 281 diamonds as well as a 5-carat diamond ring attached at the star's center.
5. Gold Santa Figurine - $1.6 Million
If Santa Claus was a Christmas present himself, then this $1.6 million gold Santa figure is the perfect representation. Designed by popular Japanese jeweller Ginza Tanaka, this solid gold Christmas figurine stands 18" and is made of 20 kg of solid gold. Who needs Santa when you can buy a golden version of himself for more than $1 million?
6. Takashimaya Department Store Preserved Rose Mini Christmas Tree - $1.8 Million
Christmas trees don't need to stand 12 feet tall to get noticed. Take for example the preserved rose Christmas tree found inside the Takashimaya Department Store in Tokyo. It only measures 40 centimeters (less than 2 feet) but it attracts the attention of every person inside Takashimaya. Small in size but big in value; this mini Christmas tree is made from dozens of preserved roses and has Australian and African-extracted diamonds being encrusted in each petal. The tree is also accompanied by a cute stuffed bear which is as expensive thanks to its diamond-laden necklace. The two figures combined carry a value of around $1. 8 million.
7. Ginza Tanaka Disney Gold Christmas Tree - $4.2 Million
Ginza Tanaka makes a return on this list, but instead of a golden Santa Claus, a golden Christmas tree takes center stage. Similar to the Santa figure, this Christmas tree featuring silhouettes of 50 classic Disney characters is made of pure gold (24-carat to be exact). Ginza Tanaka designed the tree in commemoration of what could have been Walt Disney's 110th birthday. Aside from made of 24-carat gold, this golden Christmas tree weighs 88 pounds and took two months to complete.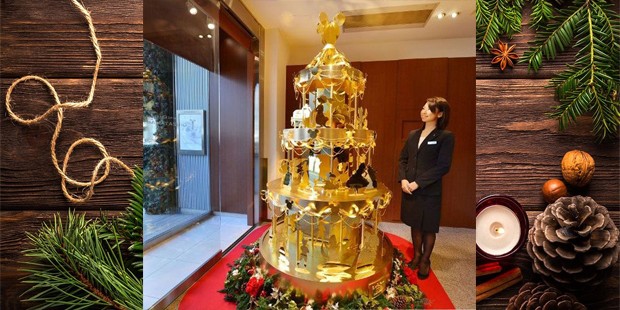 Ginza Tanaka also has another expensive Christmas tree displayed in one of its stores. The tree is made of 12 kg. of solid gold and is valued at around $468,000. The Japanese jeweler definitely doesn't mind going all-in when it comes to Christmas decorations.
8. Diamond Christmas Wreath - $4.6 Million
The second most expensive Christmas item in the world comes in the form of a diamond Christmas wreath. Finnish florist Pasi Jokinen-Carter designed a Christmas wreath made of 40 diamonds and rubies. But instead of ordinary flowers, Carter used some very luxurious ones including Hedera berries, Nobilis, blueberry stems, Helleborus flower heads, and eucalyptus leaves. Naturally, pairing something as luxurious as a diamond with uncommon plants or flowers is a no-brainer. The price tag is as luxurious: $4.6 million.
9. The Emirates Palace Hotel Christmas Tree - $11.4 Million
When it comes to the most expensive Christmas item ever made, the 42-foot (13 meters) Christmas tree inside Abu Dhabi's Emirates Palace Hotel takes the top spot. Abu Dhabi itself has become a city defined by luxury, so it's not surprising that it has built a luxurious and glamorous structure even if it doesn't actually celebrate Christmas.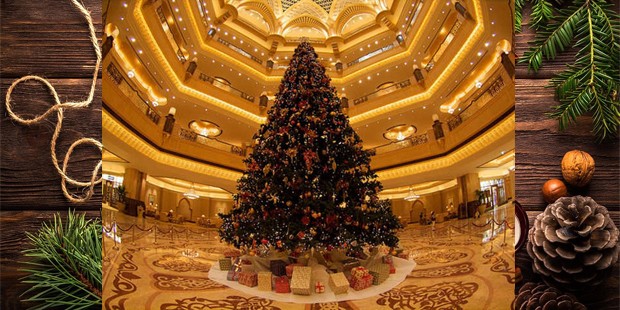 The Emirates Palace Hotel Christmas tree is filled with hundreds of diamonds, gold, pearls, sapphires, and emeralds. On top of that, diamond watches and bracelets are also hung in the tree. If you think that watches and bracelets are questionable decorations, you're absolutely right. But if you're one of the most expensive hotels on the planet with services including selling gold bars to guests and renting out private jets, then you can absolutely do whatever you want with your Christmas tree.
The stuff listed above may be ridiculously expensive but there's no denying that they have also brought joy and amazement to people who have marveled at their mere presence (and billion-dollar price tags of course). Besides, if these expensive items bring out the holiday cheer in some people then there's really nothing wrong with it.
Want to Be Successful?
Learn Secrets from People Who Already Made It
Please enter valid Email