10 Most Expensive Sports Shoes of 2016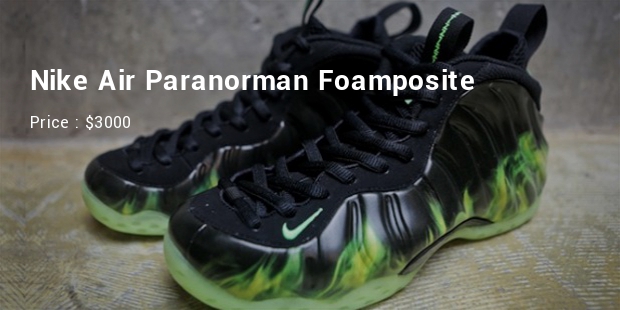 When it comes to shoes, most people have two pairs- one casual which is cheaper and the other is executive or formal which may be priced higher. Expensive formal shoes may not go beyond a few hundred dollars. However, sports shoes are of a different class. They could be priced from a few hundred dollars to a few millions depending on the brand, quality, requirements for the particular sport and purchasing power of the buyer.
Every year, basketball and running shoes top the most expensive charts and 2016 is no exception. You could find an impressive list of those priced above a few thousand dollars to a few millions. You may not get them in the local store as there may be few takers for it. Wouldn't you like to get a list of top 10 sports shoes you can buy online or in shops?
Here are the 10 most expensive sports shoes of 2016
1. Nike Air Jordan Metallic Silver Shoes - Price : $6000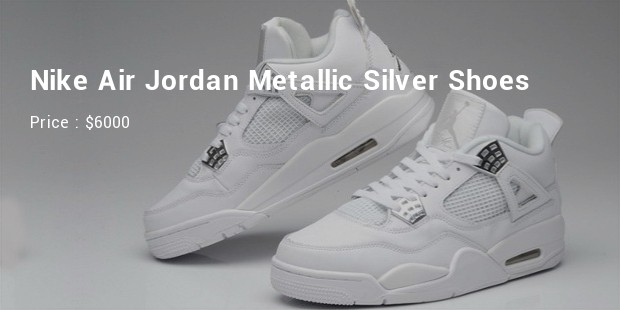 This shoe priced at $6000 is autographed by the legendary American basketball player Michael Jordan himself. Until the arrival of Nike Air Jordan Gold in December, this could be the most expensive sports shoes of 2016.
2. Nike Air Paranorman Foamposite - Price : $3000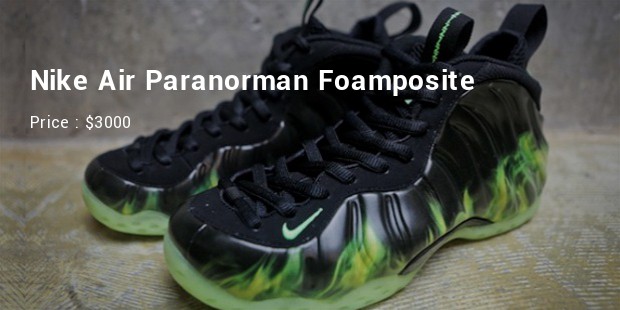 It can be used for running and also for casual wear. Costing $3000 upwards, this is available only on limited edition basis. It has neon soles.
3. Nike Pearl Foamposite Air Hawk Flight - Price : $335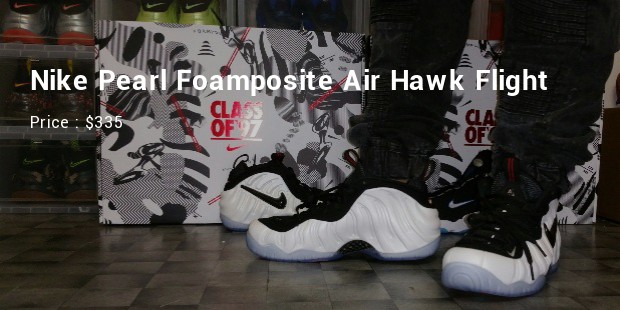 This belongs to the Nike class of 1997 and its soles are neonish blue. It costs $335.
4. Puma Evospeed 1.3 F947 - Price : $500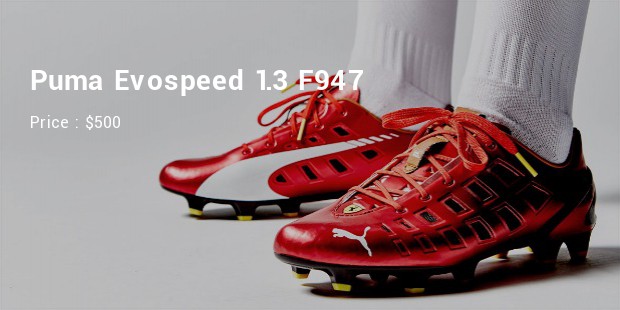 It costs $500 and its streamlined looks make it attractive. It was inspired by Scuderia Ferari and admired by soccer lovers. It is good for athletes or just any sports professional as it belongs to the high-performance category. The color is Corsa Red.
5. Nike Mercurial Superfly SG - Price : $325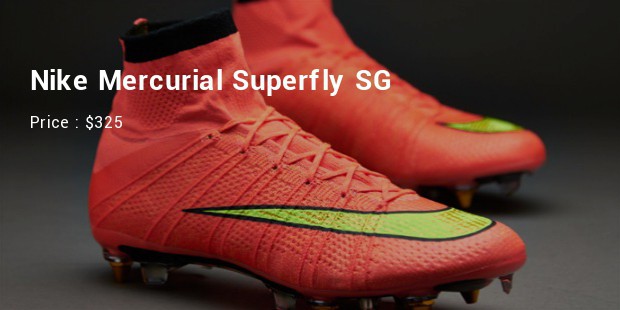 It is good for running with a good grip. It costs $325 and is a favorite of professionals. It is ideal for use in both dry and wet surfaces, is light weight and powered by ACC technology. Flywire Cables, Dynamic Foot collar Flyknit Uppers enable better grip.
6. Nike Obistra Obra SG-Pro ID - Price : $315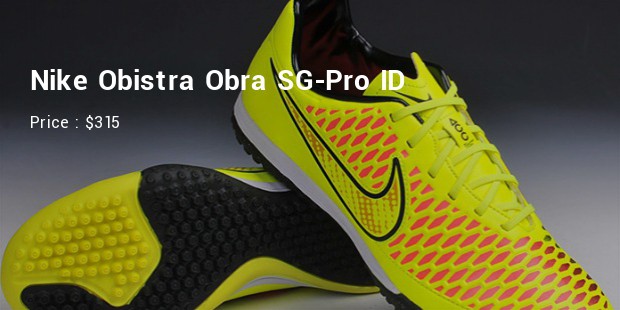 It is good for soccer players and quite comfortable for dribbling. A variety of colors to choose from and unequalled traction are its attractions. Nike Flynit is used to make uppers and has a dynamic fit collar. It is priced at $315 but is worth the money.
7. Nike HyperVenom Phantom II - Price : $300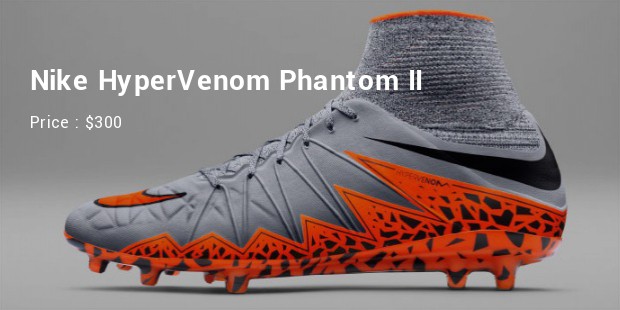 It is good for soccer and enables players to have better ball control while dribbling and helps to run faster. It features ACC (All Conditions Control) technology which is suitable for both dry and wet surfaces. It is priced at $300 above.
8. Adidas Ace 16+ Pure Control Firm Ground Cleats - Price : $300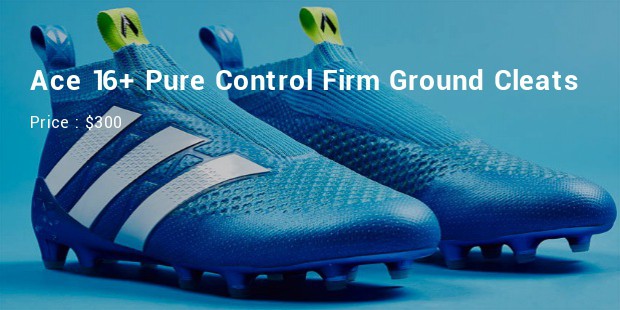 It is a favorite of soccer players as it helps them move swiftly because of its light weight; it enables better ball control. Priced at $300, it doesn't have laces and help you concentrate more on the game.
9. Nike SFB Mountain - Price : $300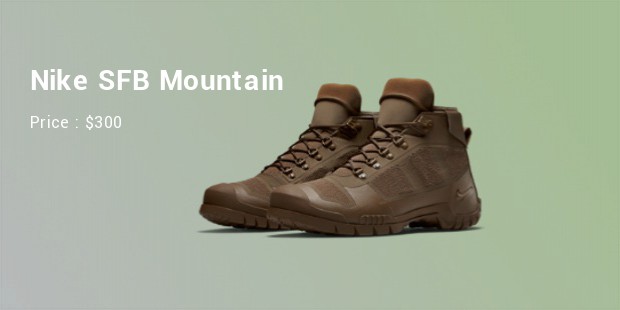 It is used for mountaineering and hiking. It is water resistant, designed for tough use and priced at $300. It can withstand extreme conditions of heat and cold.
10. Adidas x15.1 Primeknit Firm Ground - Price : $250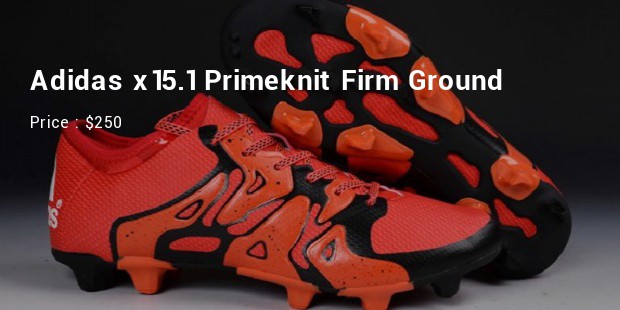 It is chosen by soccer players as it improves their performance on the field. Their movements attain speed and gives good grip; it is iron studded and quite light. Priced at $250, it is a value buy for the soccer professionals.
Before the close of 2016, you can expect some more expensive releases from Nike and Adidas apart from other footwear manufacturers as well. The newest one from Nike due for November 28 release is a high tech one with self-lacing technology and a premium pricing. It has a pressure sensor and the LED's in the sole brightens up if the shoes are tight. It also has a low battery indicator. Air Jordan Gold, due for December release, is also much sought after.
Want to Be Successful?
Learn Secrets from People Who Already Made It
Please enter valid Email