7 Most Expensive Hot Dogs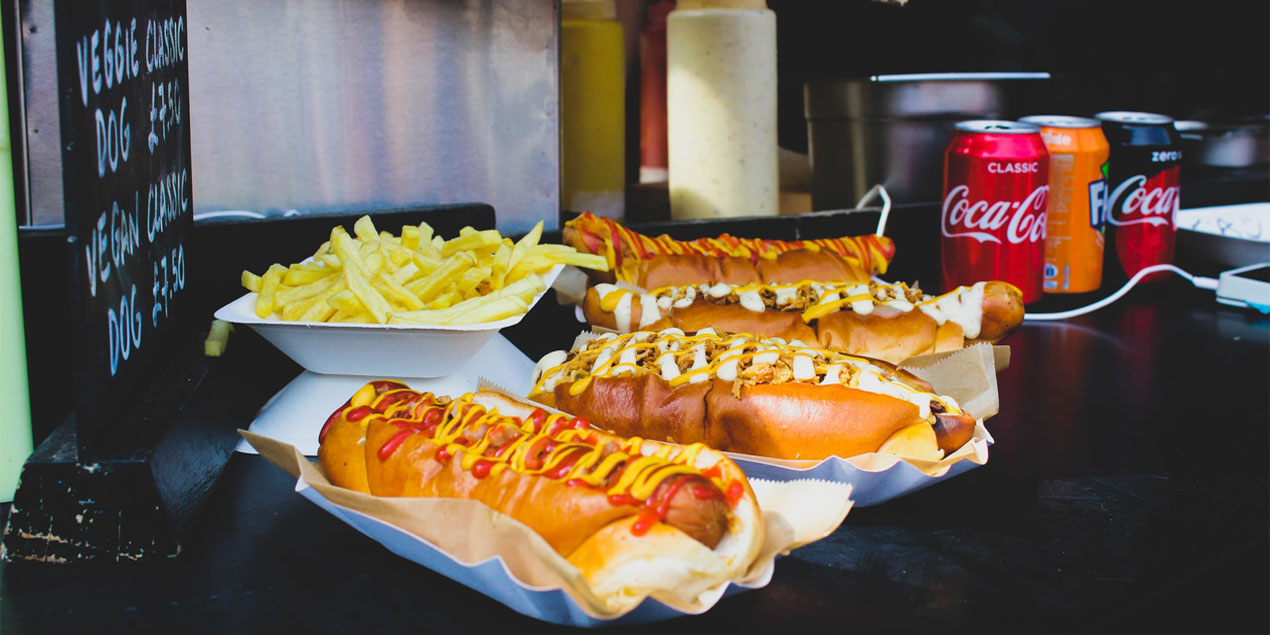 With National Hot Dog Day fast approaching, it's time to celebrate the food that isn't only a popular option in fast food chains but in social gatherings as well: the hot dog. Created in the 1860s, hot dogs are a favorite among people of all ages with around 20 billion hotdogs consumed per year in the U.S. alone. But as with other comfort foods, people have found a way to make hot dogs a luxury purchase with some selling them for thousands of dollars. So, here are seven of the most expensive hot dogs ever sold:
1. 230 Fifth - $2,300
The $2,300 hot dog from posh New York spot 230 Fifth Rooftop Bar & Penthouse Lounge isn't just the most expensive hot dog in New York but also the most expensive hot dog in the world. The hot dog itself is made from dry-aged Wagyu beef and infused with a French brandy named Cognac. Additionally, it's topped with Vidalia onions caramelized in Dom Perignon vintage champagne as well as other highly luxurious ingredients including white truffle butter, black truffles, caviar, saffron, and edible gold leaf.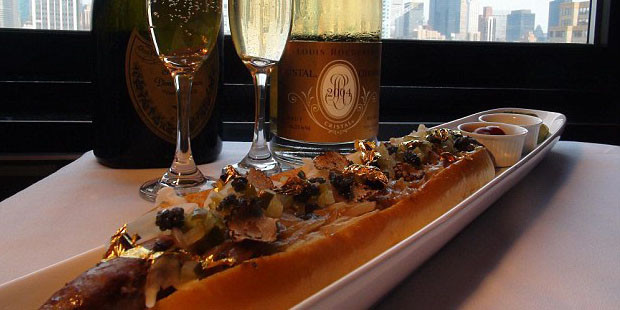 Prepared by 230 Fifth Executive Chef Johnny Benedetti, customers won't just enjoy consuming the expensive hot dog but also do it while experiencing a 360-degree view of the Manhattan skyline inside New York's largest rooftop bar. Due to the hot dog's size, customers will need to order at least two days in advance. All of the sales are donated to City Harvest, a food rescue organization that organizes feeding activities for New York City residents.
2. Hot Dog Mike's - $1,501
Not as luxurious compared to 230 Fifth, this small hot dog place in Little Rock, Arkansas managed to sell the second most expensive hot dog in the world. Owned by Mike Juliano, Hot Dog Mike's sold a thousand-dollar hot dog that featured lobster and edible gold flakes.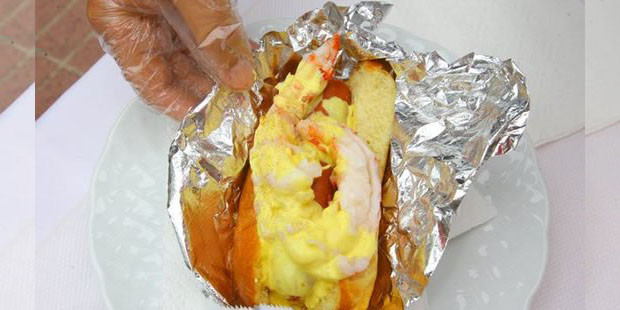 Only four of these hot dogs were ever sold with Juliano donating most of the sale to charity. In fact, he only kept $1 and gave out $1,500 for every purchase. All in all, Juliano net $4 for himself and donated a total of $6,000 to less fortunate residents in the community; an expensive hot dog for a heartwarming cause.
3. California City Dawg - $145
Created by Sacramento restaurant California City Dawg, this hot dog is composed of a 3.5 lb all-beef brank and topped with New Hampshire maple syrup bacon, shallots, ground peppercorns, and caviar. With the sheer size of the California City Dawg, it's not surprising that costs ballooned to $145.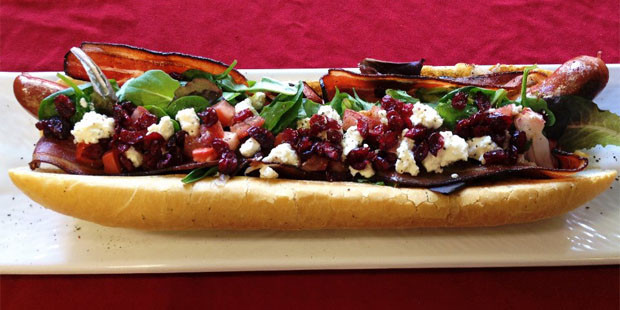 Aside from the mentioned ingredients, the huge cost of the hot dog can also be attributed to the large serving of cheese imported all the way from Sweden. Unfortunately, customers looking to purchase this highly expensive dish will have to contact the former owners of California City Dawg since the restaurant had already closed down.
4. U.N. Development Program Hot Dog - $130
Unlike the other hot dogs found on the list, this $130 hot dog sold by the United Nations was made as more of a statement rather than food sold for customers to enjoy. In 2005, the U.N. sold a $130 hot dog which was part of an initiative to address world hunger.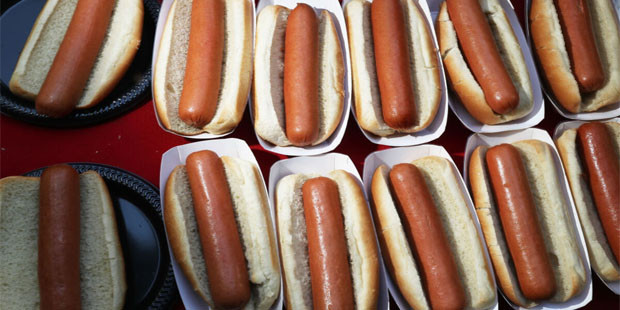 The price was based on the idea that for one of the billion people who live on less than a dollar a day, paying the standard price of a hot dog would instead cost around $130. The hot dog, which comprised of no special ingredients, was only sold in the U.N.'s Development Program office in Sweden with Swedish celebrities and politicians making a purchase to help raise awareness for the cause.
5. Brockton Rox McMullen Dog - $80
Hot dogs have essentially become the unofficial snack for live baseball games. For decades, countless fans have munched on hot dogs while viewing games of their favorite local and national teams. According to recent data, around 20 million hotdogs are consumed during each Major League Baseball (MLB) season. The MLB is the largest baseball league in the world.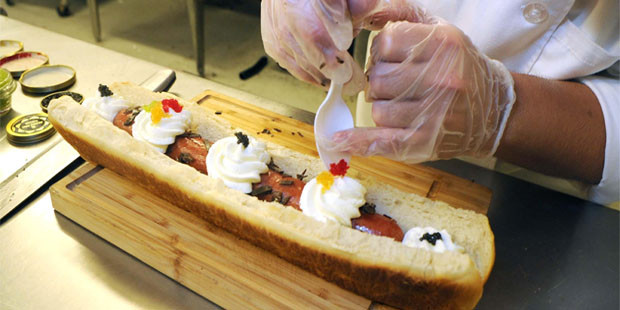 When it comes to the most expensive hotdog ever sold in a baseball game, the Brockton Rox McMullen Dog holds the distinction. Costing $80, the McMullen Dog is deep-fried in truffle oil then coated with porcini dust and sprinkled with white truffle shavings. It's then topped off with premium crème fraiche. Rox fans were treated to the $80 hot dog on National Hot Dog Day 2011 with a good number being sold despite the high price.
6. Serendipity 3 - $69
New York restaurant Serendipity 3 is a regular among most expensive lists. It has been a recipient of the numerous Guinness World Record titles including the most expensive burger ($295), the most expensive dessert ($25,000), and the most expensive milkshake ($100). Unsurprisingly, it was again listed in Guinness record books for selling the most expensive hot dog in 2010 costing $69.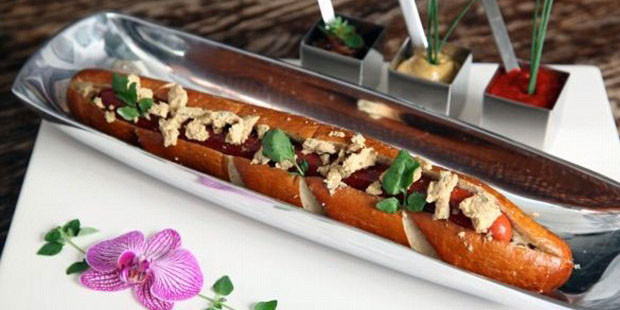 Also called the Serendipity Foot Long Haute Dog, this hot dog is grilled in white truffle oil and topped with black truffles, duck foie gras, and caramelized Vidalia onions. It's then served in a salted pretzel bun toasted in white truffle butter. Much like its other expensive offerings, the Haute Dog was only served for a limited time but customers today can still visit Serendipity's New York Upper East Side location and try out their delicious mainstay dishes.
7. Los Angeles Dodgers All-American Super Dog - $40
The highest-selling hot dog in the entire MLB is the Super Dog (also called the Dodger Dog) sold exclusively at the Los Angeles Dodgers' backyard in Dodger Stadium. It may cost less compared to the other hot dogs on the list but it's still pricey compared to regular hot dogs sold which cost no more than $5.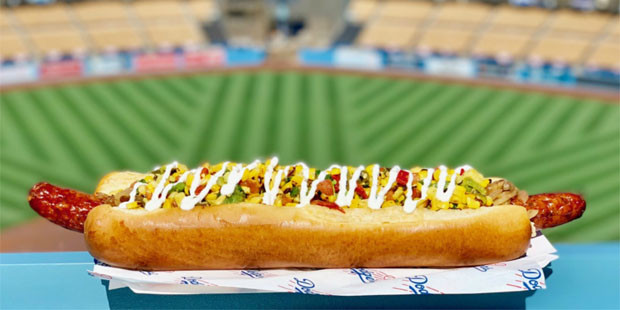 The All-American Super Dog measures 60 centimeters long (23.6 inches) and is topped with typical hot dog favorites including ketchup, coleslaw, mustard, beef chili, cheese sauce, tomatoes, onions, and cheddar. With the Dodgers currently the reigning MLB champions, fans will definitely enjoy the All-American Super Dog even more.
Final Thoughts
Hot dogs are normally cheap foods that everyone can enjoy. But as long as there are people who make expensive hot dogs and people who won't mind spending a few thousand dollars just to buy them, expect more pricey hot dogs to make headlines in the foreseeable future.
Want to Be Successful?
Learn Secrets from People Who Already Made It
Please enter valid Email