10 Most Expensive Burgers in the World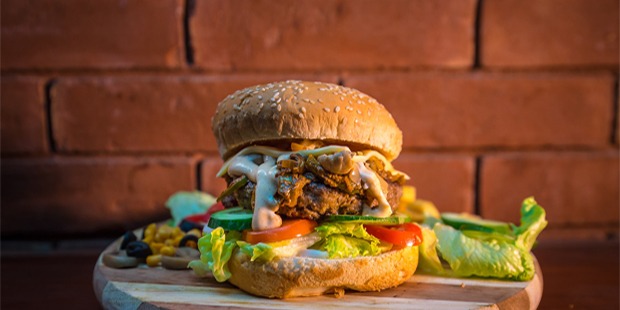 International Burger Day is coming up. And although it's not an official holiday, it's meant to celebrate one of the most iconic dishes that have graced fast food chains around the world. Everyone loves a good burger and even those on a diet don't mind munching on hamburgers every now and then. Unfortunately, not all burgers are priced the same with some costing thousands of dollars. Here are the seven most expensive burgers ever sold:
1. Stem Cell Burger - $330,000
The stem cell burger from Maastricht University in The Netherlands is the most expensive burger in the world costing an unbelievable $330,000! Made more like a science experiment rather than a restaurant dish, the stem cell burger took three months to create and is made from 20,000 strands of meat grown from a cow's muscle cells.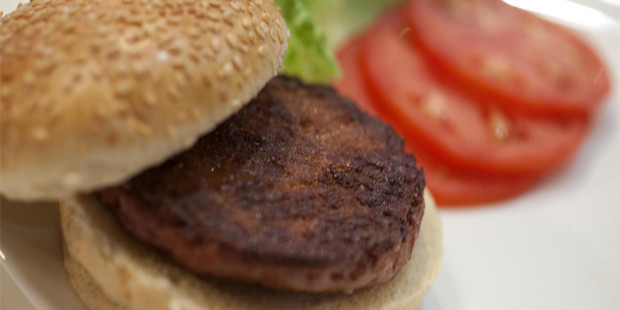 In addition to creating the patty, breadcrumbs and egg powder were incorporated to give it better flavor while red beet juice and saffron were also added so that the patty exudes a more beef texture. Two volunteers were given the opportunity to taste the first-ever stem cell beef burger (weighing 142g and was served with tomato slices and salad) but feedback from both volunteers were mixed, praising the burger's authentic look but was dissatisfied with its overall texture and taste.
Dutch pharmacologist Mark Post led the development of the stem cell/cultured meat burger at Maastricht University with the research costing a total of $330,000 which was funded mostly through anonymous donations. Post and his team expect cultured beef to end up on supermarket shelves within the next 10 to 20 years.
2. The FleurBurger - $5,000
Sold by the Fleur Restaurant in Las Vegas, the FleurBurger costs a staggering $5,000 and is the most expensive burger in America. What makes this burger pricey is not actually the burger itself but the wine it's paired with: a bottle of 1995 Chateau Petrus. The wine is one of the finest drinks in France and is valued at around $3,500. The actual burger is said to be valued at $70.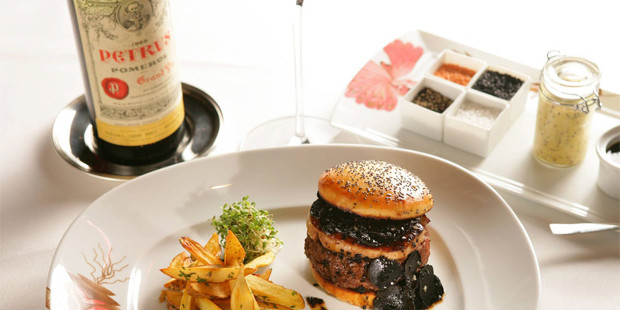 Although the Fleur Burger doesn't actually cost thousands of dollars, customers still won't be able to take an order without the Chateau Petrus. The burger may not cost as much as the wine but the ingredients alone are no slouches and easily match the wine in terms of value: Wagyu beef, foie gras, and shaved black truffles, traditional fries, all squeezed inside a brioche truffle bun.
3. The Absolutely Ridiculous Burger - $1,200
The Absolutely Ridiculous Burger from the Mallie's Sports Grill & Bar in Michigan, United States holds the Guinness record of being the world's largest burger. Weighing exactly 338.6 pounds, this larger-than-life burger also includes 30 pounds of bacon, 36 pounds of cheese, 30 pounds of tomatoes, and 15 pounds of lettuce.
The burger's sheer size alone is an understatement to its "absolutely ridiculous" name as it also contains 540,000 calories and requires 22 hours to prepare. The price is as ridiculous: $1,200. Although the burger is unsurprisingly not the most popular item on Mallies' menu, the sports bar has indicated that it still plans to make them if someone decides to make a purchase.
4. The Douche Burger - $666
The 666 Burger food truck in New York doesn't mind making a complete mockery of expensive burgers. It previously sold the most expensive burger in NYC costing $666 which consists of a Kobe beef patty, lobster, caviar, foie gras, truffles, and champagne-steamed Gruyere cheese. Kopi Luwak coffee barbeque sauce and six layers of edible gold leaf wrappers are then added to complete the 666 Burger that more or less prioritizes luxury over taste.
In an interview with the truck's owner Franz Aliquo, he said that the Douche Burger was only sold as a marketing ploy so customers will actually purchase their actual burgers costing only $6.66. But similar to the Absolutely Ridiculous Burger, Aliquo doesn't mind serving the $666 burger if someone comes up and decides to take an order.
5. Le Burger Extravagant - $295
New York restaurant Serendipity 3 has been listed in the Guinness World Records twice for selling the most expensive hotdog and the most expensive sundae in the world. The restaurant enters the record books for the third time for previously selling the world's most expensive burger at $295. Although the record has now been broken multiple times, there is no denying that Serendipity 3 has made a living by creating and selling highly expensive dishes.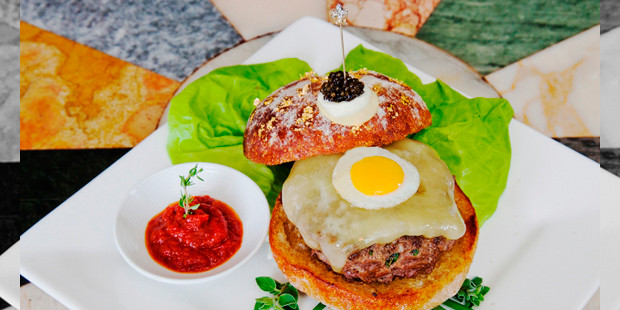 The Le Burger Extravagant was introduced in 2012 and featured Japanese Wagyu beef, white truffle butter, cheddar cheese (aged for 18 months), shaved black truffles, Kaluga caviar, creme fraiche, and a fried quail egg. The burger is then seasoned with numerous herbs and smoked marine salt. And to top it all off, a diamond-encrusted gold toothpick is inserted not just to hold the burger together but to up the price a little bit higher.
Unfortunately, Serendipity 3 no longer sells the Le Burger Extravagant but customers can still purchase their fine desserts which are considered some of the best in the city. The restaurant was featured in the 2001 romantic comedy movie of the same name starring John Cusack and Kate Beckinsale.
6. Burger King's "The Burger" - $186
Burger King, the largest burger fast food chain in the world, also tried its hand in creating an expensive burger. The result? A $186 creation called "The Burger" which was listed as the world's most expensive burger in 2008. Even with Burger King's multiple branches all over the world, The Burger was only available in one location in Burger King's West London branch.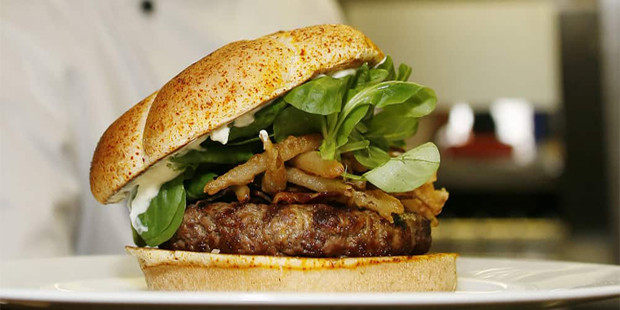 Much like the other expensive items on this list, this burger features Wagyu beef and white truffles. The burger also comprises Pata Negra prosciutto and onion tempura made in Cristal champagne and topped with Iranian saffron and truffle bun. One of the burger's more notable ingredients is the Pata Negra, (also called "Jamon Iberico") which originates from Spain and is a high-quality cured ham made from an Iberian breed of pig.
The Burger is no longer available at Burger King's West London branch but customers can still savor the fast food chain's other popular items such as the Whopper, Bacon King, and Crispy Chicken Sandwich. Burger King was founded in 1954 in Miami, Florida, and is operating and franchising 18,000 branches around the world. The burger chain, together with Tim Hortons and Popeyes is owned by Canadian food holdings company Restaurant Brands International.
7. The Richard Nouveau Burger - $175
Taking its name from the fictional writer of "PocketChange" Richard Nouveau, the Richard Nouveau Burger was first introduced by New York's Wall Street Burger Shoppe in 2008 and cost $175. Sadly, customers with some extra cash won't be able to taste this burger and any of Wall Street Burger Shoppe's offerings since the restaurant closed down and filed for bankruptcy in 2011.
Despite the Richard Nouveau Burger being short-lived, it will forever be remembered as one of the priciest burgers ever sold. It featured Kobe beef, aged Gruyere cheese, wild mushrooms, black truffles, and seared foie grass. The ingredients were then served together on a brioche bun and topped with cherries and gold leaf flakes.
8. The X Burger - $160
A creation by Irish chef Ciaran Hickey, the X Burger is made with Australian Wagyu beef, black truffles, foie gras, and brioche bun and served with numerous ingredients including, grilled red onion, tomato, wild pine mushrooms, fresh asparagus, and a lobster tail. The luxurious burger dish also comes with a luxurious selection of sauces such as brunoise tomato salsa, truffle aioli, and dark red truffle sauce.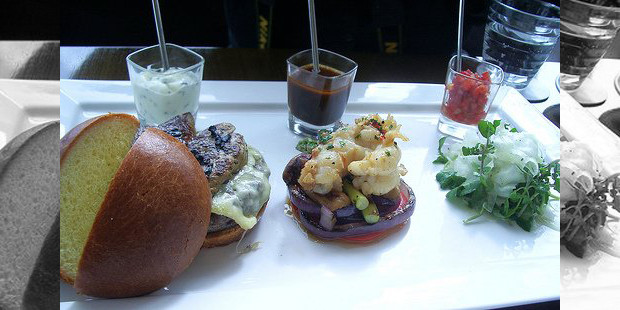 Born in the Irish capital of Dublin in 1965, Hickey has built a career of creating exquisite yet flavorful dishes and is considered one of the top chefs in the world. Throughout his three-decade career, he has worked in numerous five-star hotels including the Four Seasons, Radisson, and the Hilton.
9. DB "Royale" Double Truffle Burger - $120
The DB "Royale" double truffle burger is another expensive New York burger costing an upward of $100. In fact, this burger costs $120 and is made of high-quality ingredients including foie gras, wine-braised ribs, and fresh black truffle. Horseradish and tomato sauce complete the flavors of this pricey burger by celebrity chef Daniel Boulud.
This burger is only sold at the Bistro Moderne in New York City and at the Daniel Boulud Brasserie in Las Vegas during truffle season (December to March). Boulud came to the United States from France during the 1980s and has become a top name in the food industry, running 15 restaurants in nine cities around the world. Boulud is also the owner of Michelin-starred DANIEL, a restaurant that serves high-end American and European dishes.
10. Million Rupiah Hamburger - $110
The United States isn't the only country known for creating expensive burgers. The Four Seasons Hotel in Jakarta, Indonesia serves up a $110 burger consisting of Japanese Kobe beef, Italian portobello mushrooms, and wasabi mayonnaise. The ingredients are then stacked inside an onion wheat bun and served with French foie gras and Asian pear. A burger that combines Asian and American flavors, the Million Rupiah Hamburger brings a unique tasting experience for customers staying at one of Indonesia's premier hotels.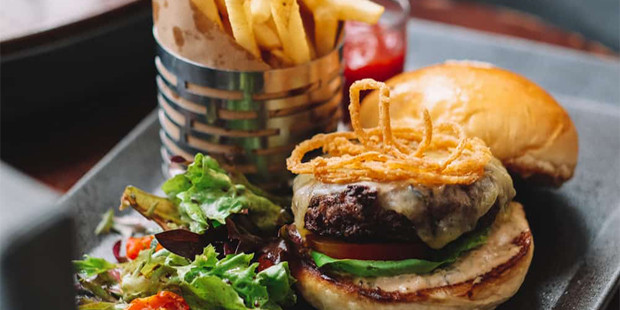 The Million Rupiah Hamburger stays true to its price tag; one million rupiahs which are equivalent to around $110. Initially making its debut in 2006, Four Seasons Executive Chef Vindex Tengker said that the initial reaction to the expensive burger was mostly positive and hopes that the innovation will spread throughout the Asia-Pacific region.
Final Thoughts
Although burgers are mostly considered as fast food selling between $2 and $10, it hasn't stopped high-end restaurants and chefs from creating their own pricey burgers. Truth is, people don't mind lining up to purchase burgers made from some of the most high-end ingredients in the world. Biting into a 100 or 1000 dollar burger? It is definitely a tasting experience unlike any other.
Want to Be Successful?
Learn Secrets from People Who Already Made It
Please enter valid Email