Top 11 Most Expensive Coffee Machines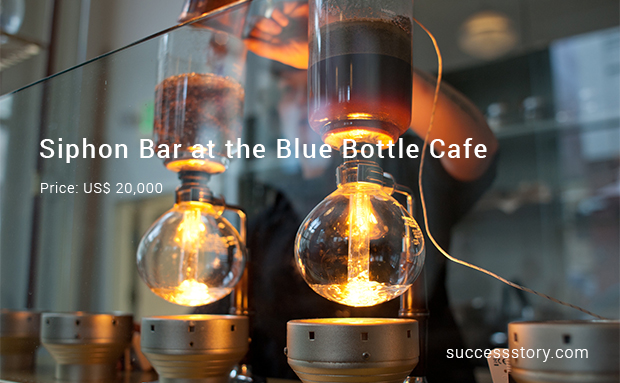 That morning shot of coffee is a must for millions all over the world. One would never think that coffee machines could be expensive and packed with features, like a high-tech machine.
Here's a description of the top 10 most expensive coffee machines ever made!
1. Clover – US$ 11,000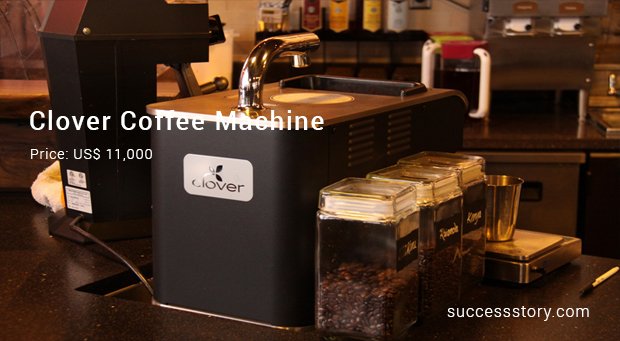 Made by 3 Stanford graduates, Clover is for serious coffee drinkers. This machine can be found at cafes such as Stumptown Annex in Portland. Clover makes coffee using a process similar to the French press. Hot water enters a brew chamber, a filter is dipped in, and perfect coffee is made, while the grounds rise to the top of the chamber.
2. Blossom One Limited – US$ 11,111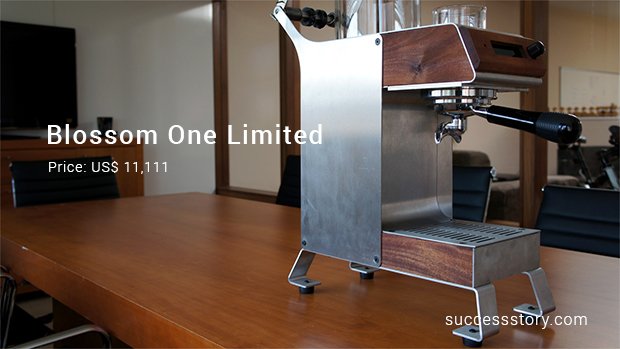 This machine has inbuilt WiFi to help baristas download and share recipes. Also, it has a 1.3 MP camera to scan the QR codes of coffee beans. It hosts individual modules to control temperature, volume, pressure, and time. Its body can be made of two materials combined – stainless steel and wood.
3. Bunn Tiger XL-5 2 Super-Automatic Espresso Machine – US$ 12,000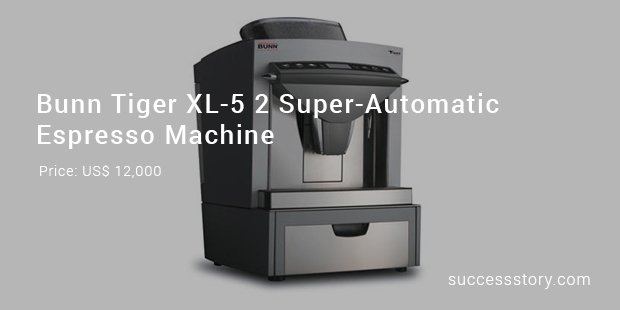 This impressive coffee machine can brew up to 180 drinks every hour and has 2 hoppers that can hold almost 4 pounds of coffee beans. Surprisingly, it only takes 16 inches of counter space. Other cool features are pod capabilities, a digital wand to steam and monitor milk temperature simultaneously, and a modular brewing chamber.
4. Nuova Simonelli Aurelia Semi-Automatic 3 Group – US$ 13,500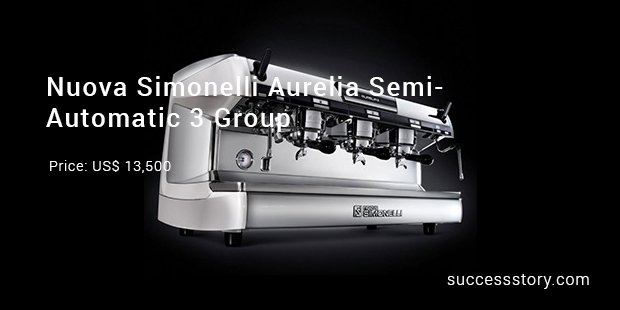 The official espresso instrument of the World Barista Championships, this machine has a specially—controlled brew boiler that measures temperature accurately. It has a boiler capacity of 17 liters and has sturdy leather handles attached to Teflon-lined portafilters.
5. Concordia Integra 4 – US$ 14,950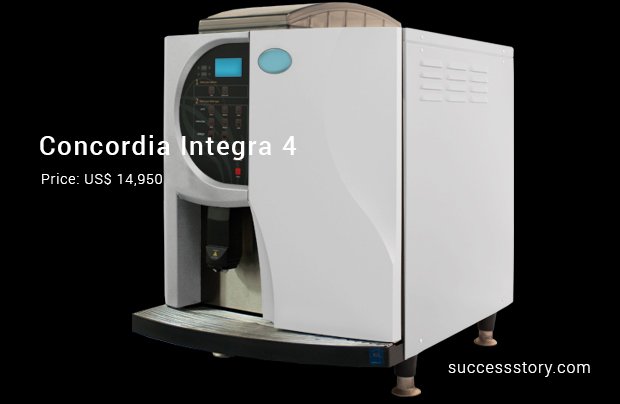 This machine is something like a digital barista and is favored by hotels seeing high volume. It can be used to make hot chocolate, latte, espresso, iced beverages, cappuccino, and steeped and blended teas.
6. Franke Evolution 1 Step – US$ 18,000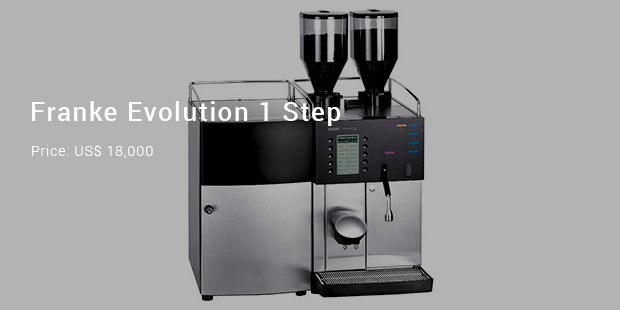 Up to 24 individually programmable beverages can be made using the Franke Evolution. This includes latte, cappuccino, espresso, and many iced drinks. It has 2 grinders, hoppers for various roasts, and an Autosteam wand for steaming milk.
7. Concordia Xpress 6 Beverage System – US$ 19,000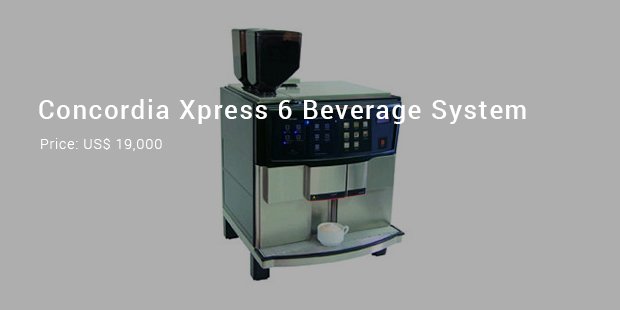 The fastest coffee maker in the world, this machine can make over 1,000 combinations of brewed, hot, steamed, and chilled beverages in less than 25 seconds.
8. Siphon Bar at the Blue Bottle Café – US$ 20,000
Siphon bars work on the principle of vacuum brewing, a technique borrowed from Japan. To get the best brew, hand stirring for 45-60 seconds is required.
9. Van der Westen Speedster – US$ 20,000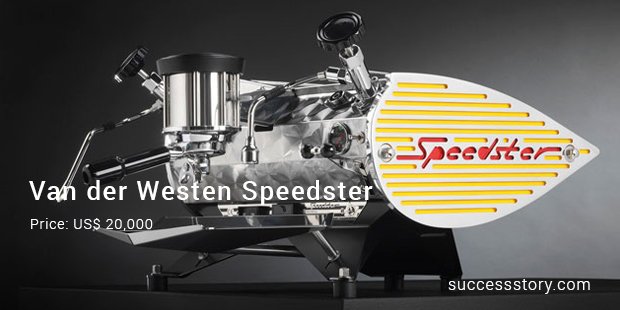 This highly-polished chrome machine is assembled in Waalre in Netherlands. Only 400 pieces are manufactured each year and they are bought by discerning millionaires.
10. Javabot at the Roasting Plant – US$ 1,000,000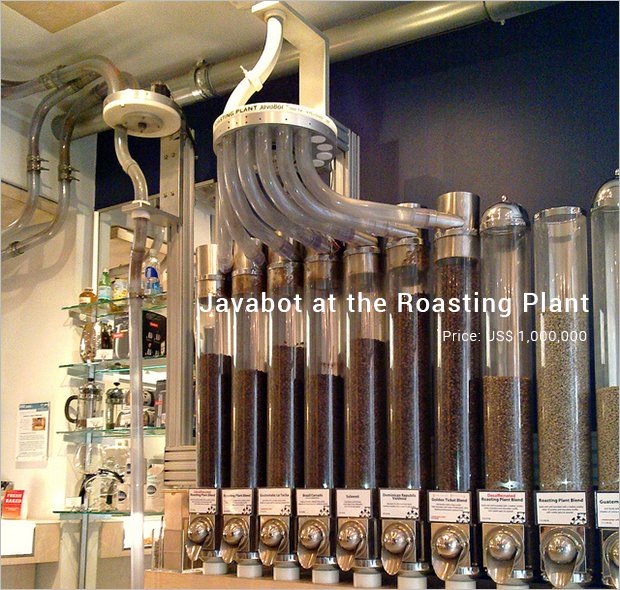 11. The Rancilio Classe 10 - Priced - $18,500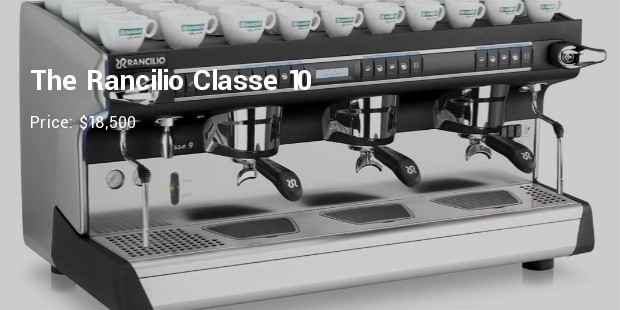 Presented by Rancilio, an Italian based company, and this coffee machine consists of modern technology and electronic systems. It features, electric cup warmer to ensure cups are kept at optimum temperature.
The Roasting Plant is a boutique café in New York City and Detroit that hosts the Javabot, which roasts, grinds, and brews beans for every cup of coffee that has been ordered.
These are some of the top line lavish coffee machines on the offer. If you love coffee and can afford it, try them a try!
Want to Be Successful?
Learn Secrets from People Who Already Made It
Please enter valid Email