Most Expensive Banksy Artwork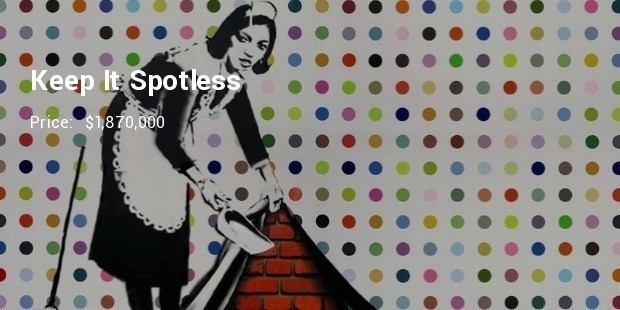 In the early 1990s, Banksy started working as a freehand graffiti artist and his work became popular in Bristol and London. It is amazing to know that his work features stencils with humorous images; the work also involves slogans.
Most of the messages in his work are anti-establishment, anti-capitalist and anti-war. And more often than not, you will find some subjects like soldiers, policemen, apes, rats and the elderly in his artwork. There are people who have converted some of his prints into cool wallpapers. There was a time when his work would remain in galleries unsold and at other times sell for few dollars. But the following list shows some of the most expensive Banksy artwork of al time.
1. Keep It Spotless - $1,870,000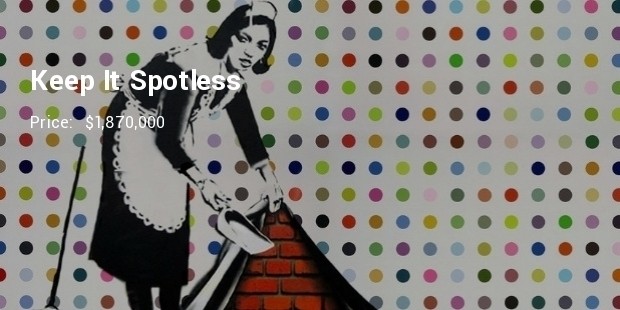 This is the most expensive artwork Banksy has ever sold. It was designed in the year 2007 and sold in the New York for a huge price of $1.8 Million during a Sotheby's Charity auction on December 2008. This 81 ¼ x 120 1/8 in canvas was a Damien Hirst painting which Banksy had defaced.
2. Simple Intelligence Testing - $1,265,120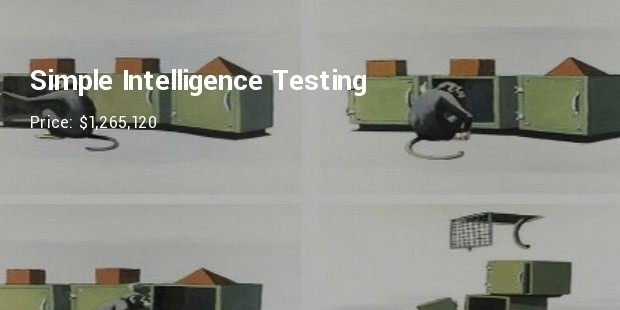 Simple Intelligence Testing is a 5 part oil on canvas work leaned. The artwork goes like the story of a chimpanzee having an intelligence test. The chimpanzee tries to find bananas kept safely and the initiative tries to encourage him to stack the safes one atop another and get away through air vents.
3. The Rude Lord - $658,025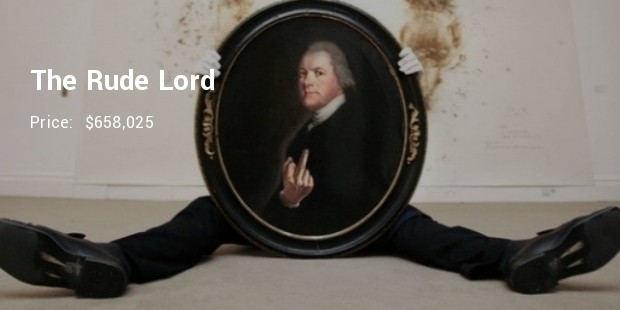 The Rude Lord is among the most expensive artworks Banksy has ever sold. Moreover, it is among the many examples where Banksy corrupted the existing traditional paintings to come up with excellent work. Banksy took the oil on canvas from a portrait that Thomas Beach.
4. Think Tank - $516, 120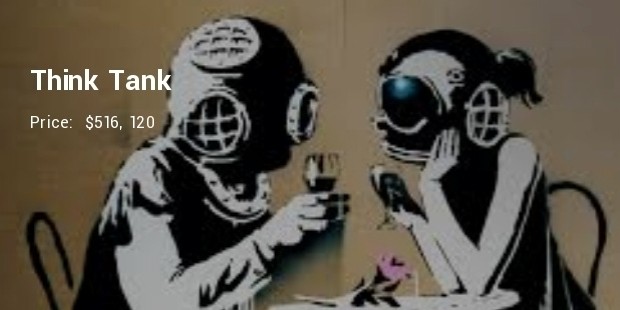 This piece features a romantic couple in deep sea diving helmets drinking wine at a restaurant table. The artwork was auctioned in London on Feb 2013, and was sold to an anonymous buyer at a price of $516,120. This is one of the best artworks done by Banksy.

5. Kissing Coppers - $477,000

6. Laugh Now - $400,000

7. Space Girl and Bird - $30,000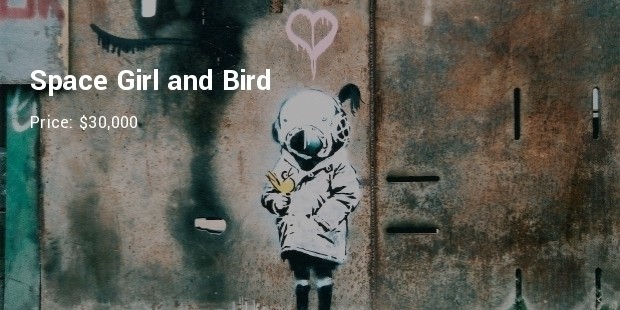 There is lots of buzz around Banksy artwork and evidently, it is with a reason. His artwork is among the most expensive in the world. Most of his work has benefitted from the smart recovery in art market as a whole. Most recently, he has done most record breaking artworks.
Want to Be Successful?
Learn Secrets from People Who Already Made It
Please enter valid Email