Most Expensive Yachts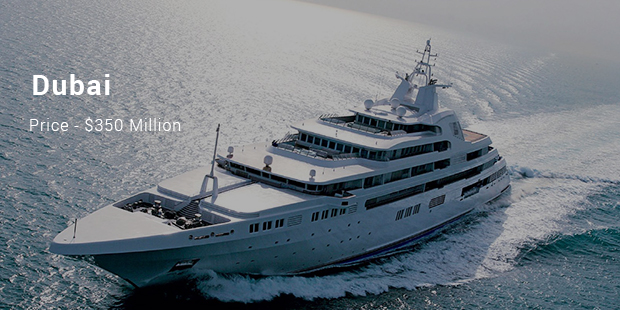 Would you mind on a travel by yacht? According to some other people, traveling a yacht is one ofthe most expensive cruises. Not all of us can afford to experience this amazing and relaxing cruise on holidays. Surprisingly, a lot of can afford people were having a good time while on vacation and holiday on-board by one of the most expensive yachts around the world.
You will experience a luxury floating city at sea. Field your life with luxury yachting, relaxation and with class. The floating city will let you experience the most relaxing and calming ocean views filled with amenities.
1. The Streets of Monaco - $1 Billion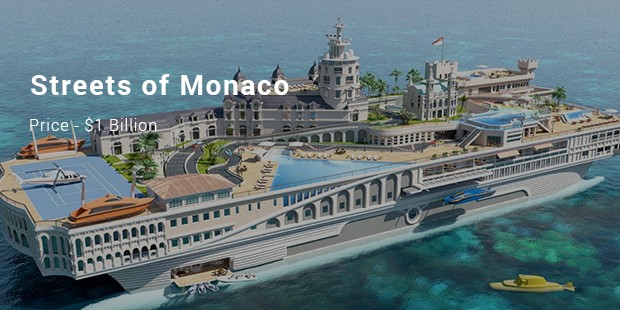 You would cost a billion if you talk about Streets of Monaco. It triples the cost of the 3rd placer of the most expensive or luxury yachts around the world. Your billion buys for you – you would surely love and proud of your billion spent from this fantastic yacht with 550 foot lengths fascinated with cafes, tennis courts, swimming pools and the last, the surprisingly underwater ocean views. Experience the feeling of being the richest man on earth by a luxury among the luxurious yacht ever!
2. The Eclipse (Estimated $450 Million-$1.2 Billion)
Building such a monstrosity in a yacht would probably cost you a billion dollars. Unexpectedly, once you try to take a picture of the yacht, surprisingly, a modern light technology will block it. Meaning, you can never get a good picture of the yacht for security reason. It contained own security-defense system to detect trespassers and built with cameras. Eclipse is owned by a rich person named Roman Abromavich.
3. The Dubai - $350 Million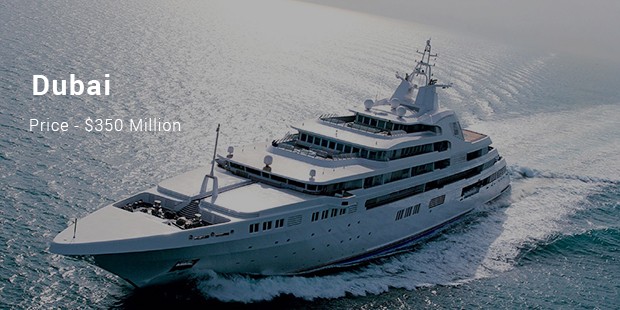 Dubai has been known by different names in the past. A wealthy prince of Brunei commissioned the boat as the Golden Star. Currently, the ship was owned by Sheikh of Dubai. It is also known as the Platinum 525. The ship has a swimming pool, glass staircase, spa and a helipad.
4. The Al Said - $300 Million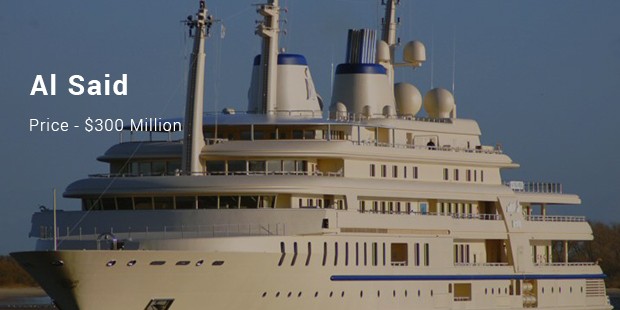 The yacht named after the owner Sultan Qaboos Bin of Oman. The vessel has a concert hall inside.
5. The Superyacht A - $323 Million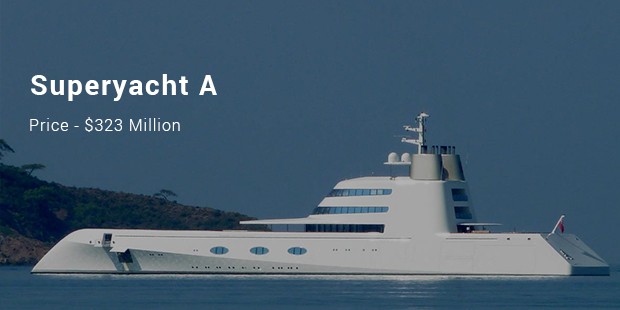 The yacht is owned by a Russian billionaire named Andrei Melchenko. It has 42 people crew and can accommodate 14 guests.
6. The Dilbar - $263 Million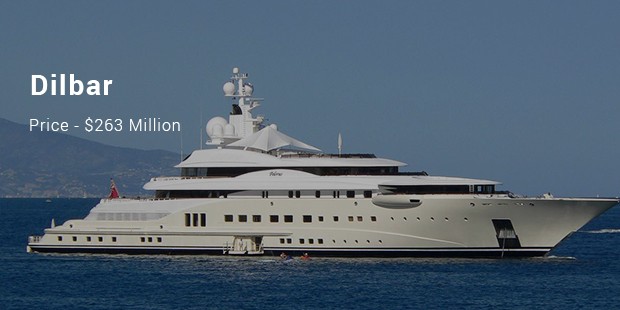 Alisher Osmanov, the owner of the yacht, is a Russian billionaire who has interest on buying th expensive yacht.
7. The Al Mirqab - $250 Million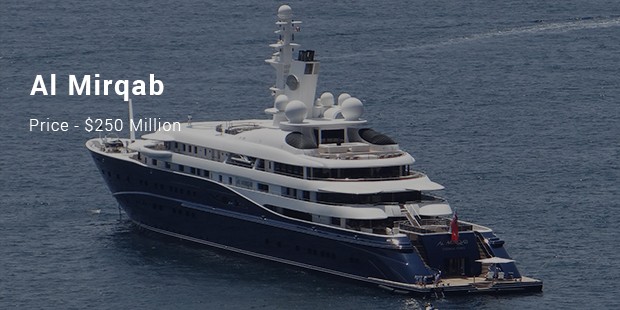 The yacht has an extravagant set of VIP. It makes the holiday with your friends become relaxing and unwinding summer to the Mediterranean.
8. The Lady Moura - $210 Million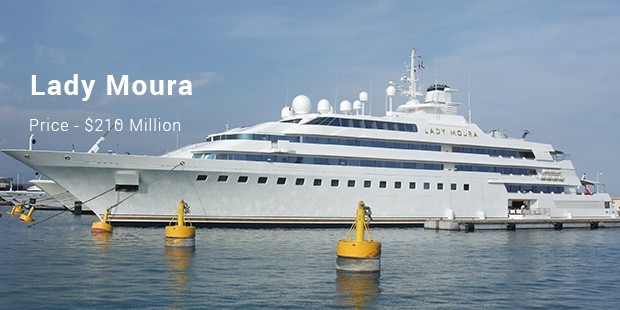 The embellishments and the lettering of this yacht makes it so expensive as it is made up of 24 karat gold.Who knows? There's a real floating city – a yacht. Discovering how great to travel by a luxury yacht. Luxury yachting life with bars, spas, swimming pools, hot tubs, tennis courts and 1000 threads of linens can be possible now. You will always have a fabulous and frivolous purchase with these world's most expensive yachts.
9. Seven Seas – $200 Million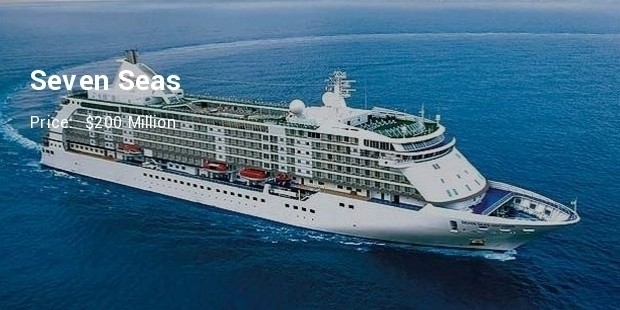 This yacht is custom made by Dutch shipbuilder Oceanco with great exterior & interiors. It can accommodate 12 guests in 7 awesome suites . It is owned by filmmaker Steven Spielberg. It has an infinity swimming pool, whose walls double as a movie screen. It also has a mini helipad.
10. The Rising Sun – $200 Million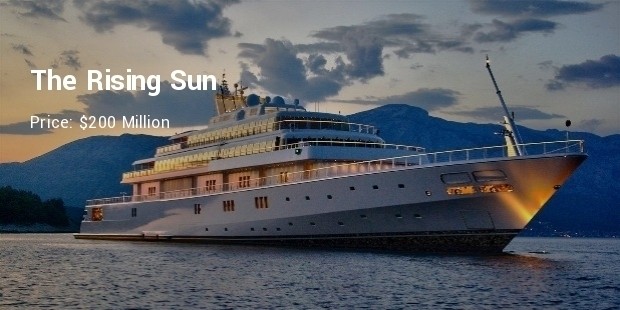 This one was built in 2004 by Lurssen for Oracle's CEO Larry Ellison. It measures almost 453 ft in length & is equipped with some of the most luxurious amenities onboard like – basketball court on main deck which also is used as a helipad when required, a private cinema with giant plasma screen, 82 rooms on 5 levels. This is driven by 4 × MTU 20V 8000 M90 diesel engines.
11. Al Salamah - $200 Million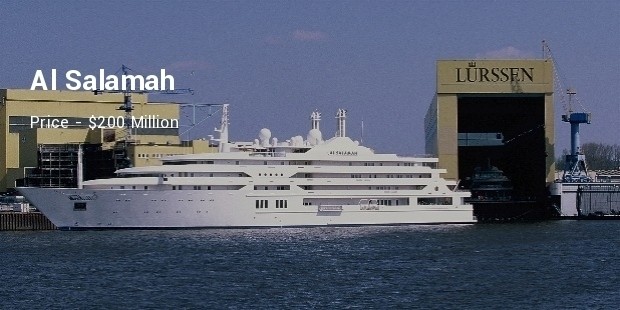 This yacht was built to order by HDW, a German shipbuilder. This was the property of the late Saudi Arabian Prince Sultan bin Abdul Aziz. It is a private vessel & not available for public hire. Some of the noteworthy amenities of this yacht is a business center, library, cinema, fully equipped hospital onboard, gym & spa.
12. Ecstasea - $200 Million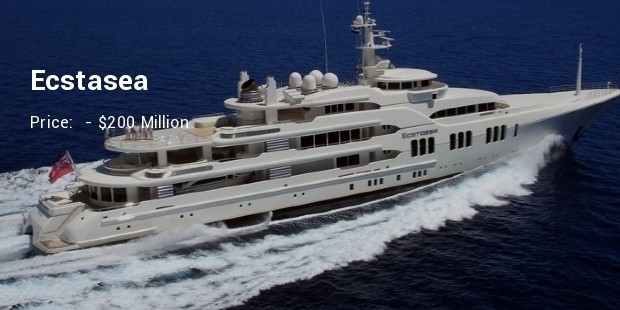 This is the largest Feadship ever built & was launched in 2004. Its 282 ft long and is all made of steel. It has a MTU powerful engine of 12,444hp. This luxury machine on water has a capacity of 14 passengers & 24 crew members.
13. Project Mars - $161.8 Million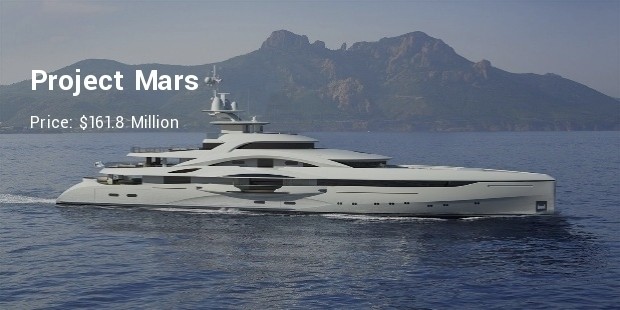 A 295 foot elegant yacht, that looks sheer beauty on waters. Packed with luxurious features like gym, sauna, helipad, steamroom, backlit bar & enclosed living garden makes it business destination. The interiors are super luxurious & has an exterior lounge connected to the main saloon.
Want to Be Successful?
Learn Secrets from People Who Already Made It
Please enter valid Email