Most Expensive Sports Cars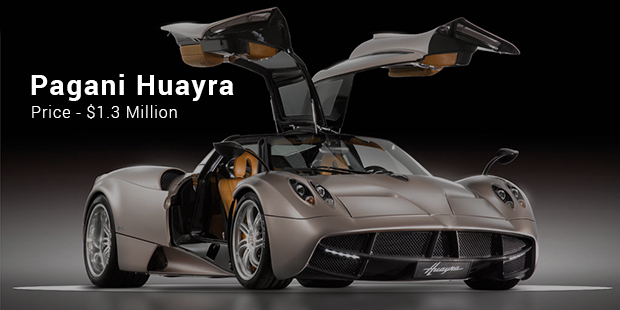 Undeniably, we all dream of owning a sports car. However, the question is how enough you know about sports car? Evidently, a lot of sports car models and brands are a hit in the market today. Sports car lovers keep on hunting the most fantastic model or brand to buy as an investment.
Apparently, several most expensive sports cars have enticed a lot of sports car collector and not all of them can afford. You need to try a look at the most luxury sports cars in the market and figure out how good the performances are according to their prices.
1. The Lamborghini Veneno - $4M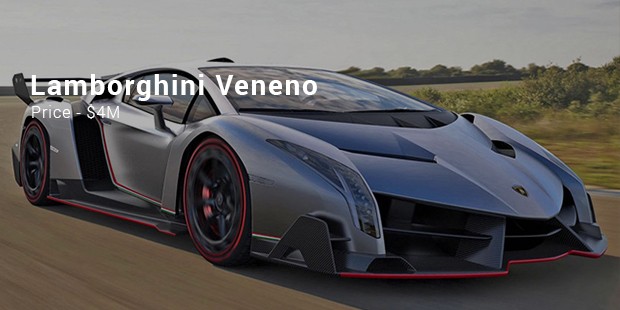 The Veneno is surprisingly simply jaw-dropping. It is one of the coolest from the list of sports car. The focus of the car was on optimum aerodynamics that gave a unique driving experience. It is light in weight in terms of design.
2. W Motors Lykan Hypersport - $3.4M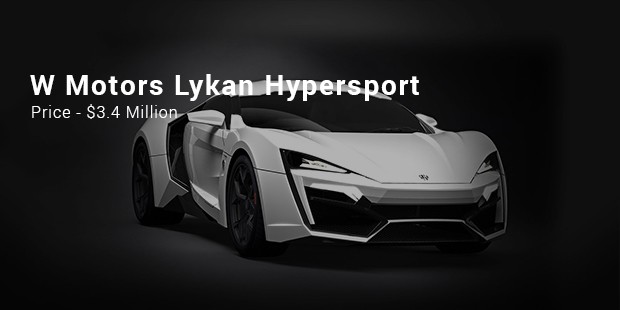 W Motors Lykan is a sports car in Lebanon that raised the most impressive things on 4-wheels. It prides upon the fact that it is the first Arab super car and the head lights of the car are trimmed with diamonds. Not forgetting to mention the fact that the seats are stitched with gold threads.
3. The Mansory Vevri: Bugatti Veyron - $3.4M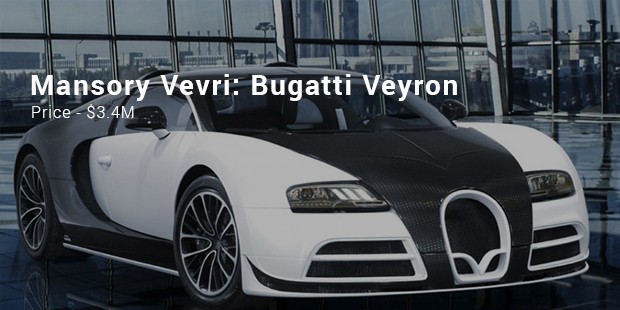 Mansory Vevri is getting into its life that waxes nostalgic and reflective. It has a hand crafted aluminum body that gives it an aggressive look. From a stop to 65 kms it takes only 3.5 seconds.
4. The Ferrari F60 America - $3.2M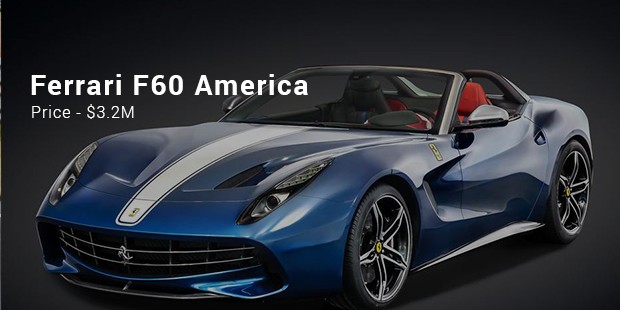 It is the most insane Ferrari Roadster, built to celebrate sixty years of Ferrari in America. This vehicle was build to celebrate 60 years of the Ferrari in America and is perhaps the most insane roadtaster ever.
5. The Koenigsegg One:1 - $2.0M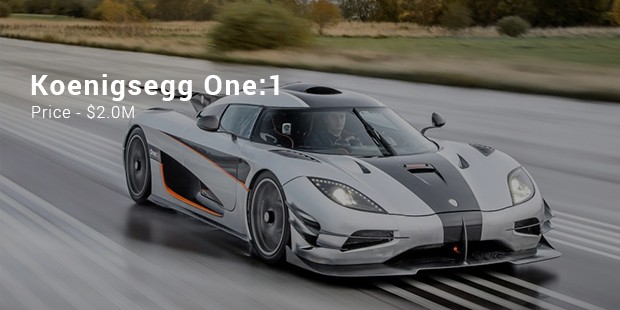 Koenigsegg is known as the craziest uncle off in the corner. It is designed in such a manner to enhance the performance and the top speed is assumed to be around 273kmph. There is a 1.1 ratio between the horse power and the weight.
6. The 2015 Ferrari La Ferrari - $1,416,362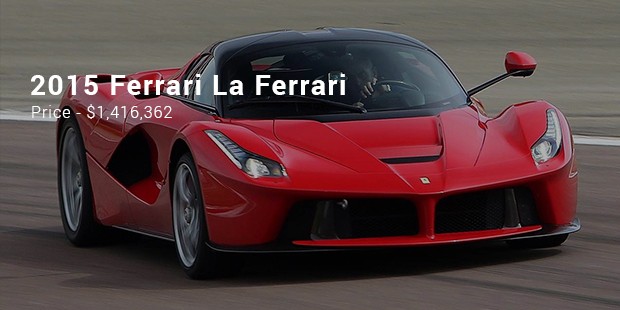 The 2015 Ferrari La Ferrari has a standard features 6.3 liter V-12 788hp engine, 4-wheel anti-lock brakes, 7-speed auto-shift manual transmission, sensor, airbag occupancy, auto air-conditioning, power mirrors, 19" forged aluminum-wheels, Driveline control, electronic stability, power locks and power windows.
7. The Pagani Huayra - $1.3 Million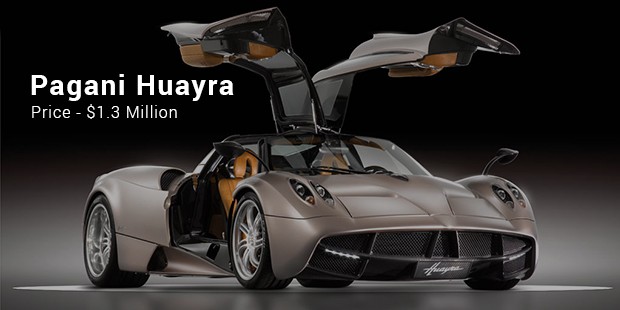 The best car that no one can pronounce, named comes as the "God of Winds". it is a high performance car and in some ways it does not look like a car but the frame is more of a go kart. It has 620 horse power and 740 feet of torque.
8. The 2015 Porsche 918 Spyder - $929,000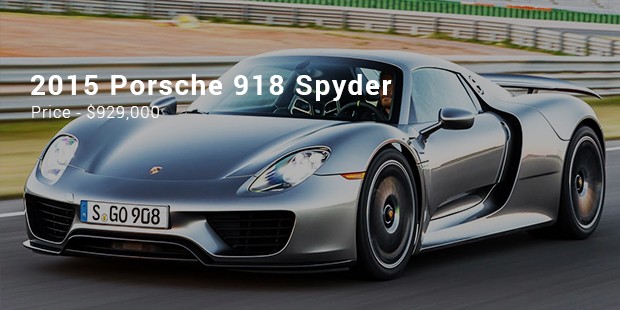 The 2015 Porsche 918 Spyder has specific features of 4.6liter V-8 608hp engine, 4-wheel anti-lock brakes, 7-speed auto-shift manual transmission – with overdrive, side-seat mounted airbags, integrated navigation system, overhead airbag – curtain 1st row, knee airbag for driver and passenger, airbag sensor, 20" magnesium-wheel, Driveline traction control and cruise control.
9. The 2015 Lamborghini Aventador - $548,800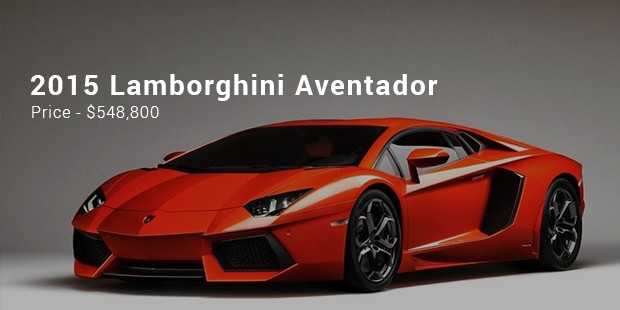 The 2015 Lamborghini Aventador is a 2-seat couple, 2-door, 4 trims and equipped with 6.5liter, auto-transmission and a 12-cylinder.A sports car owner is a big responsibility. You would not like to see your investment without proper maintenance. Yet, you need to provide all the maintenance it needs to maintain the car performance and the look. Of course, you will treasure this investment since it cost you a lot and would be the big boss of your proud sports car.
10. 2015 Ferrari F 12- $ 369,990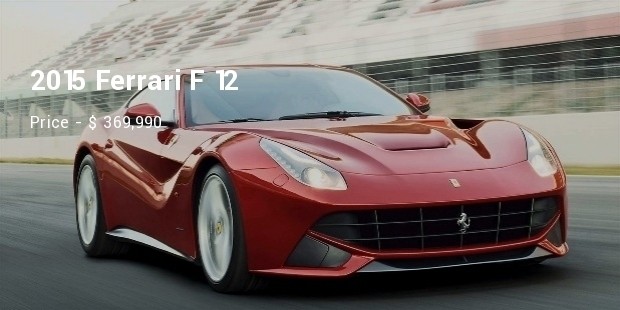 Ferrari as a brand name has been associated with expensive and sports cars in the world. When one considers this specific model it has a powerful engine and has a strong engine at the same time. It can go to high speed in a matter of few seconds.
Want to Be Successful?
Learn Secrets from People Who Already Made It
Please enter valid Email