7 Most Expensive Sushi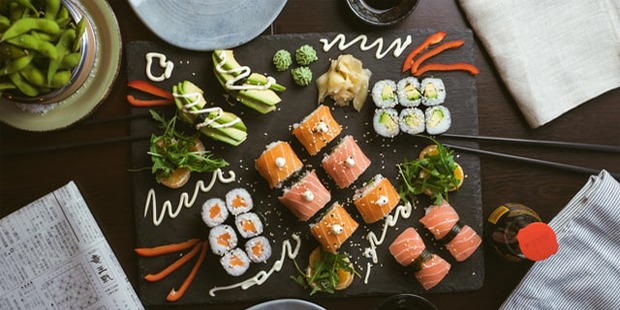 Sushi (also called "Omakase" which translates to "'I'll leave it up to you" in English) isn't normally a cheap dish when sold in restaurants. Although you can make your own sushi platter at home spending much less, purchasing all the ingredients and preparing the dish can be a hassle for many people. If you do opt to eat out, prepare to spend big bucks especially when it comes to dining in restaurants serving some premium sushi. Here are the seven of the most expensive sushi in the world:
1. The Golden Sushi - $1,978
"The Golden Sushi" lives up to its name and is the most expensive sushi in the world valued at nearly $2,000. Created by Philippine Chef Angelito Araneta Jr., this sushi is made from edible gold leaf and topped with Palawan pearls and African diamonds. The plate consists of five sushi rolls and if sold per piece, will set back customers a whopping $400 per piece.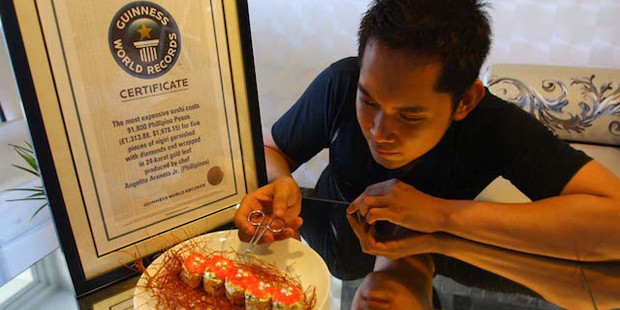 Premium pink salmon from Norway and foie gras are incorporated inside a 24-karat edible gold leaf which is then finished with three Palawan pearls and 20-carats of African diamonds. The Golden Sushi hasn't gone unnoticed and was recognized by the Guinness World Records as the most expensive sushi to date. The record has stayed up to this day and may last for the next few years considering the rarity and the value of the ingredients used to create this dish.
The Golden Sushi isn't sold in any restaurant and customers with some extra $400 to burn will have to contact Chef Araneta himself if they have any chance of eating this gold and diamond-infused sushi roll.
2. Sushi Hashiri - $500
Looking for the priciest Omakase experience in the world? Check out the Chef's Table at San Francisco restaurant Sushi Hashiri. Costing $500 per person, customers will be directed to a private room where the chef personally prepares an exquisite meal consisting of Edomae and Kaiseki sushi as well as with Kokuryu Ryu Fukui Sake among others. The sake itself already costs $250 per bottle.
A $175 and $250 Omakase experience are also available for those looking for "cheaper" options at the Sushi Hashiri. Despite the huge costs, the restaurant is rarely empty as customers will have to book at least 14 days in advance due to the high volume of reservations.
3. Urasawa - $395
Another restaurant serving expensive sushi dishes in Los Angeles is Michelin-starred Urasawa: the priciest restaurant in Hollywood. Aside from ingredients all flown in from Japan, the huge costs in Urasawa can also be attributed to its Beverly Hills location in the heart of the city.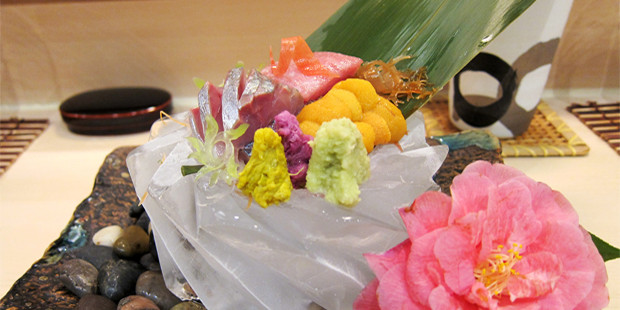 Urasawa has maintained a strict eating policy with its customers, specifically when it comes to eating sushi. The chef requires each sushi to be eaten within 10 seconds after being served, ensuring that the sushi retains a specific and fresh taste while being consumed.
4. Kurumazushi Restaurant - $300
Tagged as the most expensive sushi restaurant in NYC, Kurumazushi is run by Chef Toshihiro Uezu who has been with the restaurant since its inception in 1978. Kurumazushi features an Omakase menu with nine pieces of sushi and a roll which customers will have to pay for around $300 (although there are other slightly cheaper options on the menu).
Kurumazushi has retained its Japanese aesthetics for over four decades, showcasing decorations mostly found in traditional Japanese restaurants. The restaurant was named after a Tokyo restaurant where Chef Uezu previously worked.
5. O Ya - $250
From the most expensive sushi restaurant in Los Angeles to the most expensive sushi restaurant in Boston, O Ya bills its customers at least $250 for an Omakase menu that consists of an impressive 24 courses. Customers will have to spend $200 more if they plan on availing the restaurant's luxurious beverages.
O Ya is run by Chef Tim Cushman who is a recipient of numerous James Beard awards. One of his most notable creations in the restaurant is the "Faberge" Onsen Egg which is made of black river osetra caviar, green onion, dashi sauce, and gold edible leaf.
6. Nobu - $180
Nobu is one of the most popular Japanese fine dining restaurants in the world. Founded in 1994 by Chef Nobuyuki "Nobu" Matsuhisa, the restaurant has expanded to more than 40 locations in U.S., Europe, and Asia and is best known for serving fusion dishes blending traditional Japanese food with Peruvian ingredients. Unsurprisingly, Nobu makes an appearance on this list as it serves an Omakase menu costing $180 at the minimum.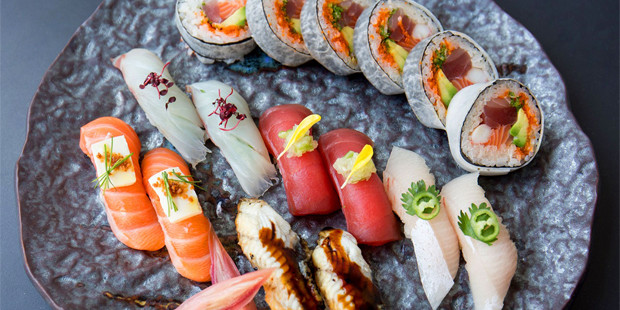 Among the priciest items on the Nobu menu includes the baked crab hand roll ($28), lobster shiitake salad with spicy lemon dressing ($56), and prime tenderloin with yuzu truffle and crispy onions ($68). The restaurant also serves its own in-house champagne costing $26 per glass. Celebrities such as Robert de Niro, Madonna, Taylor Swift, Bradley Cooper, and Leonardo DiCaprio have all been spotted at Nobu's multiple locations in the U.S.
De Niro, in particular, is actually one of the co-owners of Nobu together with Matsuhisa and producer Meir Teper and was the person responsible for pushing Matsuhisa to open Nobu's first-ever location in New York City after dining in the chef's previous restaurant in Los Angeles.
7. Sushi Taro - $160
Located at the heart of the U.S. capital Washington D.C., Sushi Taro is a favorite among locals as well as people working in the Japanese embassy. Prices start at $160 in this Michelin-starred restaurant which provides a different kind of Omakase experience for its customers.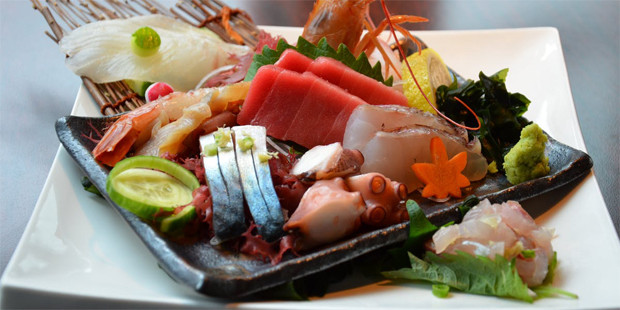 Compared to other expensive sushi restaurants where the chef decides on what to prepare, customers dining in Sushi Taro are more in control. They choose the dish as well as the fish that will be prepared (the restaurant has a wide array of them). A complete meal in Sushi Taro comprises around four to six meals.
Final Thoughts
There is no denying that sushi is one of the many creations Japan has given to the world. Prices for these sumptuous dishes can be costly though with some restaurants charging around hundreds of dollars for a single piece. The best sushi roll in the world may not entirely be the priciest, but it sure is close.
Want to Be Successful?
Learn Secrets from People Who Already Made It
Please enter valid Email