8 Most Expensive Pizzas in the World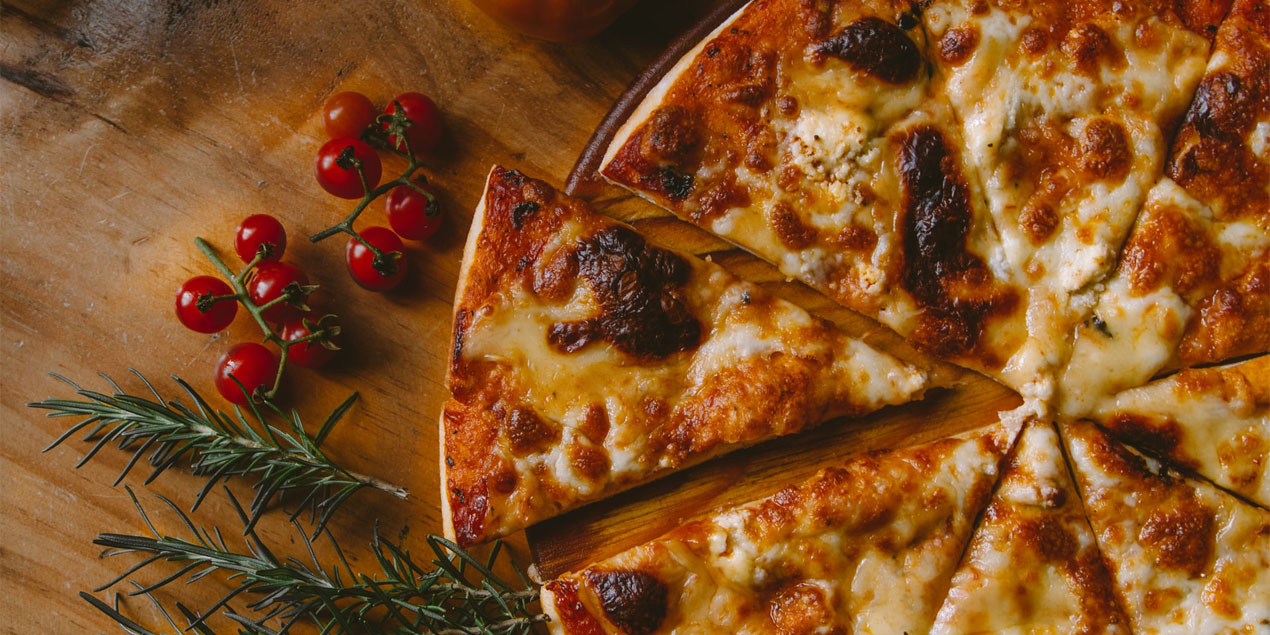 Pizza is one of the most beloved dishes in the world. And with National Cheese Pizza Day coming up, it's time to celebrate the cheese-filled dish that never fails to bring happiness to millions of people. Since its introduction in the 18th century, pizza has seen some facelifts over the past few decades, specifically the creation of luxurious pizza often made from rare ingredients. Unsurprisingly, they aren't cheap. Here are eight of the most expensive pizzas in the world:
1. Louis XIII - $12,000
The most expensive pizza in the world is the Louis XIII costing a whopping $12,000. Named after the 17th-century French monarch, the pizza measures 20 cm. and is made from some of the finest ingredients. Organic Arabic flour and Murray River pink salt first create the base of the pizza with the dough taking three days to settle. It's then finished with Mozzarella, seven types of cheese, three types of caviar (Oscietra Royal Prestige, Kaspia Oscietra Royal Classic from the Iranian coast, and Kaspia Beluga), and a lobster bought from Norway.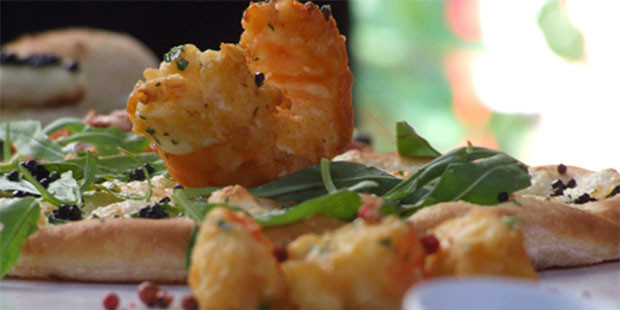 The Louis XIII pizza is created by Chef Renato Viola which was initially served to a select crowd in Salerno, Italy. He prepared the dough beforehand before finishing the preparation in front of an audience. As expected with a $12,000 pizza, Viola didn't pull any punches when it comes to the ingredients. Customers can still order the expensive pizza today as long as they reside in the coastal city of Salerno. They won't only be treated with first-class preparation, but also a Champagne Krug Clos du Mesnil 1995, Carta Real Sanches Romate Finos brandy, and Louis XIII cognac tasting as part of the overall pizza experience.
2. Miss Verdun - $4,250
Created mainly to be listed in the Guinness record books, the Miss Verdun from Montreal's Mazzou Pizza just missed the mark. But despite missing out, it still holds the recognition of being one of the expensive pizzas in the world. Costing $4,250 per pop, this pizza comes with white truffles, lobster, caviar, and 24-carat gold flakes.
The hefty price tag isn't just for the pizza alone as customers will also be treated to a personal chef preparing the pizza on the spot as well as a performance from the restaurant's chamber orchestra. Unfortunately, the luxurious pizza experience is no longer available since Mazzou Pizza already closed down.
3. Pizza Royale 007 - $4,200
Inspired by the super-spy James Bond, the Pizza Royale 007 from the Domenico Crolla restaurant in Glasgow, U.K. comes with a $4,200 price tag that fits right in with the lifestyle of the iconic fictional character. The pizza measures 12 inches and features caviar soaked in Dom Perignon, Scottish smoked salmon, lobster marinated in 100-year-old cognac, venison medallions, high-quality prosciutto, vintage balsamic vinegar, and 24-carat gold flakes.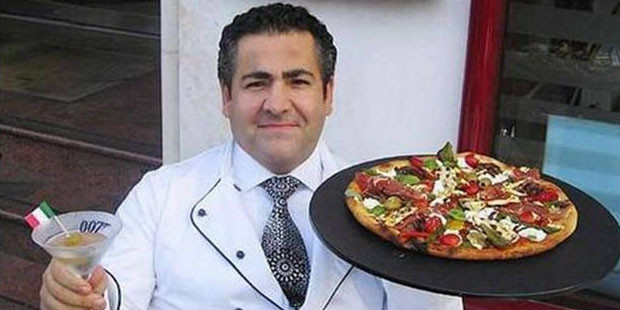 The Pizza Royale 007 was created by Chef Domenico Crolla solely to raise funds for the Fred Hollows Foundation. Finding this pizza may be difficult nowadays but Chef Crolla still whips out some exquisite gourmet pizza in his ORO restaurant in Glasgow.
4. Nino Bellissima - $1,000
Staying true to its "Bellissima" name, the Nino Belissima from New York's iconic Gino's restaurant is truly a work of art. And sometimes, beautiful things (in this case, food) can be pricey. The Nino Bellissima costs $1,000 and comes with a 12-inch thin crust, two lobster tails, and six types of caviar.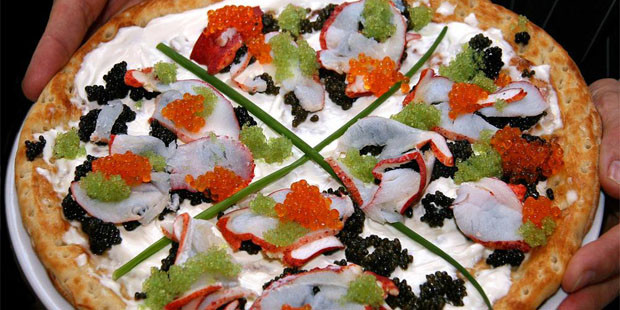 This thousand dollar pizza is a creation of Gino's which has been serving authentic Italian cuisine since 1945. The restaurant moved to its current location in Bay Ridge after making its name in the Upper East Side for seven decades.
5. The C6 - $450
Considered as the most luxurious seafood pizza to date, the C6 from Steveston Pizza is comprised of Lobster Thermidor, black Alaskan cod, smoked salmon, tiger prawns, and Russian Osetra caviar. Russian Osetra is considered one of the world's most expensive caviars.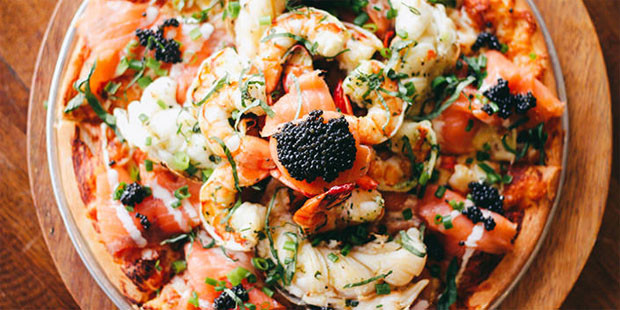 Located in Richmond in the province of British Columbia, Canada, Steveston Pizza is a hidden gem among Canada's numerous pizza parlors and has become a favorite spot for tourists visiting the area. Steveston is also a popular fishing village, housing around 600 fishing boats.
6. Gordon Ramsay's Pizza - $250
Although it's not made by Gordon Ramsay himself, the ingredients used in this pizza are enough to make the award-winning chef proud: Italian onion puree with white truffle pasta, buffalo mozzarella, fontina cheese, pancetta, fresh herbs, and cep mushrooms. The pizza was also previously listed in the Guinness Book World of Records before it was eventually surpassed by the other pizzas on this list.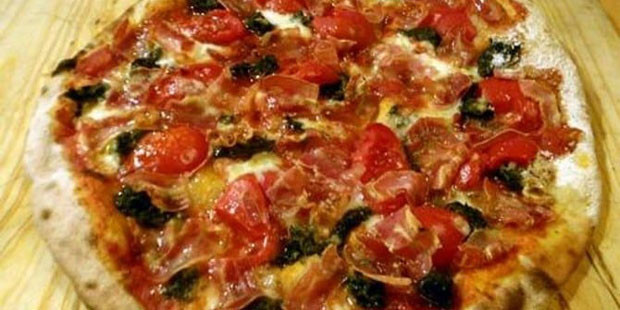 The $250 Gordon Ramsay's Pizza is a product of the Maze restaurant; one of the best-reviewed restaurants in London which also happens to be owned by the renowned chef. It's also one of the 18 restaurants run by Ramsay in the British capital.
7. Triple Mille-Feuille Pizza - $140
Although Domino's is known for serving affordable pizza, it also tried its hand in serving some very expensive ones, particularly the Triple Mille-Feuille pizza. Considered as the "Ultimate Domino's Pizza", the Triple Mille-Feuille costs $140 and features three layers of thin ultra-crispy crust with a lot of cheese sandwiched in between. It even comes with a "heavy" warning when served to customers.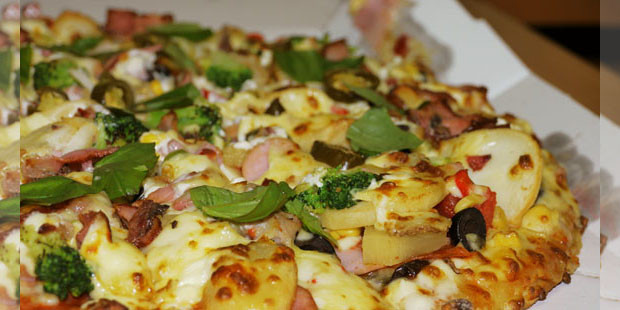 This enormous cheese pizza has been in and out of Domino's menu for years but it has retained its popularity in Domino's locations throughout Japan.
8. The Magic Gold - $108
Another restaurant in Canada is also serving an expensive pizza in the form of the Magic Gold. Costing $108, the pizza is made by the Magic Oven restaurant in Toronto and features 24-carat edible gold leaves. The Magic Gold is made from organic ingredients and is also gluten-free, making it one of the healthier pizza options on this list.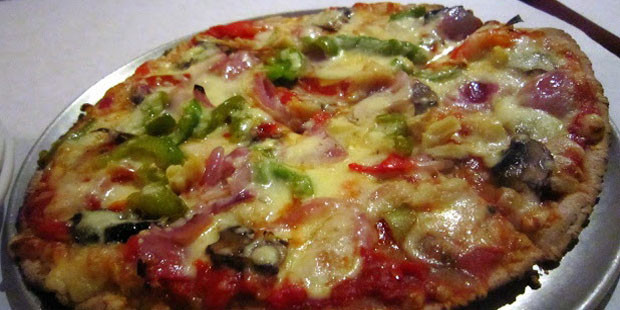 Magic Oven was founded in 1997 and is one of Canada's most popular organic food makers. It sells healthy pre-packed meals and operates in multiple locations around the country.
In Closing
Pizza has been around for centuries and will be around as long humans can make them; this includes expensive pizzas. A million-dollar pizza may be out of the equation for now but it won't be surprising if someone manages to make them in the near future.
Want to Be Successful?
Learn Secrets from People Who Already Made It
Please enter valid Email