Most Expensive Wedding Dresses in Britain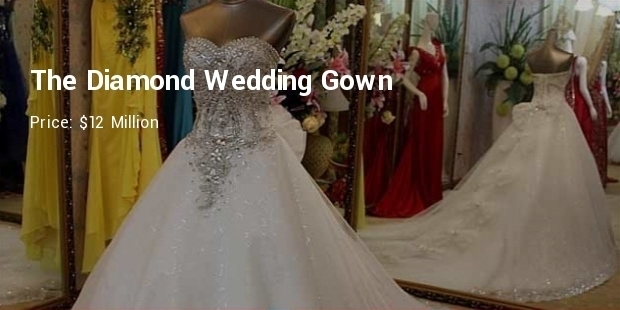 Feel similar to ecstasy while the ceremony of wedding knocks at the door, as it is one of the most imperative parts of life. Culture, custom, class even country may different but when the wedding bell rings it undoubtedly special for those two persons who tie the knot.
The entire humanity strives hard to be the owner of the day and build it unforgettable. In Britain, a wide variety of wedding dress available with stunning look at a different price. Out all, there are few designers' dresses which can make the party remarkable not only to the bride but also each attendee. A tiny list of the most expensive wedding dresses in BRITAIN is presented –
1. The Diamond Wedding Gown ($12 Million)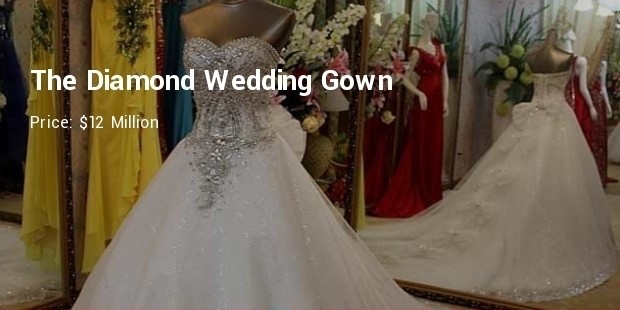 Famous jeweler Martin Katz and Renowned designer Renee Strauss fusion ended up with the dazzling wedding gown. 150 carats diamond featured premium fabrics make it appealing and elegant. This magnum opus encrusted with almost 150 laced carats of diamonds designed by illustrious artists of diamond jewelry.
2. Yumi Katsura White Gold Dress ($ 8.5 Million)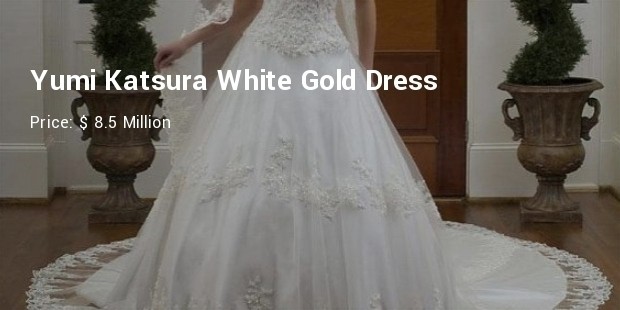 Yumi Katsura, a Japanese trendy fashion artist creates this gorgeous White Gold Dress. Main elements of the crafting include the white gold, deluxe silk and satin lined with a gathering of expensive jewels and extraordinary hand embroidered zari. Approximately 1,000 pearls and a preciously uncommon white gold diamond of 5carat turned it more modish and charming. Another 8.8 carats green diamond at the center increase it charm further.
3. Peacock Wedding Dress ($1.6 Million)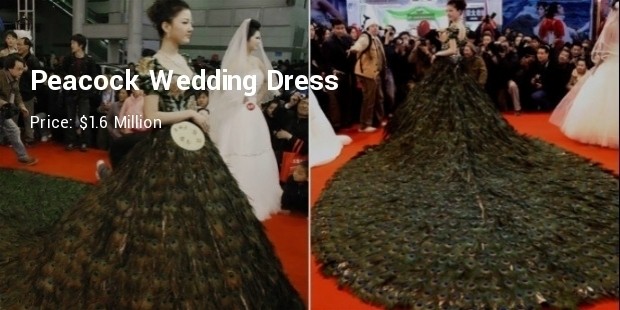 This notable and inimitable work of designer Vera Wang is made of the peacock feather. This unique dress was made in 2009 for the so high price that makes it most exclusive and lavish bridal outfit around the sphere. You can calculate the value just seeing this.
4. Danasha Luxury Gown ($1.5 Million)

This stylish wedding dress is the outcome of a remarkable teamwork by fashion maker Danasha Luxury and Jad Ghandour, which enclose with 75 carat of elite Antwerp with18 carat 250 gems and precious Belgium Diamond. This is a miracle creation in front of the world by means of lavish and extravagance.
5. Kate Middleton's Wedding Dress ($400,000)

6. Kim Kardashian's Givenchy Dress ($400,000)

7. Amal Alamuddin's Oscar De La Renta Gown ($380,000)

8. Mauro Adami Wedding Dress ($373,000)

9. Platinum Wedding Dress ($250,000)

10. Melania Knauss Wedding Gown – $200,000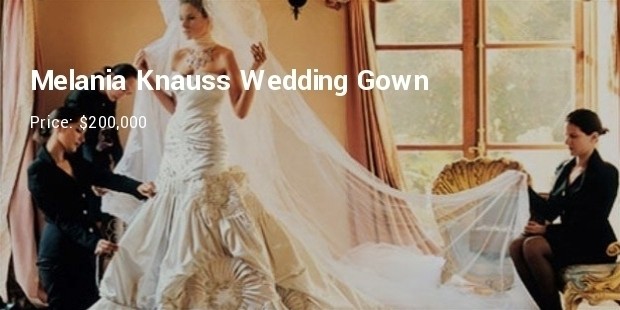 Who don't want to make their wedding more special and extraordinary by the mean of glory and prosper? If you buy or wear an expensive wedding dress of that value, the wedding celebration day will always keep on eye rather than in photo frame.

Want to Be Successful?
Learn Secrets from People Who Already Made It
Please enter valid Email