10 Most Expensive Star Wars Collectibles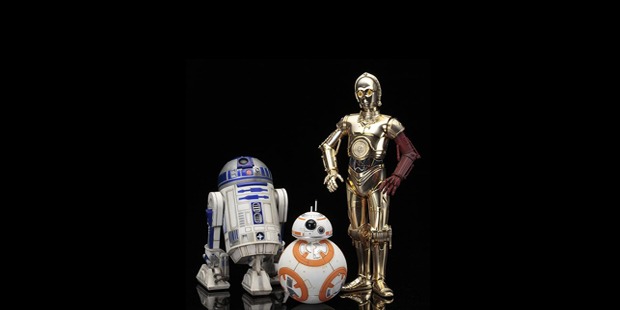 Ever since the London Evening News used the phrase "May the Fourth be with you" in commemoration of former Prime Minister Margaret Thatcher's first day as the United Kingdom's head of state, Star Wars fans have used the phrase to celebrate the highly successful movie franchise every May 4th. And part of the celebrations includes the showcasing of various memorabilia with some even costing thousands of dollars. Here are the seven of the most expensive Star Wars memorabilia ever released:
1. Boba Fett Figures - $150,000
Boba Fett has been one of the most popular characters in the Star Wars universe. Since making his first appearance in 1980's "The Empire Strikes Back", the bounty hunter has been a regular fixture in Star Wars memorabilia for over three decades. And after making his return in the hit television show, "The Mandalorian", fans have once again come in droves to purchase collectibles relating to the character.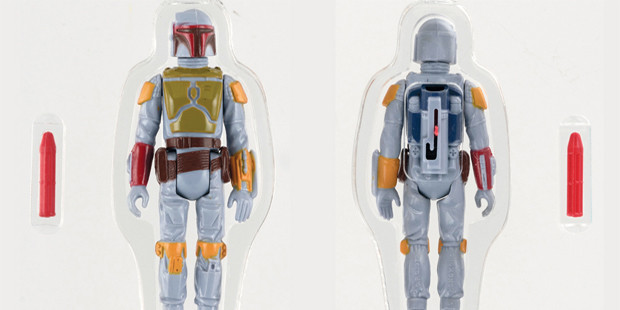 Although Boba Fett action figures are a common purchase among collectors, no other Boba Fett action figure, or any other Star Wars collectible for that matter, has cost more than the one created by American toy company Kenner. Originally scheduled for release in time for Empire Strikes Back, the rocket-firing Boba Fett never made it into retail stores as an incident with another toy company forced Kenner to shelve its plans. This caused collectors to scour the item in resale markets and auctions, with one reporting to make a purchase worth a staggering $150,000, making it the most expensive Star Wars collectible ever sold.
2. Double Telescoping Obi-Wan Kenobi - $76,000
Obi-Wan Kenobi is another character much like Boba Fett who has become a beloved fan-favorite in the Star Wars lore. Aside from being one of the first heroes to be shown in the 1977 live-action film, Obi-Wan was also the first Jedi to make an appearance in any form of Star Wars media, whether it be the movies, animated shows, or novels. The character even gained a new generation of fans after he was portrayed by British actor Ewan McGregor during the prequel films of the early 2000s. Oscar-winner Alec Guinness previously played Obi-Wan in the first film.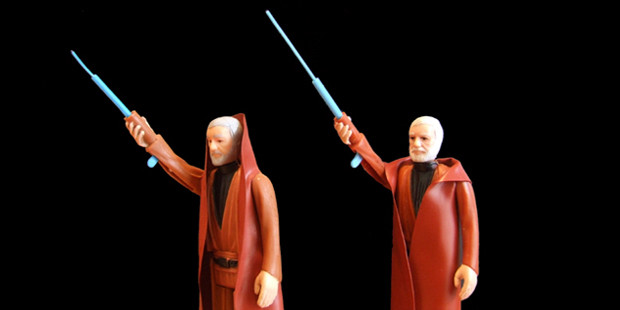 Kenner previously released a "double telescoping lightsaber" Obi-Wan Kenobi which is now valued at around $76,000. The lightsabers were placed in a hollowed tube that extended from the arms to recreate the light-up effect. After releasing a few batches of Obi-Wan wielding a double telescoping lightsaber, Kenner decided to abandon the idea and rerelease single telescoping figures due to the complicated design process.
3. Double Telescoping Darth Vader Lightsaber - $64,000
Obi-Wan wasn't the only double telescoping figure released by Kenner during the 1970s and 1908s. Darth Vader and Luke Skywalker figures were also manufactured by the toy company which came with the same dual light-up feature. Much like it did with its Obi-Wan models, Kenner also discontinued the double telescoping for all its other models and released simpler designs. One near-mint carded double telescoping Darth Vader managed to make its way in the auction market and was sold for $64,000.
Darth Vader is considered by many as one of the most iconic villains of cinematic history. Aside from his distinctive black armor and sinister helmet, Vader is also feared for his dueling skills and torturing tendencies which have been highlighted in the original trilogy as well as in the graphic novels. Vader also uses a red lightsaber, a color that represents Sith power, rage, and anger. Tony-winning actor James Earl Jones has voiced the Sith Lord in the majority of its movie, cartoon, and video game appearances for over three decades.
4. Vlix Action Figure Mint on Card - $59,000
Looking for rare Star Wars figures for sale? Check out the Vlix action figure mint on card. Vlix was one of the antagonists in the 1985 animated series "Star Wars: Droids - The Adventures of R2-D2 and C-3PO". Sadly, he didn't do much in the show prompting a toy release that would be very limited. This proved to be a fact with Vlix not only sold in limited numbers but the entire second wave of the "Droids" action figure series was only sold in Brazil. Die-hard Star Wars fans looking to secure a carded Glassite Vlix will run around $45,000 to $59,000.
Developed by Lucasfilm, "Droids" was released on ABC in 1985 and ran for 13 episodes. The series takes place before the events of A New Hope and follows the adventures of R2-D2 and C-3PO as they face off threats from the Galactic Empire. Boba Fett also makes an appearance in this non-canon spin-off series.
5. FX-7 (Palitoy Tri-Logo) - $11,000
Droids have been essential characters in the Star Wars universe. Although R2-D2 and C-3PO have maintained their popularity with fans over the years, a new batch of droids that have cropped up have become fan favorites as well. Some of these newer droids include BB-8 (sequel movies), K-2SO ("Rogue One: A Star Wars Story"), L3-37 ("Solo: A Star Wars Story"), and Chopper ("Star Wars Rebels").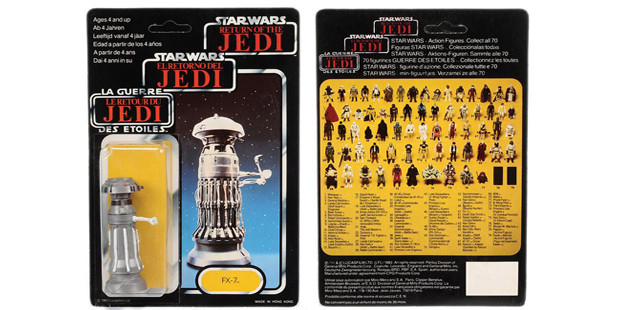 One droid that may not be familiar with most fans is FX-7. The droid was a regular fixture in the original trilogy and was the one who helped build Luke Skywalker his robotic arm. Kenner released an FX-7 figure back in the day but it was the European version of the droid distributed by Britain-based Palitoy that has seen valuations soar to thousands of dollars. What makes this toy so expensive is the card that comes with the actual figure, specifically having a completely different design from its American counterpart.
6. Marvel Comics Star Wars #1 (1977) 35 Cent Variant - $11,000
Marvel Comics (creators of X-Men, Spider-Man, and The Avengers) and Lucasfilm (creators of Star Wars) may be Disney's most valuable assets today but there was a time that the two media companies worked together as two separate entities. Two years before A New Hope was released, Lucasfilm approached then Marvel Comics Head Stan Lee to create a comic book series to coincide with the movie's release.
After lengthy negotiations with Lucas himself even pitching the idea to DC Comics (creators of Batman, Superman, and Wonder Woman), Marvel and Lucasfilm came to an agreement which resulted in a Star Wars comic book series that ran for 107 issues from April 1977 to May 1986. The comics also included three annuals as well as a six-issue edition of The Empire Strikes Back.
Although the value of comic books depreciate over time, the same cannot be said for the very first issue of Star Wars (also called Star Wars #1) published by Marvel Comics in 1977. The value has in fact risen over time, with collectors expected to shell out $11,000 for a near-mint edition of the said copy. Collectors looking to grab succeeding issues of these comics may not have to spend the same amount just but it will still cost them thousands of dollars.
7. LEGO Millenium Falcon - $8,600
Since the Star Wars franchise is known for its futuristic setting, it's not surprising that it has introduced some future-inspired transportation as well, one of which is the Millenium Falcon. Making its first appearance in the first-ever Star Wars film in 1977 (later dubbed as "Star Wars: A New Hope"), the spherical laser-blasting ship piloted by Han Solo (Harrison Ford) and Chewbacca (Peter Mayhew) is considered as one of the most notable vehicles in the Star Wars universe together with the X-wing starfighter and TIE fighter.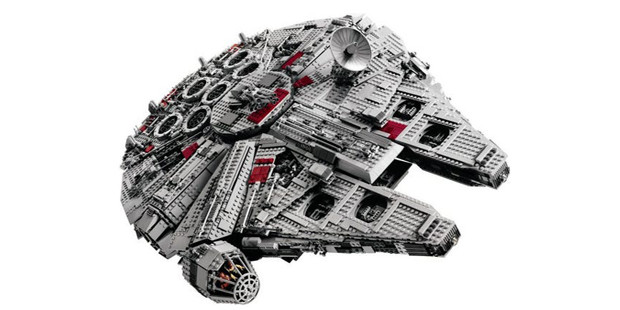 Casual and die-hard fans alike have been collecting the ship that "made the Kessel Run in less than twelve parsecs" memorabilia for over 30 years but not many have gotten their hands on one item: the 1st Ultimate Collector's Series Falcon released by toy company LEGO in 2007. The figure comprises around 5,100 pieces and measures 33 inches long, 22 inches wide, and 8.3 inches tall.
Additionally, the figure doesn't just feature an imposing size but also some incredible detail, particularly the paint job and the moveable parts that come with the figure. LEGO has made hundreds of figures over the years, but the 2007 Falcon is the most expensive Star Wars LEGO figure yet.
8. Star Wars Anniversary Poster - $5,000
Vintage Star Wars toys aren't the only highly valuable franchise memorabilia out there. Take for example this Star Wars anniversary poster which is valued at around $3,000 to $5,000. The poster, which features a birthday cake surrounded by Star Wars action figures, was shipped to cinemas that were still showing the first film 12 months after it was released in 1977. Only select cinemas were given the posters making the item one of the rarest collectibles fans can get hold of today.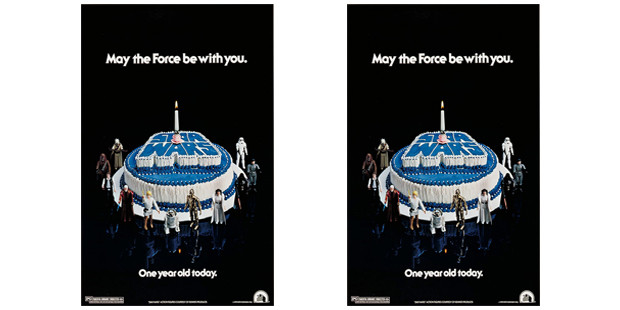 Most are in agreement that the first Star Wars film was the one that kicked off the science fiction genre in the 1970s. The film went to rake in $775 million in global box office sales and launched the careers of producer/screenwriter George Lucas and actors Harrison Ford, Carrie Fisher, and Mark Hamill. The success of the first film also led to two more movies by the end of the 1980s as well as a media empire that led to the creation of Lucasfilm Ltd.
Forty-four years since A New Hope left audiences in awe, the franchise is still going strong with a new legion of fans. And with this, six more films were released between 1999 and 2019 with another trilogy set to entertain fans beginning 2022. Additionally, the franchise has also moved to the small screen with Disney and Lucasfilm planning to develop 10 shows to be aired on the Disney+ platform by the end of 2025.
9. Yakface Action Figure - $4,000
Although Star Wars has built a library of iconic characters, it has also created numerous obscure ones which of whom are mostly remembered by hardcore Star Wars fans. One of these characters is Yakface who only made his sole appearance in 1983's "Return of the Jedi". Belonging to a cameloid race called Yarkora, Yakface (also called Saelt-Marae) was a con artist who made a living working in Jabba the Hutt's criminal empire.
Since Yakface was never heard of after the events of Return of the Jedi, it's unsurprising that any memorabilia relating to the character would be pricey. Originally included in the Star Wars toy figures "Power of the Force" line, Kenner halted the Yakface action figure going into U.S. stores and instead only released it overseas. Collectors scrambled to find the toy in the resale market, with some even reported to purchase it at a cost of $4,000.
10. LEGO Chrome-Plated C-3PO - $1,200
LEGO may best known for its life-size Millenium Falcon when it comes to Star Wars collectibles, but it has also created some highly valuable mini-figures as well, specifically a tiny 1 ½ inch chrome-plated C-3PO. The toy company released the figure back in 2007 to commemorate the 30th anniversary of the franchise with the popular droid being coated with a gold chrome exterior and sealed in a white bag. Although 10,000 figures were released by LEGO at the time, fans had to pay $1,200 for a single piece. Prices have only gone up since with some buyers reported to spend around $10,000 for the tiny gold figure.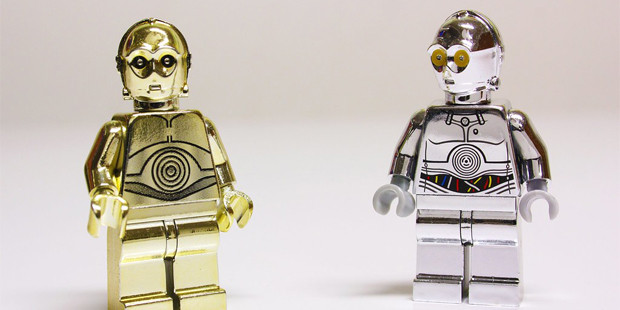 As previously mentioned, C-3PO or simply Threepio (portrayed by Anthony Daniels in all nine films) is held dearly by the hearts of many Star Wars fans around the world. It made its debut in the first film together with R2-D2 (Artoo) and it wasn't long before fans grew fond of its quirky and timid personality. Together with Artoo, the pair have become the center of some of the franchise's most entertaining moments. Threepio's gold humanoid aesthetic has also made it a regular chart-topper in merchandise sales but fans purchasing Threepio merchandise almost always pair with it an Artoo collectible.
Final Thoughts
As long as fans continue to celebrate Star Wars Day every year, the franchise's legacy will remain intact. And with it comes some valuable memorabilia that a majority of fans may not be able to collect due to their rarity and highly expensive prices.
Want to Be Successful?
Learn Secrets from People Who Already Made It
Please enter valid Email