James Earl Jones SuccessStory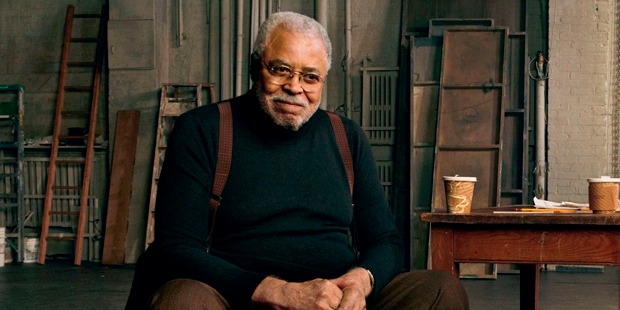 Considered as one of the greatest voice actors in history, James Earl Jones is the voice behind iconic movie characters Darth Vader and Mufasa and is also the voice behind hundreds of television programs including CNN and Sesame Street. Jones is also an accomplished actor, having won two Tony Awards. Although it's hard to comprehend, that there was actually a time when he couldn't even find his own voice. Jones ultimately managed to get past all his struggles, eventually building a legacy that is unmatched by any actor or narrator of his generation, or any generation for that matter.
Childhood
James Earl Jones was born in Arkabutla, Mississippi, United States on January 17, 1931. James' father Robert was a boxer and chauffeur while his mother Ruth was a teacher and maid. James also has a brother named Robert.
Young James didn't have an ideal childhood. His father left the family when he was born to pursue an acting career. At the age of five, James moved with his grandparents to Jackson, Michigan during the midst of the 'Great Migration'. Considered as one of the most notable moments in American history, the period marked the movement of more than six million African Americans from the southern portion of the country to the western states in the hopes to find a better life and fight social inequality.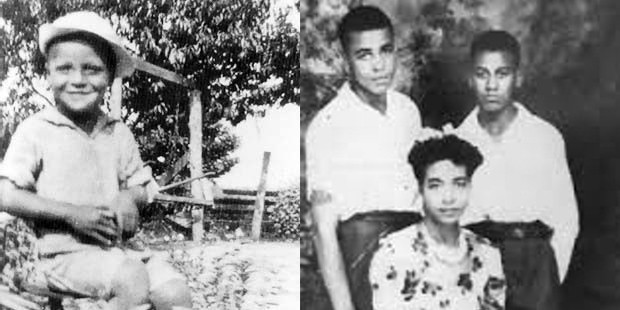 The transition of living with his grandparents traumatized the five-year-old Jones which led him to develop speech problems. He suffered severe stutter wherein it was even difficult to construct words and phrases. The condition left him depressed and embarrassed, and it would stay him until his teenage years.

Jones was functionally mute for eight years until he entered high school. In Browning School where he eventually, Jones would meet the person that would not only fix his stuttering but also help him develop the iconic voice that he would be known for today. Donald Crouch, who teaches English at Browning School, helped Jones fight through his stuttering through poetry. Crouch would let Jones read poetry on a regular basis, and it wasn't long before Jones found his deep, powerful tone. According to Jones in a recent interview, poetry helped him immensely since he "wasn't in confrontation with other peoples' feelings or thoughts but only his own." Poetry was also a major catalyst in Jones eventually pursuing an acting career.
Education
From Browning School, Jones moved to Dickson Rural Agricultural School (now Brethren High School) where he obtained his high school diploma. He later enrolled at the University of Michigan and graduated from the prestigious university in 1955. Jones initially took up a pre-med degree, but realizing that his passion was performing all along, he switched to the University of Michigan School of Music, Theatre & Dance.
During his college years, Jones joined the Reserve Officer Training Corps. When the Korean War erupted in the 1950s, he reported to Fort Benning and later to Camp Hale where he trained together with other cadets at the Rocky Mountains. He was promoted to first lieutenant prior to his discharge.
Early Career (Tony Win and Oscar Nod)
Jones officially commenced his career at the Ramsdell Theatre in Manistee, Michigan. After starting as a stage carpenter, he worked his way and became an actor and stage manager. In 1955, he performed Shakespeare's 'Othello' at the Ramsdell Theatre in what would be his first of many William Shakespeare performances. He made his Broadway debut in 1958, portraying Edward the butler in Dore Schary's 'Sunrise at Campobello'.
Throughout the 1960s, Jones would be known as one of the most talented Shakespearean actors during the time. Aside from Othello, he also portrayed King Lear in 'King Lear', Oberon in 'A Midsummer Night's Dream', Abhorson in 'Measure for Measure', and Claudius in 'Hamlet'.
In what would be Jones' first major achievement, he received a Tony Award for his portrayal as struggling boxer Jack Johnson in 1967's 'The Great White Hope'. The play, which originally premiered at the Arena Stage in Washington D.C., moved to Broadway in 1958 due to its massive success. It also won the 1968 Pulitzer Prize for Drama. Jones made his screen debut in 1964, starring alongside Peter Sellers in the 1964 dark comedy 'Dr. Strangelove' directed by acclaimed filmmaker Stanley Kubrick.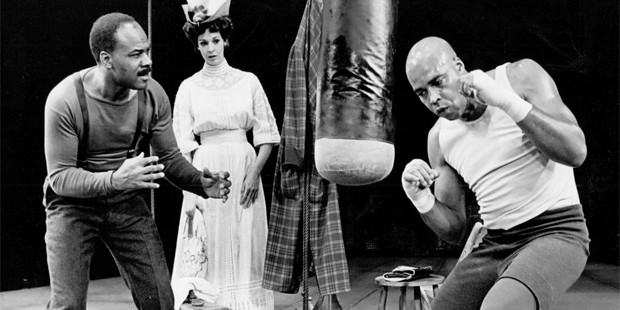 In 1969, Jones participated in making test films for popular children's show 'Sesame Street'. Jones' segments would eventually appear in the show which premiered in November 1969. Sesame Street has credited Jones to be its first celebrity guest.
By the early 1970s, Jones continued to find success as a theatre actor but also started to gain recognition as a film actor. He reprised his role as Jack Johnson in the 1970 film adaptation of The Great White Hope and earned him a Best Actor award at the 1971 Academy Awards. His Broadway co-star Jane Alexander also reprised her role as Eleanor Bachman in the critically-acclaimed film. In 1974, Jones co-starred with Diahann Caroll in the romantic comedy 'Claudine', a film that earned Caroll an Oscar nod for Best Supporting Actress.
Star Wars
In 1977, Jones would voice the iconic villain Darth Vader in Star Wars, the movie that would turn to be one of the most successful movie franchises of all time. The film's creator and director George Lucas initially hired English actor David Prowse to portray the masked villain, but noticing Prowse's voice didn't quite fit Vader's persona, Lucas opted for a voice actor instead. Lucas ran through a long list of names including Jones and renowned voice actor and Citizen Kane director Orson Welles. Lucas had always envisioned a "darker tone or deep bass" for Vader, and there was no one on the list that possessed those qualities than Jones.
Much like the rest of the Star Wars cast at the time, Jones wasn't sure if the film would turn to be a commercial success considering that science fiction films were at their infancy stages during the '70s. Being paid $7,500 for his role in the first Star Wars film (also dubbed as 'A New Hope'), Jones recalled that nobody had planned for a sequel and he was more than contented in earning $7,500 for a job he would work for only two and a half hours every day.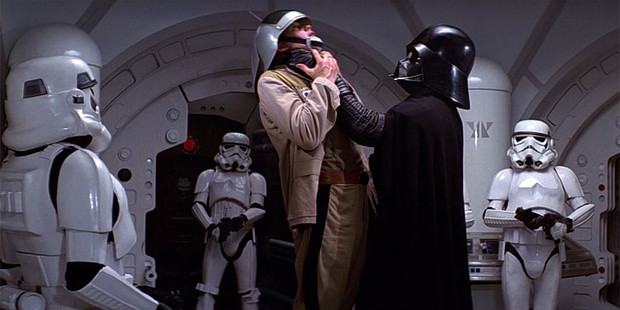 'Star Wars: A New Hope' didn't only turn out to be a commercial success, but also a favorite among critics. The film dominated the 1978 Oscars, winning six out of the 10 awards it was nominated for, including Best Visual Effects, Best Sound Mixing, and Best Original Score. The success of the first film also ensured that the Darth Vader voice actor would be returning for at least two films, in 1980's 'The Empire Strikes Back' and 1983's 'Return of the Jedi.' Jones cemented his place in film lore when he uttered the famous line in The Empire Strikes Back, a line that would become one of the most quoted moments in movie history: "I am your father."
Despite Jones not being the person to actually don the Vader costume, most fans seem to be in agreement that his voice is the representation of the real Darth Vader. And also despite being involved in numerous roles before and after Star Wars, Jones' role in the popular franchise is still considered by many to be his crowning achievement.
Lion King and Beyond
Already a distinguished actor during the 1980s, Jones returned to the stage and also starred in numerous films. In 1987, he earned his second Tony for Best Actor after portraying Troy Maxson in August Wilson's play 'Fences'. He would later star in several box office hits, including 'Coming to America' (1988), 'Field of Dreams' (1989), 'The Hunt for Red October' (1990), and most notably 'The Lion King' (1994).
The Lion King launched Disney's revival in animated movies during the '90s, and it would also become the company's highest-grossing animated film at the time. The film assembled a celebrity cast, including Jones, Jeremy Irons, Matthew Broderick, and Whoopi Goldberg. Jones voiced Mufasa, the King of the Pride Lands and father to Simba, voiced by Broderick.
Jones won a Primetime Emmy for 'Heat Wave' and 'Gabriel's Fire' in 1991 and was also presented with the National Medal of the Arts by former President George H. W. Bush. He would be involved in numerous television roles throughout the '90s and early 2000s including the 'Law & Order', 'Frasier', 'Will & Grace', and 'The Simpsons'. Among Jones' notable voiceover work at the start of the millennium included CNN and NBC's coverage of the 2000 and 2004 Summer Olympics.
In 2011, Jones received an honorary Oscar during the third annual Governors Awards together with celebrity host Oprah Winfrey and makeup artist Dick Smith. In an interview, Jones mentioned that receiving the award was "astonishing" considering his five-decade career didn't mostly involve being a film actor.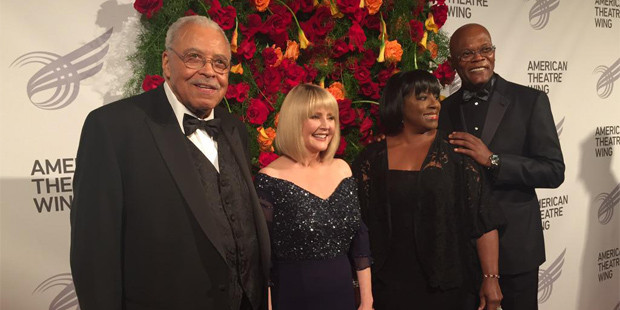 The James Earl Jones Star Wars partnership was renewed in the 2000s when Jones again voiced his iconic character in the hit animated series 'Star Wars Rebels'. He would play a bigger role in the 2016 film 'Rogue One: A Star Wars Story', much to the delight of older fans who have been with the franchise since the first trilogy.
James Earl Jones' Mufasa also made a comeback in 2019's The Lion King remake. He would be the only cast member to return from the original movie, joining a cast that included a new generation of stars Donald Glover, Seth Rogen, Chiwetel Ejiofor, and Beyonce Knowles. Director Jon Favreau requested Jones to reprise his role, saying that his presence helps "carry the legacy across."
Jones recently celebrated his 90th birthday, citing that he has been "proud of his work and achievements" as well as "loving to grow old and getting wiser with time."
Personal Life
Jones was reunited with his father Robert in the 1950s where they immediately reconciled. He also continually credits his maternal grandparents John Henry and Maggie for raising him during his traumatic childhood.
Jones met his first wife Julienne Marie in 1964 while performing as Othello. They married but divorced four years later. He married his second wife Cecilia Hart in 1982, whom he met while filming the television series Paris. They have a son, Flynn Earl Jones, who was also born in 1982. Hart died of ovarian cancer in 2016.
James Earl Jones has indeed carved an outstanding career. Aside from voicing iconic characters, he also played significant roles both in movies and in theatre. But it should be noted that his success story is also an inspiration that years of struggle doesn't mean a lifetime of failure; a great analogy to Star Wars which has always revolved around the idea of "hope".
Full Name :

James Earl Jones
Zodiac Sign :
Birth Place :

Arkabutla
Mississippi
Education :

University of Michigan
Occupation :
Industry :
Networth :

$40 Million
Want to Be Successful?
Learn Secrets from People Who Already Made It
Please enter valid Email