Most Expensive Rolls Royce Cars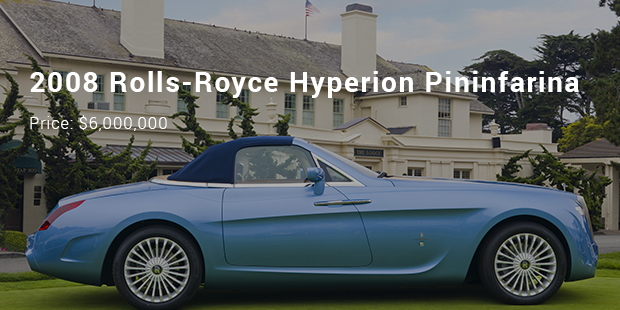 An extremely renowned company for its antiquity falls short of words. The company is known for its fastidious engineering quality. It uses the 'R' engines that match the air and land record. Luxury cars adorn the range of Rolls Royce.
Aero engines later on came to be characterised by Rolls Royce. The brand was divided into three major bedrock layers which are Rolls Royce Limited to Rolls Royce Motors. The latest convertibles fixes all the problems related to leg space and roof up ride.
1. 2008 Rolls-Royce Hyperion Pininfarina - $6,000,000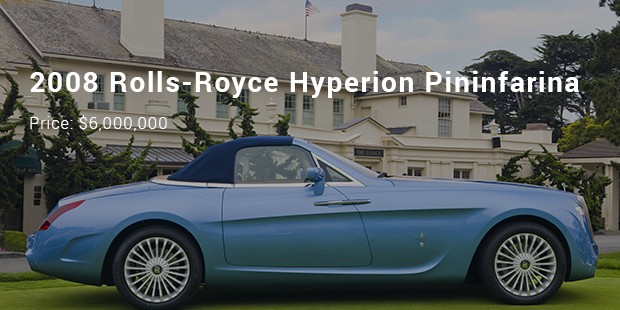 This car is a custom made vehicle. It surely has competitors but none can match its elegance. To the people who love Rolls Royce its an model ultra luxurious model with modifying features to match up. A vintage look is integrated within the fold.
2. 2004 Rolls-Royce 100EX Centenary - $2,500,000
To mark the 100th anniversary of Charles Royce and Henry Royce the car is redefined. It has the ecstasy feel of the silver variety. Much talk was put at its unveiling. The design is truly inspiring for it has cutting edge luxurious feel to it.
3. 1947 Rolls-Royce Phantom III Labourdette Vutotal Cabriolet - $15,00,000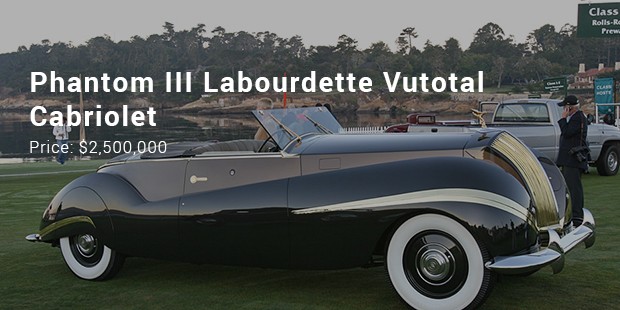 Considered as the most daring work and also the last work of the designer Labourdette. With a concentration on the support of the windscreen, plush interiors and fenders are a treat to watch. The vacuum driven windows are another trademark that looks spectacular.
4. 2007 Rolls Royce Phantom Mansory Conquistador - $10,00,000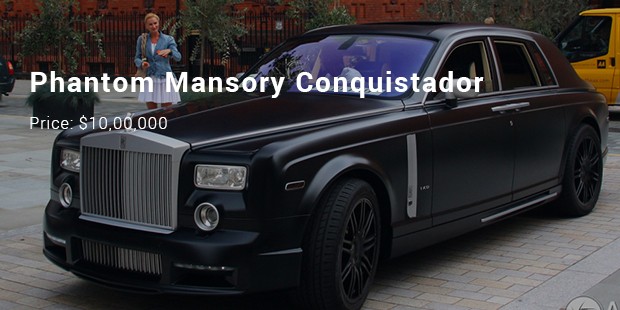 Customization hails the model of the car that combines elegance and accentuating features. Running lights of the LED variant look stunning with aluminium flanks, maximum torque and top speed of the car. Inlay of maple wood is uniquely blended in the car. The dashboard is stylish in its own right.
5. 2014 Rolls Royce Phantom Mansory Conquistador - $10,00,000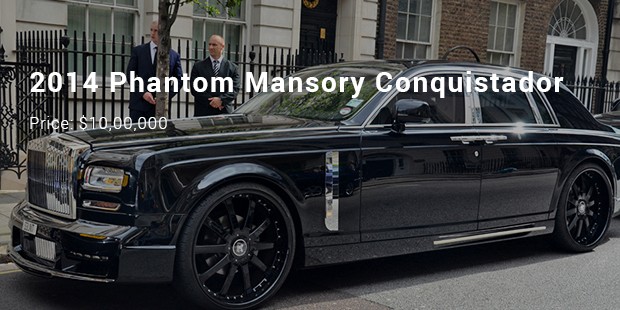 The Frankfurt auto show witnessed class draped in style. There is nothing which is mundane about the car rather excessive borders makes it look flawless. The paint of exterior is petrol blue with a chrome of two-tone. Aerodynamic kit of carbon fibre is embedded in the car.
6. 2014 Rolls Royce Wraith Mansory - $750,000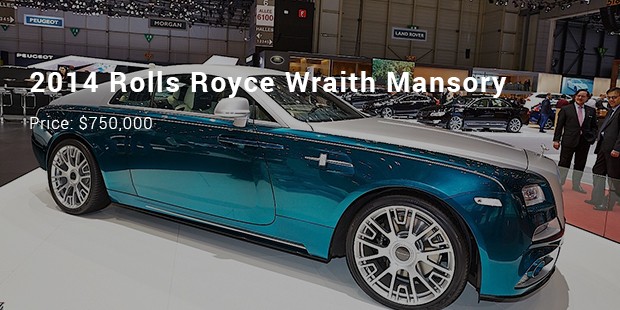 Mansory is for those who is looking for higher level of unique luxury. It's Petrol blue and chrome paint sets it apart from the existing coupes in the market. It has an aerodynamic design with front apron fitted with LED and daytime lights. This aerodynamic improvements are all made of carbon fibre. The Mansory comes with 632 hp V12 engine. The elegant look is complemented by 22 inch pair of wheels along with Vredestein ultra high performance tires.
7. 2008 Rolls Royce Phantom Drophead Coupe - $700,000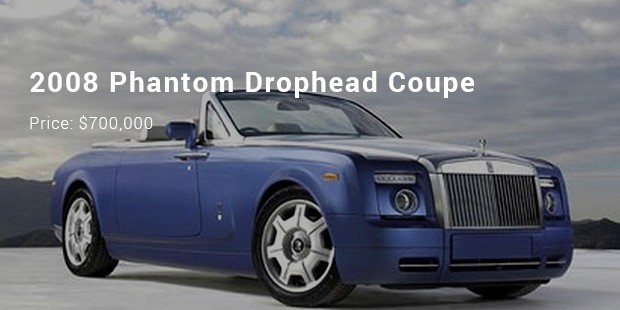 This model has a 6.75 litre V12 453 hp engine. First introduced in 2007's Detroit Auto show, this coupe became an instant hit. With great interiors this convertible was once auctioned in Elton John AIDS Foundation.
8. 2014 Rolls Royce Wraith Novitec Spofec - $680,000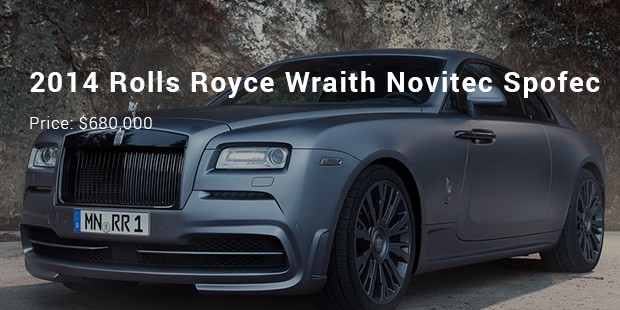 The SPOFEC program for the Wraith includes a special made Wheel design, available in several colours. Some of the developments for this Wraith are its upgraded Plug and Play Power, sophisticated body parts as well as power-optimized exhaust systems. It comes with a 717 bhp engine weighing almost 2360 kgs.
9. 2008 Rolls Royce Phantom Coupe - $650,000
This handmade luxury coupe debuted in 2008 – the basics of 2003 Phantom remains intact & is overlaid by styling of 100EX model of Rolls Royce. This coupe has same engine as of other Phantom models – V12, 6.75 litres. This comes with a picnic trunk which provides a seating platform for two. It has a top speed of 155 miles per hour and can go from 0 to 60 mph in 5.8 seconds.
10. 2014 Rolls Royce Ghost Series II Mansory - $650,000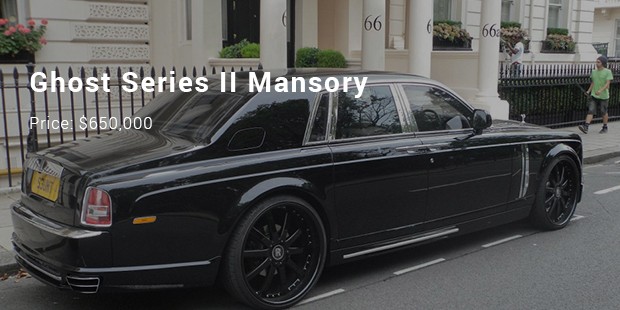 This luxurious sedan has a brand new body kit – frontal side has an addition of bumper & splitter, whereas it has all new Mansory monoblock wheels. It has increased power from the 6.6 litre twin turbocharged V12 engine from 570 hp and 575 lb ft of torque through to 652 hp and a neck-splitting 774 lb-ft of torque.
11. 2010 Rolls Royce Ghost Mansory White Ghost Limited - $580,000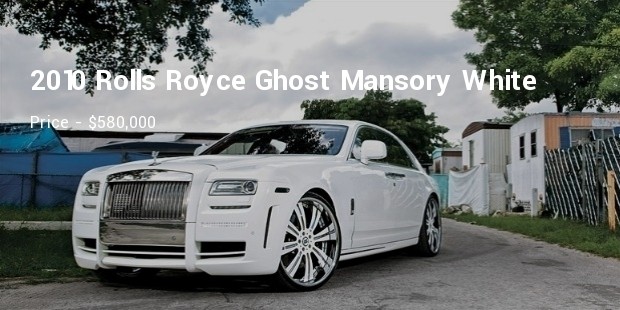 This 2010 product was originally designed by Andreas Turner and Charles Coldham. The main idea was to create a smaller version than the Phantom, which would at the same time be affordable. It has a 6.6 L V12 engine and an 8-speed automatic transmission. It attains a speed of 290 kph and weighs 2430 kgs.
Swanky and sturdiness defines Rolls Royce which is absolutely a delight to view and harp on driving pleasure with better road clearance combined with scintillating interiors and plush exteriors as well. Sober colours to electrifying glistening shades look flawless on the models.
Want to Be Successful?
Learn Secrets from People Who Already Made It
Please enter valid Email