Most Expensive Lexus Cars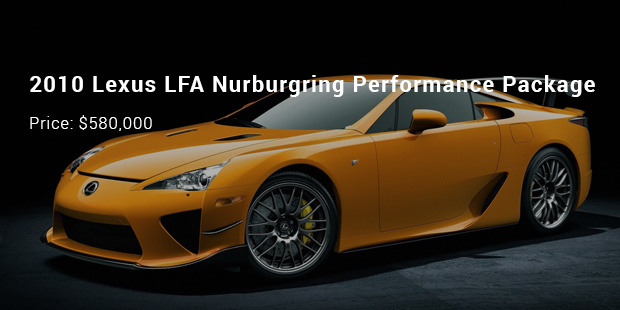 Lexus is a luxury automobile, a division of Japanese automaker Toyota. It has become one of the largest selling of luxury cars in Japan. It has spread its business over 70 countries worldwide. The Lexus features sedans of different size and class, comprising the compact HS and IS models, mid size ES and GS models and the full size LS.
Lexus has altered the design of many sedan cars, with some better facilities like smart key entry and startup systems, remote touch system comprising a computer mouse like controller with haptic feedback, navigation screen interface etc. Lexus became the first luxury car brand to furnish models with premium audio systems in partnership with stereo firm Nakachimi.
1. 2010 Lexus LFA Nurburgring Performance Package - $580,000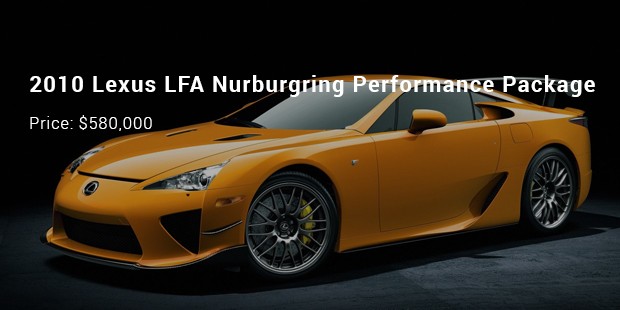 On 15th March 2010, Lexus introduced the circuit tuned variant of the LFA plans, it was named has LFA Nurburgring Package, and the package features an extra 7kw for its V10 engine bringing the total to 420 KW. The Lexus LFA has a 4.8 liter V10 engine.
2. 2010 Lexus LFA - $480,000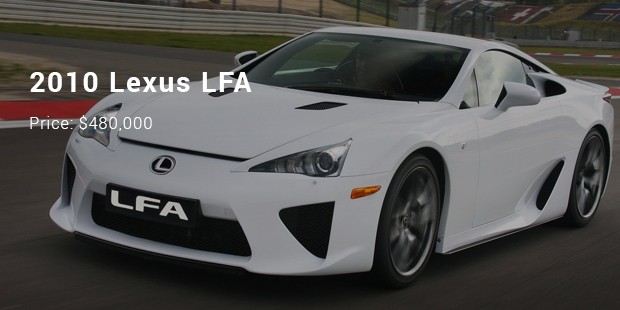 The Lexus LFA is a two seated supercar and can reach 0-100 km/hr in 3.7 seconds. It can attain the maximum top speed of 325 km/hr. This car comprises of 72 degree bank angle, 4.8 liter V10 engine prepared with double VVT-I with a maximum output of 412 KW conveyed at 8700 rpm.
3. 2012 Lexus LS 460 TMG sports 650 - $250,000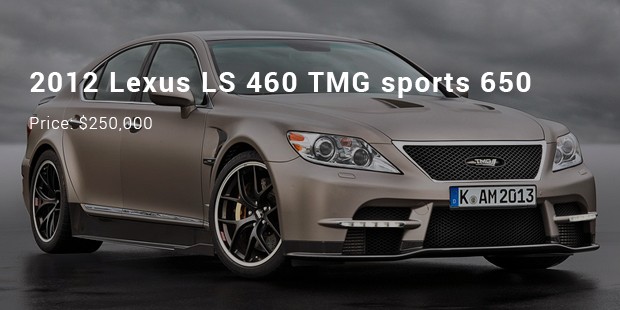 This car of Lexus is designed as a showcase for TMG'S high performance aptitude, the TS 650 is a 641 HP bi-turbo super sports car based on the Lexus 460, with 5 liter V8 engine. It can reach the top speed of 320 km/hr and 0-100 km in 3.9 seconds.
4. 2013 Lexus LS 600 HL - $220,000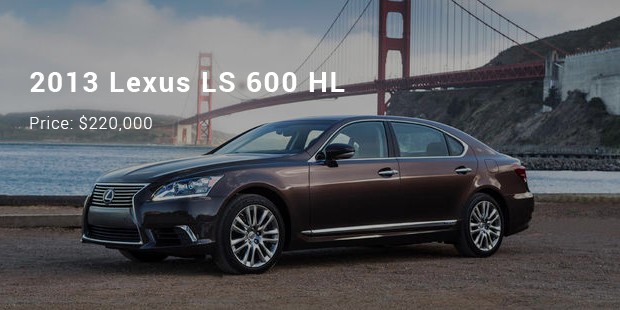 The huge 600 hybrid has a long stroke 5 liter V8 engine with 389 horsepower, 385 lb-ft of torque amplified by a 221-hp AC electric motor. It can reach the top speed of 250km/hr. This model also comes at a moderately high price.
5. 2014 Lexus RC F - $180,000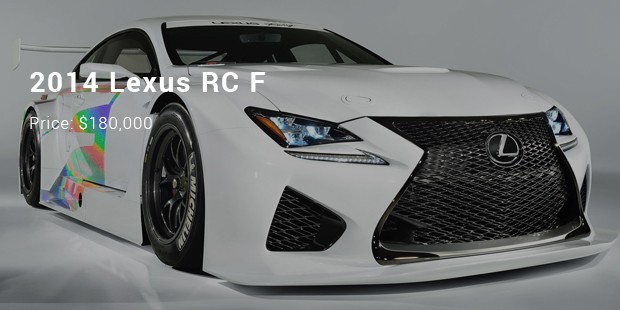 6. 2006 Lexus LS 460 - $150,000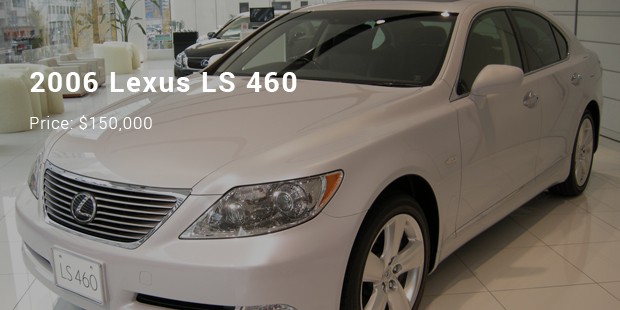 7. 2016 Lexus GS F - $130,000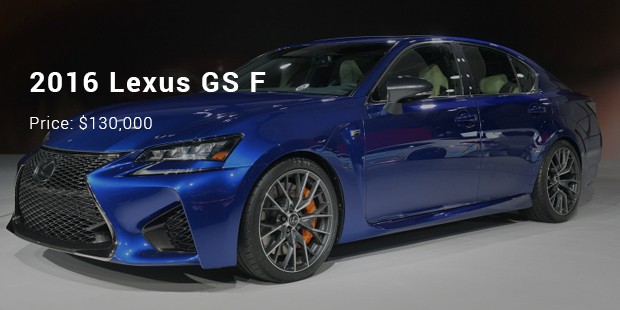 8. Lexus LX 570 – Price: $130,000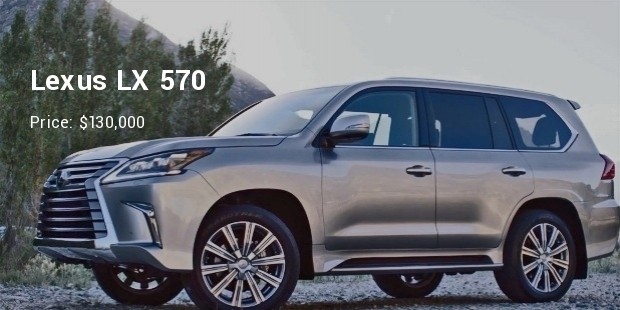 This model measures 102 mm in length and 25 mm in width and comes with 20-inch wheels, a 4-wheel electro-hydraulic suspension with a 6-setting AHC system that can raise the vehicle by 76 mm. The car is meant to be a 'Luxury Crossover'.
9. Lexus SC430 – Price: $100,000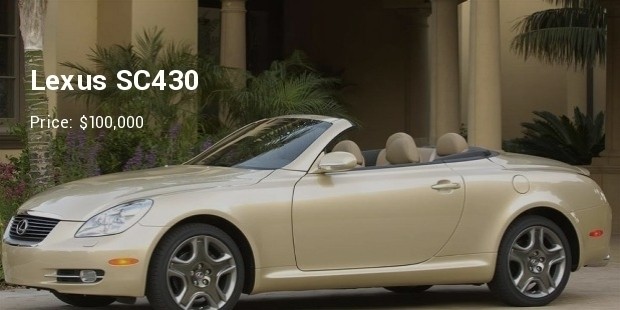 The SC 430 – is a sports coupe-convertible, which debuted at the New York Auto Show in April, 2000. It has an all-leather interior with brushed aluminium accents, folding wood panel, 18-inch aluminium wheels, Burl Walnut or Bird's Eye Maple wood trim, Mark Levinson premium sound system, DVD-based navigation system and headlamp washers.
10. Lexus IS F – Price: $63,000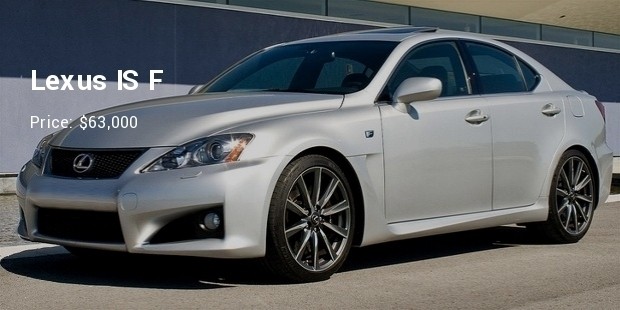 The 2014 model of IS F is the fastest and the most dominant sedan in Lexus' stable. It features a 5-liter V8 engine and track-tuned suspension that boasts 416 HP and reaches 0-60 mph in 4.6 seconds. With 371 pound-feet of torque on tap, the Lexus IS F looks imposing.
11. Lexus GS Hybrid – Price: $60,430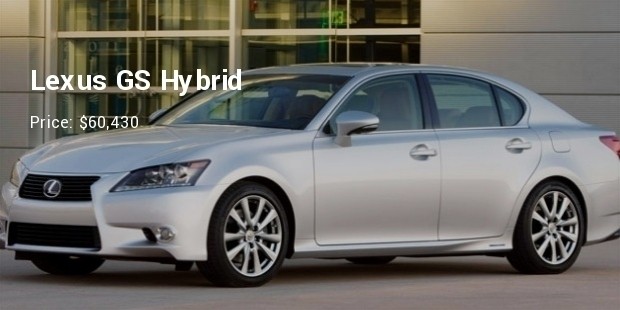 This model comes with excellent fuel economy and strong acceleration. It has an elegant interior with top-notch materials, including wood trim and leather upholstery, roomy front seats, satellite radio, a 12-speaker surround sound audio system, 8-inch display, a rearview camera, USB port, Bluetooth phone and audio streaming.
12. Lexus GS – Price: $47,700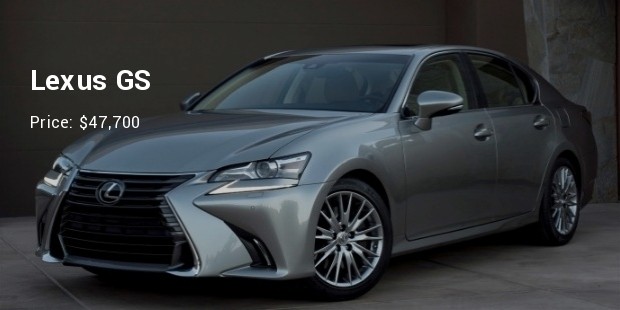 GS is a mid-size luxury car & since 1993 four generation of the GS variant has been produced. This particular model won many awards over the years. Right from 1998 becoming the 'Car of the Year' by Motor Trend till Smart money magazine naming it as the 'Best Luxury Sedan' for 2004.
This brand is no doubt one of the finest picks as it is moderately ranged plus it gives you the sophistication of a luxurious cars. All its models are available in different price ranges varying upon their built and facilities available.
Want to Be Successful?
Learn Secrets from People Who Already Made It
Please enter valid Email