Most Expensive Mercedes Benz Cars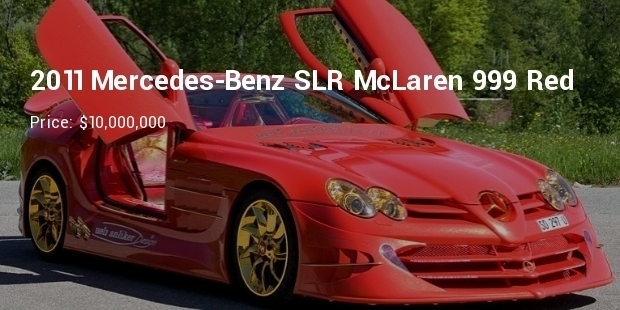 Mercedes Benz is a Germany based automobile manufacturer which is a multinational division of Daimler AG, which is also a German manufacturer. The headquarters of this brand is in Stuttgart, Germany.
It is a well known brand for launching luxurious buses, coaches and other automobiles. Its name first appeared in the year 1926 under the name of Daimler Benz but it actually originates from Daimler-Motoren Gesellschaft.
The slogan that this brand follows is "the best or nothing". It is one of the most recognized and superior selling car manufacturing brands in the world. But quality comes with a high price tag, so following are the most expensive Mercedes-Benz models in the world.
1. 2011 Mercedes-Benz SLR McLaren 999 Red Gold Dream - $10,000,000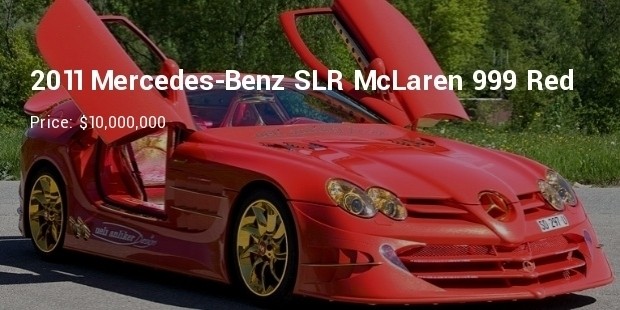 A Swiss businessman Uele Anliker changed the Mercedes McLaren SLR into his own red and gold supercar. Each of the SLR wheel is covered in 24 carat gold along with the gold headlights and door sills. The supercharged 5.4 liter engine produces 640bph to 999 bph horsepower and can reach the top speed of 340km/hr.
2. 2002 Mercedes CLK-GTR Roadster - $3,500,000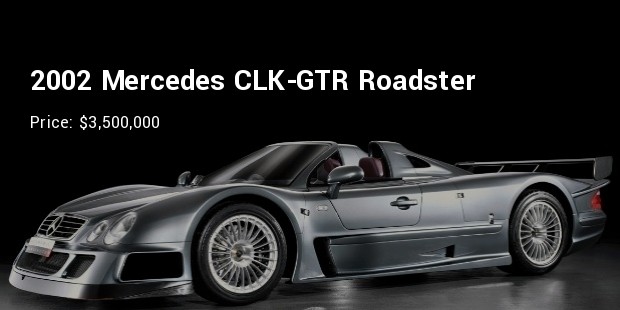 The extremely rare Mercedes Benz CLK GTR roadster is recently up for sale in the United States. This car has 6.9 liter v12 engine which delivers an overall 604 hp and a 572 lb-ft of torque. It can run 0-100km/hr in 3.8 seconds and can reach the maximum speed of 320km/hr.
3. 2002 Mercedes-Benz CLK GTR Super Sport - $3,300,000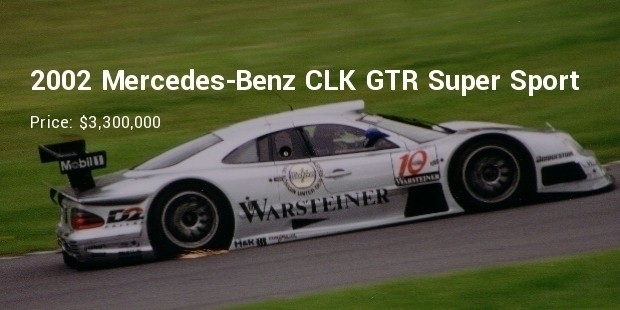 The Mercedes-Benz CLK GTR super sport variant had the 7.3 liter v12 used in the Pagani Zonda which resulted in a total power output of 720hp. It can reach the top speed of 346 km/hr and can accelerate 0-100km/hr in 3.6 seconds.
4. 1998 Mercedes Benz CLK LM Starben Version - $3,000,000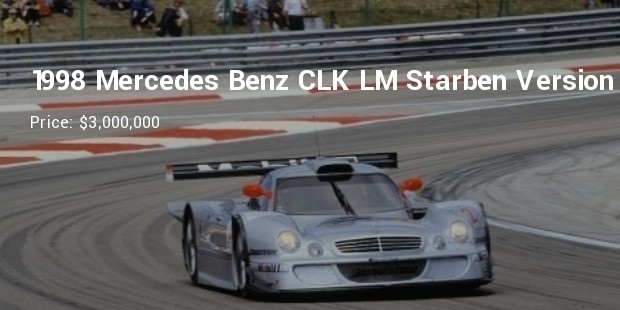 The CLK LM'S 6 liter v8 engine produced approximately 600hp allowing it to attain the maximum speed of 360km/hr. It takes 3 seconds to reach 0-100km/hr. The CLK LM has won every championship in which it took part.
5. 1991 Mercedes Benz c112 concept - $3,000,000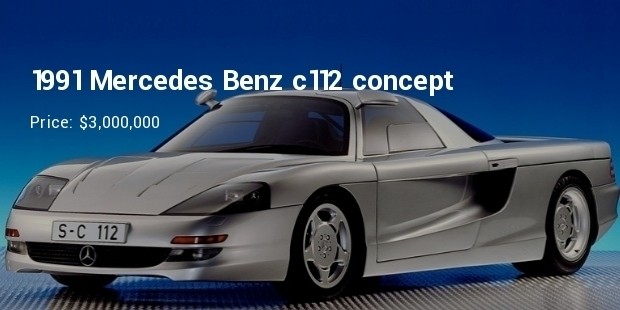 The C112 is a high performance sports car from Mercedes-Benz. It is powered by six- liter V12 engine that can help in developing 300 kw. It was first car to afford active suspension named Active Body Control (ABC). Equipped with high-end features, this is the finest and expensive car from the brand.
6. 1999 Mercedes Benz vision SLR concept - $3,000,000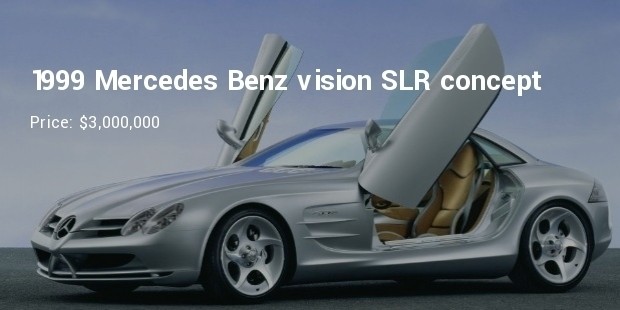 The Vision SLR is the joint project between DaimlerChrysler and McLaren Cars Ltd. The car comes with fascinating bodywork design, clearly identifying the super sports car as Mercedes-Benz. It is designed with perfection and has class of Mercedes-Benz.
7. 2013 Mercedes Benz AMG vision gran turismo concept - $3,000,000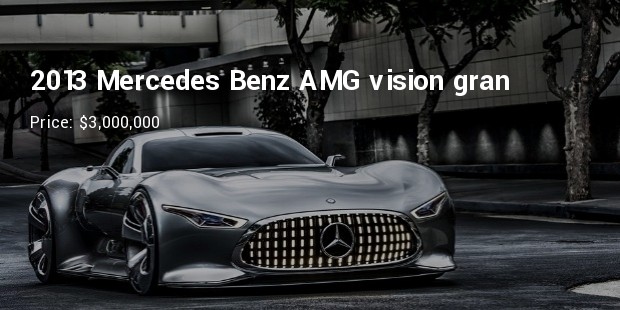 This proactively styled car comes in Silver Arrow and has classic proportions with long hood and low wide tail. It is powered by AMG's 577-hp and 5.5 liter twin turbo V-8. Comes with fascinating sporty design, it is one of the highly priced sports car.
8. 2015 Mercedes Benz F015 Luxury in Motion - $3,000,000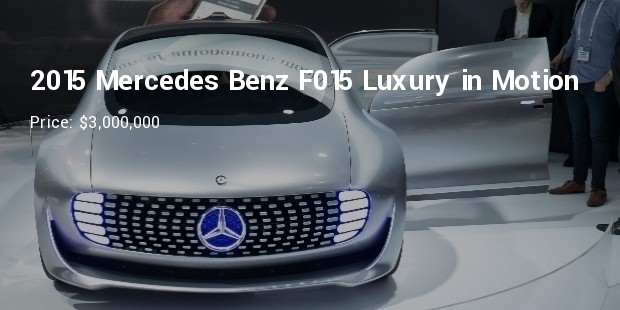 9. SLR McLaren Mansory Renovatio $1.5 million

This 2008 model stands in 9th place and is faster with 340km /hr top speed. It can do 100km/h in 3 secs. It comes with the most appealing design that can pop out our eyes. Having this in your car collection will certainly uplift your status.
10. Concept S-Class Coupe- $2 million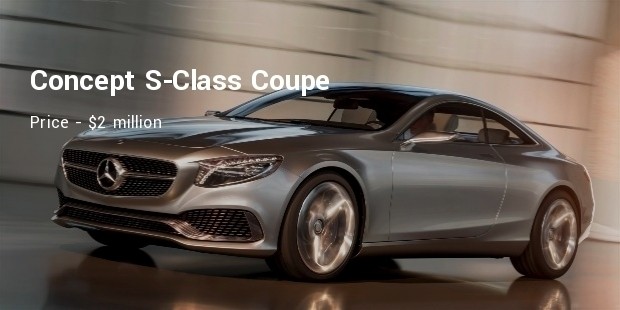 Presented in the year 2013, this is the best concept car. Though in terms of design, it can't be compared with other models of the brand, it has some strong features. It can top speed of 300 km/h, 0 to 100 km/h in 4.8 seconds, 455 hp and a 4.7 litre V8 engine.
This high class car from Mercedes Benz is powered by two rear-mounted electric motors and 272 horsepower. The rear-wheel drive F-105 is said to sprint 62 mph in 6.7 seconds. The entire car is structured with aluminium, high-strength steel and composite materials. With high price tag, this is worth buying.
Mercedes-Benz is a name that dominates the car industry all over the world. Be it any country, it finds its potential market all across the globe. Hence it a reliable, trust worthy company that should also be your choice undoubtedly, if you ever wish to buy a luxury car!
Want to Be Successful?
Learn Secrets from People Who Already Made It
Please enter valid Email