Most Expensive Hot Air Balloon Tours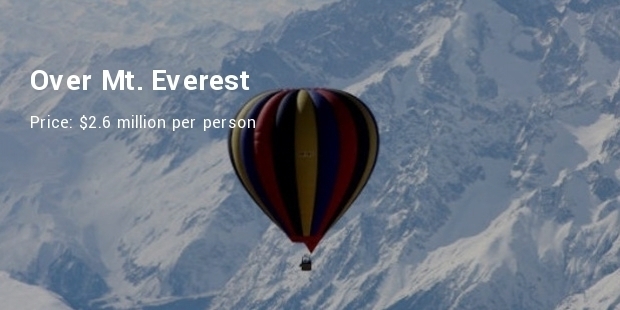 Flying in sky is always a dream of people. Aircrafts have been fulfilling this desire over hundred years. But before that there is another option which on track more than another century from the history of aircraft, hot air balloon tour. People are always fond of travelling in the sky freely. Although there are many modern luxurious aircraft, there is an increase in the passionate tourists for hot air balloon travel.
Rather than enjoying the sky in a closed compartment it is better to be in an open basket. Depending on the weather you might go up from 1000 feet or above. Here we provide a list of most expensive hot air balloon tours –
1. Over Mt. Everest $2.6 Million per person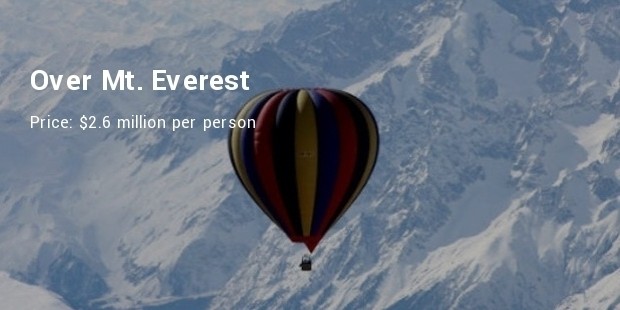 In 1991, Chris Dewhirst has completed the earliest hot air balloon travel over Mount Everest. The nonrefundable two person ride needed $2.6 million per person without any assurance of crossing the mountain. Physical and mental strength with economic solvency is must for the ride.
2. Gstaad, Switzerland $600 per person

Numerous colored balloon from various part of the world, painted the sky of Alps in the week last of January while the International Balloon Festival took place. The marvelous hot air balloon ride of Gstaad cost $600 per person. You can feel like bird during this tour.
3. Masai Mara, Kenya $550 per person

A miraculous gesture can be flown over your mind while spend an hour in a balloon trip over the savannah. Creep after giraffes, antelope in nature, close look on carnivorous lions and mostly the sunrise in sky will make the ride magnificent.
4. Serengeti, Tanzania $529 per person per hour

With this balloon expedition you will experience an exceptional image drawing in green verdant plains with colourful giraffes and zebras, hippos, leopard and lions. About 2 million migrated wildebeests from Kenya to Tanzania might also been seen. One hour flight can rest your soul from the tiring life.
5. Loire Valley, France $400 per person per hour

6. Queenstown, New Zealand $386 per person

7. Muelle, Costa Rica $345 per person

8. Bagan, Myanmar $320 per person

9. Melbourne, Australia $320 per person

10. Colorado Springs, Colorado $295 per person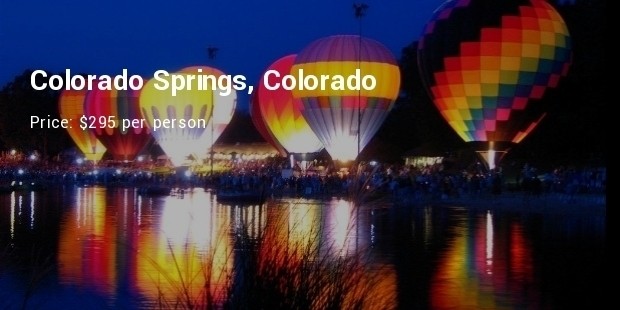 Is anything superior to observe the earth like a bird's eye? Expensive hot air balloon tours are there to make your dream come true. If the wealth and climate support, you might take their expensive hot air balloon tours which will broaden your views.

Want to Be Successful?
Learn Secrets from People Who Already Made It
Please enter valid Email