Most Expensive Football Cards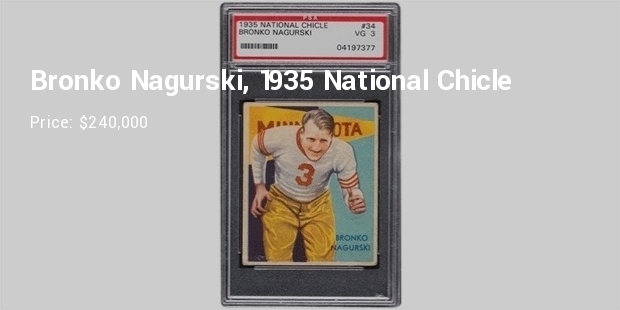 Football often renowned as American football or gridiron, produce numerous trading cards like the basketball which have comprised fanatic hobby to the collectors. From the beginning since November 6 of 1869, the football becomes the part of the culture of the US. Although the football antique cards don't dominate the market like baseball, they have already created their own place among the collector cards. Classic football trading cards sometimes comprise similar expense like their most close competitors' basketball or baseball trading cards. The value largely depends on the rating of an autonomous organization PSA. A list of most expensive football cards is as follows –
Bronko Nagurski, Football, 1935 National Chicle – $240,000

The celebrity football star Bronko Nagurski with the fanatic poses stands at the top chart of the most expensive football trading card. This card is widely accepted among the fans of football. The trendy background makes it the item of collector's choice.
1948 Leaf PSA 8 Sid Luckman $71,836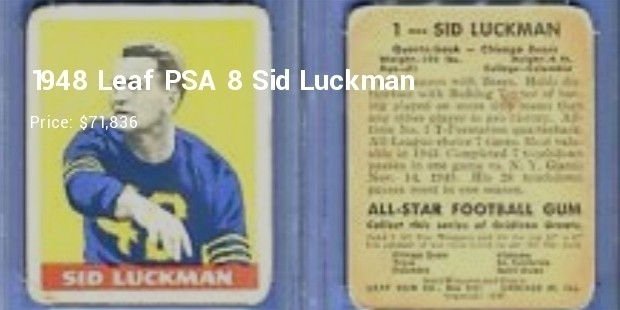 The quarterback of the Chicago Bears, Sid was the most prominent quarterback in the history of Bears. With the less good condition, this is the representative sample of 1948's renowned set. Although there are a large number of different backgrounds found but the yellow one is most appealing and expensive as well.
Charles Bendnarik 1948 Leaf PSA 8: $38,600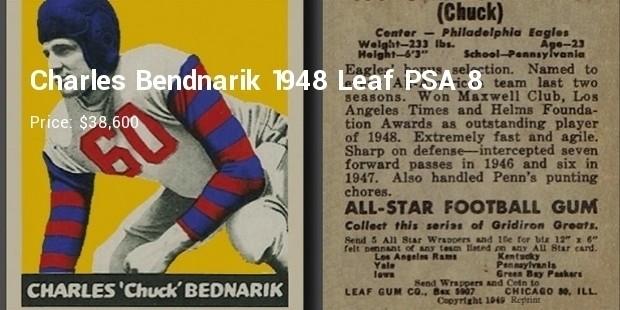 Good shape of Charles Bendnarik is difficult to trace out. If anyone able to manage a good quality leaf card with the yellow background, it likes getting a jackpot. Tackling was the main strength of Charles, but it ends the career of Frank Gifford for a year.
Sammy Baugh 1948 Leaf SGC 96: $38,000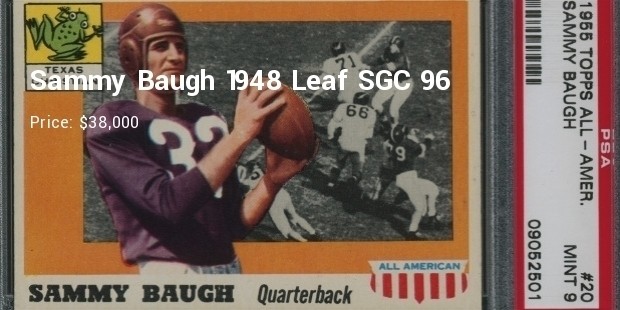 Although the price of Sammy Baugh's trading card is similar to Charles, but he left him foot mark higher. This is another rare collectible of 1948's. Due to the face value of Sammy, the price might be higher within few years.
Bob Waterfield 1948 Leaf PSA 8.5: $31,600

Jim Lansford 1952 Bowman (Large) SGC 92: $30,000

1976 Topps BVG 10 Walter Payton $10,000

1951 Bowman PSA 10 Tom Landry $16,717

1957 Topps PSA 9 Johnny Unitas $18,000

1965 Topps PSA 8 Joe Namath (several thousand dollars)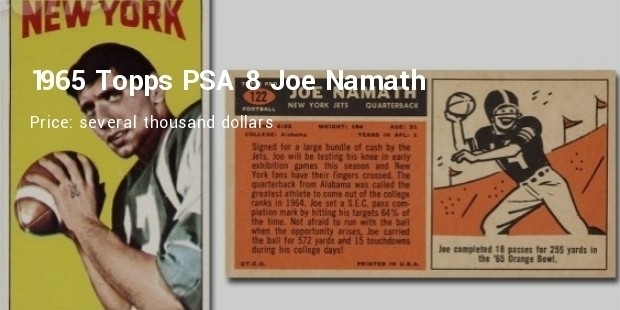 By spending money in collecting football cards, you can be the owner of the history. As the price exceeding the expectation with the date, investing in football card might bring noteworthy wealth. You can avoid the chance of being famous by owning most expensive football card.

Want to Be Successful?
Learn Secrets from People Who Already Made It
Please enter valid Email