8 Most Expensive Contracts in NBA History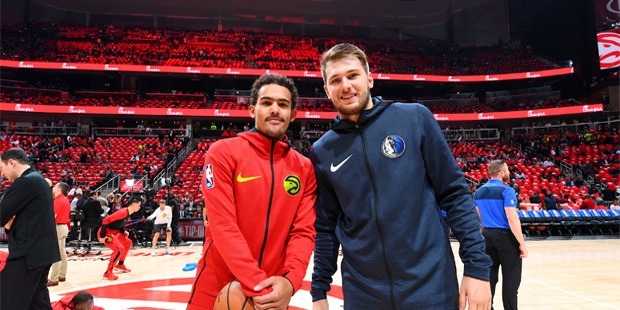 The National Basketball Association (NBA) is the premier basketball league in the world. With that, players are earning by the millions. Over the years, the NBA has seen some of the most expensive contracts the sporting world has ever seen— a result of constant salary cap increases done through negotiations by players and team executives. Here are the eight most expensive contracts in the history of the NBA:
1. Giannis Antetokoumpo - $228 Million for 5 Years
The most expensive NBA contract belongs to newly crowned NBA champion and Finals MVP Giannis Antetokounmpo. Also dubbed the "Greek Freak", Antetekounmpo signed a 5-year, $228 million supermax extension with the Milwaukee Bucks in 2020, signifying his loyalty to the franchise and promised "he would never leave until he brings a championship to the city". Antetokounmpo is currently the highest paid player in NBA history.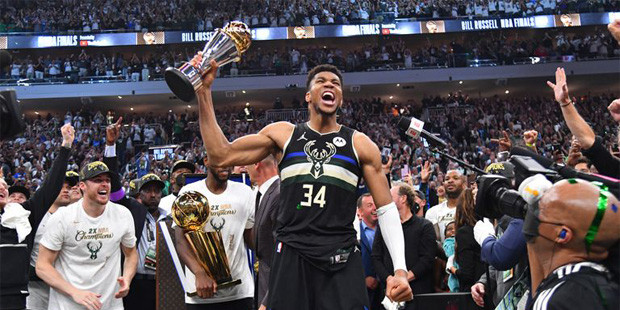 A few months after the signing the massive extension, Antetekounmpo's loyalty would be rewarded as the Bucks claimed its first title in 50 years, beating the Phoenix Suns in an exhilarating six-game series. Averaging an impressive 35.2 points, 13.2 rebounds, and 5.0 assists per game in the Finals, the Greek Freak is the only player aside from Michael Jordan and Hakeem Olajuwon to win a regular-season MVP, a Finals MVP, and a Defensive Player of the Year award.
2. Stephen Curry - $215 Million for 4 Years
After signing a five-year, $201 million contract in 2017, three-time champion and two-time MVP Stephen Curry signed another mega extension worth $215 million. The contract will run for four years and will end in the 2025-26 season. Curry will be 38 by that time but it really doesn't matter for a general player like Curry who'll likely be a first-ballot hall of famer when it's all said and done.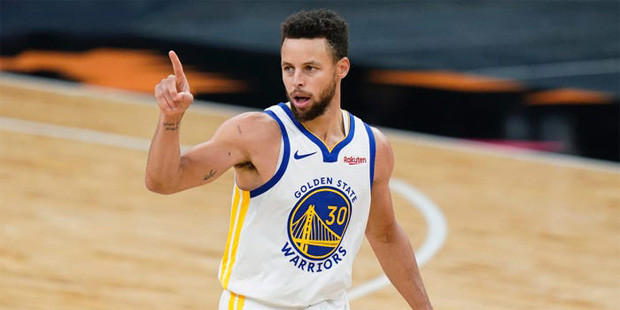 Aside from his multiple championships and MVPs, Curry is also the second all-time leader in 3 pointers made. He trails Ray Allen by 411 3 pointers and with the rate he's going (shooting nearly four 3's per game), he'll overtake the Celtics great by the end of the upcoming season.
3. Trae Young - $207 Million for 5 Years
With Trae Young's historic performance in the 2021 NBA Playoffs, the Atlanta Hawks All-Star rightfully deserves that five-year, $207 million extension. He made his case after leading Atlanta to its first playoff berth since 2016 and first Eastern Finals appearance since 2015, leading the team in points (28 PPG), assists (9.5 APG), and minutes (37.7 MPG).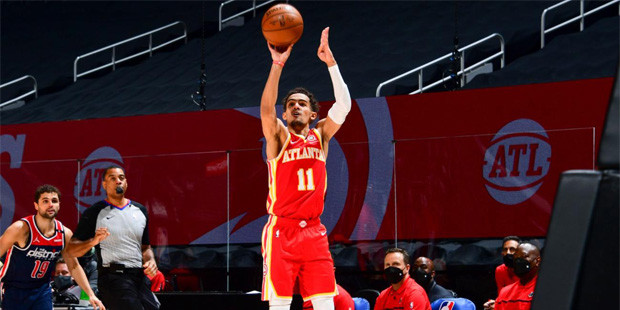 The Hawks weren't expected to get past the first round, but the player also dubbed as "Ice Trae" had other plans, putting the team on his back and torching defenses with his hot shooting and precise playmaking. Giving $207 million to a 22-year-old may be a risk for many, but Young has already proven his worth and is on his way to becoming the league's next superstar.
4. Luka Doncic - $207 Million for 2 Years
Speaking of next superstar, Dallas Mavericks playmaker Luka Doncic was also given a $207 million contract for the same reason. The Slovenian-born player has been tearing up the league since being drafted in 2018, averaging 25 points, eight rebounds, and seven assists per game in only his third year in the NBA.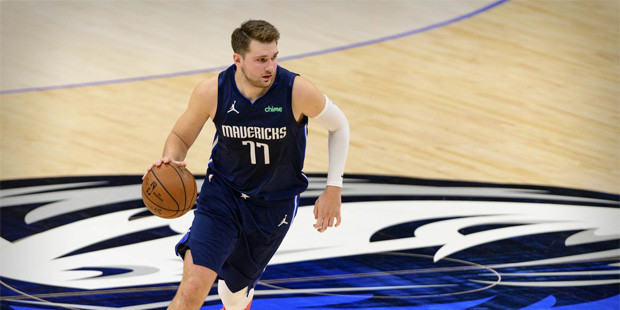 Before the Mavericks, Doncic was already a professional basketball player in Europe, becoming the youngest player in the Spanish league at only 16 years old. "Luka Magic" would only become a bigger star in the NBA with many already proclaiming him and Young as the league's torchbearers for the next decade.
5. Russell Westbrook - $205 Million for 5 Years
It's unsurprising for the record holder of most triple-doubles to also have one of the most expensive NBA contracts in the league's history. Newly acquired Los Angeles Laker Russell Westbrook signed a five-year, $205 million contract extension back in 2017, and although he had played with two other teams since then, the money appears to be well spent as the former MVP continues to produce at an extremely high level.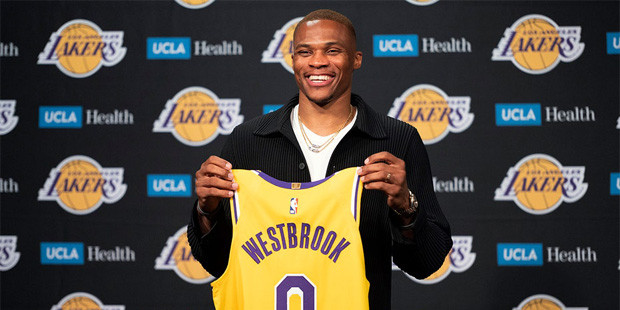 Westbrook signed the extension when he was still with the Oklahoma City Thunder, the team he played for the first 11 years of his career. Together with Kevin Durant and James Harden, they led the team to its first-ever Finals appearance in 2012 but eventually lost to the LeBron James-led Miami Heat. Durant and Harden would both leave with Westbrook following in 2019. Westbrook then played for two teams in two seasons, the Houston Rockets and Washington Wizards, before being traded again to his current and hometown team the Lakers.
6. Kevin Durant - $198 Million for 4 Years
Fresh off his third Olympic gold medal, Kevin Durant signed a $198 million contract that would see him play with his hometown team the Brooklyn Nets until the 2025-26 season. The three-time Olympic gold medalist and two-time Finals MVP will be 36 years old during the final year of his contract, but as shown in the Olympics and his most recent playoffs run, there is still more left in the tank for the 7-foot sharpshooter.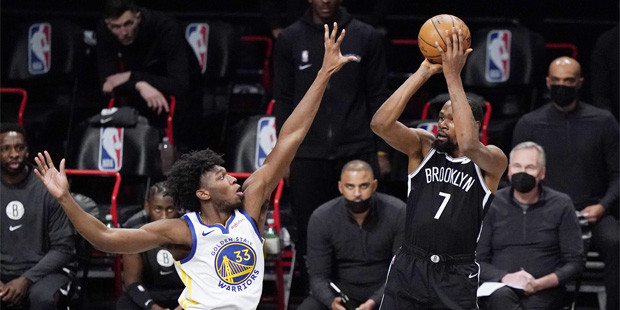 There were major concerns on Durant's health heading into the 2020-21 season as he just recovered from a ruptured Achilles. But those concerns were quickly put to rest as Durant put up pre-injury numbers for the entire season: 27 points, seven rebounds, and five assists per game.
7. Damian Lillard - $196 Million for 4 Years
Drafted by the Portland Trailblazers in 2012, Lillard has stayed with the team throughout his career. His herculean playoff performances have made him a Blazer legend, and when he was up for a supermax contract extension in 2019, management never hesitated splashing in the cash; "Dame Dolla" not just on the court, but off the court as well.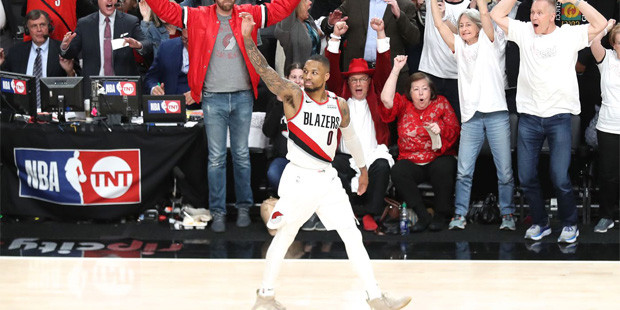 Lillard received a $196 contract extension for four years, a huge contract that would get him paid until the 2022-23 season. The six-time All-Star has mentioned numerous times that he wants to finish out his contract with Portland, but with the team appearing to be in rebuild mode no one should fault him if he decides to takes his talents elsewhere.
8. James Harden - $170 Million for 4 Years
The cornerstone of the Houston Rockets for nearly a decade, James Harden inked a five-year, $170 million extension back in 2017. The nine-time All-Star broke numerous scoring records during his tenure with Houston, also winning the MVP award in 2018.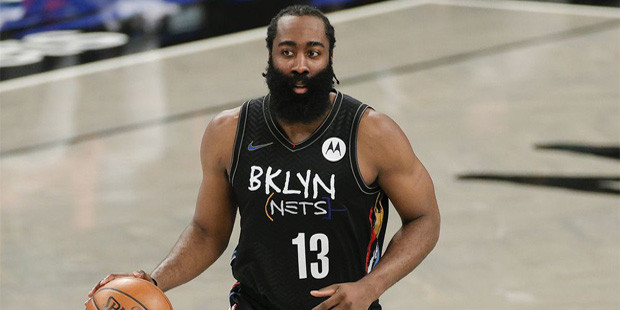 Unfortunately, Harden would not see out his contract and was traded to the Brooklyn Nets at the start of the 2020-21 season, forcing his way out of Houston after growing frustrated with management in failing to build a championship contender. Harden now has his chance to capture that elusive championship with fellow All-Stars Kevin Durant Kyrie Irving while also being assured of at least $42 million per year until the 2022-23 season.
In Closing
The NBA has certainly come a long way since paying their basketball players $12,000 per year in the 1950s. As the league continues to become a global sport, and with inflation also contributing to the ever-increasing NBA salary cap, it won't be long before basketball will see its first billion-dollar earner in the future.
Want to Be Successful?
Learn Secrets from People Who Already Made It
Please enter valid Email