Pear Therapeutics SuccessStory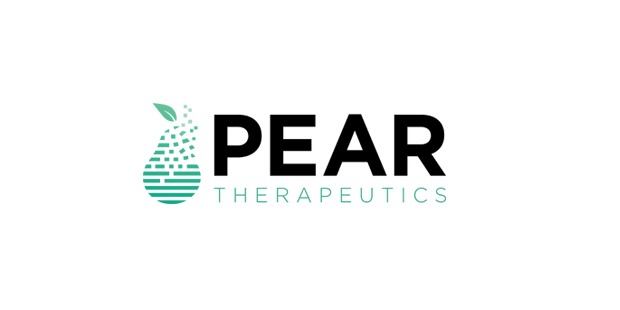 The future of medicine may look different with a new health discipline and technology being introduced called digital therapeutics. One company is already making big strides with this new tech, and it hopes it can develop it further so that pills and injections will be removed and replaced with something that might even be better.
Profile
Pear Therapeutics Inc. is a software-based biotechnology company based in Massachusetts, USA. It specializes in using digital therapeutics to treat substance use disorder (SUD) and other forms of illnesses.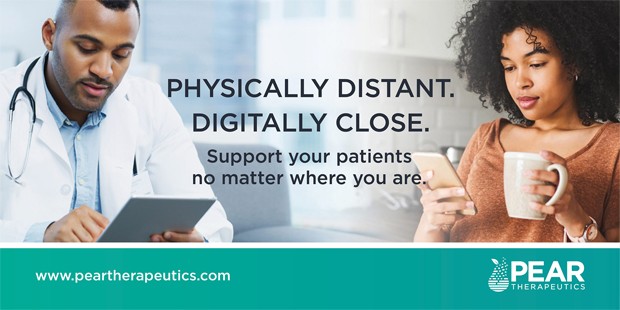 Although many consider digital therapeutics as a new form of technology, the treatment of diseases through digital products can be traced to as early as 2000. What digital therapeutics essentially does is replace the need for physical treatment (swallowing pills or taking injections). Instead, software that analyzes the patient's behavioral and lifestyle changes as well as data compiled from numerous medical fields are used for diagnosis and treatment. Software alone doesn't treat the patient, but the compiled and analyzed data is used as a basis for medical practitioners to give treatments mostly in the form of mental or behavioral therapy.
Since it eliminates the need for individuals to take prescribed drugs, digital therapeutics is seen as a more cost-effective method to manage and prevent a number of medical conditions. Some of these conditions include type II diabetes, Alzheimer's disease, congestive heart failure, ADHD, anxiety, and depression, among others. Digital therapeutics isn't widely available yet, but several biotech companies are already making use of this technology, including Pear Therapeutics.
Founded in 2013, Pear Therapeutics uses prescription digital therapeutics (PDT) to treat patients with substance use disorders. It is also the first biotech company to gain FDA approval for the use of the said technology. The company specializes in providing SUD treatment through its reSET and reSET-O products, a form of digital therapeutics that utilizes cognitive behavioral therapy (CBT).
Investing in any type of technology still in its developmental stages is always a big gamble. As with all businesses, Pearl Therapeutics wants to put itself in the best position to maximize revenues, but it is also aware that it can do so much more when it comes to social responsibility.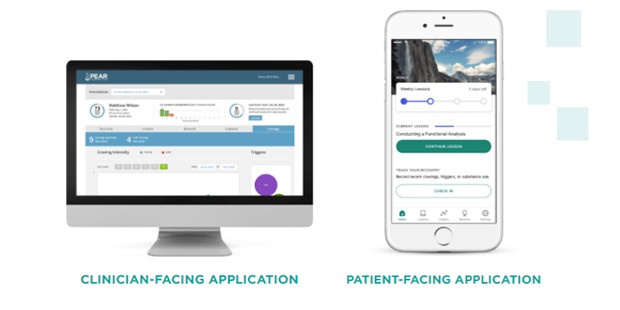 It's a fact that the current healthcare systems anywhere in the globe are expensive and oftentimes inconsistent. Pear Therapeutics looks to change all of that, beginning with its PDT to treat substance abuse. Since the company's founding, it has already raised $134 million in investments. This isn't only a sign that investors are assured of bigger returns or a future Pear Therapeutics stock, but a sign that digital therapeutics may just be the future of medicine.
Pear Therapeutics is headquartered in Boston, Massachusetts, and employs around 200 employees. It also operates in San Francisco, California.
History
Pear Therapeutics was founded in 2013 by healthcare investor and entrepreneur Corey McCann. He is also a licensed physician.
The company managed to obtain its first round of public funding in 2016 as it raised $20 million. 5AM Ventures, Arboretum Ventures, and JAZZ Venture Partners led the investment round, with Bridge Builders Collaborative and several other investors also investing in the company.
In 2017, Pear Therapeutics obtained FDA approval for its reSET and reSET-O products. This also marks the first-ever US FDA approval for any type of prescription digital therapeutics.
In less than two years, the company managed to raise another round of Series funding. It raised $50 million in a Series B funding round led by Temasek. Previous investors such as 5AM Ventures, Arboretum Ventures, JAZZ Venture Partners, Novartis, EDBI, and Bridge Builder's Collaborative also participated in the investment round.
In January 2019, Pear Therapeutics funding totaled to $134 million after the company raised $64 million in Series C funding, its biggest funding round yet. Temasek, together with other existing investors participated in the investment round. Blue Water Life Science Fund and Trustbridge Partners also joined in the investments.
In March 2020, Pear Therapeutics valuation increased significantly as the company gained FDA clearance for its third product, Somryst, a digital therapeutic aimed to treat insomnia.
Founder
Corey McCann is the CEO and founder of Pear Therapeutics. McCann obtained MD and PhD degrees at Washington University and was also a visiting fellow focusing on molecular and cellular biology at Harvard University.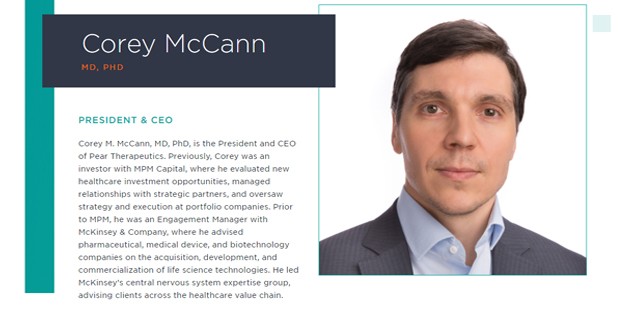 McCann has extensive experience both in medicine and in business. After starting his career at Massachusetts General Hospital, he would then work for healthcare venture capital firms such as RiverVest Venture Partners and MPM Capital. MPM is one of the leading venture capital firms in the US. McCann also had a lengthy stint at management consulting firm McKinsey and Company.
Revenue
Although official Pear Therapeutics revenue has not been disclosed, reports indicate that the company is earning around $51.3 million per year. Revenues appear to be boosted by the company's $64 million Series C funding in 2019 but there are no plans for a Pear Therapeutics IPO just yet.
Competition
Pear Therapeutics is not the only startup developing digital therapeutic products. Omada Health, Kaia Health, Lark Health, and Lumeon all provide similar services.
Omada Health is considered to be Pear Therapeutics' biggest competitor. Launched in 2011, Omada Health is a company that aims to eliminate any type of chronic illness with the help of behavioral medicine. It has raised $199.5 million so far and has recently announced that is seeing positive results for its virtual diabetes prevention program. The company is estimated to earn around $128 million per year.
Lark Health and German-based Kaia Health aim to treat a number of chronic illnesses through an AI-based management platform. On the other hand, UK-based Lumeon is one of the world's leading care pathway management companies. Lumeon recently raised $30 million in funding and is projected to earn around $28 million per year.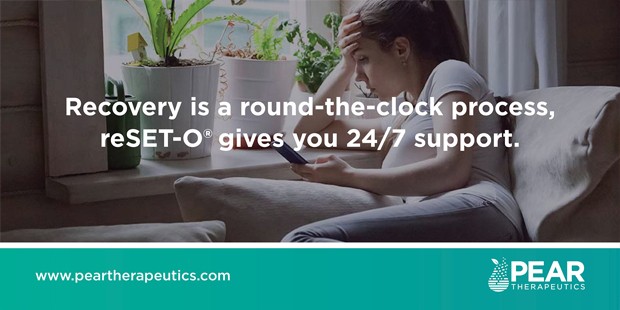 There is no denying that digital therapeutics is on an upward trend. Pear Therapeutics looks to take advantage of this and also looks to possibly change the future of medicine altogether.
Full Name :

Pear Therapeutics
Founded :

2013
Founder :

Corey McCann
CEO :

Corey McCann
Industry :
Sector :
Country :

USA
Website :
Want to Be Successful?
Learn Secrets from People Who Already Made It
Please enter valid Email