Guild Education SuccessStory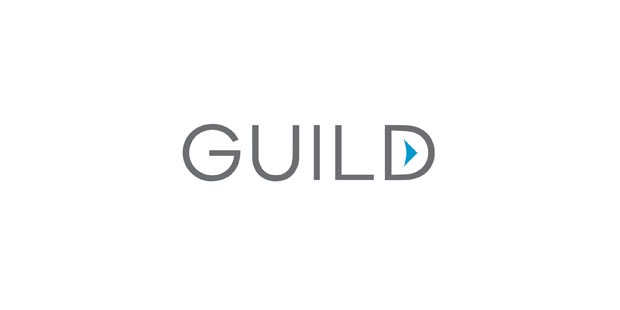 With millions of workers around the US not having a high school diploma or a college degree, Guild Education provides a platform that allows these workers to have a second chance of finishing their studies for free. But unlike most organizations offering similar services, Guild develops a unique strategy that doesn't only benefit the worker, but also the company's partner-universities and partner-companies.
Profile
Guild Education is an education technology company based in Colorado, USA. It specializes in providing a platform for working adults to obtain college degrees and other education certificates with the assistance of partner-universities.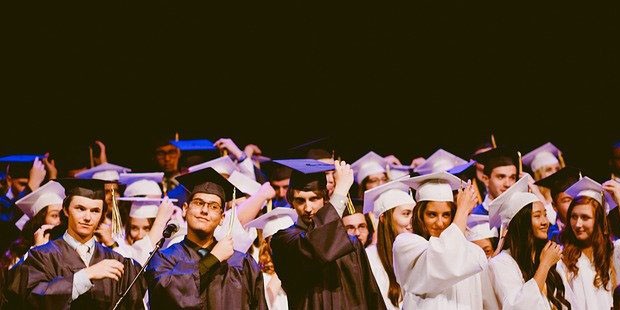 Concerned with the number of workers in the United States not having college degrees, let alone high school diplomas, Guild founders Rachel Carlson and Brittany Stitch saw an opportunity to start a company that fuses workforce development and career education. Instead of establishing a non-profit organization that mostly seeks donations, Carlson and Stitch developed an innovative way to not only provide benefits for several stakeholders but also earn revenues in the process.
Essentially, Guild is a platform aimed at working individuals to obtain college degrees from accredited universities around the US. But unlike most providers offering similar services, Guild partner-companies fully or partially cover the workers' tuition, with Guild's revenues coming from the universities where the workers are enrolled. In this case, Guild doesn't only partner with companies, but also schools, creating a cycle that benefits all parties, most especially the employee who both gets a college degree and a chance at being promoted at their job.
Over the years, Guild has managed to partner with both large companies (Walmart and The Walt Disney) Company and top universities (the University of Arizona and the University of Central Florida). Things have only gotten better for Guild, with the company earning unicorn status after it was valued at $1 billion in 2019 as well as earning a spot in the 2020 Forbes Cloud 100, Fast Company World Changing Ideas, and CNBC Disruptor 50 lists.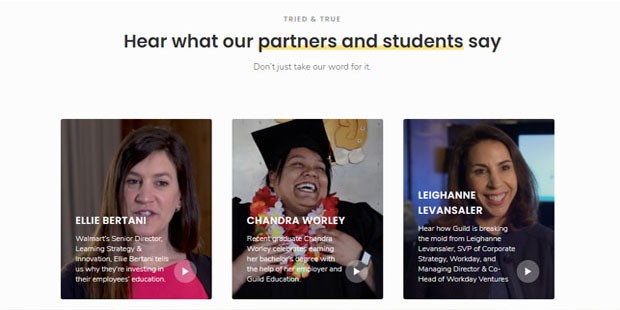 Despite its success and numerous accolades, Guild has never waned in its focus in providing educational opportunities to those who have put schooling to a halt mainly because of livelihood and financial reasons. In fact, one of the company's core values attests to this: "Our number one investment is the success of our students. When they succeed, so do we."
The company is headquartered in Denver, Colorado, and employs no less than 1,000 full-time workers.
History
Guild Education was founded by Rachel Carlson and Brittany Stitch in 2015. Having both education and business degrees, Carlson and Stitch decided to set-up an education technology company revolving around the idea of matching companies with individuals looking to gain a college degree.
By 2019, the company had raised $71.5 million in funding, including a $40 million financing round led by Felicis Ventures in participation with other investment firms.
In the same year, Guild landed its first major client in American food chain Chipotle. Also in 2019, another $157 million was raised through a Series D funding. Among the investors include General Catalyst, and joined by Emerson Collective, Iconiq Capital, and Lead Edge.
By 2020, partnerships with several higher-ed institutions and companies were formed. Some of the institutions include the University of Arizona, Purdue Global, Southern New Hampshire University, and the University of Central Florida. For the companies meanwhile, Discover Financial, Lowe's, Taco Bell, Walmart, and The Walt Disney Company are now working together with Guild.
Founders
There is no question that Rachel Carlson and Brittany Stitch are innovators in the edtech industry. But before founding Guild, both have already gained vast knowledge and amassed necessary experience in the fields of education and business.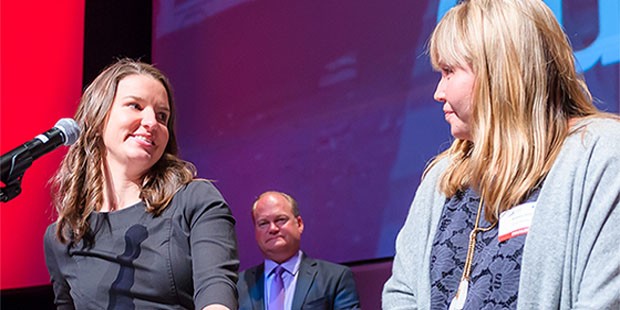 Carlson and Stitch earned a Master's degree in Business Administration at Stamford University, with Stitch also obtaining a Ph.D. in Higher Education Management at the University of Pennsylvania. Carlson then founded a tech startup in 2014 called Student Blueprint while Stitch was mostly involved with academic work.
Carlson is currently Guild's Chief Executive Officer while Stitch is serving as the company's Vice-President.
Revenue
Utilizing a unique way to earn revenues, Guild Education reported in 2018 that it was earning around $80.3 million per year. In 2019, the company was valued at over $1 billion and was projected to earn $100 million. Guild's billion-dollar valuation as well as raising $157 million in Series D round funding in 2019 earned the company a unicorn status.
Competition
Guild Education has become one of the most recognizable for-profit education companies in recent years. But the company isn't the only one providing services in the market. Among these organizations include MasterClass, Udacity, Degreed, and 2U.
MasterClass can be considered as Guild's biggest competitor. Established in 2015, the online education platform gives users access to affordable and highly informative content across different subject areas. One of MasterClass' unique selling point is that high-profile individuals are the ones acting as instructors or professors. Notable names include celebrity chef Gordon Ramsay for cooking, Grammy winner Christina Aguilera for singing, and Disney CEO Bob Iger for business strategy, among others.
Udacity and 2U meanwhile provide services similar to Guild, connecting working adults to companies with revenues earned after the individual has obtained a degree or finished a certain course. 2U is expecting to earn $574 million by the end of 2020.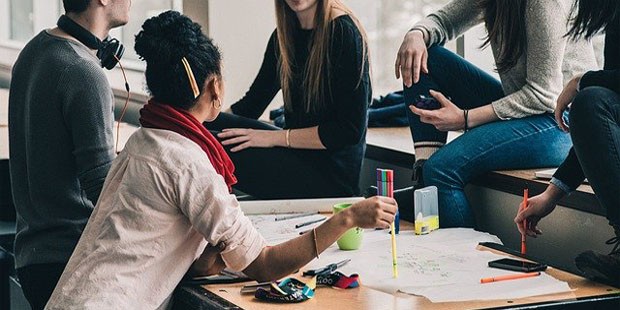 Guild has become a success story not just from a financial standpoint, but also when it comes to inspiring individuals to finish their education without thinking of the financial burden that comes with it.
Full Name :

Guild Education
Founded :

2015
Founder :

Rachel Carlson and Brittany Stitch
CEO :

Rachel Carlson
Industry :

Education
Sector :
Country :

USA
Website :
Want to Be Successful?
Learn Secrets from People Who Already Made It
Please enter valid Email