Most Expensive Diving Watches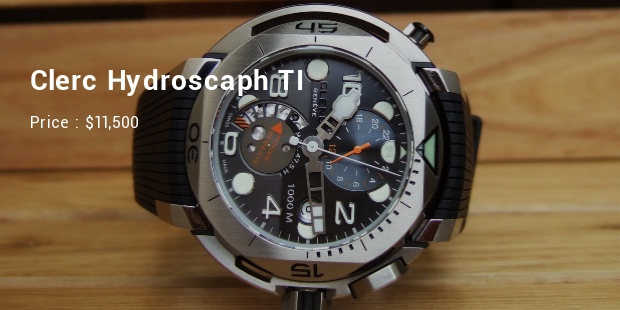 Man has always been a wandered and a discoverer. Being a curious and intelligent being he has built new pathways to the endless chasms of space and to the deepest ocean trench. This quest for the unknown has helped him achieve great heights. From the depths of the ocean he learnt to harvest the pearls and the resources of the ocean.
With advancing technology man no longer needs to perform unaided underwater deep-sea diving for necessity. Rather, most of these are for recreational purposes or for scientific exploration. Diving is certainly not short of dangers and every precaution needs to be taken for complete safety. Thus, the diving watches are still huge in demand.
Let us look at some of the most expensive diving watches:
1. Richard Mille Automatic Chronograph Diver - Price : $135,000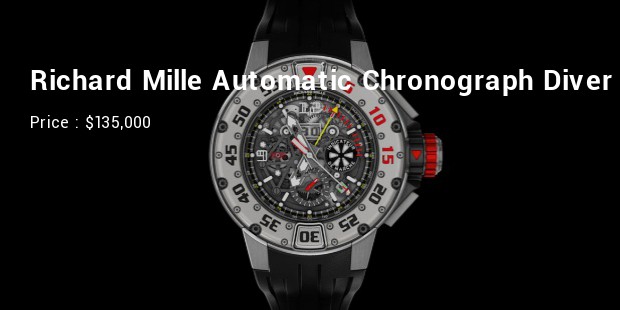 The most expensive diving watch is certainly the limited edition Richard Mille Automatic Chronograph Diver priced at an astounding $135,000. This super-expensive diving watch justifies its high price with complete titanium body for withholding immense pressure underwater. It also comes in a choice between red or white gold and is water-resistant up to 300 mts. It features the standard lockable bezel seen diving watches as well as the option to lock the crown. It comes with the popular Caliber RMAC2 automatic winding movement seen from a skeletal face. It also displays the date and time with a fly-back chronograph, running indicator as well as an adjustable rotor geometry.
2. Blancpain Fifty Fathoms 500 Fathoms GT - Price : $29,000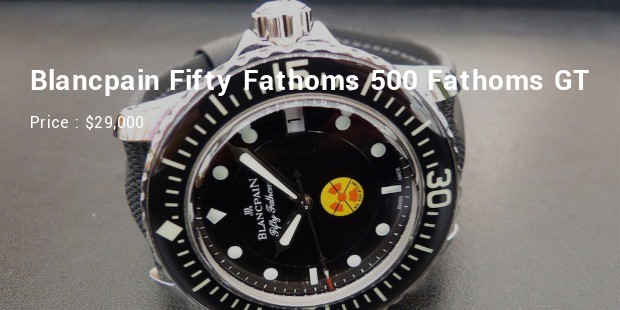 This unique 500 Fathoms GT from Blancpain is priced at around $29,000 and was first crafted in 1953 for the French Army unit of Frogmen. This watch draws inspiration from the tough and masculine designs of its ancestors. It is equipped with the complete standard diving watch features as well as additional advantages such as fly-back chronograph/GMT to increase its practicality.
3. Hublot Oceanographic 4000 - Price : $21,800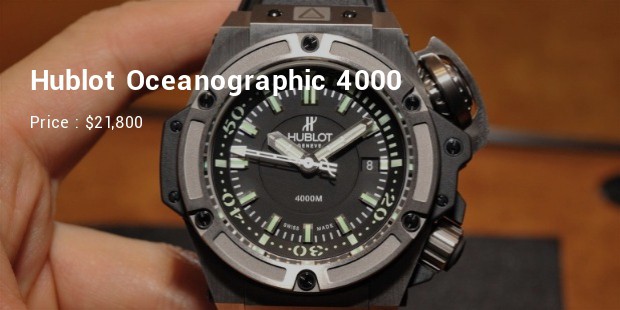 This is the dream-child of any watchmaker and professional diver. Built with the collaboration of the Oceanographic Museum of Monaco, Hublot created the Oceanographic 4000 and priced it around $21,800. It has used extensive feedback and advice from the oceanographers at the museum to create one of the best diving watches which is completely practical and incomparably versatile.
4. Rolex Oyster Perpetual Deepsea - Price : $12,050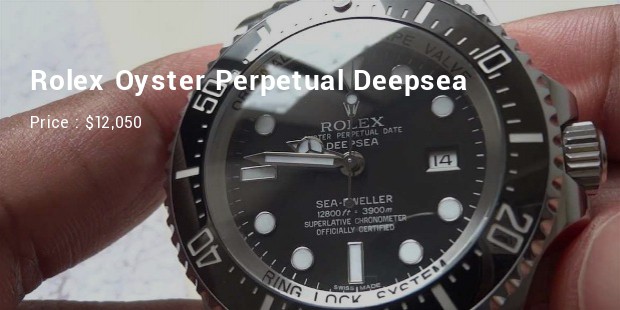 The ultra-luxurious watch brand Rolex crafted the Oyster Perpetual Deepsea on the designs of the Deep Sea Special, which reached the deepest point in the Mariana Trench without any hitches. Priced at around $12,050 this watch is most accurate and sturdy as well as being most practical in timekeeping features. Made out of strong titanium casing, it has advanced helium escape valves with a ring-lock system and has blue luminescent figures.
5. Clerc Hydroscaph TI - Price : $11,500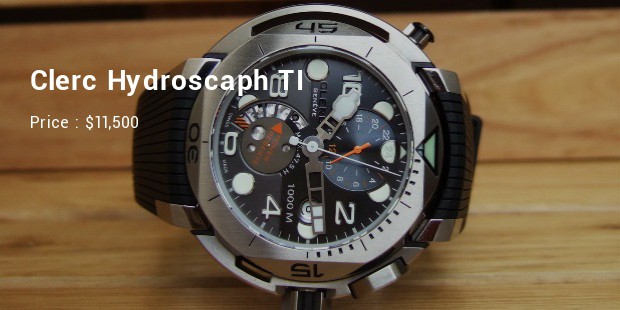 The Clerc Hydroscaph TI is an ideal combination of art and engineering created by renowned designer watchmaker, Gerard Clerc. It is priced at around $11,500. This watch can withstand underwater pressure up to 1,000 mts. Made in the typical Clerc fashion (with a perfect square inside a perfect circle) it has a strong casing with luminescent markers on the dial for added visibility. There are helium escape valves that are automatic and the bezel is set with a lockable crown. There is a choice between a strong rubber strap or a titanium bracelet. It displays the date/time in dual zone mode as well as the power reserve.
6. Corum Admiral's Cup Seafender 48 Deep Dive - Price : $9,900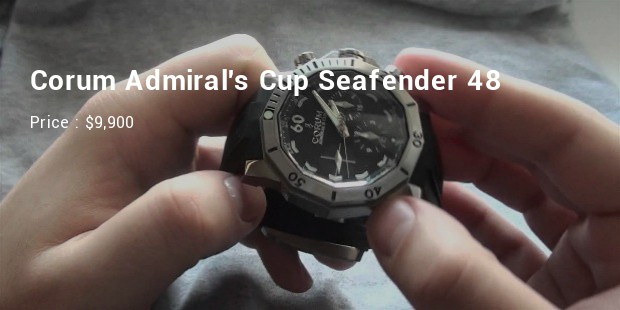 The Corum Admiral's Cup Seaender 48 Deep Dive might seem steeply priced at around $9,900 but the best practical features justify this cost. It features a unique dodecagonal case made of sturdy titanium and the black brass dial features bright orange luminescent markings for higher visibility. The simple and strong black strap completes the practical look and functioning of this diver watch. It is water-resistant up to 1,000 mts and displays the time, date, day as well as seconds. It also comes with the automatic helium valve.
7. Omega Seamaster Ploprof 1200 M - Price : $9,400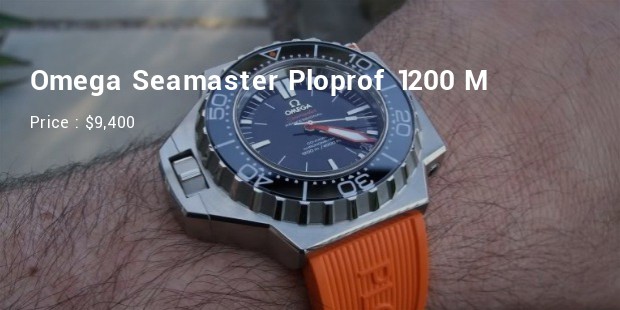 The Seamaster Ploprof 1200 M from the popular diving watchmaker Omega is priced at around $9,400. It has water-resistant capacity of an impressive 1,200 mts. The multi-directional bezel comes with a security pusher as well as screw-in crown for added versatility. It has the signature black-and-white look with the vivid orange markings. It also features the advanced Co-Axial 8500 self-winding movement with the display showing the time, chronometer functions as well as the date.
8. Aquanautic King Cuda - Price : $4,500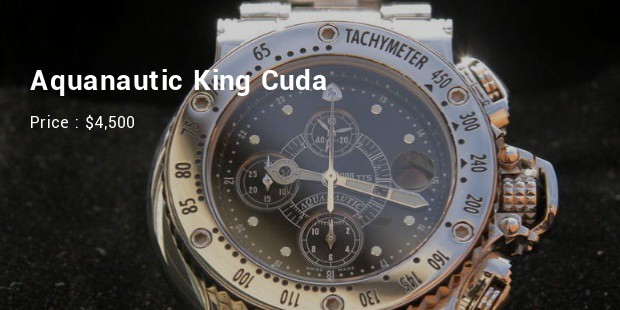 The King Cude collection from Aquanautica, the innovative dive watchmakers, is priced at around $4,500. It is water-resistant up to 900 mts and is inspired by the submarine's hatch-lock mechanism. It has a crown-locking system as well as wheel-locking pushers for added waterproofing. This is a truly versatile watch which can be switched to become a formal watch with encrusted diamonds by simply changing the casing, bezel and the strap.
9. Bell & Ross Marine Automatic - Price : $4,000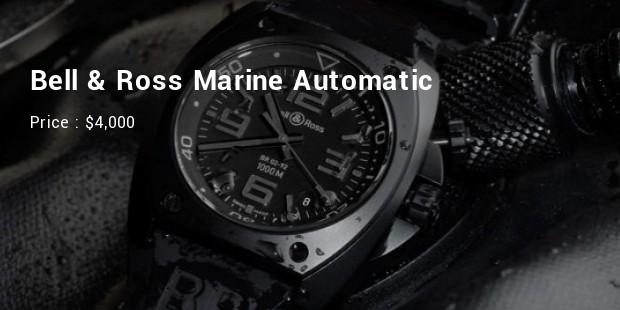 The Marine Automatic from Bell & Ross is priced at around $4,000. It is ideal for a professional as well as an amateur diver with the unique unidirectional-rotating bezel and decompression valve. It has water-resistant capacity of up to 1,000 mts. It also comes with advanced mechanical automatic movement that helps in accurate timekeeping in the brightly-marked face for date and time. The strength and sturdiness gets doubled with a strong steel case and rubber strap.
10. Victorinox Dive Master 500 Mechanical - Price : $1,250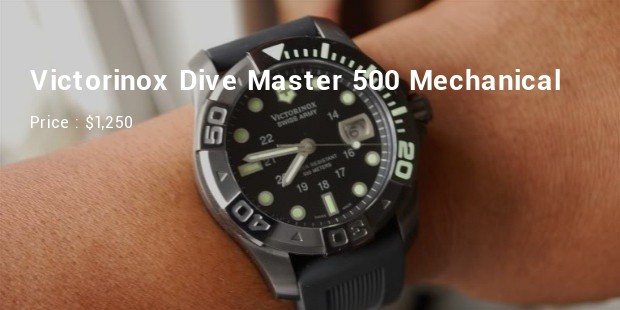 The Dive Master 500 Mechanical from Victorinox is one of the most practical dive watches and is priced at just around $1,250). It features water-resistant capability of up to 500 mts and is protected with a screw-in crown in a screw-in case back. It also has a scratch-proof anti-glare sapphire crystal in a stainless-steel case with bright and high-visibility markers and comfortable rubber strap. It comes equipped with advanced mechanical ETA self-winding movement and is available in a large variety of colors.
These are some of the most expensive diving watches available today. These are equipped with the latest in timekeeping and chronograph technology to ensure highest precision and accuracy in their functioning. Although the steep price of these watches might act as deterrent to most of us but the serious diver and ocean-lover understands the role a strong and reliable diving watch plays in safety and security during a deep sea dive.
Want to Be Successful?
Learn Secrets from People Who Already Made It
Please enter valid Email