7 Most Expensive Candles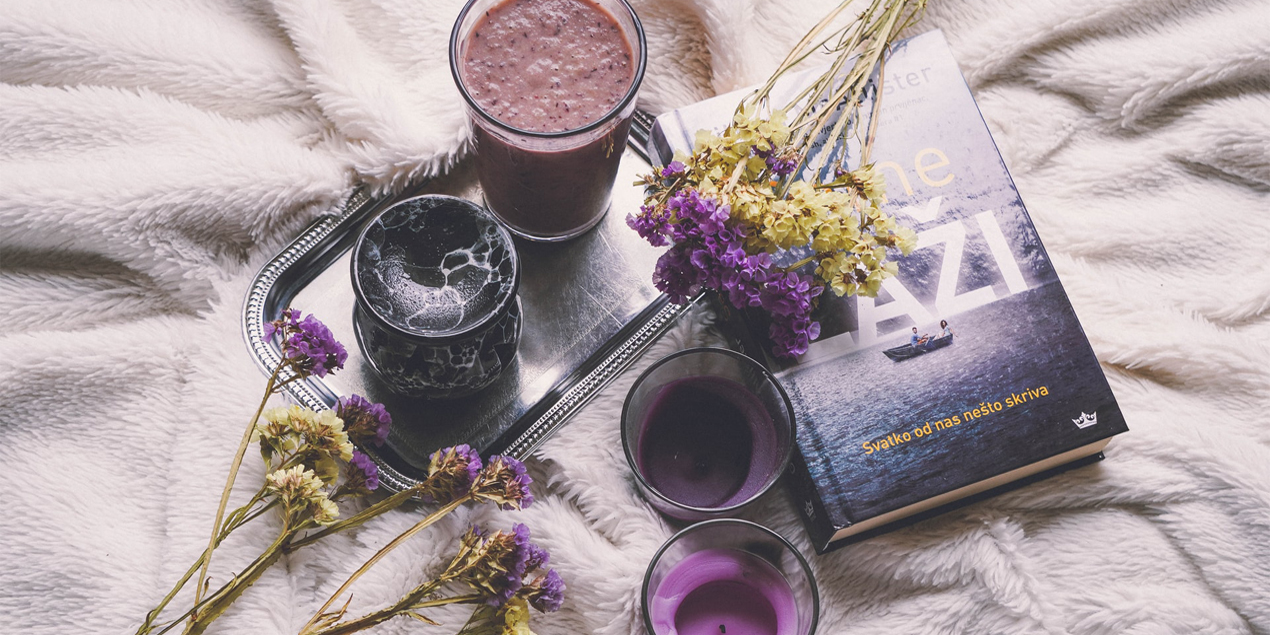 With World Candle Month coming up, it's time to look at the item which hasn't only become a source of light but has also a favorite accessory among millions of homeowners around the globe: candles. Usually known as simple decorative objects, candles have seen some luxurious makeovers over the years with some retailers making money from selling pricey candles. Here are seven of the most expensive candles to date:
1. Gucci Virgin Violet Candle - $680
Already one of the most expensive fashion brands in the world, it isn't surprising that Gucci also sells the most expensive candle to date: the Virgin Violet costing an eye-opening $680. The candle is sold under the fashion company's first Haute perfumery line, "The Alchemist's Garden" collection. It's also placed in a porcelain jar with real gold accents and sold to customers in a special moire pouch.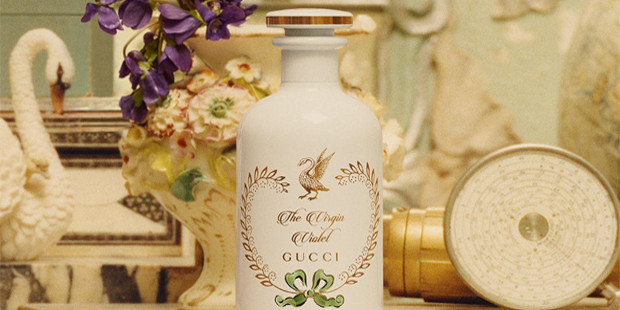 The Virgin Violet is made from a combination of Musk and Iris petals resulting in a soft, powdery fragrance common in most scented candles. It's blended by perfumer Alberto Morillas under the direction of Alessandro Michele. Despite the huge cost of its products, Gucci has maintained its status as one of the top fashion companies in the world, even expanding from its core products of handbags and footwear to selling makeup, fragrances, and home decors.
2. L'Objet Mojave Unicorn 4 Wick Candle - $604
Created in partnership by luxury accessory company L'Objet and renowned artists the Haas Brothers (Simon and Nikolai), the Mojave Unicorn 4 Wick Candle exudes a unique design and fragrance as well as a hefty $604 price tag. Perfumer Yann Vasnier also lent his services in the creation of this luxury scented candle, developing an item that transports individuals to the dry and woodsy aroma of California's Mojave Desert.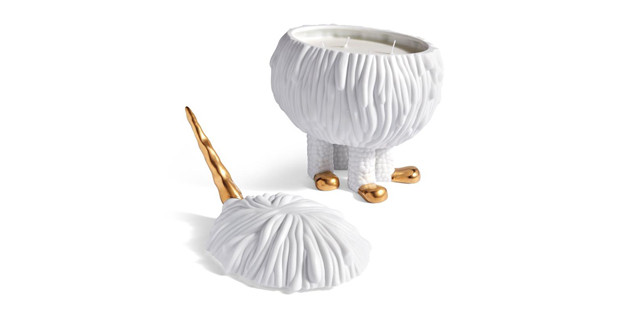 As for the 4 wick candle's base, Simon and Nikolai created a completely different design that doesn't resemble any of the animals lurking in the Mojave Dessert: a creature with a unicorn horn. The base is also made of porcelain detailed with 24-carat gold. L'Objet was founded in 2004 by Israeli Elad Yifrach and is known for selling luxurious home products and accessories, including dinnerware, furniture, fragrance, and lighting, among others.
3. Lladro Scheherezade's Quarters 1001 Lights Candle - $520
Inspired by the tales of the "Thousand and One Nights", the candle doesn't only feature an Arabian Nights exterior but also its actual fragrance: black currant, lotus flower, and olibanum (frankincense). The exterior is essentially a structure straight from the folk tales themselves and is finished with a pointed figure made from 22-carat gold. The candles come in four designs with one design consisting of five wicks.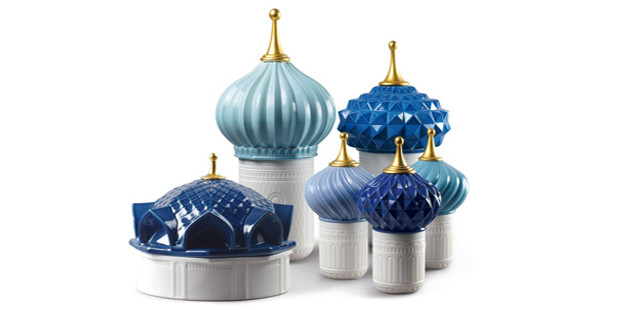 Spanish luxury accessory maker Lladro is the company behind this exquisite candle. Starting as a small family business in the village of Almassera during the early 1950s, Lladro has grown to become a worldwide brand selling high-end lighting, home accessories, decorative sculptures, and porcelain figures.
4. Mottahedeh Duke of Gloucester Fu Dog Jar Candle - $510
The Duke of Gloucester Fu Dog Jar is another candle that takes its design from historical pieces. It's also as expensive, costing just above $500. Although it's sold as a single piece, it also comes as part of a dinnerware set which customers have to pay a much higher amount.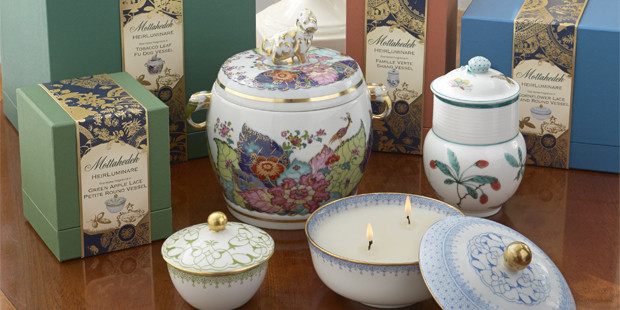 Mottahedeh is based in the United States and is an industry leader in luxury ceramic antique reproductions and historic designs. The company licenses authentic fine china to numerous institutions including the Colonial Williamsburg Foundation and the Historic Charleston Foundation. It has also been commissioned by the White House, the U.S. State Department, and the Diplomatic Corps.
5. Joya x Arsham Studio Exoplanet Scented Candle - $500
The "Exoplanet" is a creation of New York fragrance maker Joya and contemporary artist Daniel Arsham. The candle was born from Arsham's time at NASA's Jet Propulsion Laboratory, featuring two separate pieces which can fit together to form an exoplanet. It also comes with scented wax pelts that buyers can use to fill up the spherical candle. The fragrance Arsham uses here is the one he uses in his exhibitions around the world. Customers can purchase the Joya Exoplanet candle from the company's physical or online store.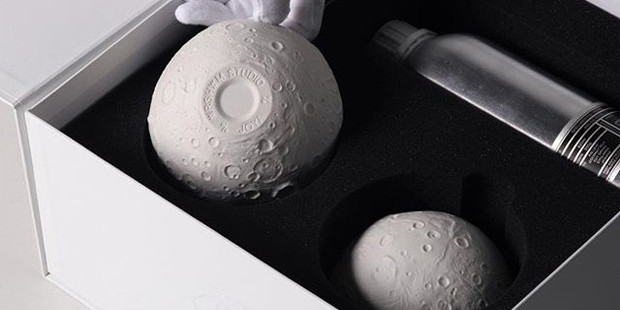 Joya was established by Frederick Bouchardy in 2006 and operates as both a fragrance brand and design studio. The company prides itself as an industrial space that pays homage to America's entrepreneurs, artists, and philosophers.
6. Ginori 1735 Totem - $428
Inspired by the emblem that gives purpose to societies during ancient times, "Totem" is a product of Italian luxury brand Ginori 1735. The candle costs $428 and features numerous fragrances as well as a porcelain vessel with a squirrel knob lid.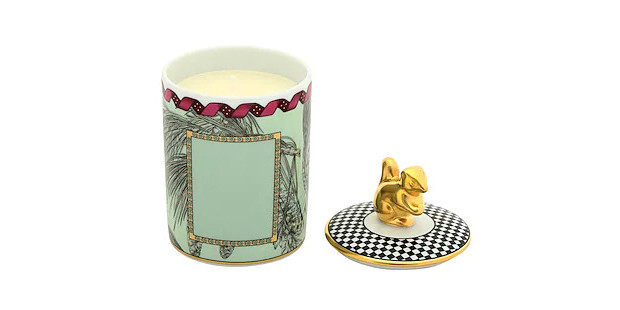 Carlo Ginori founded the company in his hometown of Sesto, Italy in 1735. The company would go on to become one of the finest porcelain makers in the world, eventually adding dinnerware sets and home decorations to its portfolio.
7. Versace Le Jardin de Versace - $306
Although not as expensive as the other candles on the list, Versace home products made by the Italian company itself aren't known to be affordable items. The Le Jardin de Versace candle isn't any different. Costing $306, this candle is made from high-quality porcelain and features numerous garden elements such as blossoms, berries, insects, and ornaments.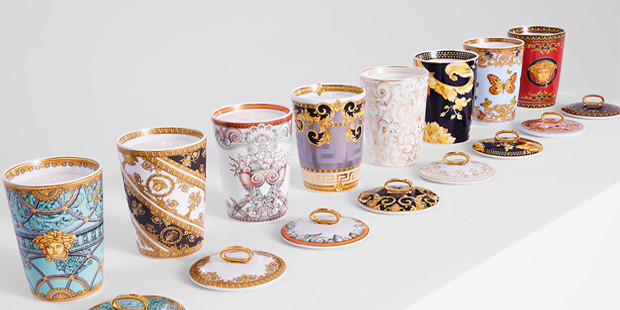 Gianni Versace founded his iconic company in 1978 which has now more than 150 stores in 60 countries. In 2018, it was acquired by Capri Holdings in a massive $2.12 billion deal. Capri Holdings also owns popular fashion brands Michael Kors and Jimmy Choo.
In Closing
Although candles are mostly cheap, it hasn't stopped some retailers from selling them at a huge cost. At this rate, it won't be long before someone starts selling candles worth $1,000.
Want to Be Successful?
Learn Secrets from People Who Already Made It
Please enter valid Email