8 Most Expensive Apple Products and Accessories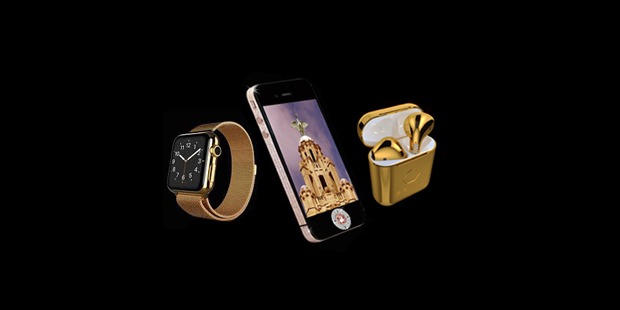 If you thought the Mac Pro ($52,000) or the much-criticized Mac Pro Wheels ($699) are already ridiculously priced, then you haven't seen what luxury brands can do to Apple's already expensive catalog. From creating diamond-infused iPhones to titanium gold iPhone cases, these brands essentially target a customer segment that doesn't know what to do with all their extra cash. Here are the eight most expensive Apple products and accessories ever sold:
1. Lux Airpods 2 Deluxe – $13,000
When it comes to gold-plated smartphones to gold-plated game console controllers, nobody does it better than luxury electronics and accessories designer Brikk. The US-based company made its name after releasing a diamond iPhone case back in 2011. They have been making luxury electronics ever since, including the most expensive AirPods on the planet, the $13,000 gold and diamond-plated Lux Airpods 2 Deluxe.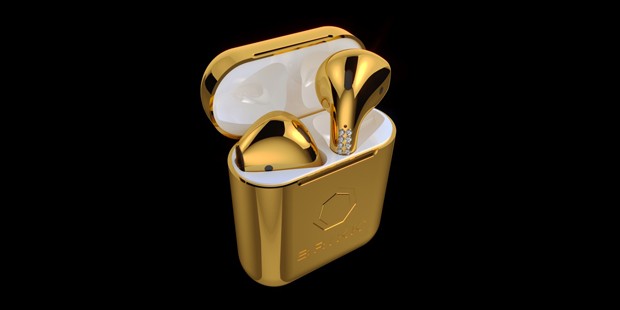 Although there aren't changes to the actual specs of the 2nd gen AirPods (H1 headphone chip, dual optical sensors, up to 5 hours of listening with a single charge, etc.), the selling point is undoubtedly its exterior. Buyers can choose either a gold or platinum cover for their AirPods and AirPods case. The deluxe edition also comes with two carats of diamonds (one carat for each earpiece). The diamond-less Airpods 2 Classic is also available for $7,000.
2. Apple Watch "Edition" – $17,000
There's a reason why Apple leaves the designing and selling of their fashion-centric products to fashion-centric companies. In 2015, the company introduced a collector series of the recently released Apple Watch called "Edition", with the watches selling between $10,000 and $17,000. Facing stiff competition with other luxury watch brands such as Audemars Piguet, Vacheron Constantin, Chopard, and Rolex, Apple still took a chance with the Edition. Unfortunately, the company didn't fare well in the high-end watch market, and the Edition was discontinued in 2016.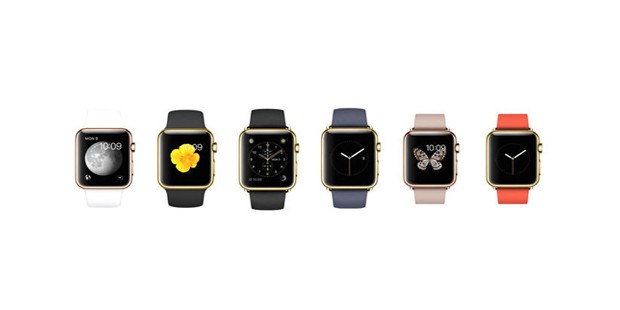 Nonetheless, the Apple Watch "Edition" still made some headlines despite its short lifespan. The 18-karat gold Apple Watch which came in either a rose gold or yellow gold case was the most expensive, selling at $17,000. It also came with a special case wherein the watch can be charged.
3. AeroSystem One by Lalique – $20,000
The AeroSystem One is a sound system and water fountain made by French glassmaker Lalique, undeniably one of the most expensive accessories made for Apple products. Lalique is also one of the oldest glass-making companies in the world, founded in 1888 by French jeweler Rene Lalique. Aside from designing hood ornaments, vases, and other decorative glassworks such as bookends and paperweights, the company also designed the interiors for dozens of buildings, including the Oviatt Building in Los Angeles and Peace Hotel in Shanghai.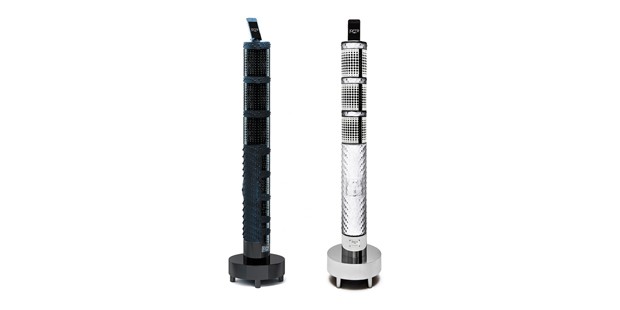 Recently, Lalique has expanded into designing glass-crafted electronics. The AeroSystem One utilizes 13-master glass blowers to create sound like no other. It also stands 42-inches high while sprinkles elegant drops of water. No party for the rich and wealthy is definitely complete without the AeroSystem One.
4. Brikk Trim Couture Infinite iPhone Case – $100,000
Brikk first emerged in the scene in 2011 after producing an iPhone 4 case covered with 21 carats of diamonds called The Trim Couture Infinite. At the time, it was considered to be the most expensive phone case in the world. A gold, black carbon, platinum, and gray stealth edition were also sold at a "cheaper" price. Brikk CEO Cyrus Blacksmith previously stated that the company will be donating 25 tons of rice to select countries for every purchase of a Trim case.
5. Platinum MacBook Air – $480,000
Luxury brand Stuart Hughes collaborated with Apple to create the most expensive MacBook ever made, the Platinum MacBook Air Edition. Aside from consisting of seven kilograms of sold platinum, only five of these Platinum MacBook Airs were released, hence its nearly half-a-million price tag. For those who didn't get a chance to grab the Platinum Macbook Air, a slightly cheaper $210,000 Platinum MacBook Air Supreme Ice Edition was also released.
6. iPod Touch Supreme – $340,000
Nobody uses the iPod Touch nowadays, but whip out the iPod Touch Supreme Fire Edition covered with 24-carat gold and 75 carats worth of diamonds, then you'll be tagged as a celebrity in minutes. Although the specs aren't impressive (64GB of storage and standard HD video), people looking to buy are obviously looking at a different kind of specs, albeit shinier and sparkly ones.
7. iPhone 4 Diamond Rose Edition – $8,000,000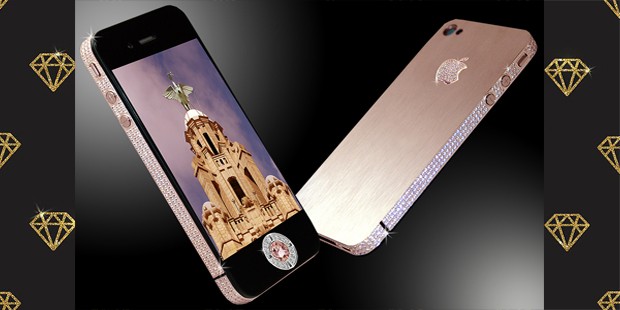 Much like the iPod Touch, the iPhone 4 has long been obsolete. But the iPhone 4 will not only be remembered as one of the best smartphones ever released, but it will also be remembered as the phone that got an $8 million makeover. Also designed by Stuart Hughes, the iPhone 4 Diamond Rose Edition is showered with more than a hundred diamonds. Five hundred (100ct) diamonds run across the phone's bezels while 53 diamonds fully cover the Apple logo. It doesn't only look expensive, but feels expensive as well.
8. iPad Gold History Edition – $8,080,000
It shouldn't be a shock that Stuart Hughes has created the most expensive Apple product/accessory in the history of mankind. And speaking of history, the iPad Gold History Edition is embedded with literally millions of years of archeological discovery in one single device, specifically with the front frame being made from a 75-million-year-old rock and the bones of a 65-million-year-old Tyrannous Rex. You read that correctly, an iPad made of bones from a prehistoric dinosaur.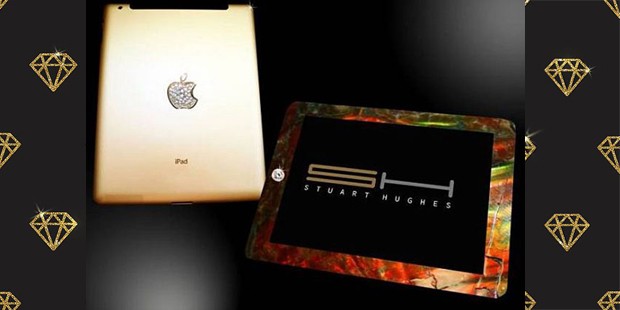 If the dinosaur bones aren't enough, the back of the iPad is made of a 24-carat gold case with the Apple logo filled with 8.5 carats of diamonds. Why watch Jurassic World in cinemas when you can watch it on your very own golden T-Rex crusted iPad?
Despite its many misses over the years, there is no denying that Apple is still the top brand when it comes to high-end electronics. And with it, luxury brands are taking notice, using Apple's market position to create their own expensive line of Apple products. Although you'll never find these products at any Apple Store, it's still amazing to think that people will buy anything with an Apple logo on it no matter what the price.
Want to Be Successful?
Learn Secrets from People Who Already Made It
Please enter valid Email