The Premier Leader of Global Fast Fashion and Conscious Style: H&M Story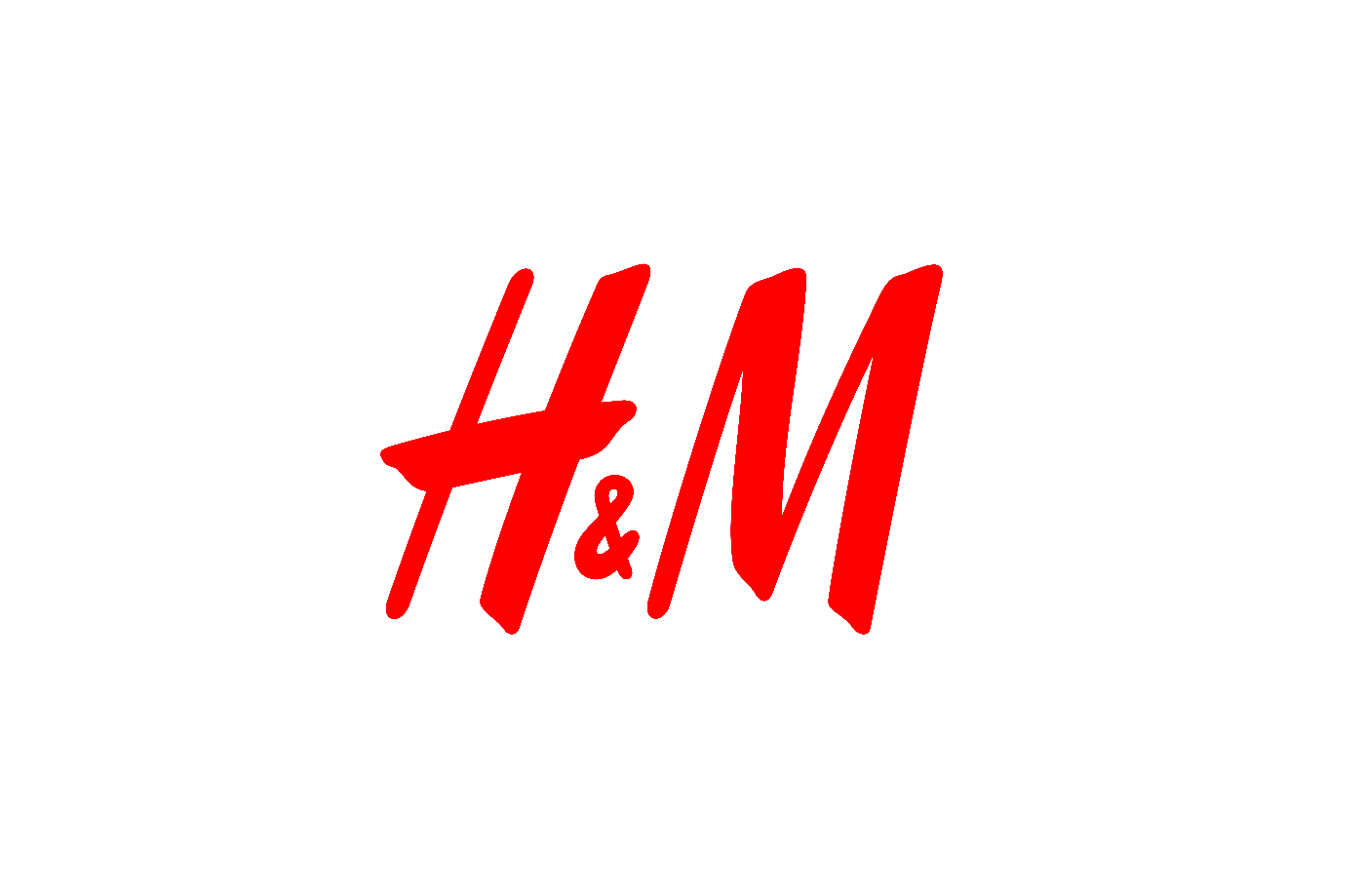 Profile
The mass market is truly the place where the fashion industry is able to generate millions in profit on an annual basis. Apart from the luxury sector, the business of selling everyday clothes to everyday people is just as challenging as trying to sell haute couture garments to wealthy individuals. The average consumer might not be able to afford a garment from Chanel or Prada, but he or she still wants to make sure that they can look stylish at a price range they can conceivably afford. It's a good thing that H&M is a brand consumers can trust because they offer fabulous fashion without the exorbitant price tags.
H&M is a Swedish global retail brand with a finger constantly on the pulse of fashion's beating heart in order to source out trends and styles that even fashionable people with a budget can buy. The collection range of the company covers all age groups and offers high-quality apparel and accessories for women, men, teenagers, and children. Outside of their main product lines, H&M also showcases items such as home furnishings and beauty cosmetics to help diversify their product range to consumers. Their focus on providing affordable yet stylish fast fashion has enabled them to acquire a huge international following and establishing themselves as a key player in the fashion industry.
Foundation and History
The company was founded in 1947 by Erling Persson with the very first shop established in Västerås, Sweden. The original name of the business was called "Hennes" (pictured below), which is Swedish for "hers", as the store at the time exclusively sold womenswear. It wasn't until 1968 when Persson acquired the hunting apparel brand Mauritz Widforss that he changed the name of the company to Hennes & Mauritz to reflect the brand's inclusion of menswear into the product range. Soon after the merger and the official rebranding into the shortened H&M, the company's expansion gradually began to expand outside of Sweden's borders.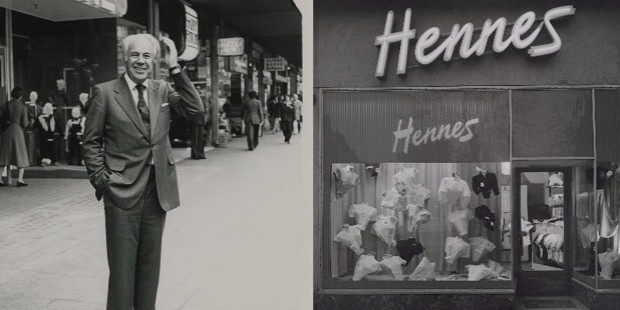 The first international H&M branches appeared in the neighboring Nordic countries of Norway and Denmark, with shops popping up in the United Kingdom and Switzerland right after. The company began to sell underwear and intimate apparel in 1973, as well as tapping ABBA member Anni-Frid Lyngstad to be the brand's very first celebrity endorser promoting their cosmetics collection. As the company entered the 1980s, H&M set its sights on further global expansion. In 1982, Erling Persson officially handed the reins of the company to his son, Steffan Persson, who took over as the CEO of the brand. Capitalizing on their continuing success, H&M expanded to more outlets across the European continent.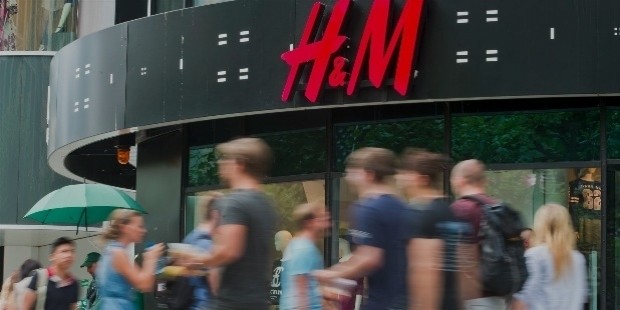 By the 1990s, they generated enough buzz and a massive following among consumers that the company was confident enough to book the biggest supermodels of the day to star in their advertising campaigns. Boldfaced names such as Linda Evangelista, Naomi Campbell, and Christy Turlington fronted posters and billboards wearing cool but casual designs from H&M just as easily as they wore high-end designer clothing from all the top luxury brands being featured in the pages of countless fashion magazines. The company was also one of the very first to take advantage of the internet boom when they officially offered online shopping in 1998.
Evolution and Expansion
H&M entered the new millenium by making another significant milestone: the opening of the very first H&M store outside of Europe. New York City was the first non-European metropolis to host an H&M flagship store, which was located in Fifth Avenue to compete directly with many luxury labels that dominate the renowned shopping district, as well as other popular and competitive fast fashion brands. However, the company made a smart business strategy by not viewing luxury brands as the enemy, but as an ally that they could collaborate with so that both parties can win in the business of fashion.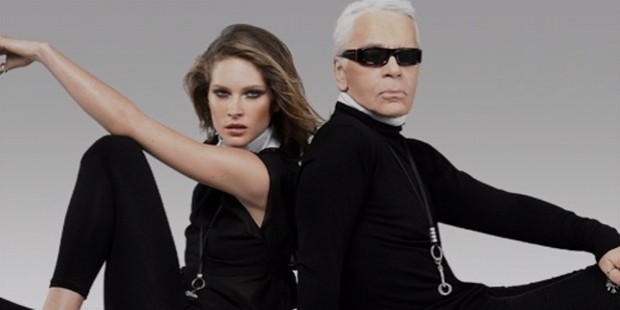 This was made into reality during 2004 when H&M started the first of their highly anticipated designer collaboration series beginning with Karl Lagerfeld (pictured above wearing sunglasses in his ad campaign for the Swedish retailer), the venerable German designer for Chanel, Fendi, and his own namesake label. The retailer's goal for their designer collaborations was to introduce limited-edition capsule collections where superstar fashion creators could produce high-end pieces but sold at H&M prices, thereby giving general consumers the thrill of having owned something conceived by their favorite designer.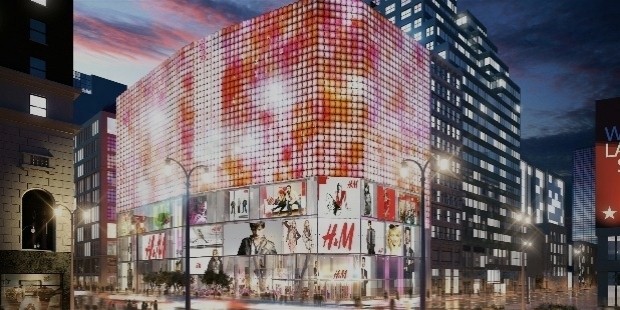 The strategy would prove to be hugely successful and since that fateful first partnership with Lagerfeld, H&M would invite other major design stars to collaborate on exclusive apparel and accessories lines such as Donatella Versace, Roberto Cavalli, Stella McCartney, Alexander Wang, and Rei Kawakubo of Comme Des Garcons (pictured below).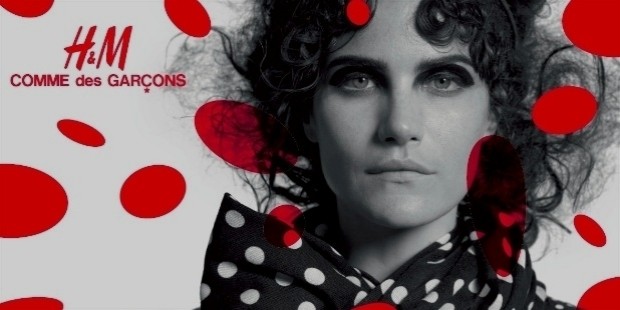 2007 saw H&M breaking ground in the rising Asian consumer market by opening the first few stores in Hong Kong and Shanghai, while also continuing their expansion of online shopping to other international markets. The company debuted H&M Home in 2009 to help supplement the already healthy sales of their apparel collections by exploring the world of home interiors and design. Seeking to reduce the damaging impact of garment production on the environment, H&M took the initiative of launching a full range of apparel made exclusively out of recyclable or sustainable materials in 2010 dubbed as H&M Conscious.
Philanthropy
H&M's continuing commitment to reducing waste and environmental preservation was augmented by their garment collection program that started in 2013. Shoppers who donate or give away their used clothing to any H&M outlet will be rewarded with discount vouchers. The clothes are then processed and recycled to create new garments in order to attain the goal of a zero-waste economy. The company has also partnered with nonprofit organizations such as Canopy to ensure that their garment production practices do not actively harm endangered forests around the world.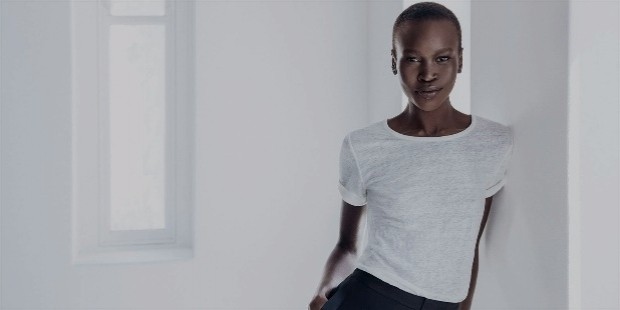 Apart from their sustainability efforts, the retailer also launched the H&M Foundation: a nonprofit institution dedicated to implementing positive change and improving the living standards of several developing nations worldwide. The organization aims to achieve four key goals: providing education for children, empowering the lives of women and championing the ideals of equality, giving impoverished areas access to clean water, and educating individuals everywhere to be more eco-conscious. The nonprofit is privately funded by the Persson family and has appointed Sudanese supermodel Alek Wek (pictured above) as the first official ambassador for H&M Foundation in April 2014 for a three-year tenure.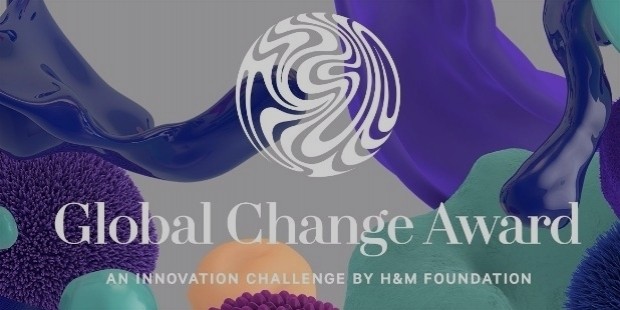 The H&M Foundation also launched the Global Change Award in 2015 (pictured above): a financial grant given to forward-thinking recipients who are able to produce innovative ideas and game-changing solutions that would help revolutionize the way the fashion industry creates garments without harming nature in the process. Winners of the award will equally share a grant worth 1 million euros, as well as in-depth mentorship, guidance, and training from a major consultancy firm in order to help them develop and actualize their ideas.
Full Name :

H&M
Founded :

1947
Founder :

Erling Persson
CEO :

Karl-Johan Persson
Industry :
Sector :
Country :

Sweden
Website :
Want to Be Successful?
Learn Secrets from People Who Already Made It
Please enter valid Email