Extend SuccessStory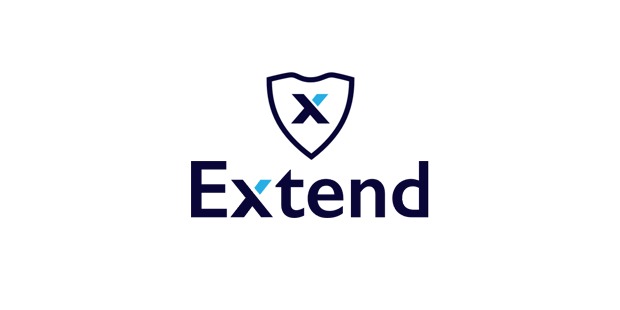 Extended warranties have long been a part of store purchases. Consumers rely on these warranties to get the most of the products they purchased at affordable costs. California-based tech startup Extend has recently developed a technology where merchants are able to provide extended warranties with a few taps on the screen. The startup has now served more than 150 merchants and is looking to provide even more businesses a tech upgrade for their traditional warranty processes.
Profile
Extend, Inc. is a technology company based in California, USA. It specializes in the development of an API-based platform that allows any merchant to offer extended warranties or protection plans to customers who purchased at their store.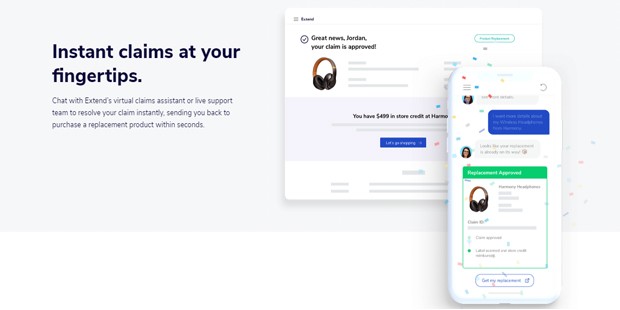 Understandably, customers want to get the maximum value of any item they purchased. Product warranties aid these customers who feel like they are shortchanged, thus pick up a warranty option so that they can get the item replaced free of charge. Warranties also benefit merchants as they don't want to be tagged as sellers of substandard products. At the end of the day, warranties essentially favor both sellers and buyers.
When it comes to extended warranties, on the other hand, these are warranty plans that are offered on top of standard warranties. A warranty extension is usually placed on items that need maintenance every now and then such as industrial equipment and consumer electronics just to name a few. Unlike standard warranties, extended warranties are not free. They function similarly to insurance policies where customers can get their items repaired at no cost but have to pay a certain amount upfront or through an amortization basis. Extended service warranties are not new and a majority of merchants have been offering this type of warranty service for the longest time.
With technology taking over entire business operations these days, it didn't take long before one company decided to implement technology on extended warranties. Founded in 2019, Extend developed an API platform where merchants are able to instantaneously add extended warranties on their products. Over 150 merchants are currently using Extend including Peloton, iRobot, Harman/JBL, Advance Auto Parts, Traeger Grills, BlendJet, SoClean, 1More, August Home, Balsam Hill, and Vivid Racing. The app can also be integrated into leading eCommerce solutions such as Shopify, Magento, Salesforce Commerce Cloud, BigCommerce.
Extend's warranty solutions can be accessed by merchants either online or offline. Additionally, it is also a no-code platform where integration to numerous ecommerce platforms can be accomplished in a matter of minutes. Extend makes money once an Extend warranty protection plan is purchased by a customer. Commerce merchants also earn a margin for each protection plan that is purchased.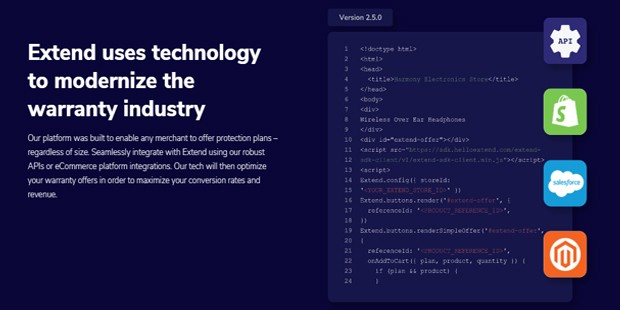 The startup's early success story can be attributed to taking advantage of technology to improve traditional business operations. With a sharp focus on extended warranties, Extend founder Woodrow Levin is hoping to change how merchants do business in the future while providing a safe and cost-efficient protection plan for consumers at the same time. Levin is also optimistic that Extend will become the Apple Care for every retailer around the world. With the company growing fast and also raising more than $56 million in equity funding, Levin may realize his dream sooner rather than later.
Extend is headquartered in San Francisco, California. It currently employs around 80 workers.
History
Extend was founded in 2019 by entrepreneur Woodrow Levin. He had previously launched three startups: Instadium, BringIt, and Estate Assist.
In April 2019, the company raised $16.4 million in Series A funding. Shah Capital Partners, Great Point Ventures, and Pritzker Group Venture Capital participated in the investment round. Individual investors also invested in the company.
In October 2020, the company raised $40 million in Series B funding led by Meritech Capital. PayPal Ventures as well as existing investors Great Point Ventures and Shah Capital Partners also participated in the investment round.
Founder
Founder and CEO Woodrow Levin has set big goals for his startup, even indicating that he wants to transform Extend into the Apple Care for every retail business in the future. The US-born entrepreneur has been involved with numerous startups in the past, so it's not surprising that he also expects big things for Extend.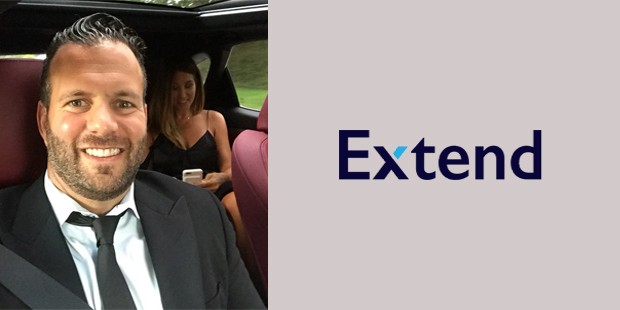 Levin launched sports marketing network InStadium in 2000, social tournament platform BringIT in 2008, estate planning platform Estate Assist in 2014, and crypto asset hedge fund 3.0 Capital in 2108. BringIT was later acquired by IGT while Estate Assist was acquired by DocuSign. Levin was named Docusign's Vice President for Growth after the Estate Assist acquisition. Before Levin left InStadium in 2007, the company had already become the US' largest sports marketing network for scoreboard advertising and influencer marketing.
Revenue
Extend has not yet disclosed any revenue numbers but it is reported that the tech startup is generating around $11.9 million per year. The company is projected to increase revenues by 2021 and will likely meet its targets after raising recently raising $40 million in equity funding and increasing workforce by 332 percent. Extend funding is currently listed at $56.4 million.
Competition
Not counting auto warranty and vehicle protection companies, Extend currently faces competition from other startups: Clyde and Mulberry. Clyde was launched in 2017 while Mulberry was launched in 2018, making Extend the most recent extended warranty company launched among the three.
Similar to Extend's product protection plan, Clyde and Mulberry warranty/protection policies also cover the usual warranty coverage such as wear and tear and damage caused by accidents/acts of nature. The three platforms also offer a warranty program for a wide range of products and can be integrated into popular ecommerce platforms such as Shopify, Magento, Salesforce Commerce, and WooCommerce.
Hundreds of retailers are currently using Extend, Clyde, and Mulberry to incorporate extended warranties for their products. Among Extend's notable customers include Peloton, RealTruck, iRobot, Harman/JBL, Balsam Hill, Vivid Racing, and BlendJet. For Clyde and Mulberry meanwhile, Clyde has a client portfolio that includes Chili, Vaio, Tuft & Needle, Nook, and PALM while Mulberry has signed up Helix, Mobvoi, Nectar, and Winkbeds. Take note that all of the three startups' customers are commerce businesses selling various goods ranging from electronics to appliances and even mattresses.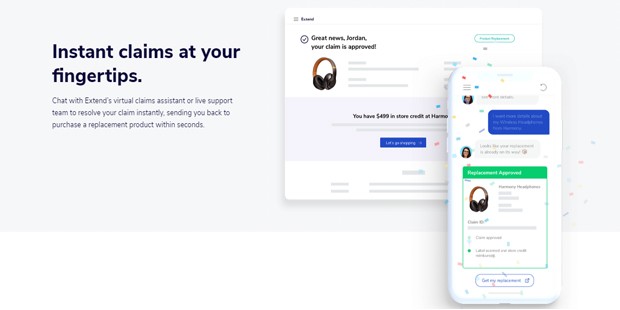 As previously mentioned, extended warranties have been offered by retailers for the longest time. But the system doesn't need to stay the same especially with the technology available right now. Extend doesn't only provide an easy way for businesses to offer extended warranties but also presents a modern solution for buyers who want to maximize their purchase for years to come.
Full Name :

Extend
Founded :

2019
Founder :

Woodrow Levin
CEO :

Woodrow Levin
Industry :
Sector :
Country :

USA
Website :
Want to Be Successful?
Learn Secrets from People Who Already Made It
Please enter valid Email