7 Most Expensive Batman Collectibles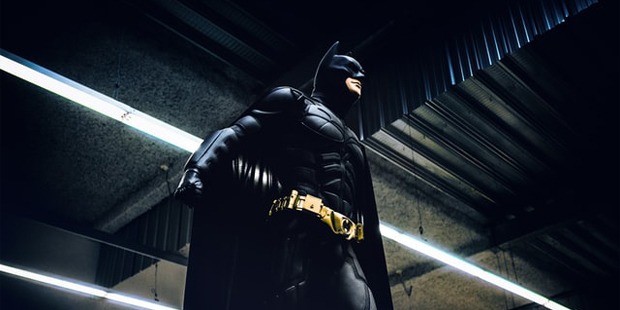 Ever since he was introduced in the late 1930s, Bruce Wayne a.k.a. Batman has become a pop culture icon. He has graced both the big and small screen and is one of the faces of comic book merchandising for over nine decades. And with Batman Day coming up, it's time to highlight not just the Caped Crusader's global impact but also the thousands of dollars collectors have spent just to grab some very rare Batman collectibles. Here are the eight most expensive Batman collectibles ever sold:
1. Ideal Super Queens Batgirl - $17,925
Not exactly Batman himself, but Batgirl has always been a regular fixture in Batman stories since the 1960s. And with a $17,925 price tag, the Ideal Super Queens Batgirl is the most expensive Batman collectible of all time. The doll, which measures 11 inches and comes with a complete set of accessories, was released by then-toy company Ideal in 1967. It was sold as part of Ideal's Super Queens line which also featured other DC heroines Wonder Woman, Mera, and Supergirl.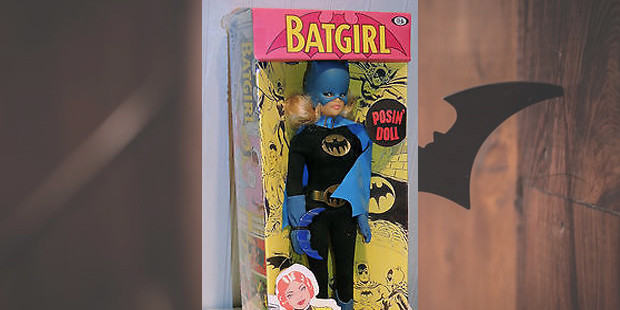 As the years went by, the doll's value only skyrocketed especially with Ideal closing shop in 1997. One collector did manage to secure the 1967 Batgirl doll but for the price of nearly $18,000. Ideal Toy Company was founded in the early 20th century by couple Morris and Rose Michtom. It became one of the biggest toy manufacturers and doll makers in the United States post-World War II before being acquired by Mattel. The Michtoms are also responsible for inventing the Teddy bear.
2. Ideal Batman Utility Belt - $16,000
Another Ideal product makes the list most of the expensive Batman collectibles, this time in the form of the Batman Utility Belt costing $16,000. The toy was featured on the popular television show "Pawn Stars" and was initially priced at $16,000. After negotiations between the show's hosts Rick and Chumlee and a customer named Karen, the rare Batman collectible was eventually sold for $11,000.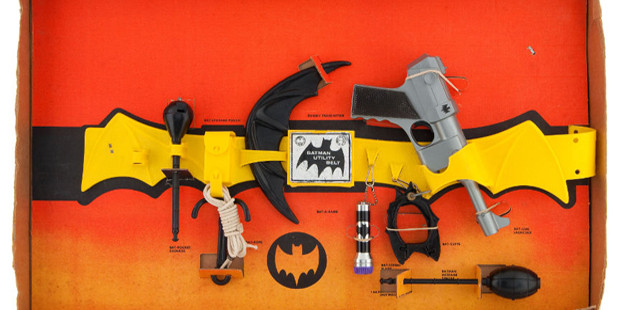 Still complete with accessories and packaging, it wasn't surprising for the Batman Utility Belt to be sold at the said price. Some of the accessories include the Grappling Hook, Bat-Cuffs, and Bat-Gun, among others. The belt itself is also adjustable and can fit up to a 32" waistline.
3. Mego Elastic Batman - $15,000
Mego is another toymaker that has been creating Batman collectibles for decades, particularly Elastic Batman which was released in 1979. Unfortunately, Mego was sued by Kenner who believed the former was emulating its popular Stretch Armstrong figure. This resulted in the New York toy company halting the production of Elastic Batman entirely.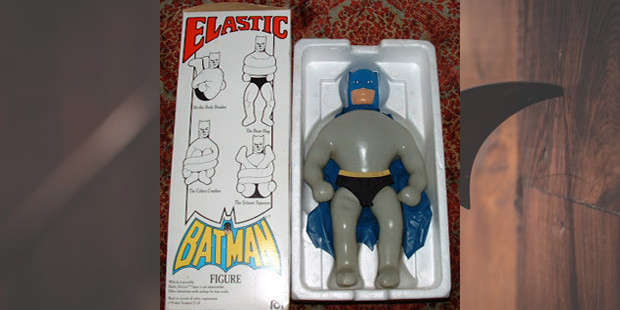 Since the production of Elastic Batman was abruptly canceled, very few figures arrived in retail stores. This eventually made the toy a super rare commodity, with one selling for $15,000. Mego was founded in 1954 and is popular for creating action figures from various comic book and movie franchises, including DC Comics (Batman, Superman, Wonder Woman, etc.), Star Trek, and The Lord of the Rings.
4. Marx Bagatelle Batman Game - $11,825
From the many 1960s Batman toys from Louis Marx and Company, the Bagatelle Batman game remains the most expensive. This classic litho bagatelle game which is very similar to pinball landed on the hands of a collector for $11,825.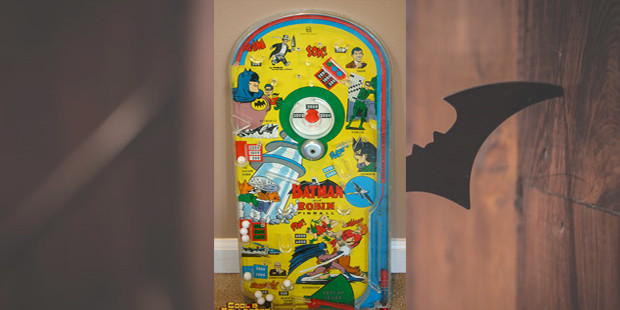 The game lets users control Batman and Robin as they take down Blockbuster and other villains. The lithograph is said to be designed by DC artist Carmine Infantino but the rumor is yet to be confirmed. Louis Marx and Company filed for bankruptcy in 1980 after the U.S. economy went into a recession in the 1970s.
5. Yanoman Friction Batmobile - $6,000
The Yanoman Friction Batmobile is one of the most popular toy cars that ever existed. Created by Japanese company Yanoman, this classic miniature version of Batman's go-to vehicle is a friction-based toy car that had started to become popular in the late 1960s. Grabbing this collectible today will set collectors back at least $6,000.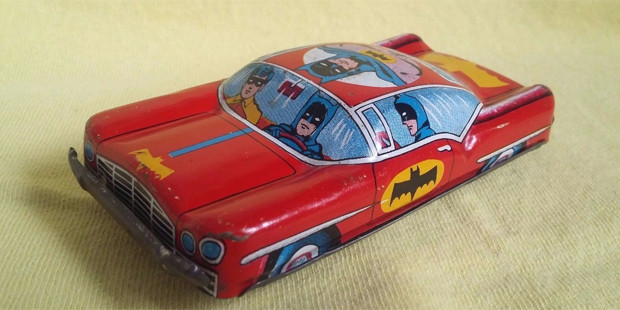 Only Hot Wheels' die-cast cars matched the popularity of the Yanoman Batmobile which is also made from tin plates. Founded in 1958, Yanoman continues to exist as a maker of games and game sets for children and adults.
6. Mego Batman Kresge Variant - $4,000
When it comes to rare Batman action figures, noting comes close to the Batman Kresge variant. Mego collaborated with the Kresge department store (now famously known as Kmart) to release a special edition Batman action figure with a removable cowl. One collector managed to grab the rare toy for $4,000; also making it the most expensive Mego Batman toy ever.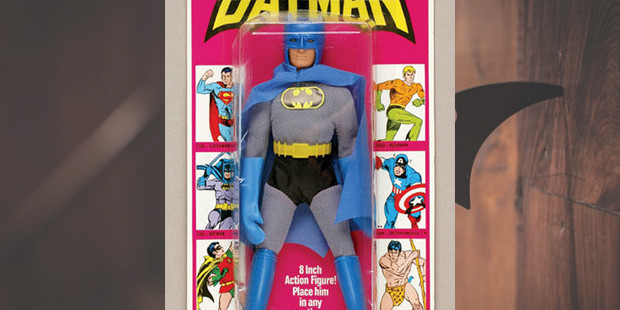 Mego began selling Batman action figures in 1972 and originally sold the figures in solid boxes. Seeing that kids would tear the boxes open just to see the items inside, they switched to windowed boxes and eventually to the common card backs.
7. Transogram Batmobile - $3,290
A bigger yet slightly cheaper version of the Yanoman Batmobile, the Transogram Batmobile will still set fans and collectors back more than $3,000. Created by Transogram, the toy is modeled after the vehicle in the original 1960s television show and is considered as one of the most valuable and even best batman collectibles out there.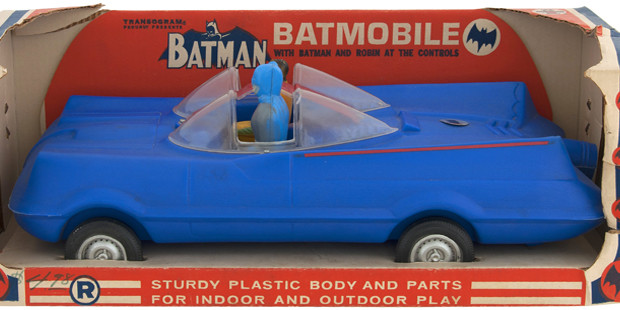 This version of the Batmobile perfectly resembles the one from the T.V. show starring Adam West as the titular character, Burt Ward as Robin, and Cesar Romero as the archnemesis Joker. West's Batman and Ward's Robin are also included in this toy which has become a wish list for many collectors around the world.
In Closing
As more generations are introduced to Gotham's crime-fighting vigilante, the more his legacy becomes timeless. And part of that legacy is fans and collectors spending thousands of dollars just to obtain some of the rarest Batman memorabilia around.
Want to Be Successful?
Learn Secrets from People Who Already Made It
Please enter valid Email