8 Tips to Ace that Remote Job Interview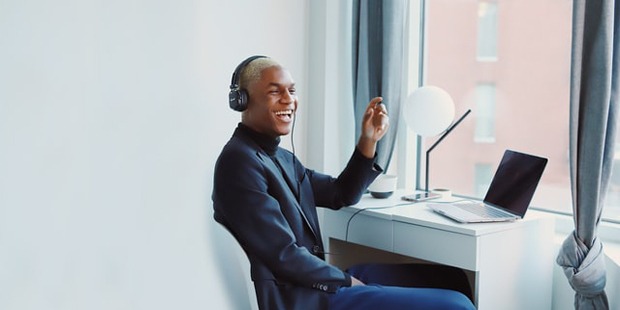 Whether you've decided to work remotely as a freelancer or a full-time employee, you shouldn't have a problem since there are thousands of companies around the world looking for remote workers. But finding a job is only the first step and you'll have to go through the usual job interview process before actually landing the job. To ace that interview, here are eight remote job interview tips to help you out:
1. Dress as you would for a personal interview
Even you're doing the job interview from anywhere (oftentimes in the comfort of your own home), it doesn't mean you'll have to ignore common dress code etiquette. Remote job interviews aren't any different from physical job interviews and what you wear is a big factor if employers will be hiring you or not. Following a dress code is a big indicator of professionalism so make sure to dress the part in whatever interview you'll be having.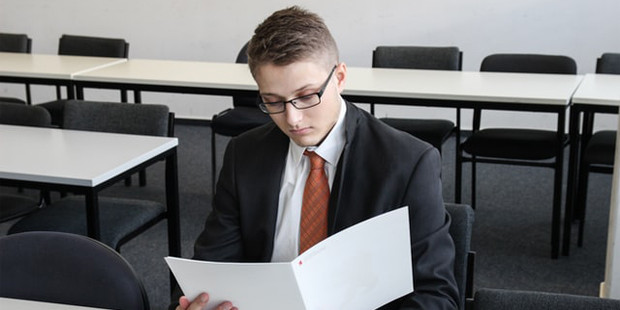 You'll never go wrong with a suit/tie or blazer/dress shirt combination during any interview. It doesn't just make you look good but also gives you the confidence to answer any question the interviewer will be throwing. Aside from a suit or blazer, you can also dress down a bit and simply wear a dress shirt. If you're unsure of what to wear, you can always ask the interviewer ahead of time what the company requires when it comes to job interviews.
Although most applicants only dress half of themselves since the interview is only done through a camera, try avoiding this situation. Remember that you can still feel what you're wearing and it can be uncomfortable wearing a suit and pyjama bottoms at the same time. Wear the complete attire and dress as if you would meet the hiring manager in person.
2. Remove distractions
If you've worked in a remote setting before, then you know that distractions can be a problem. For you to focus on your latest (or for most people, their first) job interview, remove all of these distractions from your desk. Smartphones, tablets, gaming consoles, and other electronic devices should all be hidden from sight. Additionally, if there's a television set in your vicinity it's best to move to another room as there are other people that might be watching TV during your interview.
For the people you're living with, inform them beforehand that you'll be having an interview to prevent unnecessary disturbances. If you're living with pets, keep them caged or place them in your neighbor's possession in the meantime. You can also work in another location (e.g. coffee shop or coworking space) if you think you can't control the distractions at home.
Much like observing a proper dress code, you should maintain a high level of professionalism by keeping distractions out of the way. You'll never get the job if the employer always sees you using your phone and not paying attention to the conversation.
3. Prepare your setup ahead of time
You don't want to turn on your computer five minutes before your scheduled job interview from home. Do preparations at least an hour before the interview so that you can check if there are possible problems with your equipment or software. Oftentimes, remote job applicants fall into a dilemma of ignoring to check their work setup resulting in an unforeseen problem that significantly affects the remote job interview process.
Remember that you only get one chance for an interview. Even if there are problems that are out of your control, the company will be using it against you and you'll be losing out from other remote workers. Start your preparations early and make sure everything is working properly.
To prevent lagging, turn off automatic updates from the computer and ensure that your internet connection is stable. You should also update your latest video conferencing platform to the newest version. Lastly, don't forget to check if the cameras and headphones are fully connected to the computer. With this checklist, your interview should run smoothly as planned.
4. Practice key/common questions
Practicing key or common remote job interview questions will help you be prepared during the remote job interview. This also helps you avoid awkward pauses which can oftentimes contribute to you losing your train of thought. Questions such as "what are your strengths and weaknesses?" and "can you give me a background of your previous work experience?" may sound simple but failing to answer these questions properly will not get you considered for the job.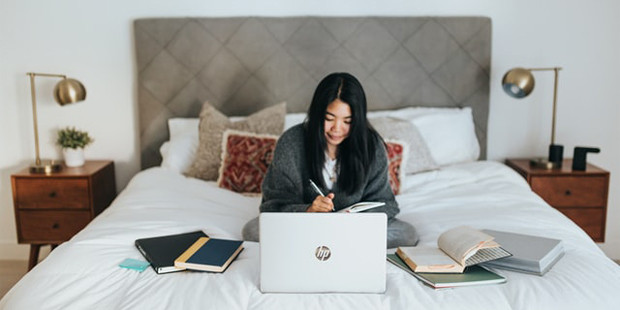 Check online resources for key interview questions and practice answering these questions before the scheduled interview. You can also extend your research to situational questions but don't dwell too much on this since companies like to keep interviews short.
It's never advisable to bring a script during the interview, but if it helps you remember what you've practiced you can always list everything down on a piece of paper. You'll be able to answer with confidence if you know what to answer ahead of time. It's always better to be prepared than to be completely unaware of what will happen during the interview.
5. Stay calm
After you've practiced those generic questions, it's now time to nail the interview. But you can't nail the interview if you're anxious and nervous. Condition your mind to stay calm and answer every question clearly and concisely. The more you stay calm, the better the conversation will be having with the interviewer. Although job interviews can be very nerve-racking, the best job applicants know how to carry themselves and even make interviews a fun and interactive conversation.
During the interview, pay attention to your tone and facial expressions. Smile and laugh when the conversation calls for it and take a short breather after finishing each sentence. Even if the interviewer still has other applicants lined up for the day, make sure to get your point across by taking time to answer each question properly.
Don't forget to look directly at the camera during the entirety of the interview. It may be tempting to look at your own image or the image of the person doing the interview, but the camera acts as the tool where you'll be able to establish proper eye contact even when the interview is only done online.
6. Place your CV beside you
Although it's mandatory to look at the camera during the interview, you can always take a glance at your CV if the interviewer asks you questions regarding the items listed there. Consider it as a cheat sheet but remember that staring at the CV while talking won't do any favors during the interview.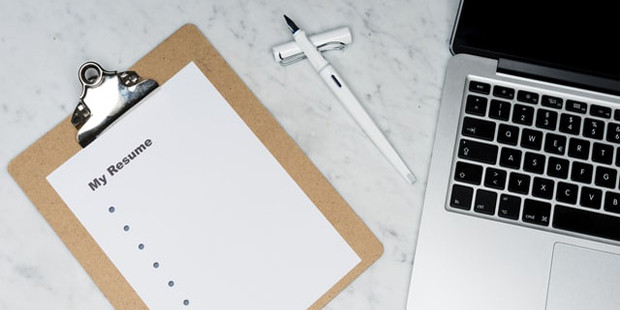 Only refer to your CV if the interviewer asks for specific details of your educational or work background. They may ask for clarifications about the duration of your tenure from a previous company or the date you graduated from college. You can always memorize the contents of your CV but you may forget some details especially with the amount of information you'll be taking in when preparing for the interview.
Make sure to print your CV instead of storing it in a computer tab. The employer will be able to notice you switching from one tab to another and it can be quite distracting.
7. Don't forget to research about the company
If you've managed to ace all the other questions but fail to answer about how the company does its business, then your application will still be declined. Companies actually expect applicants to know about their operations specifically the products/services they develop and the market they cater to. By researching about the company, you'll be able to familiarize yourself with the job while it also helps you stand out from other applicants.
Researching about the company shouldn't be too stressful since you'll be able to find everything you need on the company's website. Among the information you should be looking for include the following: products and services, company goals, company executives, company history, and customer feedback. You can also refer to the company's social media pages (e.g. Facebook, LinkedIn, Twitter) to gather the said information.
You may not find details about your job application on the company website but the platform where you applied for the position may help you out. This shouldn't only help you familiarize yourself with the actual work but also help you decide if you want to pursue the application or not.
8. Follow through
After you've successfully finished with the interview, it's time to signify to the interviewer that you're very much interested in working with the company by following through. Send an email to the interviewer thanking them for the opportunity and that you'll be looking forward to their decision. The interviewer will likely give you a schedule on when they will get back to you, so take note of this schedule and send them a follow-up email if they fail to contact you on that day.
Avoid sending multiple emails asking them about the progress of your application. It will annoy them and you may lose your chance even if you did well in the interview. One follow-up email is enough and if they don't contact you within a month, then it's highly likely you lost the spot to another applicant.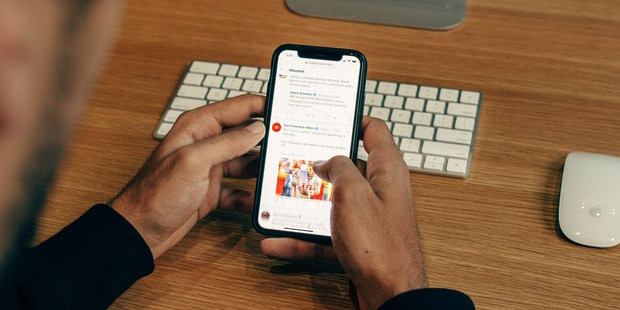 Always remember that there are numerous factors for a company to hire a specific person. It's not just about the applicant with the highest credentials or the one with the most degrees. The company through the human resources department will also look at the applicant's attitude and how they will fit with the company's current set of employees. Don't fret if you don't get the job as you will get a chance at other job postings.
Final thoughts
When it comes to remote job interviews, the rules haven't changed if you compare them to physical job interviews. You still have to do the necessary preparations not just to do well on the interview but also to eventually land the job.
Even with job boards posting thousands of jobs every day, whether it be entry level remote jobs or jobs requiring at least five years of experience, don't take the interviews for granted and always do the best of your ability with every interview you're involved with. Who knows, a successful job interview may just be the key for you to land a long-term and high-paying job.
Want to Be Successful?
Learn Secrets from People Who Already Made It
Please enter valid Email