Most Expensive Road Bikes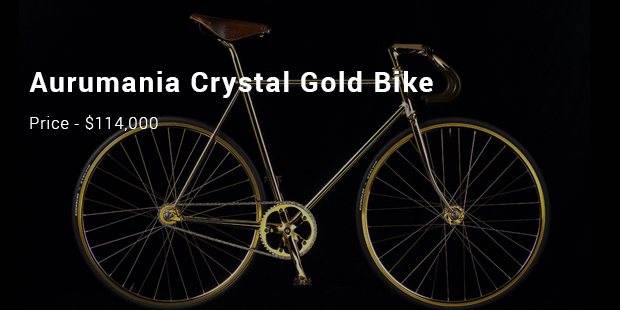 Cycling is a great source of exercising and keeping fit. Many people also find it a great way to socialize and meet new people like them, who enjoy cycling. It is also a means for transportation for people travelling for short distances.
Bikes are widespread in the world and will continue to be in demand for times immemorial. The world's finest bike may cost a lot. But still it does not deter the people from buying them. Following are the world's best bikes which you must consider which choosing the one which you want to ride on!
1. Trek Butterfly Madone - $500,000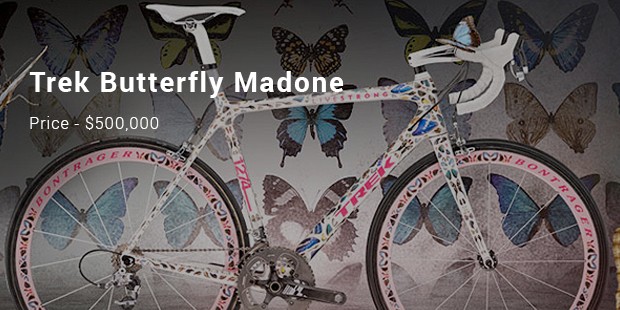 The butterfly trek Madone is the most costly bicycle in the world. It was created and designed by Damien Hirst and he made use of real butterfly wings. The wings were in reality placed in the rim of the bicycle and in the concrete frame. This bike was ridden by Lance Armstrong in Tour de France event in 2009.
2. Trek Yoshimoto Nara - $200,000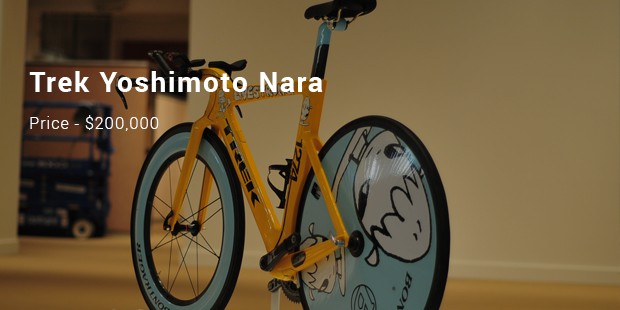 This bicycle is the second most expensive road bike in the world. It was designed by artist Yoshimoto Nara, this bike was made to memorialize, Armstrong's rehabilitated cycling career in 2009. This custom build string time test bike is very light weight and fast. The yellow striking frame is really a work of art.
3. Kaws Trek Madone - $160,000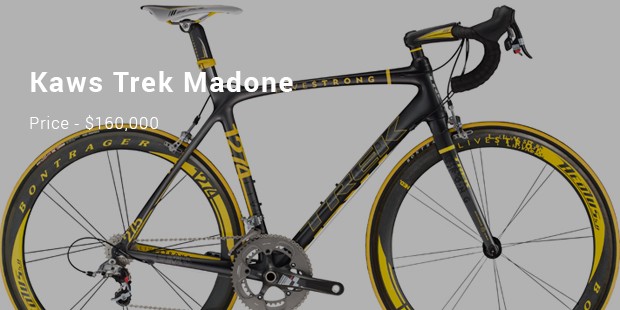 Lance Armstrong, the Tour de France winner and the cancer survivor newly offered a special version of his trek madone modified by well known Artiste Kaws. The bike features, the Kaws signature "chomper "teeth pattern which is placed in the rim and frame of the cycle. Lance utilized this bike in the Milan San Remo Cycle Race in 2009.
4. Aurumania Crystal Edition Gold Bike - $114,000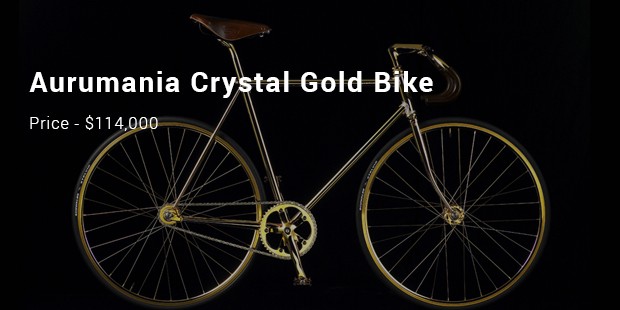 Every visible part of the bike is 24k gold plated and the bike displays 600 Swarovski's. All the other parts of the bike are only the best there is, including a Brooks saddle. This state of the art bike comes with a guarantee for 10 years . It is hand delivered throughout the world. With more and more bikes coming on to the road for daily use and otherwise also riding an expensive bike has also become a status symbol.
5. Trek Madone 7 Diamond - $75,000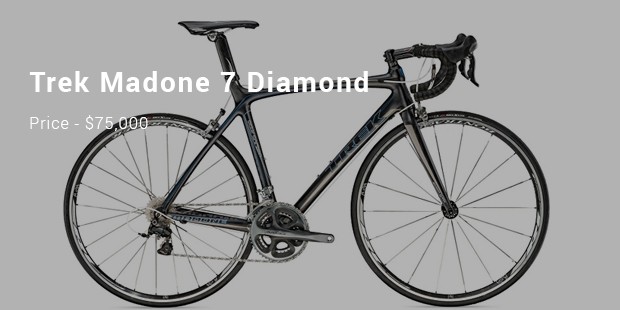 If you are looking for a road luxury, the most glamorous cycle will surely meet all the requirements you have and you can pedal this two-wheeler more proudly in front of motorbike drivers. This bicycle also is encrafted with few sparkling diamonds . It is made of the premium grade metal and has 7 beautiful diamonds weighing almost 7 carats encrusted on it.
6. Chrome Hearts X Cervelo Bike - $60,000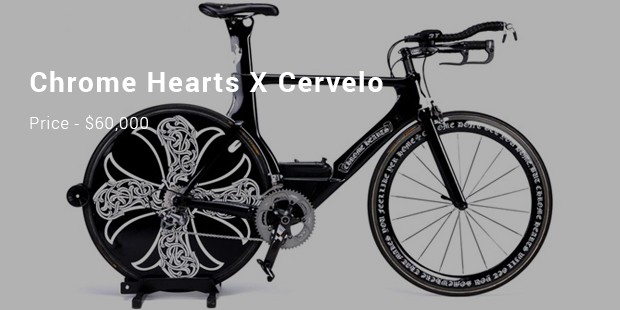 Featuring lots of leather, typically lavish customized graphics show Chrome Hearts, with precious metals and rhinestones, and is based on Cervélo's P4 TT. The American luxury cycle gear brand Chrome Hearts teamed up with Cervélo, one of the most prestigious racing bike manufacturer and created this, a sturdy and strong mix of a time trial bike.
7. Moynat Malle Bicyclette - $51,000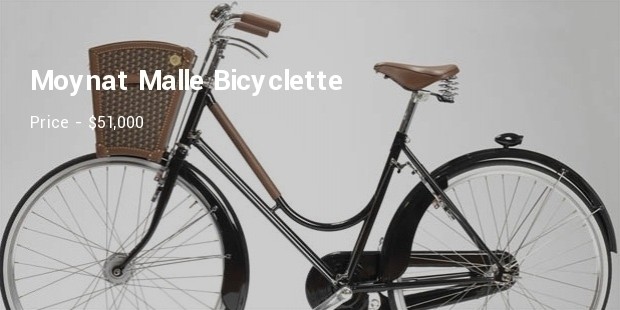 Founded in 1849 by Pauline , Paris's one and only female trunk-maker, Moynat brings with it a long tradition of creations of most high end, fashionable and much expensive with a luxury luggage carrier fitted on the bikes . The smart step-through by this beautiful city bike here was designed by Abici Italia , the Italian custom builder, also a renowned brand whose predilection towards vintage styling fits perfectly.
8. T-Red Bestianera Montecarlo Edition - $20,236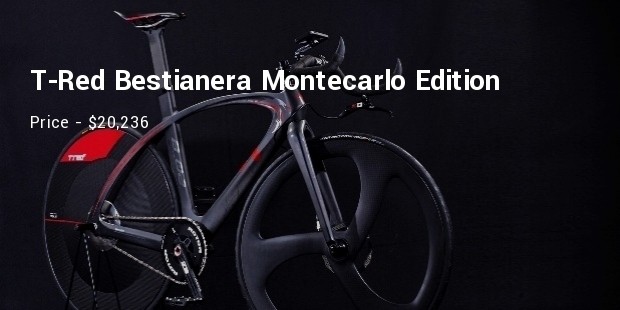 T-Red's ultra-light Bestianera Montecarlo Edition was a creation by the Italian designer Romolo . It is surely the world's most outrageously hybrid bike created. The Bestianera Montecarlo edition , carries a very aggressively styled carbon frame . The bike also features the very first disc equipped three-spoke wheel that we have ever seen, and the first bullhorn bars with the actual horns.
9. Nevi Spinas - $17,530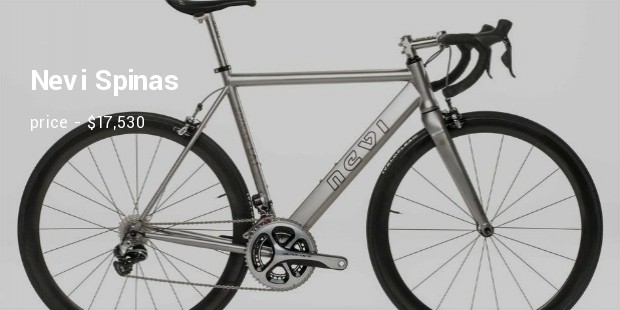 Born in 1992 from a desire to stand out of the crowd of other brands, Nevi adopted the metal titanium as its metal of choice and carries on to build all its beautifully and well crafted frames in Italy . The Nevi's Spinas road bike is made from varying titanium grade metal and also features a down tube which is shaped like a teardrop .
10. SPA Bicicletto - $ 12,566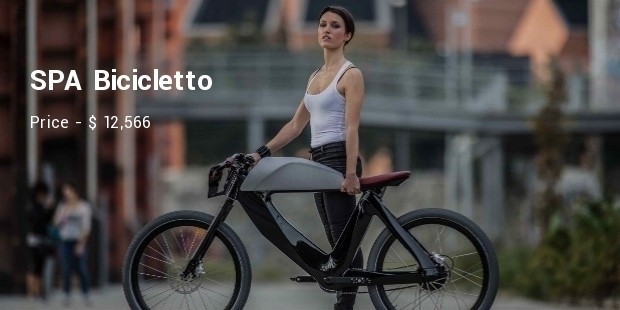 Perhaps the first e-bike to make us openly drool with lust, the Bicicletto's gives goose bumps with the top speed of 45km/h and a range of 120km. Equipped with the electric throttle it also enables use without having to pedal . The carbon frame and the fork are covered with a motorbike-style seat that integrates storage with electronic display and also has rear lights that also act as indicators.
Riding road bike is just not a thrilling experience but also a fitness secret. But imagine yourself riding the world's most expensive bike on the road; wouldn't that be the most amazing thing happening to you? So why conceal you desire by just imagining yourself on such a lavish bike, make your dream come true!
Want to Be Successful?
Learn Secrets from People Who Already Made It
Please enter valid Email