Most Expensive Beds and Mattresses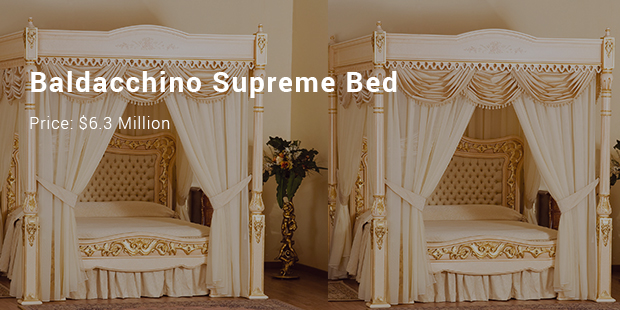 No wonder, one fourth of a human life is spent in sleeping. After a hectic day, one must need a peaceful sleep. So why not make the most of bed-time on an extravagant bed? Each expensive bed is luxurious in its own way, and we are sure that almost everyone will find one of these beds most desirable.
Here is the list of most expensive beds and mattresses in the world - a price tag that will make you go crazy.
1. Baldacchino Supreme Bed - $6.3 Million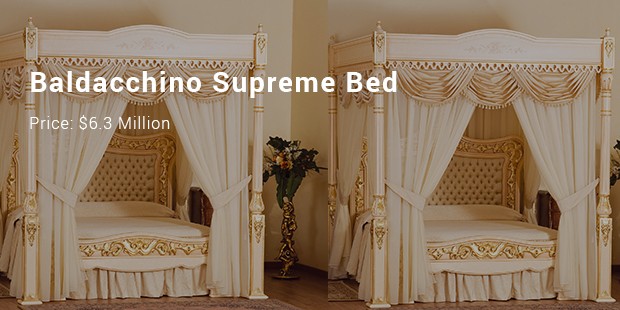 With the most decadent of decadent designs, the Baldacchino Supreme bed is hand carved with an interior composed of 24 carat gold that weighs over 200lbs. After staying for four years on the top, the magnetic floating bed has been unseated by luxury designer Stuart Hughes.
This Fratelli Basile's Hebanon furniture evokes the timeless qualities of 18th century furniture while applying modern craftsmanship. This bed, with its chestnut structure and ash wood canopy, is no exception. The exterior is lacquered, paginated and decorated with 107 kg of 24k gold. The bed also features the finest Italian silk and cotton.
2. Magnetic Floating Bed - $1.6 Million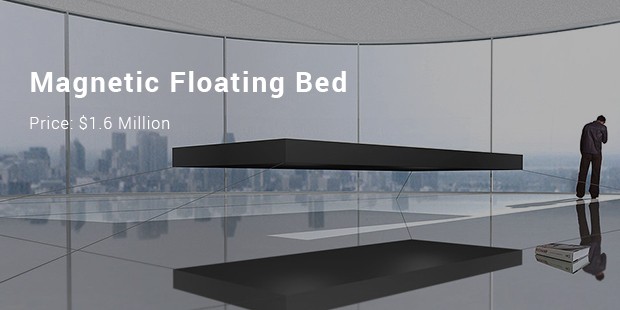 The 2006 Millionaire Fair in Kortrijk, Belgium saw the debut of a magnetic floating bed that pretty much takes the cake for the coolest bed in the world. Conventional beds and mattresses haven't changed much over the years, and that's where Dutch architect Janjaap Ruijssenaars comes in.
The goal in his project was to make a usable piece of furniture that wasn't constrained by the laws of gravity. Permanent opposing industrial-strength magnets allow the bed to float around 1.3 feet off the floor while holding almost 2,000 lbs. While it costs you US $1.6 million, a smaller unit, one fifth of the full size, costs US $153,000.
3. Jado Steel Style Gold Bed - $676.550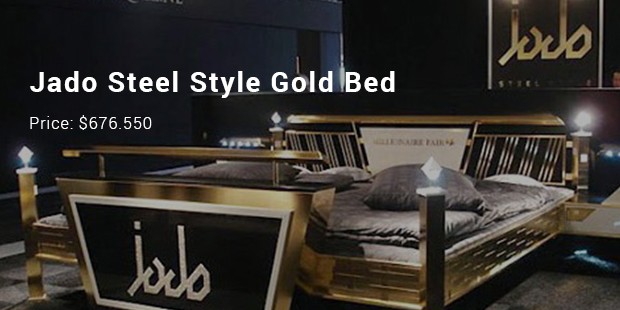 The luxurious waterbed is coated with 24k gold and features Swarovski crystals along the sideboard. It's equipped with a DVD player and Bose sound system, Blu-ray player, Playstation 3, a foldaway plasma television coated in gold which be connected to the internet.
4. Parnian Furniture Bed - $210,000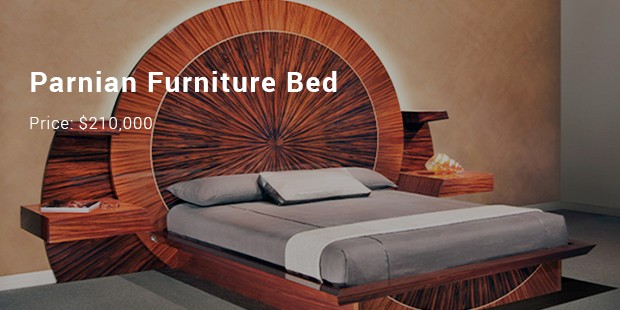 The Parnian Furniture Bed is a convenient wonderful bed designed by Abdolhay Parnian and has a variety of add ons like have iPad holders, swivel television , gold and stainless steel work and hidden compartments which are the main attraction.
5. Quantum Sleeper Bed - $160,000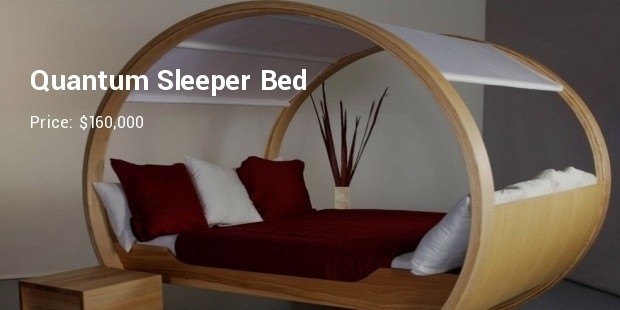 Priced at $160,000 this is one of the most expensive beds in the world. It has a "safe room" which is impenetrable and this is what makes it special. Every bed should be like this thus providing an easy comfort.
6. Majesty Vi-spring Bed - $84,425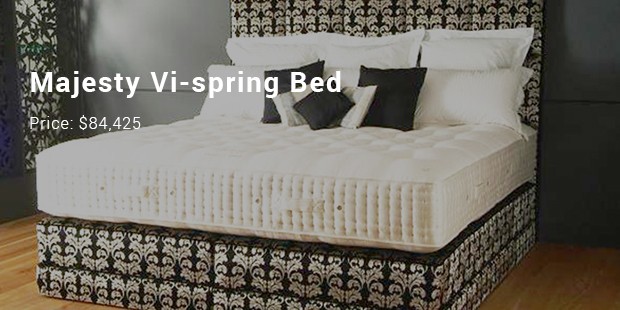 This is a handcrafted discovery of Jab Anstoez and has more than 6000 springs. Made with silk, cotton and cashmere it also has layers of silk and gold again. It has a technology that makes it a very comfortable bed
7. Cosmovoide Bed - $60,000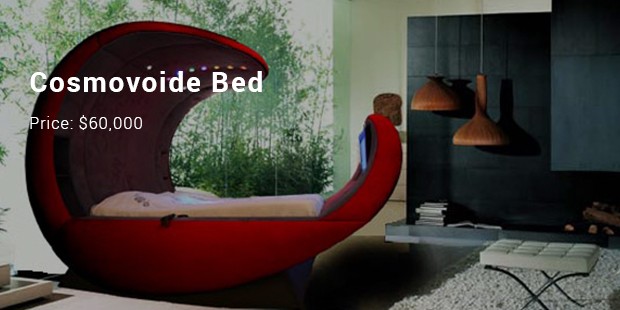 The Cosmovoide Bed at $ 60,000 is a luxurious customised bed which engulfs you with the comfort. Its suspending springs and seven coloured LEDs along with a telephone, DVD theatre and electric relaxation frames. The price is worth the facilities.
8. Monarch Vi-spring Bed - $50,000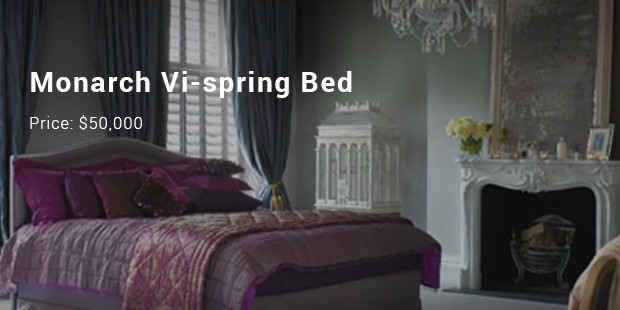 This bamboo fibre high quality bed is famous for its soft and silken bamboo fibre . It is environment friendly and has been woven into a particular fabric design. Besides it also has cashmere, mohair and lambswool making it convenient.
9. Starry Night Sleep Technology Bed - $50,000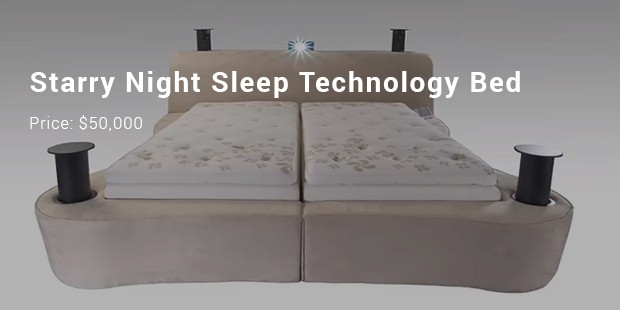 The Starry Night Sleep Technology Bed has technologies which help one to prevent snorers and also can easily lift the upper half of the body to some degrees. It has a convenient internet connection , iPod Slot and temperature adjustment.
10. Sphere Bed - $50,000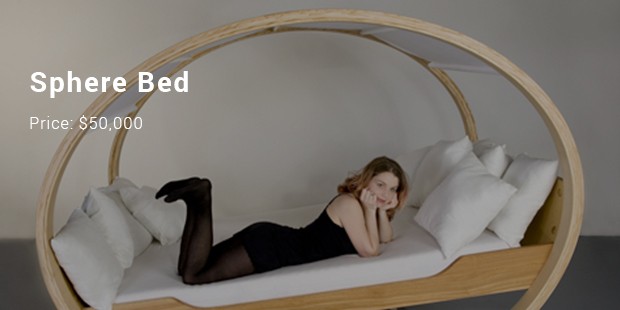 This is the ultimate bed for those needing luxury . With a television set, mirrors, champagne holder and LED lights the bed comes in a variety of colours. One can also personalize it as per choice. Karim Rashid designed it.
Want to Be Successful?
Learn Secrets from People Who Already Made It
Please enter valid Email