Billy Graham Quotes
Billy Graham is one of the most popular spiritual leaders this century has seen. He was a spiritual leader to many famous presidents like Richard Nixon and Lyndon Johnson. He became a celebrity during the year 1949 when a lot of moderately conservative and a lot of middle- class people widely accepted his preachings. He reached people through media and was also on the list of most admired men and women by Gallup.
Goodness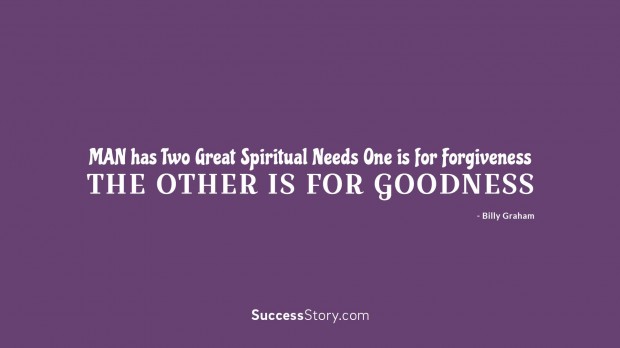 "Man has two great spiritual needs. One is for forgiveness. The other is for goodness"
The character is something which is important for a human being. Parents should shape children's character and help them to be good citizens. Billy Graham tells that if we lose money, we lose nothing. If we loose health we lose something, but if we are devoid of a good character we lose everything. Therefore, we should not lead a life without virtue.
The only way to cleanse our sins and to reach the path of glory is Jesus Christ. We should seek salvage in God. Billy Graham says that he has never seen even a single soul who has accepted Jesus as his Saviour and regretted later. He is the only one who will allow us to enjoy the real happiness of eternity.
Everyone loves to possess wealth and lead a posh life. There is nothing wrong in possessing wealth. But we should not be greedy enough to forget the moral values of life. It is wonderful to hear him saying that possessing wealth is not a sin. But the moment it possesses you , it becomes a trouble shooter.
Want to Be Successful?
Learn Secrets from People Who Already Made It
Please enter valid Email