Julia Roberts Success Story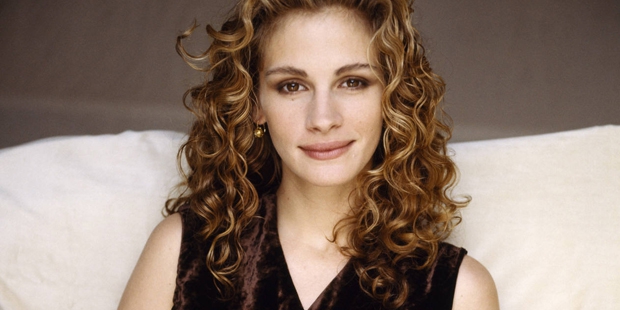 Julia Roberts is one of the most successful American actresses being active during the years 1990-2010. She has won the Golden Globe Award and the Academy Award for Best Actress for her lead role in the film 'Erin Brockovich' (2000). She was the highest paid actress in Hollywood for the years 2005 and 2006. She has been paid $25 million for her role in the movie 'Mona Lisa Smile'.
As of 2013, her net worth is in excess of $175 million. She has been the most successful actress in Hollywood in terms of commercial achievements. All her movies combined have grossed more than $2.9 billion at the worldwide box office. She has been considered as one of the most reliable female leads in Hollywood.
Childhood
Julia Roberts was born in Atlanta, Georgia on October 28, 1967. Julia's parents Betty Lou and Walter Grady Roberts were both former actors and playwrights who had met while being part of the same theater production. She attended the Smyrna's Campbell High School and played the clarinet at school. She dreamed of becoming a veterinarian but decided to pursue acting after graduating from High School. She went to New York and enrolled in acting classes as well as being a part-time model. She struggled for many years before she could get her first break in mainstream cinema.
Beginning
Her debut film was 'Satisfaction' (1988) which was a moderate hit at the box office. Her next film 'Mystic Pizza' gave her high critical praise for her performance. Her next film 'Steel Magnolias' was again highly appreciated and now she was completely under the spotlight. She won the Golden Globe Award for this film and received an Academy Award nomination for Best Actress in a Supporting Role.
Career
Julia was climbing the ladder of success very quickly. Her next film 'Pretty Women' (1990) went on to gross more than $460 million. She received her second Golden Globe and also received an Academy Award nomination for Best Actress.
Julia took a two-year hiatus from acting and returned with the release of the 1993 film, 'Pelican Brief'. Julia had made a great comeback as the movie went on to gross $190 million. She followed up with movies like 'Michael Collins', 'My Best Friend's wedding', 'Stepmom' and 'Runaway bride' which were hits at the box office and critically acclaimed as well. Next she was cast in the movie 'Notting Hill' (1999) which went on to gross more than $350 million.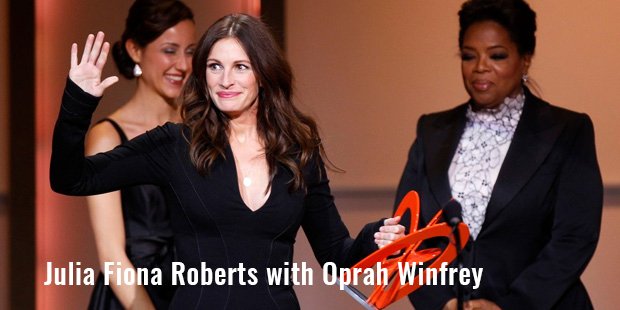 Julia Fiona Roberts with Oprah Winfrey
In 2001, Julia's portrayal in the movie 'Erin Brockovich' got her the Academy Award for Best Actress and the movie went on to gross close to $260 million. That year she starred in the film 'Ocean's Eleven' which went on to gross close to $440 million.
" If you love someone, you say it, right then, out loud. Otherwise, the moment just passes you by." - Julia Fiona Robert
She has continued her success in films like 'The Mexican', 'America's Sweethearts', 'Mona Lisa Smile', 'Charlie Wilson's War' all grossing over $100 million in worldwide box office. In 2010, her movie 'Eat, Pray, Love' went on to gross $200 million with her being the only star in the film.
From being a struggle in the beginning of her career to establishing herself as the most dependable actress in Hollywood has made her life one of the greatest success stories that we will ever read. Today she is loved and adored not in the U.S. but wherever cinema is appreciated in the world.
Awards
2005

Peoples Choice
2004

Peoples Choice
2003

Peoples Choice
2001

Academy, Screen Actors Guild, BAFTA, Golden Globe, Critics Choice Movie
1992

Peoples Choice
1991

Golden Globe, Kids Choice
1990

Golden Globe
Know More
Julia Roberts winning an Oscar
Full Name :

Julia Fiona Roberts
Zodiac Sign :
Birth Place :

Smyrna
Georgia
Education :

Georgia State University Atlanta,
Campbell High School Smyrna,
Fitzhugh Lee Elementary School Smyrna,
Griffin Middle School Smyrna
Industry :
Networth :

$140 Million
Want to Be Successful?
Learn Secrets from People Who Already Made It
Please enter valid Email