Sarah Hyland Success Story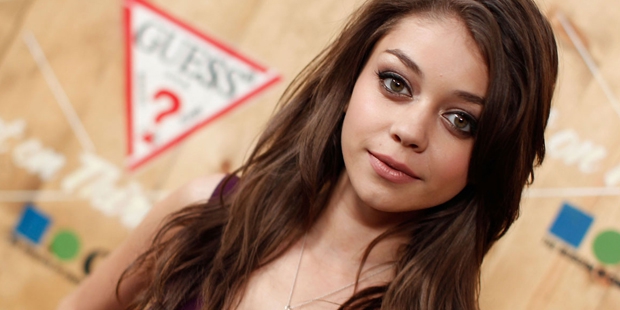 Not all Hollywood actresses are blessed with an enviable film legacy or not all are those who make it big on their own. Sarah Hyland is among those rare breed of actors who has touched the zenith of success more owing to her efforts and consistency rather than influence of star parents or relatives in the family. Known mostly for her role in Modern Family, a popular ABC sitcom, Hyland had shown traits of her versatility and talent in numerous TV and film roles.
Hyland did not enjoy a smooth way to stardom and adversity tested her right from the childhood. When she was a kid, Hyland was afflicted with kidney dysplasia, which resulted in a kidney transplant much later in life. She also suffered relationship issues in the recent times, but that had not deterred the petite actor from pursuing her showbiz career successfully.
Sarah Hyland showed sparks of talent for acting right from her childhood days. The influence of her actor parents, Edward James Hyland and Melissa Canaday are evident in her persona. She went to Manhattan's Professional Performing Arts School. Her stage debut was at a tender age of 11 and she worked in numerous Broadway plays.
Even when she was in high school, the artistic tendencies surfaced. Her talent in painting and sculpture made her enter Art Institute of Chicago School of Art lot easier. During her tenure in the school, her love for acting flourished. She took admission into Second City Improvisation School and started honing her skills. After 4 years, she moved to LA.
Sarah began acting at a tender age of 5. The first time she faced the camera was for the film 'Private Parts'. Hyland played the role of Howard Stern's daughter in it.
After working in Private Parts, Hyland worked in 'Another World', a daytime soap. Her stint in 'The Audrey Hepburn Story', a TV movie series also widened her career scope.
HYland gained media and viewer's attention after appearing as the daughter of Brooke Shields in 'Lipstick Jungle', the NBC series that was terminated shortly. In 2008, she flew to LA and got a chance to play the role of teenager Haley Dunphy in 'Modern Family', a series that catapulted her to stardom. The cast of the show including her, won the coveted 'Screen Actors Guild Award for Outstanding Performance by an Ensemble' for 3 years consecutively, starting from 2011.
While Sarah Hyland did not star with big league actors, the movies she worked had author-backed roles and her performances have been well received by the audience.
Sarah worked with Matt Prokop in 'Geek Charming', a Disney Channel Original Movie in 2011. The movie was followed by another one, Struck by Lightning, which released in 2012.
Contrary to her on screen image in the sitcoms, Hyland played drastically different roles in adventure horror flicks such as 'Vampire Academy' and 'Scary Movie 5'
With hard work and achievements, one also needs to maintain simplicity. Sarah Hyland's success and her modesty is a great example to look at.
Awards
2014

Screen Actors Guild, Glamour
2013

Screen Actors Guild
2012

Screen Actors Guild
2011

Screen Actors Guild
Know More
Full Name :

Sarah Jane Hyland
Birth Place :
Education :

Professional Performing Arts School Sarah Hyland
Occupation :
Industry :
Networth :

$6 Million
Want to Be Successful?
Learn Secrets from People Who Already Made It
Please enter valid Email