Will Smith Success Story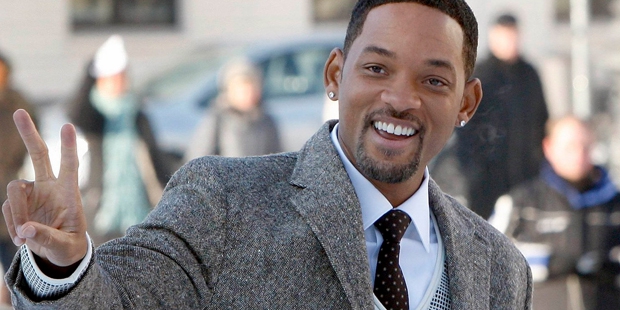 Will Smith is an American actor, producer who is best known for his comic and dramatic roles. He has been nominated for two Academy Awards, four Golden Globe Awards and also won four Grammy Awards. Today he is the only actor to have ten consecutive films gross over $150 million internationally and eight consecutive films gross more than $100 million at the domestic box office. As of 2012, his films have grossed more than $6.36 at the global box office.
Childhood
Willard carol 'Will' Smith was born on September 25, 1968 in West Philadelphia. His mother was a school administrator and his father was a refrigeration engineer. Smith began rapping at the age of 12. He did not like using profanities or an aggressive tone in his songs, instead he added a comic element which would remain as his trademark. He became friends with a DJ at a party named Jeff Townes. Soon they became a duo. Smith took the name 'Fresh Prince' and Jeff took the name 'DJ Jazzy Jeff'.
Beginning
They began producing music in a fresh style that was soon liked by the teenage group more than anyone else. Their first single became a hit in 1986. The single's name was 'Girls Ain't Nothing But Trouble'. Soon they released their first album called 'Rock the house' in 1990. This also went on to become a hit. This made Smith a millionaire at the age of 18. Their album won the first ever Grammy Award for a Rap Performance.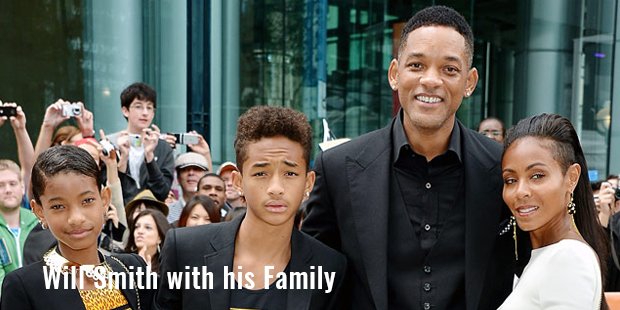 Career
Soon Smith got a chance to act in a sit-com and at the same time he did small roles in movies like 'Where The Day Takes You' (1992). Soon he began getting more prominent roles and his performance in the movie Six Degrees of Separation (1993) gave him critical acclaim. But he became hot property in Hollywood with his performance in 2005 movie 'Bad Boys'. This film was a blockbuster hit earning around $141 million being made on a $19 million budget.
Soon he starred in movies like 'Independence Day' and 'Men in Black' which went on to become one of the highest grossing movies of the decade. This had pushed Will Smith into superstardom. Now every producer was hoping to cast Will Smith in their next movie. He could be trusted to deliver box office returns. He was seen as a pure action hero who had a great comic timing as well. But Smith broke stereotypes when he ignored many good commercial offers to act in dramatic roles.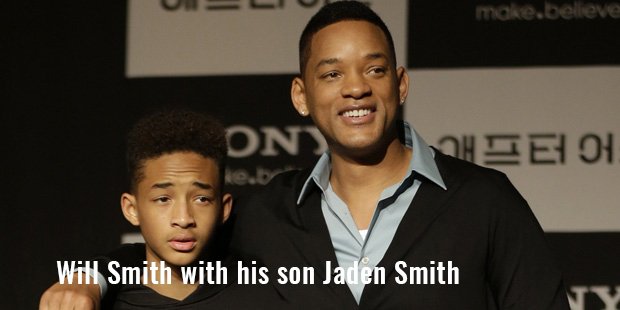 Will Smith with his son Jaden Smith
His portrayals in 'Ali' and 'Pursuit of Happyness' have as a result given him high critical praise and also two Academy nominations for Best Actor. Still he used his superstar status and fan following to good use by starring in many highly successful commercial movies. These movies include Hitch (2005), I am Legend (2007), Hancock (2008) and Seven pounds (2008). His successes have labeled him as being one of the most reliable superstars in bringing in box-office returns.
" Throughout life people will make you mad, disrespect you and treat you bad. Let God deal with the things they do, cause hate in your heart will consume you too." - Will Smith
His interest in doing dramatic roles and excelling in it have made him a complete actor. He has also excelled as a romantic hero besides his most popular avatar as an action hero. From being a rap singer to becoming a superstar in Hollywood, Will Smith has set a new trend in the film industry. His ever-charming persona has led to his fan following in many countries. He is an actor that has tested his limits and can be regarded as the man for all seasons wherein he can get into the skin of any character with ease.
Will Smith Family Tree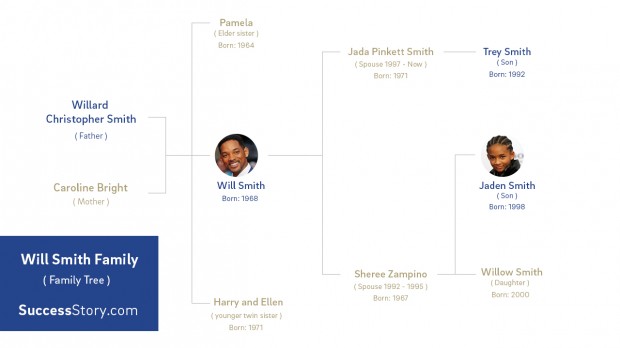 Awards
2009

Kids Choice, Peoples Choice
2006

Kids Choice
2005

Kids Choice
2002

MTV Movie
2000

Kids Choice
1999

MTV Europe Music, MTV Video Music, Grammy
1998

MTV Movie, Best Rap Solo Performance
1998

Kids Choice, MTV Video Music, Grammy
1997

MTV Movie
1991

Kids Choice
1988

Grammy, Best Rap Performance
Will smith Secrets of Success
Want to Be Successful?
Learn Secrets from People Who Already Made It
Please enter valid Email