Most Expensive Champagne Brands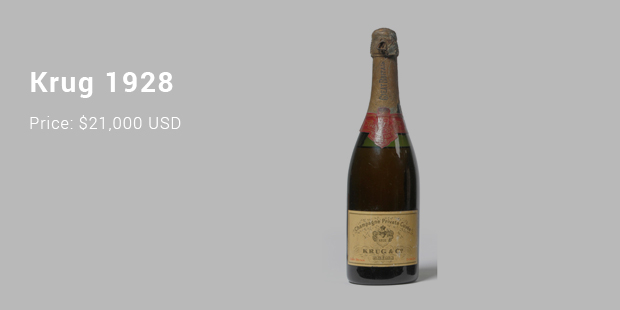 From graduations to anniversaries, champagne has been the part of every kind of celebrations. This drink is categorized as the liquor for the posh and the luxurious. Champagne is "articles of snob appeal" that uplifts one's social stature. This fizz is also women friendly.
Champagne is fermented from the choicest of grapes grown in different parts of the globe. Champagne being vintage and the rarity of the best grapes gives the right to these champagne processing companies to charge such humongous amount. Let's find out which are the ones topping the list of most expensive champagne.
1. Gout De Diamants - $2.07 million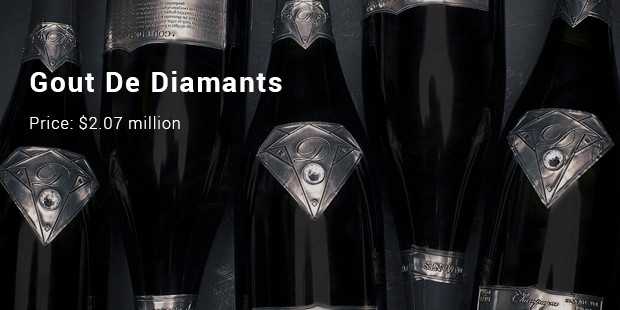 The meaning of the name clearly defines its exorbitant price- The taste of diamonds. The wine is jet black in colour contributing immensely toward its quality, but this alone was not enough. A logo similar to superman with a Swarovski crystal in between makes the bottle itself a classic collection.
2. Pernod Ricard Perrier Jouet - $50,000 USD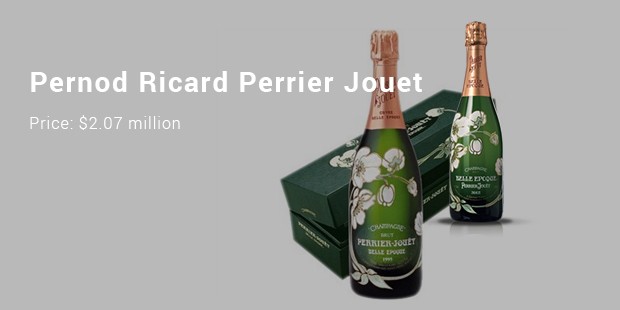 If you wish to have a drink that's unique to your taste and preference and would not mind to spend a fortune for it, Pernod Ricard Perrier Jouet is the champagne you should consider. Its personalization ability adds to its charm allowing the manufacture to charge extremely high for it.
3. Dom Perignon White Gold Jeroboam - $40,000 USD

This particular drink sells at $350 a bottle but in the year 2005, a particular bottle of Dom Perignon White Gold Jeroboam was sold for $40,000. What is the reason behind such sudden price hike? The look of the bottle was a masterpiece of art work, making it price sensitive.
4. Krug 1928 - $21,000 USD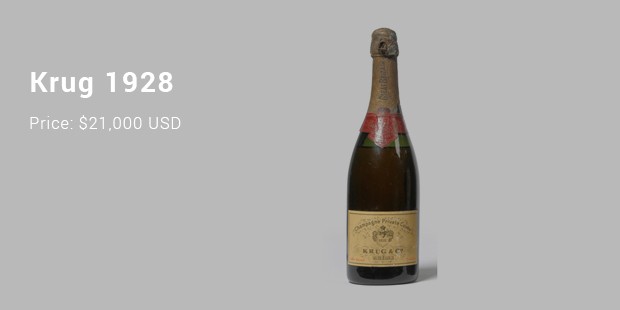 This 75cl bottle from Krug Collection is the most expensive champagne and is the greatest beverage ever made. This champagne was on sale in the UK when the war broke out in 1939. The product comes in different flavour including apricot and honey.
5. Cristal Brut - $17,625 USD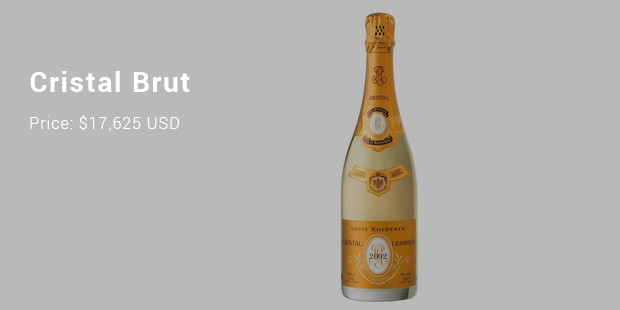 This is the most delicate wine that reveals precise and different flavours. Cristal is a reputed brand name produced by Louis Roederer. The product is priced due to its high quality and expensive bottle that makes it worth to be purchased.
6. Moët &Chandon Dom Perignon Charles & Diana 1961 - $ 4,309 USD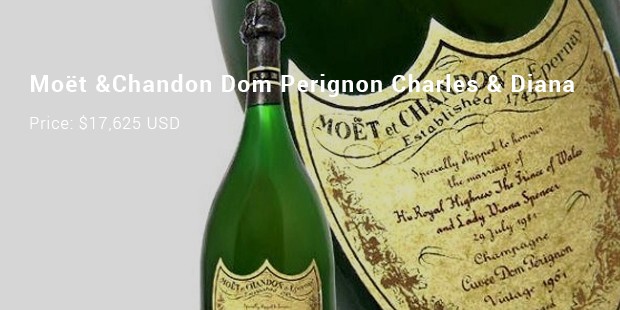 The brand was founded in 1743 by Claude Moet and presently has more than 1,000 hectares of vineyards. This product was released in 1943 to celebrate champagne house's 200th anniversary. This was sold with highest price in an auction and is still the expensive once.
7. Krug Private Cuvee- $1,989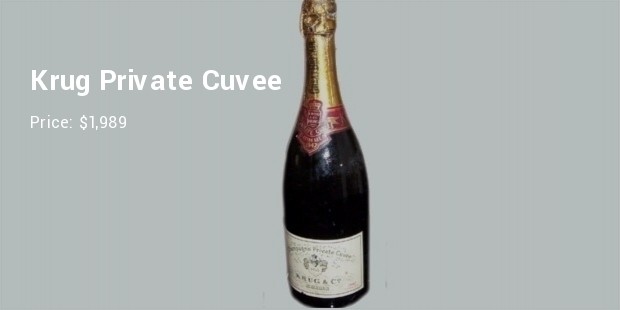 Founded by Joseph Krug in 1843, this product is based in primarily in Reims. Presently, the brand is owned by LVMH Moet Hennessy. This is the most expensive champagne from the house and was auctioned with higher price. The product is still available in market and is purchased by many elite people.
8. Boerl & Kroff Brut Rose –($2,198)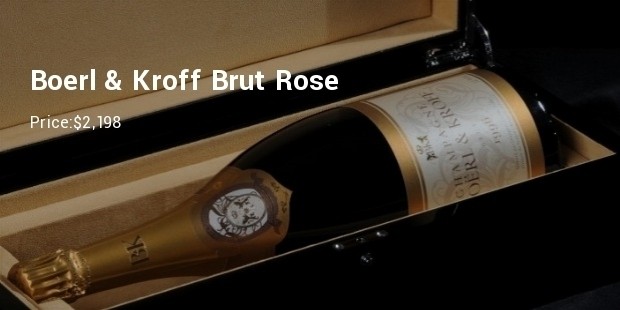 This product was created by Champagne House Drappier. In the year 1995, Michel Drappier went ahead to separately coming with best berries from one acre of the vineyard he owns. This product is made from the blend of Pinot Menuier and Pinot Noir and is the expensive one.
9. Moet & Chandon Bicentenary Cuvée Dry Imperial 1943 – $1,392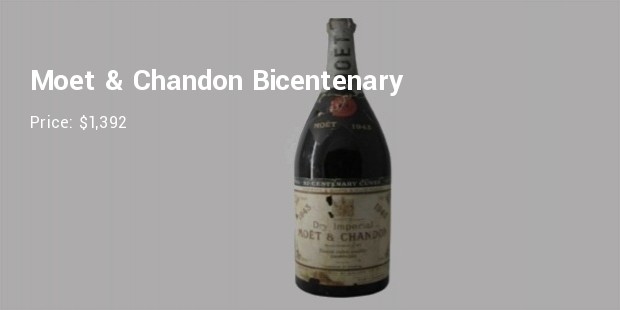 Moet and Chandon have a rich history and is the most expensive champagne. The company owns more than 1,000 hectares of vineyards producing more than 26, 00,000 bottles of champagne. The company has created the expensive creation and was released in 1943 and is still the expensive one.
10. Engraved Krug Brut David Sugar- $1,806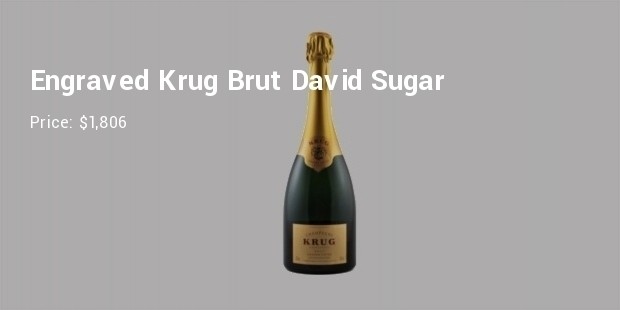 This is the limited edition to champagne from Krug Brut brand is the valued to be the most expensive one. Its origin belongs to Northern France. The quality of the champagne makes it to the most improved one and is engraved as Quail Design in Flowering Tree.
These champagnes are from the house of top brands which are known for their quality and high price.
These drinks serve as an amazing collection for the ones who are keen. Luxurious champagne have always been an item of status quo for the concerned ones. People who settle for nothing but the best are going to spend any amount to store the rarest of champagne in their bar.
Want to Be Successful?
Learn Secrets from People Who Already Made It
Please enter valid Email