Alexandria Ocasio-Cortez Story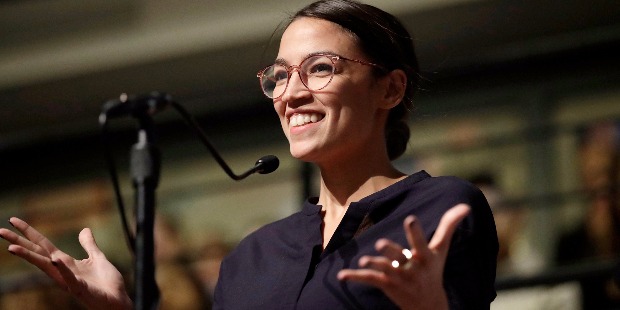 She is currently the most popular Democrat and happens to be the 'Youngest Woman ever' to serve in the United States Congress at just 29 years young. Her journey of success is truly remarkable in many senses. Alexandria Ocasio-Cortez's success over Democratic Caucus Chair Joe Crowley, the 20-year incumbent Congressman, was the biggest upset victories in the 2018 midterm election primaries.
She is progressive, bold, courageous, intelligent, smart, and her straight approach to take the bull by its horns has made Ocasio-Cortez a darling of the Democratic Caucus and American citizen, who voted her to power during the midterm election. The Republicans fear her so much that even before Ocasio-Cortez won, they started attacking her in every which way.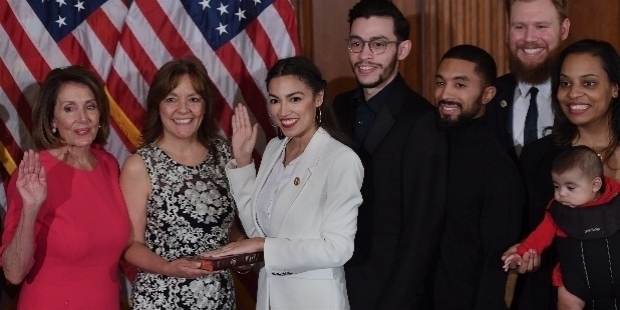 Incidentally, Alexandria Ocasio-Cortez is not the one to get rattled or vanish from the attacking scene like others. She gives it back more ferociously to keep her Republicans and media attackers' trap shut with her tweets and intelligent responses. She is 'the' new breed of the 21st Century politics. News anchors cannot face or match her intelligence and wonder why they invited her on their shows.
Alexandria Ocasio-Cortez is one of the most amazing Democrats America has seen in recent times. Ocasio-Cortez was an Educational Director for the 2017 Northeast Collegiate World Series for the National Hispanic Institute. She used to work as a bartender in New York.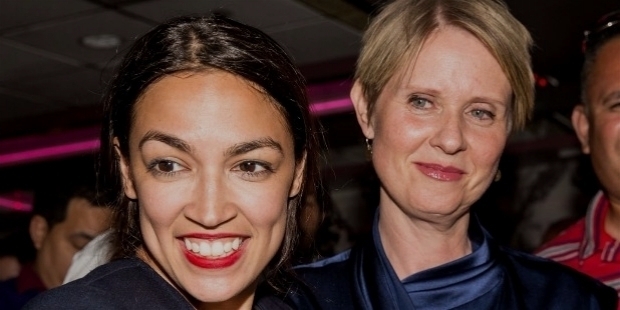 Ocasio-Cortez made it clear from the very beginning her approach is different kind of politics, which is unadulterated by Corporate and lobbyist connections or donations. She champions for federally guaranteed jobs, 'Medicare-For-All', call for tuition-free public colleges and the dismantling of the US Immigration and Customs Enforcement. She is a proud democratic socialist, which makes Ocasio-Cortez truly special.
Early Life:
Alexandria Ocasio-Cortez was born on the 13th of October 1989 in the Bronx, New York City. Architect father Sergio Ocasio was born in a Hispanic family native to Puerto Rico. Mother Blanca Ocasio-Cortez is a Puerto Rican. When she was five, her family moved to Yorktown Heights. However, she used to visit her extended family in Bronx regularly during her growing up years.
In the year 2007, Alexandria graduated from Yorktown High School. A bright student, she won the Second Prize in the Intel International Science and Engineering Fair, with a Microbiology Research Project on the effect of antioxidants on C. elegans' lifespan. The International Astronomical Union named a small asteroid by her name '23238 Ocasio-Cortez' to honour Alexandria Ocasio-Cortez for her achievements.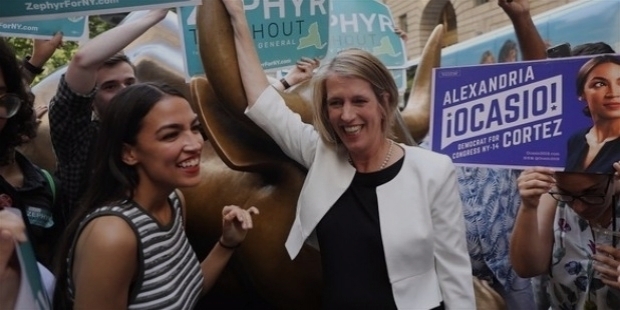 Alexandria Ocasio-Cortez was active in the National Hispanic Institute's LDZ – Lorenzo de Zavala Youth Legislative Session. She went onto become the LDZ Secretary of State, while she was studying in Boston University. She had a John F. Lopez Fellowship. In 2008, she lost her father to lung cancer. She worked as an intern in the Immigration Office of U.S. Senator Ted Kennedy during her college days.
In 2011, Alexandria Ocasio-Cortez graduated cum laude with a Bachelor's Degree in International Relations and Economics from Boston University's College of Arts and Sciences.
The Journey of Success:
Ocasio-Cortez moved to the Bronx after her graduation. After her father expired, her mother and she had to struggle hard to fight foreclosure of their home. She worked as a bartender in Manhattan and as a waitress in a Mexico restaurant. Her mother drove school bus and cleaned houses. Ocasio-Cortez launched a publishing firm Brook Avenue Press for books, which portrayed the Bronx in a positive light.
She has come up the hard way, so she understands everybody's struggle. Ocasio-Cortez worked as a lead educational strategist at GAGE IS, Inc. She worked as NHI – National Hispanic Institute's Education Director of the 2017 Northeast Collegiate World Series. She participated in a panel on Latino leadership. This was just the beginning for Ocasio-Cortez's future political career.
Alexandria Ocasio-Cortez became the first person to challenge Joe Crowley in the Democratic Primary, since 2004. In spite of her financial disadvantage as compared to Crowley's, Ocasio-Cortez succeeded over him with a totally different plan of action. She was focused right from the beginning for not approaching corporate and lobbyists to raise money for election campaign.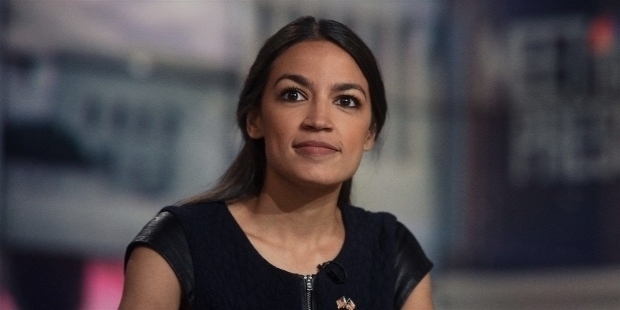 75% of her donations were contributed by small individual contributions. On the other hand, just 1% of Crowley's donations were contributed by small individual contributions. Experts believed she had no chance with $194,000 campaign money against Crowley's $3.4 million. She began her campaign with a video showing her saying, "Women like me aren't supposed to run for the office." This strong one liner caught with New Yorkers, who made sure she should win.
Progressive Civil Rights Organizations MoveOn, Justice Democrats, Brand New Congress, Black Lives Matter and Democracy for America endorsed Alexandria Ocasio-Cortez. Gubernatorial candidate Cynthia Nixon also endorsed her. Being a first-timer, Ocasio-Cortez displayed great confidence to triumph not only in her Democratic Primary, but also defeated the Republicans' candidate Anthony Pappas.
On the other hand, ten-term Joe Crowley was endorsed by Governor Cuomo, New York City Mayor Bill de Blasio, Senators Chuck Schumer and Kirsten Gillibrand, 11 U.S Representatives, 31 elected officials, 31 Trade Unions and groups like the Sierra Club, Planned Parenthood, the Working Families Party, NARAL Pro-Choice America and Moms Demand Action for Gun Sense in America.
Ocasio-Cortez has had solid experience to handle grassroots campaign and she was confident about her campaign strategy. Before the Primary, she had revealed, "I knew that if we were going to win, the way that progressives win on an unapologetic message is by expanding the electorate. That's the only way that we can win strategically. It's not by rushing to the center. It's not by trying to win spending all of our energy winning over those, who have other opinions. It's by expanding the electorate, speaking to those that feel disenchanted, dejected, cynical about our politics, and letting them know that we're fighting for them."
Alexandria Ocasio-Cortez triumphed over Joe Crowley by securing 15,897 votes against 11,761 votes respectively. It was the biggest upset of the 2018 elections. It was a shocking Primary defeat in more than a decade and her win reverberated across Democrats and the whole of USA, not forgetting the Republicans. The world media noticed Ocasio-Cortez's triumph in a fascinating manner. Crowley dedicated by playing Bruce Springsteen's 'Born to Run' song to Ocasio-Cortez conceding his defeat.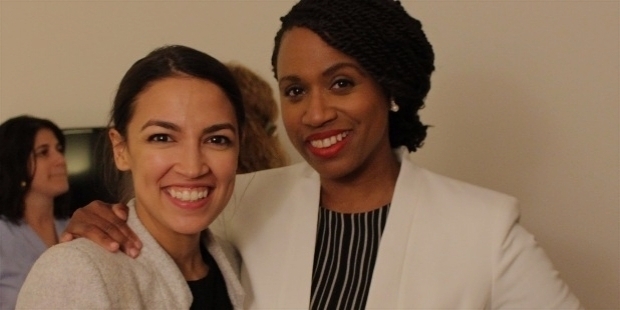 Alexandria Ocasio-Cortez was acclaimed by a legendary American linguist, philosopher, cognitive scientist, historian, political activist, and social critic Noam Chomsky, who described her win as a quite spectacular and significant event in American Political History. He went onto state that she was right in saying that the policies she's outlined should have broad appeal to a very large segment of the population.
Bernie Sanders congratulated on her win stating, "She took on the entire local Democratic establishment in her district and won a very strong victory. She demonstrated once again what progressive grassroots politics can do." Ocasio-Cortez became famous for her firebrand approach by outlining policies, she would work on zealously.
In the midterm general election, Ocasio-Cortez defeated Republicans' candidate Pappas by securing 78% (110,318 votes) against his 14% (17,762 votes). The huge margin speaks volume of her hard work on the ground.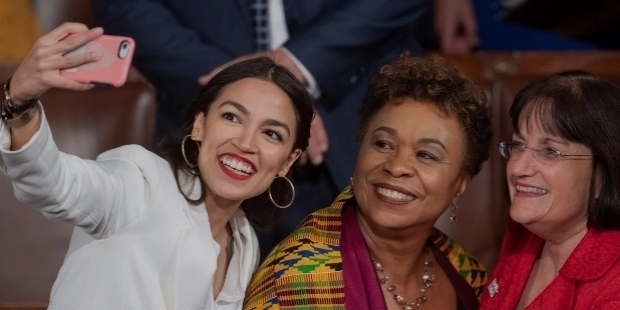 During the 2016 Primary election, she worked for Presidential candidate Bernie Sanders as an organizer. While visiting around Flint, Michigan, Standing Rock and North Dakota, she encountered the harsh reality of community building. She was inspired to begin work for her own community, when she witnessed in North Dakota how people put their whole lives and everything they had on the line for the protection of their community.
Progressive Approach:
Alexandria Ocasio-Cortez is known for her progressive approach towards government policies. She is vying for a return to John F Kennedy's 70% tax on the wealthiest Americans and supporting a 'Green New Deal', a proposed economic program addressing climate change and inequality. Ocasio-Cortez has become Democrats' firebrand to take on the Republicans.
She has also shown the Democrats that she would fight for what is right for the nation. On the very first day of Congressional orientation, she participated in a climate change protest outside the office of House Minority Leader Nancy Pelosi. And when it came to support Pelosi's candidature for Speaker of the House, Ocasio-Cortez backed her with her full heart.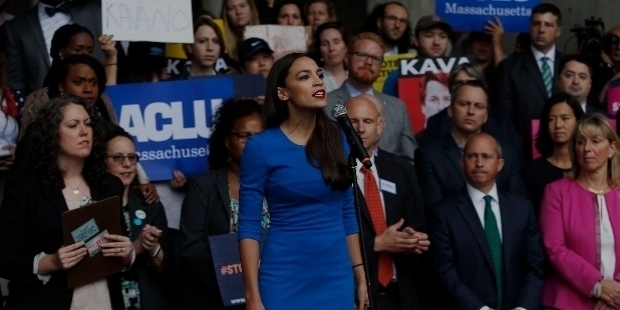 Alexandria Ocasio-Cortez is the new generation politician, who has great knowledge and command over social media. She is active in twitter, Instagram and facebook. She has an amazing 2.5 million followers in twitter, the highest among Democrats. In Instagram, she has 1.6 million followers. She takes on the Republicans on twitter in such an intelligent manner that after attacking her, they scramble to hide their faces shamelessly.
The Republicans are really scared about Ocasio-Cortez's firebrand progressive approach. She has been attacked again and again by Republicans and various News Channels. Interestingly, she takes on the mighty like a seasoned Pro to shut their mouths for all the false allegations against her.
The Democrats selected her for Committee on Financial Services. Alexandria Ocasio-Cortez is the youngest first-timer to be part of responsible Democratic House Committee. Her greatest asset is her ability to connect with ordinary Americans in genuine way. Millennials do find her more relatable than any other potential Presidential candidate.
It wouldn't be wrong to say, Alexandria Ocasio-Cortez is the perfect opposition for Trump in the 2020 Presidential election. She may be young and inexperienced in the vast political arena. However, she has all the characteristics to be the real 'President of the People'! She would make an excellent American President in near future.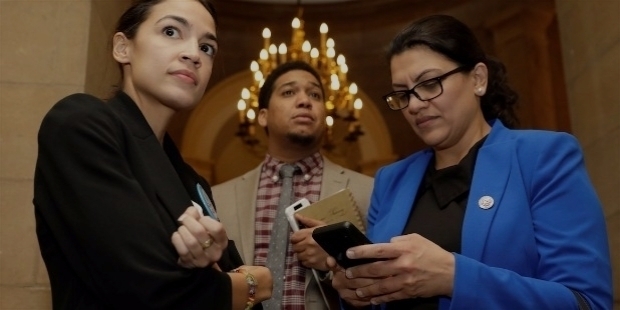 The American voters have become desperate and looking for a fresh face, who will be able to offer 'the' real change with newer dimensions of politics for the betterment of the citizen and the nation at large. Alexandria Ocasio-Cortez has the charisma, intelligence, political acumen and the right heart to become one of the best American Presidents and etch her name in international political history.
Full Name :

Alexandria Ocasio-Cortez
Zodiac Sign :
Birth Place :
Occupation :
Industry :
Want to Be Successful?
Learn Secrets from People Who Already Made It
Please enter valid Email