7 Most Expensive Dumplings in the World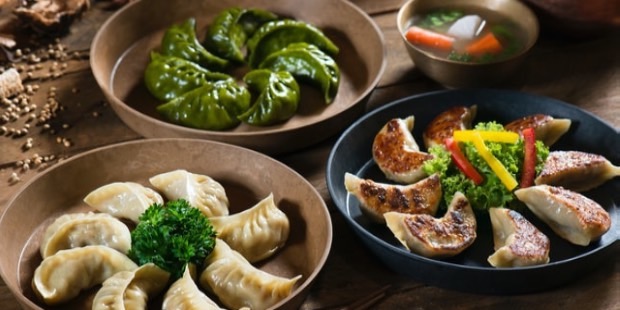 In line with Poland celebrating its famous dumpling the Pierogi on National Pierogi Day, it's time to look at the dish that has become a favorite by millions of eaters around the world. Dumplings, which are believed to originate from China around 200 A.D., come in different flavors and sizes. They are also priced differently, with some restaurants pricing a single order for hundreds of dollars. Here are seven of the most expensive dumplings to date:
1. Golden Gate Restaurant Dumpling - $4,400
The Golden Gate restaurant in New York City sells the most expensive dumplings in the world costing a whopping $4,400. For that price tag, customers will be getting 16 steamed dumplings made from salmon, pork, and veal. The dumplings also contain the gland of a deepwater horned lantern fish giving the dish a distinct blue tint.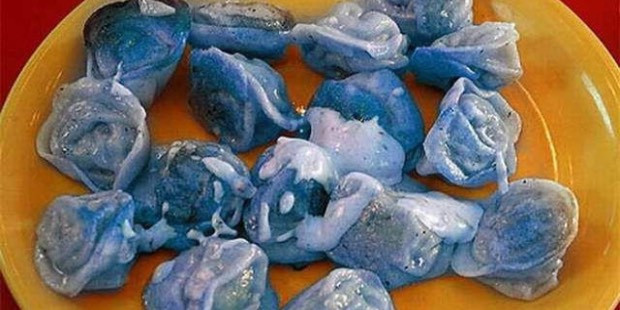 Customers can also opt for a "slightly cheaper" version of the dish, costing $2,500 for eight dumplings. Unfortunately, those who have thousands of dollars can no longer feast on the pricey blue dim sum as it was only sold for a limited period. Even with the absence of the luxurious dumpling, the restaurant located in New York's Bronx area still has dozens of other dishes to offer.
2. Yumbau Blue Diamond Dim Sum - $540
Previously listed as the most expensive dumpling in the Guinness record books, the Yumbau Blue Diamond dim sum holds a massive £399 (around $540) price tag. And although it no longer holds the world record, it's still a very expensive purchase that not many can afford. The dumpling is created by Yumbau which is a German food company that creates and sells premium dim sum.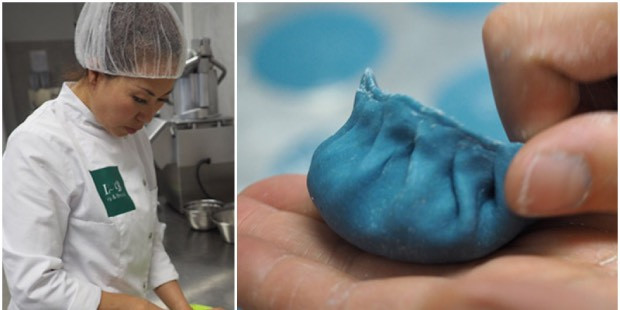 The Blue Diamond is the priciest in Yumbau's catalog, costing $540 and made from Silkie chicken, saffron, caterpillar fungus, truffle, and blueberry powder. Only found in China, Silkie is known for its black/bluish skin and bones and grayish-black meats. Yumbau was founded in 2016 by Hongmei Zhang and Kevin Bruck, and also makes a variety of dumplings including beef & Chinese cabbage, pork & white cabbage, and eggplant & truffles, among others.
3. Yoshihama Abalone & Yunnan Ham Dumpling - $215
One of Hong Kong's most luxurious hotels is no stranger to creating dishes that fit its exquisite standards. Kowloon Shangri-La is home to the Yoshihama abalone and Yunnan ham dumpling, a luxurious dish that consists of first-grade Japanese abalone complemented by the savory Yunnan ham. The dumpling, usually served during the country's dragon boat festival, costs HK$1,698 ($215) each.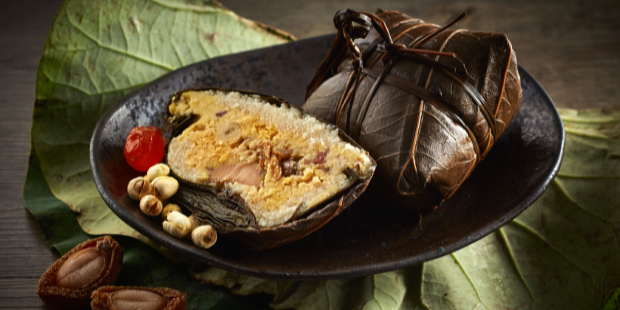 The hotel also sells a variety of dumplings costing no more than $25 each, including the black truffle "Buddha Jumps over the Wall" dumpling ($40) and the Spanish pork belly and Sarcodon Aspratus mushroom dumpling ($25). Opened in 1981, Kowloon Shangri-La provides a great view of Victoria Harbour and is a short distance from Hong Kong's famous Tsim Sha Tsui district.
4. The Peninsula Hong Kong Rice Dumpling - $80
The rice dumpling from The Peninsula Hong Kong packs an explosion of flavors as well as an expensive price tag. Costing HK$628 (around $80), the glutinous rice dumpling features fried and fresh abalone, Yunnan ham, shiitake mushrooms, and conpoy.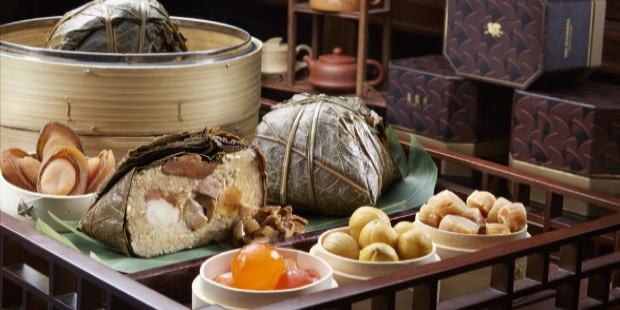 The hotel is also known for its sweet dumpling set ($34) which consists of red date paste and lychee glutinous rice dumpling. The Peninsula is Hong Kong's oldest hotel (opened in 1928) and has since expanded to numerous locations, including the United States, France, China, and Japan.
5. Ritz-Carlton Hong Kong Deluxe Dumpling - $40
Another Hong Kong luxury hotel makes the list of expensive dumpling sellers: Ritz-Carlton's deluxe dumpling costing $40 (HK$308). The dumpling sticks to a rather simple recipe and features a mix of local ingredients such as abalone, conpoy, and pork.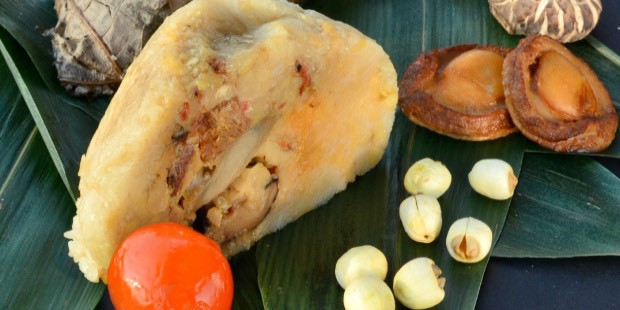 Initially opened in 1993, the hotel transferred to the International Commerce Centre in Kowloon in 2011. The new Ritz-Carlton occupies the business center's top floors (102nd to 118th) and features 300 rooms and the world's highest bar and swimming pool.
6. Black Truffle & Parma Ham Rice Dumpling - $30
The black truffle & parma ham rice dumpling from Hong Kong's Royal Garden hotel incorporates an innovative touch on the traditional dish. The Chinese dim sum, which costs $30 (HK$238), is a European-inspired dish that features black truffle and Italian parma ham (also called prosciutto).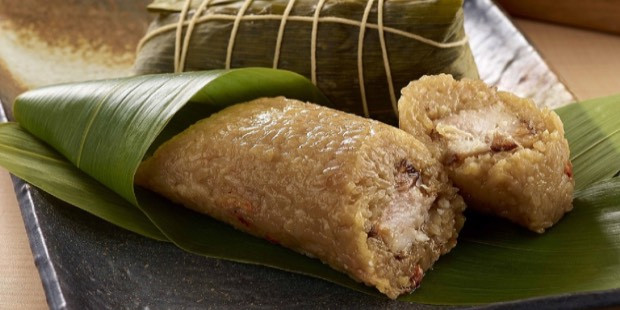 The Royal Garden also serves Kagoshima pork and dried sakura shrimp rice dumpling ($30) and Okinawa black sugar and sweet potato puree rice dumpling ($17). Opened in 1981, the hotel is situated in Kowloon and is one of the country's few five-star hotels together with the Ritz-Carlton, Mandarin Oriental, and Grand Hyatt, among others.
7. Hakkasan Vegan Dim Sum Basket - $28
Although it costs cheaper than the other dumplings on the list, the vegan dim sum basket from Hakkasan restaurant is still very pricey considering that most dumplings cost around $4 to $15 each. Hakkasan's gluten free dim sum platter is the restaurant's most expensive dim sum costing $28. The basket features dumplings made from wild mushroom and truffle, edamame jade, and crystal vegetable, pea shoot.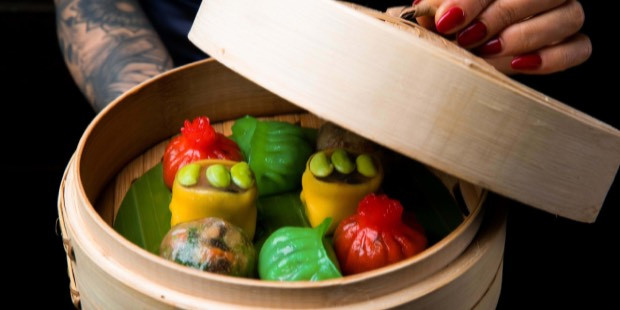 Hakkasan first opened in London in 2001 and soon expanded to multiple cities around the world including Abu Dhabi, Shanghai, Miami, and Las Vegas. The restaurant chains are owned by Hakkasan Group which also owns multiple restaurants and night clubs including Ling Ling, Mykonos, and Aker Brygge.
In Closing
Dumplings are normally inexpensive. But as long as restaurants try to create these pocket-sized dishes from luxurious ingredients, there will always be orders that will set customers back hundreds, if not thousands of dollars.
Want to Be Successful?
Learn Secrets from People Who Already Made It
Please enter valid Email