William Law Quotes
William Law was an English author of powerful works on Christian ethics and religious studies, born in 1686 at King's Cliffe, Northamptonshire. Law became a fellow of Emmanuel College, Cambridge in 1711 and had a bright future as a clergyman or a scholar ahead of him. Law first served as a priest in London and, later on, he found employment as a family tutor.
Happy Life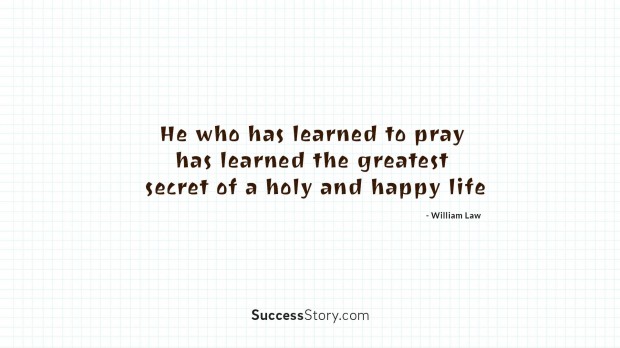 "He who has learned to pray has learned the greatest secret of a holy and happy life "
In the 1740s, Law retired and went back to his birthplace where he dedicated himself to writing and refined his writing talents. His main contribution lies in his demarcation of the Christian ethics and ideals for human life and its complete realization through disciplined practices reserved mysticism.
In the field practical divinity, in 1726 he wrote "A Treatise of Christian Perfection" and in 1728, he wrote "The Serious Call to a Devout and Holy Life". These work by Law tremendously influenced the principal actors in the ultimate Evangelical revival. Still just because of these two work Law is universally known even today.
Though being simple, it has high merits of style and piercing to a degree. He did write on mysticism which includes "The Way to Divine Knowledge" and "The Spirit of Prayer" in 1752 and "The Spirit of Love" in 1754; which emphasized the indwelling of Christ in the soul. The quotes written by William Law were intended at revealing low devotion to Christianity, god and inspire readers to stirrup moral vigor and holiness. He devoted himself to worship, study and charity until Law died on 9 April 1761.
Want to Be Successful?
Learn Secrets from People Who Already Made It
Please enter valid Email