The Oracle of High Fashion: Profile on Miuccia Prada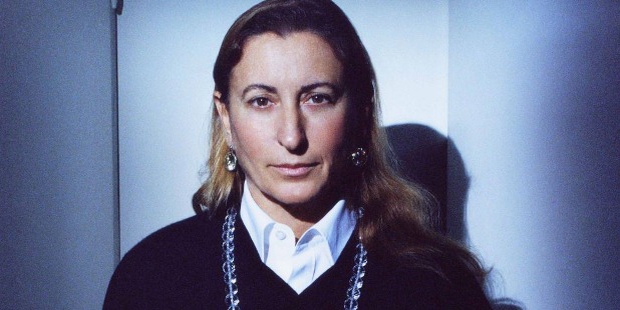 Profile
The world of high fashion is filled with creative individuals, and yet no other living designer working today can perhaps truly match the clairvoyant sartorial powers of Miuccia Prada. The stately and quietly unassuming Milanese designer is both heiress and high priestess to her family's massive fashion empire that was founded by her grandfather Mario Prada in 1913. Mrs. Prada, as she is reverently known to the industry, is a singular innovative force of nature whose cerebral, idiosyncratic, and unapologetically feminist fashion designs frequently challenges the very notion of beauty and yet her work still manages to attract critical raves and millions in sales.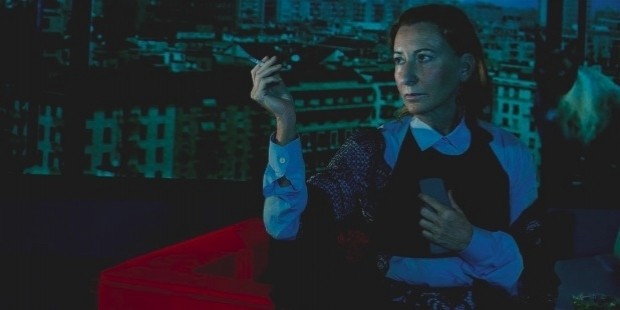 Steadfastly refusing to follow trends during every Fashion Week presentation, Mrs. Prada follows to the beat of her own drum season after season and remains several steps ahead of her peers. The proof is in the domino effect she constantly creates for whatever trends or aesthetics she has created in one season, many other brands and labels will mimic them in later seasons. Because of this, countless fashion journalists and style experts have often referred to Mrs. Prada as "the oracle of high fashion" and "the fashion designer's fashion designer" due to her uncanny ability to set and predict future fashion trends and influence other designers without ever compromising on her artistic integrity.
Early Life
Born as Maria Bianchi on May 10, 1949 in Milan, Italy, she grew up in an affluent yet traditional Italian household together with two other siblings, Albert and Marina Bianchi, of which she was the middle child. Her father, Luigi "Gino" Bianchi, was the head of a company that produced industrial mowers while her mother, Luisa Prada, was the heiress to the luxury-good business that she would one day come to inherit during her adult years. She attended the University of Milan and graduated with a Ph.D. in Political Science, but also showed a mild degree of rebellion in her youth when she spent five years training as a mime artist and performing at the Teatro Piccolo in her home city.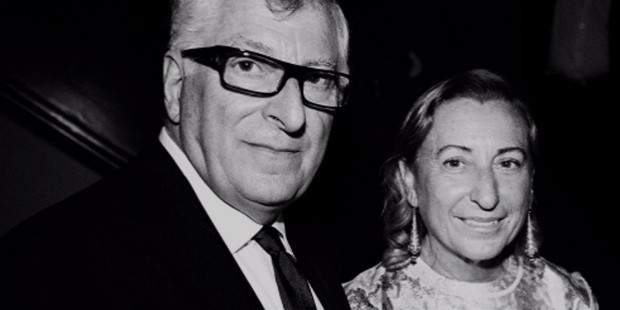 Bianchi eventually joined the family business in 1970 where she acted as a store manager. 1978 marked the year where she ascended as the successor to the company and actively began working to keep the business afloat, as by that point, the Prada brand was deeply struggling and had only one store left to its name. It wasn't until the late 1980s that she took up the name of "Miuccia Prada", where she asked her unmarried maternal aunt to adopt her so she could officially hold the Prada surname and thus be legally allowed to take over the reins of her family's company. It was also around the same time that she would come to meet her future husband and business partner, Patrizio Bertelli (pictured above with Prada), who was instrumental in helping to revive Prada and pushing it into a new renaissance.
Career
Prada's highbrow educational background and progressive ideals became fundamental aspects to her design process when she decided to take up the role as the brand's creative director while her husband took care of the commerce side of the company. She believed that glamour and elegance in fashion could be achieved without resorting to the convention that sex sells, and her designs were a conscious reflection of her unwavering stance that beauty should not be limited to an overly sexual approach. Her official runway debut was during the 1988 fashion season, a year after she married Bertelli. In stark contrast to the outrageous and flamboyant looks that defined the 1980s, Prada introduced the concept of minimalism and restraint; clean and simple lines paired with subtle eccentric touches and the use of luxurious fabrics were some of the hallmarks present in her runway debut, and are still design philosophies that she continues to use today.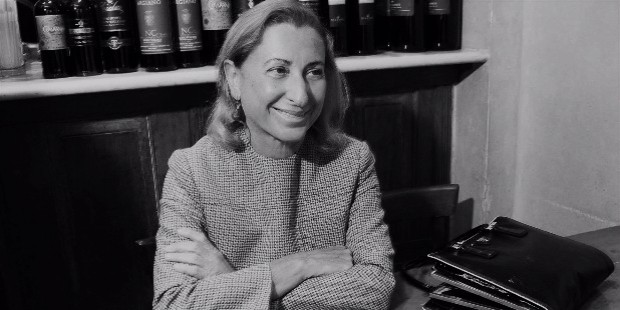 Needless to say, it was the beginning of her rise to prominence and power because when the 1990s started, the fashion world did indeed embrace the minimalist look as many working businesswomen dressed themselves in stylish and elegant ensembles while still keeping their confidence and femininity intact; an aesthetic that many in the fashion press rightfully credited to Prada. Bertelli's business savvy and keen intuition on his wife's creative abilities prompted him to gradually enlarge their business by opening several stores in key international markets and expand their offerings to include not just luxury leather goods and womenswear, but also lucrative collections such as menswear, accessories, and fragrances. Prada herself opened a self-referential and successful new label called Miu Miu, a subsidiary under the parent company where the aesthetic and target demographic catered to a much younger clientele.
Heights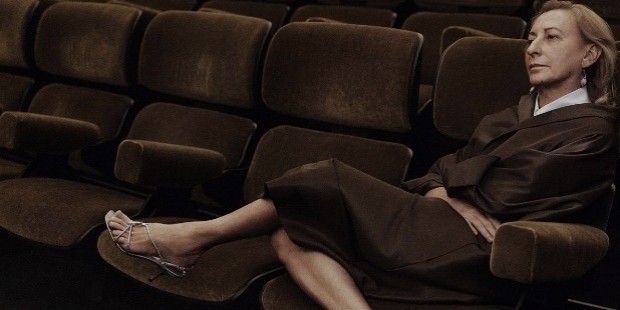 As the Prada brand rose ever higher and higher, so too did Miuccia Prada's profile in the industry. The perennial trend of the "seasonal It Bag" began with Prada's creation of a backpack made out of nylon and featuring the label's distinctive upside-down silver triangle emblem bearing the brand's name. The nylon backpacks of Prada became a runaway bestseller upon its release and other design houses followed suit in the hopes of manufacturing the next big It Bag that consumers would clamor over. Furthermore, the brand cemented its status as a covetable luxury label when actress Uma Thurman appeared on the red carpet of the 67th Academy Awards wearing a lavender Prada dress. This was the moment where Prada was now considered as a refreshing go-to red carpet staple for Hollywood stars that could compete with other big-name fashion brands.
Personal Life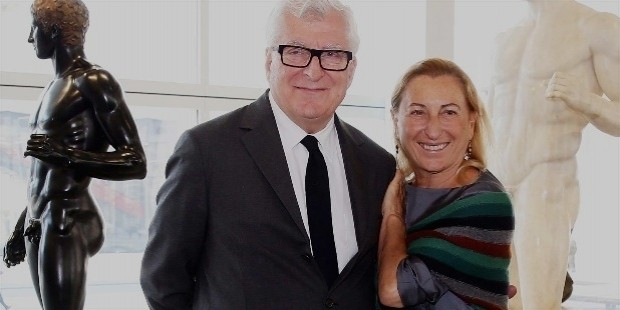 Prada and Bertelli have been married since 1987 and the couple have two sons. Prada is a lifelong patron of the arts and, together with her husband, has established the Fondazione Prada in Milan: a cultural institution dedicated to supporting and showcasing the works of emerging and established contemporary artists around the world. Her association and patronage of the art world has also produced collaborations from prominent artists and architects, resulting in projects such as the Prada Marfa in Texas, USA and the Prada Transformer in Seoul, South Korea. Mrs. Prada rarely gives interviews to the press, and often ends her runway shows by taking a quick bow or wave to her rapturous audience before quickly darting off backstage to avoid the cameras aimed at her direction.
Awards and Achievements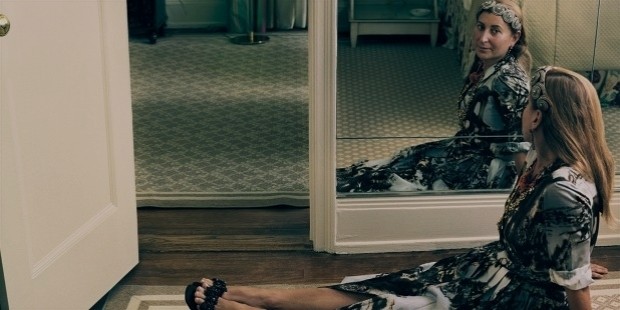 Prada's accolades have gone beyond the approval of the fashion press and loyal customers of her brand. She was awarded by the Council of Fashion Designers of America (CFDA) as their International Designer of the Year in 1993 and 2004. She is also one of the few living designers to have had a major fashion exhibition presented by the Metropolitan Museum of Art in New York City when the Costume Institute staged the show entitled Schiaparelli and Prada: Impossible Conversations from May to August 2012. TIME Magazine has included her as one of the 100 most influential figures of the 20th century in 2005. And with an estimated net worth of $11.1 billion, Prada is listed by Forbes Magazine as one of the most powerful and influential women in the world.
Full Name :

Miuccia Prada
Birth Place :

Milan
Occupation :
Industry :
Networth :

$3.1 Billion
Want to Be Successful?
Learn Secrets from People Who Already Made It
Please enter valid Email