Babe Ruth Success Story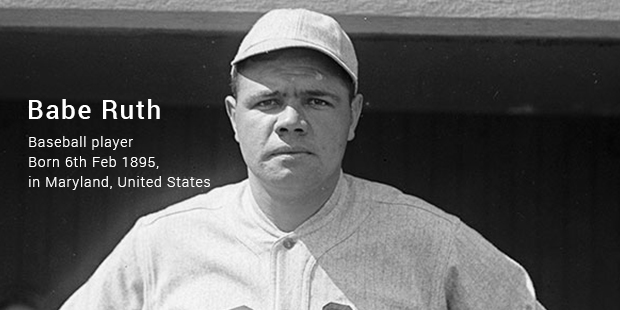 Babe Ruth is an American baseball player considered by many as one of the greatest sportsman that ever lived. He set numerous records in baseball including the number of home runs (714), slugging percentage (.690), bases on balls (2,062), and on-base plus slugging (OPS) (1.164) and runs batted in (RBI) (2,213). He was one of the five players who were inducted into the 'National Baseball Hall of Fame'.
He was the most dominant sportsman of his generation creating and beating his own records year after year. He was the first person to hit 60 home runs in the year 1927. He was the reason behind the increase in the popularity of baseball in the world. With his influence and play he made baseball a vital component of the American culture.
Childhood
'George Herman' Babe Ruth was born on February 6, 1895 at Baltimore, Maryland. He was sent to St.Mary's Industrial School for Boys which was a reformatory cum orphanage at the age of 6. Here he stayed for the next 12 years of life. He was allowed to leave the premises less than five times in the years to come. When he was 12 years old, he learnt to stitch and also became proficient in carpentry.
As most of the boys there used to play baseball, Ruth also joined them. He became the number one pitcher in their region by the age of 16. He was also a good striker who would break the window panes by hitting the farthest during their street ball games.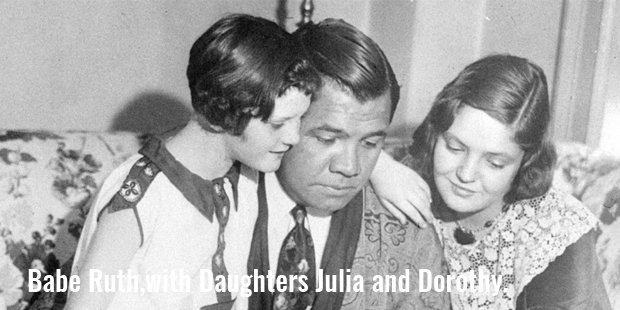 Career
In 1913 he was allowed to leave the premises to play weekend games for various senior baseball teams in the district. He was only 18 years old and was playing on par with players who had more than 10 years experience in the game. In 1914 he was selected for minor-league team Baltimore Orioles by owner Jack Dunn. He was paid $250 per month for his services for the club. He was quick to impress his team-mates and owner when in his first game as professional ballplayer he was able to hit a long home run and pitched the last two innings successfully to clinch a 15-9 victory.
The year 1914 would be a turning point in Babe Ruth's career. He excelled as a pitcher for his team in the league and also was an equally good hitter and fielder. He played a vital part in helping his team win more than two-thirds of their matches. But because of low attendance, Jack Dunn was making huge losses and decided to sell his best players. The Boston Red Sox bought Ruth and his team mates Ernie Shore and Ben Egan.
Ruth got to play only five games that season in which he was unable to make any significant impact. But with the injury of two of the main pitchers of the team he got a chance to play in the 1915 season.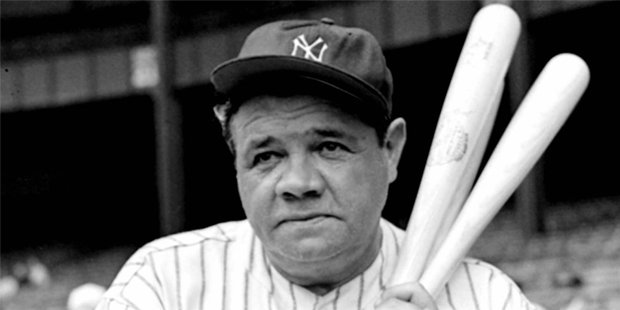 In 1915, his performance was appreciated as a pitcher but more credit was given to his striking which was improving day by day. He was a good pitcher and useful as a striker as well, so he became a permanent fixture in the team. Soon Ruth's impressive performances helped the team win the World Series Championship. In 1916 again he led his team to the World Series triumph.
By 1918, Ruth started concentrating more on being a hitter and left pitching to his other teammates. In 1919, he was bought by the New York Yankees for $100,000 ($1.50 million in 2010 dollars) which was the highest for any player then. His 15 years at Yankees saw him become an icon in America.
"You just can't beat the person who never gives up." - George Herman Babe Ruth
In his first year itself he hit 54 home runs and had batting average of .376. In 1921, he led Yankees to their first championship and had become the all time highest home run scorer with his home run No.139. From here on there was no stopping this baseball giant. He played in more than 2,000 games for the Yankees scoring more than 40 home runs a season numerous times. He is by far the greatest sports entertainer that the world has seen.
From being an orphan without any contact with the outside world, Babe Ruth has struggled hard to become one of the most recognizable sports figures of the 20th century. The success that he was able to achieve is difficult to believe and it is highly unlikely that anyone will be able to achieve something similar in the decades to come.
Awards
1936

National Baseball Hall of Fame
1931

Slocum
1923

League
Babe Ruth Biography
Full Name :

George Herman Babe Ruth
Born :

6th-Feb -1895
Education :

Cardinal Gibbons School Baltimore
Occupation :
Industry :
Networth :

$785 Thousand
Want to Be Successful?
Learn Secrets from People Who Already Made It
Please enter valid Email