Audrey Hepburn Success Story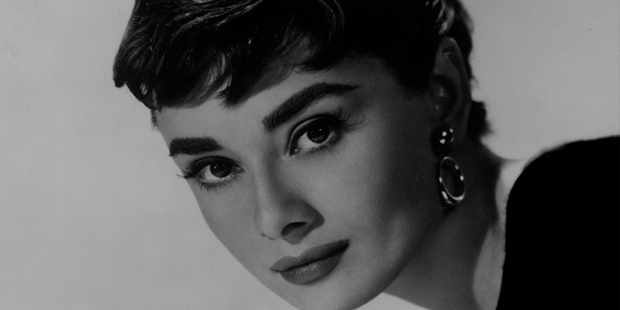 Audrey Hepburn is a popular British actress known for her strong character acting and unique fashion sense. She is rated as one of the best female actresses of all time by critics and audience alike. She has been under the spotlight throughout her career for her likeable on-screen and off-screen personality. She has been part of Hollywood's Golden Age of Cinema ending in the early 1960's. She is adored for her roles in the movies Roman Holiday (1953), Sabrina (1954), The Nun's Story (1959), Breakfast at Tiffany's (1961) and My Fair Lady (1964). She was the first actress to have won the Oscar, Golden Globe and BAFTA Award for a single performance: Roman Holiday (1954). She has also been the recipient of the Grammy, Emmy Award posthumously.
Childhood
Audrey Hepburn was born on 4th May 1929 in Brussels, Belgium. Her mother's family was in Netherlands whereas her father had a British background. The family's constantly travelled between the three countries. Thus Audrey was soon able to converse fluently in English, French, Dutch, Spanish and Italian.
During the Second World War, her mother took her to Netherlands which she hoped would not be affected by the war. She faced a difficult childhood when they were in Netherlands. Because of the Nazi invasion, many of her relatives were killed or taken away. Audrey had to starve for many days because of lack of food available in their area.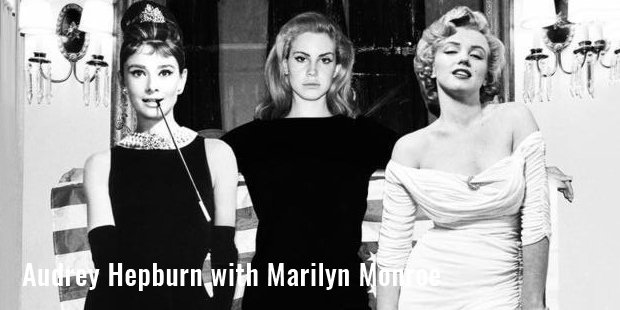 Audrey Kathleen Ruston with Marilyn Monroe
At that time Audrey was practising ballet and would dance for groups of people so that she could collect a little money to buy food. When the war ended in 1945, she and her mother moved to London. Here at the age of 16, she joined ballet classes which she learnt for 3 years. She wanted to be a ballet dancer and went to the Ballet Rambert to be part of their production. But she was advised that her tall height (5ft 7 in) combined with her poor nutrition during the War would not allow her to become a Prima Ballerina.
Early Life
She worked as a part-time model apart from working as a chorus girl in the London Musicals. Though it paid well she realized that her voice was not strong enough and needed to be developed further. She started taking elocution classes with actor Felix Aylmer. But she was spotted by a casting director who suggested that she register with the British film studio as a freelance actress. As soon as she registered, she got a chance to play minor roles in many films. But her first major role came as a supporting actress in the film Secret People (1952) in which she played a ballerina.
Begining
Soon she was selected for playing the role of 'Gigi' in Broadway Play by the same name. The play was widely appreciated and ran for 219 performances. This impressive debut performance gave her a 'Theatre World Award.' Soon another big success followed her. Her performance in 'Roman Holiday' helped her win an Academy Award for Best Actress. She followed that up with another sensational performance in the film 'Sabrina' (1954). She also did a play called 'Ondine' that year which became a huge success.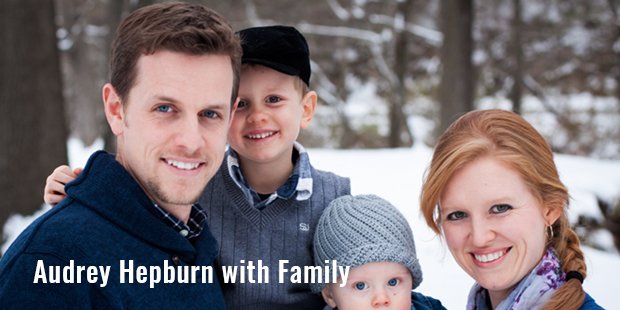 Career
Whatever Audrey was touching was turning into gold. She was on the path of superstardom. She had become one of the most bankable stars in Hollywood. She continued to impress in movies like War and Peace (1956), Funny Face (1957), The Nun's Story (1959). Her role in 'Breakfast at Tiffany's' gave her much fan following. Again she dazzled the audience with her performance in 'My Fair Lady' (1964). Now she was becoming more popular than her male compatriots as well.
" Opportunities don't often come along. So, when they do, you have to grab them." - Audrey Kathleen
She had reached the pinnacle of fame and was one of the most popular person in the world at the peak of her career. Audrey had gone from being a girl who had lay hungry and suffered the consequences of the Second World War to being one of the most decorated artists of the 20th century. Her dedication to her art gave her success after success. The films she has acted in have gone on to become classics and her roles have still retained the iconic status they maintained decades back.
Awards
1993

Jean Hersholt Humanitarian
1992

Presidential Medal of Freedom, Screen Actors Guild Life Achievement, BAFTA Special
1990

Golden Globe Cecil B. DeMille
1965

BAFTA, David di Donatello
1962

David di Donatello
1960

BAFTA, David di Donatello
1959

New York Film Critics Circle
1955

Golden Globe Henrietta
1954

Academy, BAFTA, Golden Globe, Tony
Audrey Hepburn Biography
Full Name :

Audrey Kathleen Ruston
Born :

4th-May -1929
Zodiac Sign :
Birth Place :

Ixelles
Occupation :
Industry :
Want to Be Successful?
Learn Secrets from People Who Already Made It
Please enter valid Email