David Cameron Success Story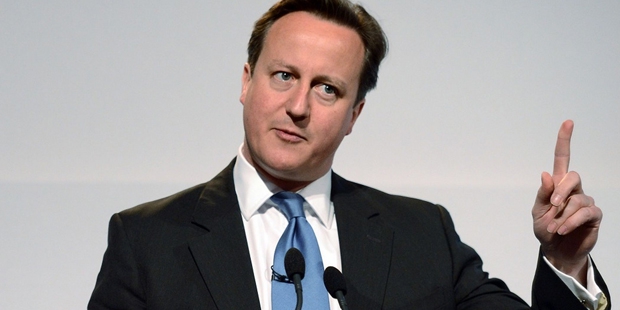 Childhood
David Cameron, born 9 October 1966, is the Prime Minister of the United Kingdom and leader of the Conservative Party. Coming into power of the Conservative Party in 2005, he was the leader of the opposition for 5 years before finally assuming office as the Prime Minister with the successful 2010 election.
Cameron, a descendant of King William IV, comes from a wealthy English family. He was raised in Peasemore, Berkshire by his father, a stockbroker, and his mother, a retired Justice of the Peace. As an excelling young student Cameron entered the prestigious Eton College at age 13. He went on to study Philosophy, Politics and Economics (PPE) at Oxford, graduating in 1988 with a first-class honours degree.
Early Career
Cameron's early political career involved working for the Conservative Parts research department, where he stayed for five years upon graduating. Capitalising on his connections, Cameron received a good word from a man in Buckingham Palace before interviewing for a job at the Conservative Central Office. Cameron was not aware of the recommendation at the time; however his networking in prior years had clearly come to good use.
In 1991, he began briefing the then-Prime Minister John Major, and in the subsequent year he was promoted to the special advisor to Chancellor of the Exchequer Norman Lamont. Surprisingly, after securing these esteemedjob positions, Cameron left the roles to become the Director of Corporate Affairs at Carlton Communications.He stayed at this position for seven years.
Career
Cameron continued to pursue a career in politics however, and ran for Parliament at Stafford in 1997. Although he was defeated in his first candidacy, he was not discouraged. Cameron showed great perseverance and in the following 2001 election ran again. This time he was successful, and assumed a seat as a Member of Parliament for the Oxfordshire constituency of Witney.
As a newly appointed MP Cameron served as a member of the Commons Home Affairs Select Committee. Here he had to deal with some of the more controversial legal policies, such as launching an inquiry into the law on drugs. The report recommended downgrading Ecstasy from Class A to Class B, as well as moving towards a policy of "harm reduction". Cameron courageously stood by his advisers and defended the strategy.
" We will reflect the country we aspire to govern, and the sound of modern Britain is a complex harmony, not a male voice choir." - David Cameron
Cameron networking and campaigning skills quickly raised him up the political ladder. Following the Labour victory in 2005, Michael Howard announced his resignation as the Conservative Party leader. Cameron was a candidate for the leader, however his campaign did not gain wide support until his speech at the Conservative Party Conference.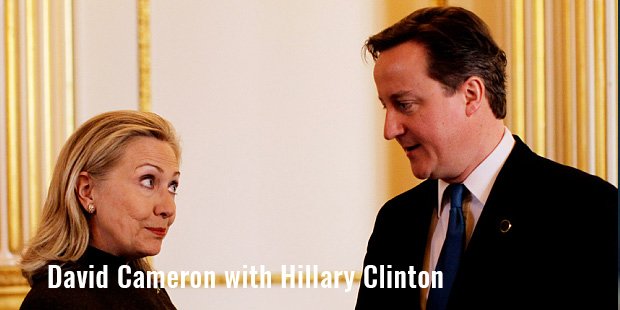 David Cameron with Hillary Clinton
Reading without notes, Cameron delivered a passionate speech inspiring a new generation to "feel good about being Conservatives again". This defining moment in Cameron's career resulted in him winning the leadership of the Conservative Party in 2005. He took a chance, and promised to modernise the party, and it paid off.
Achievements
In 2010 the Conservatives won the general election and formed a coalition with the Liberal Democrats to form the government. Through determination, boldness and an inspiring personality, Cameron managed to leverage his skills to become the youngest British Prime Minister since 1812.
Awards
2011

NME for Villain of the Year
Know More
PM Immigration Speech
Want to Be Successful?
Learn Secrets from People Who Already Made It
Please enter valid Email