Andrew Carnegie Success Story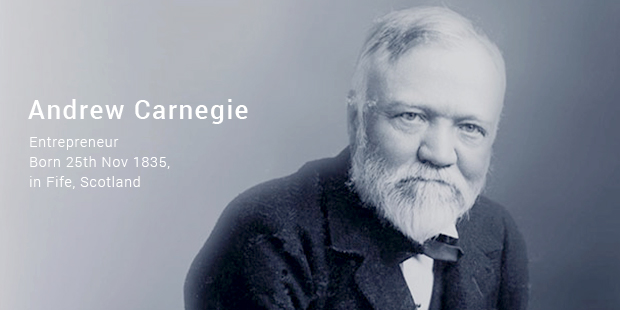 Childhood
Andrew Carnegie was born on November 25, 1835 in Dunfermline, Scotland. His family was a poor weaver family that lived in a single room that they shared with their neighbouring weaver's family. In the year 1848, the family migrated to Pennsylvania, United States in order to find a proper job and escape starvation. His father William Carnegie earned money by weaving and peddling linens while his mother would earn few cents by binding shoes. At the age of 13, Andrew himself had to go to work in a Pittsburgh cotton factory in order to support his family which was suffering from poverty.
Beginning
His first salary was $1.20 per week for which he had to work 6 days a week for 12 hours at a stretch. At the age of 15 he got a job as a telegraph messenger for the Ohio Telegraph company. Now he was being paid $2.50 per week which was almost double that of two years back. Andrew was a hard working person who had experienced the dark side of poverty at a very young age. He would memorize all the business locations in Pittsburgh which helped him make many important connections. He was also adept in distinguishing the different sounds that the incoming telegraph signals made. Within one year he was rewarded for his hard work as he got promoted as an operator.
Carnegie was also interested in reading which led him to make use of the Colonel James Anderson's library which had stock of more than 350 volumes covering various subjects including business and man management. This is where he would learn about the economy and other nuances involved in running a business successfully. His growth was fuelled by the passion and energy that he showed in his work. From the post of telegraph operator, within a few years he was promoted as the Superintendent of the Pittsburgh Division of the company. Next he was employed in the Pennsylvania Railroad Company.
Career
In 1855, Andrew made his first investment of $500 in a messenger train called Adams Express. This was the time when railroads were becoming one of the biggest businesses in America. He understood the market well and soon began investing in railroad-specific industries like rails, iron, bridges, etc. This was where he started accumulating wealth to start businesses that supplied materials for the railroad industry. In 1861, Andrew was appointed as the Superintendent of the Military Railways. His work during the Civil War got him appreciation for his courage and management skills.In 1864, Andrew invested nearly $40,000 in the Oil Creek in Venango County, Pennsylvania.
Within one year the returns exceeded $1,000,000. There was increasing demand for iron products which was needed to produce industrial equipment for the wartime requirements. He left his railroads venture and concentrated solely on establishing a steel production plant. The most advantageous feature of Andrew's plant was the using of the Bessemer process which allowed the high carbon content of the pig iron to be burnt away in the fastest time. Another advantage was the vertical integration of the suppliers involved in the production of raw materials.
As a result of these innovations Andrew's company was able to sell steel at the least price possible. Soon Bessemer steel was used for building railway lines and bridges. The company grew at a rapid rate and by the year 1887, it was producing approximately 2,000 tons of pig metal a day. His company had become the largest manufacturer of steel rails, coke and pig iron in the world. In 1888, Andrew bought his rival Homestead Steel Works. In 1892 he combined all the subsidiary companies that he owned to form the Carnegie Steel Company.
Soon he began expanding his company by buying out many of the smaller companies like Pittsburgh Steel Works, Lucy Furnaces, Frick Coke Company, Hartman Steel Works and many others. This was the beginning of the Carnegie Empire. By the 1892, U.S. had exceeded the output production of the U.K. and more than 75% of them were owned by Andrew Carnegie.
"There is little success where there is little laughter." - Andrew Carnegie
He was one of the richest people of his time. His wealth when adjusted for inflation would be equal to $290 billion in 2007 making him one of the richest men the world has ever seen. This great man did not forget the poverty that he came from and has donated more than 80% of his wealth for philanthropic purposes. From being born in poverty, Andrew's hard work and persistence have made him one of the greatest entrepreneurs and human beings that the world has ever seen.
Know More
Andrew Carnegie Documentary
Full Name :

Andrew Carnegie
Born :

25th-Nov -1835
Zodiac Sign :
Birth Place :

Dunfermline
Scotland
Occupation :
Industry :
Want to Be Successful?
Learn Secrets from People Who Already Made It
Please enter valid Email