The Rebellion Angel: Dr. Gail Bradbrook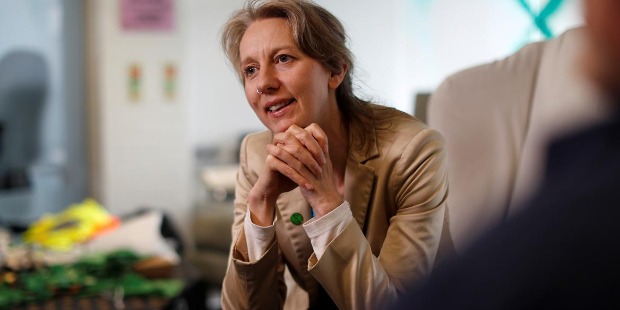 The existential threat to our planet Earth due to deteriorating climate change has affected many individuals worldwide, who have started grassroots movement to demand their respective government to ACT NOW! British activist Dr. Gail Bradbrook, the co-founder of XR – Extinction Rebellion is one such noble soul, who cares for the world to be a better place to live in.
Gail Marie Bradbrook was born in South Elmsall, Yorkshire, United Kingdom on the 30th of April 1972. Interestingly, Gail's father used to work at a South Kirby coal mine. At a tender age of 14, the teenager joined the Green Party to protect animal rights. This was perhaps the beginning of her current future. However, soon Gail was immersed in her studies.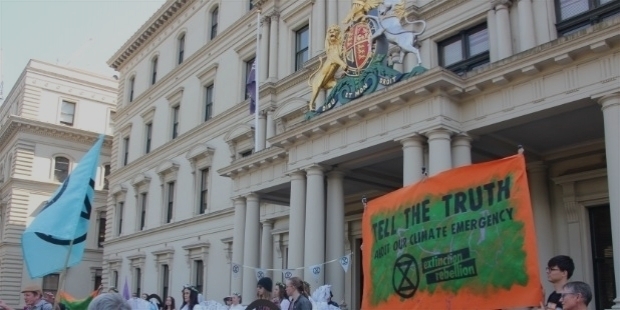 Gail Bradbrook completed her post-graduation in Molecular Biophysics from the University of Manchester. She went on to complete her PhD working in France and India during her post-doctoral thesis. Gail married Particle Physicist Jeffrey Robert Forshaw. She separated from him and later married Simon Bramwell. She is a mother of two sons. She currently lives in Stroud with ex-partner Simon Bramwell.
In the year 2003, Dr. Gail Bradbrook joined the organization Citizen Online as the Director of Strategy. Citizen Online promotes wider internet access for disabled users. In the month of November 2010, Citizen Online launched 'Fix the Web' campaign under Dr. Gail Bradbrook's leadership. She worked as the Director of Strategy at Citizen Online for 14 longs years till 2017.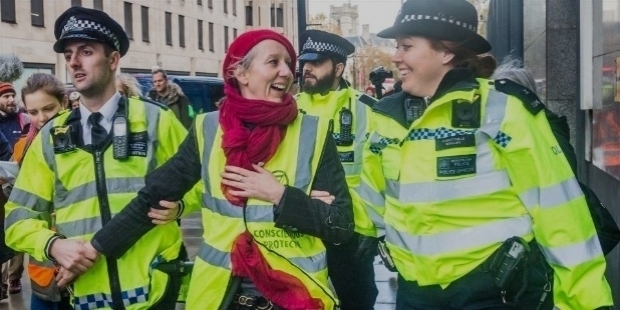 Dr. Gail Bradbrook has been actively campaigning with groups in Stroud. From the year 2010 to 2013, Dr. Bradbrook was voluntary Director of Transition Stroud protesting against fracking. She also took active part during various actions in opposing the building of a local incinerator, including a naked protest. In the year 2015, Dr. Gail Bradbrook set up the group Compassionate Revolution with George Brada.
Dr. Bradbrook is a passionate activist, who really wished well to see change happening in this chaotic world. She was involved in the Occupy Movement and campaigns around peak oil. As destined, they failed to make necessary impacts. The failure was a boon, when one looks at how it has transformed Dr. Gail Bradbrook to become stronger and more focused in life now.
At the beginning of 2016, deep down, Dr. Gail Bradbrook was at deadlocked since an array of her social justice campaigns had failed to gain lasting traction. This bothered Dr. Bradbrook so much that she travelled all the way to Costa Rica to be in a psychedelic retreat. Gail was in the quest to find the meaning of her existence. Even though she was terrified, Gail was determined to find the answers. A new Gail Bradbrook was ready to be born in real sense.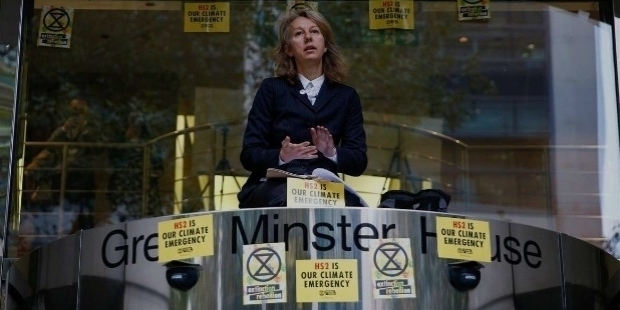 The two weeks at the psychedelic retreat saw Gail pushing her limits for the divine intervention to show her the 'Codes of Social Change'. Her prayers were answered in the shape of Roger Hallam – the British organic farmer-turned-environmentalist, who gave her the 'Codes' during their interaction. On her return from Costa Rica, Gail met Roger Hallam and the two connected like the peas in a pod.
Dr. Gail Bradbrook revealed, "It's an Extinction Rebellion mythic story that's out there, but it's true. I was very gobsmacked and at the time I remember thinking, 'goodness me, if Roger Hallam hadn't used that phrase, I wouldn't have recognized that this was my prayer being answered'." First they started the radical campaign organization – Rising Up, which ultimately transformed to become XR – Extinction Rebellion in the late 2018.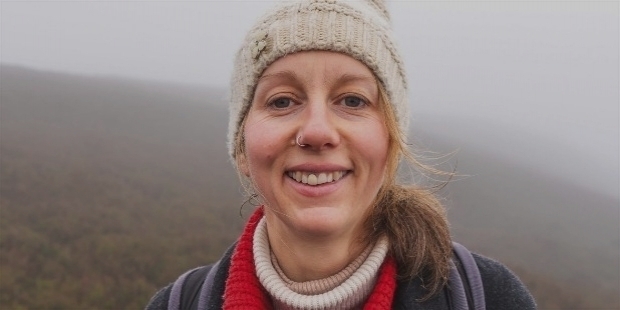 On the 31st of October 2018, Dr. Gail Bradbrook and Roger Hallam co-founded XR – Extinction Rebellion with its motto 'Rebel for Life'. Extinction Rebellion believes that civil disobedience on a large scale can only bring about the much-needed change. Dr. Bradbrook and Roger Hallam's XR is protesting to generate awareness about the dangers from 'Anthropogenic Climate Change' – environmental pollution and pollutants originating in human activities.
Extinction Rebellion's three-fold aims or demands are: (i). Government must tell the truth by declaring a climate and ecological emergency, working with other institutions to communicate the urgency for change, (ii). Government must act now to halt biodiversity loss and reduce greenhouse gas emissions to net-zero by 2025, and (iii). Government must create, and be led by the decisions of, a citizens' assembly on climate and ecological justice.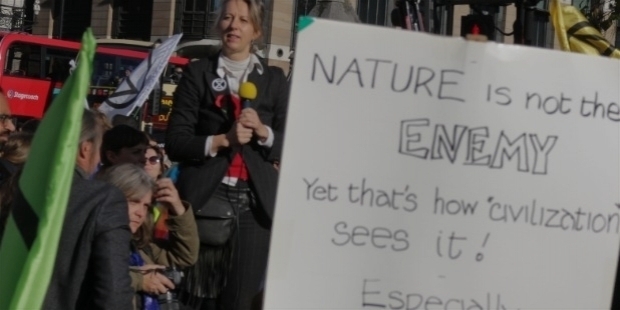 From the United Kingdom, Rebellion Extinction movement travelled all the way to the United States of America. Dr. Bradbrook and Roger Hallam added one more demand and stated, "We demand a just transition that prioritizes the most vulnerable people and indigenous sovereignty; establishes reparations and remediation led by and for Black people, Indigenous people, people of color and poor communities for years of environmental injustice, establishes legal rights for ecosystems to thrive and regenerate in perpetuity, and repairs the effects of ongoing ecocide to prevent extinction of human and all species, in order to maintain a livable, just planet for all."
In just two years, Dr. Bradbrook revealed in a TV interview, "Rebellion Extinction has spread its wings in 72 countries around the world." They certainly have come a long way ever since just 15 activists gathered first in Gail's ex-council house's living room. The decision to embark on a mission to transform the conversation about Climate Emergency was made.
The grassroots movement followed on Occupy, Satyagraha, the Suffragettes, Gene Sharp and the Civil Rights movements. XR – Extinction Rebellion decided to rally support worldwide to tackle Climate Breakdown – the 6th Mass Extinction. Extinction Rebellion's tactics was simple and similar to the 1961 'Committee of 100' mass arrest tactics. The XR's extinction symbol uses a 'Circled Hourglass' indicating the warning that time is rapidly running out.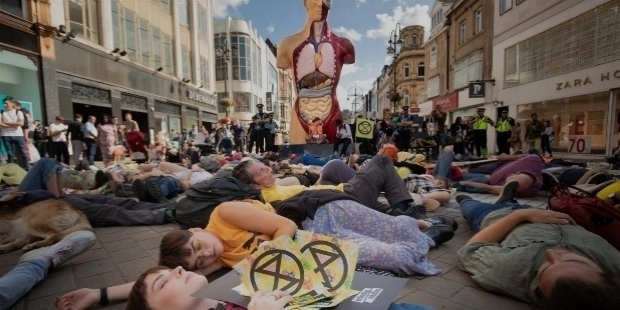 Extinction Rebellion's mission is to activate 3.5% of UK's total population in order to force the British Government to ACT NOW! XR insist the government authorities should first and foremost 'Tell the Truth' about Climate Change. From a force of 15, Extinction Rebellion members have swelled in millions around the globe in just two years. XR activists have a wide spectrum of members, who have courageously accepted mass arrests and have glued themselves to buildings, shout down entire parts of cities and jumped on top of trains to disrupt to generate awareness about Climate Emergency.
Dr. Gail Bradbrook and Roger Hallam's initiative have gathered momentum and great attention with government officials of various countries. XR strongly advocates major social and system-wide change is the only way to alter the planet's current trajectory. Gail stated in an interview, "The government and the mainstream media houses are not doing their jobs to highlight the existential climate threat. They need to do their jobs efficiently and with more responsibilities."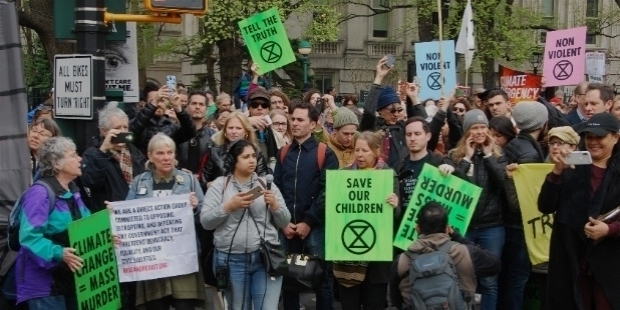 In the recent times, children of all ages to grandparents have realized the grave dangers of climate catastrophic destruction has become a reality. However, the politicians and media houses are looking away from the real crisis and the threats of destruction. Dr. Bradbrook stated, "I think Simon Bramwell once said, 'it's like we need the activists to get on the yoga mats and the yoga mat people to get on the street." Simon Bramwell is also one of the co-founders of Extinction Rebellion.
Extinction Rebellion won the case against the London Police's unlawful decision to ban XR activists from the city. It was an amazing success for XR to show their grassroots movement is lawful and effective to bother the Boris Johnson's administration. Two days after XR won the case against the London Police, trains were halted in London during rush hours. It was ironical to see angry public accusing them and pulling XR activists from the top of train.
Dr. Gail Bradbrook and Roger Hallam surely has made great impact in the island nation, because they are holding meetings with respective politicians and have pushed the UK Parliament to declare a Climate Emergency. Britain became the first Legislative body in the world to do so. XR has successfully moved the dial by politicizing the Climate Emergency as the major issue at hand.
Dr. Gail Bradbrook reminisced about her journey so far, "In the past, when I was on protests, it was always people shouting out of the cars, 'get a job, get a bath, or get a haircut. So, am I a dole-scrounging hippie, or am I middle class and privileged? Just by stepping forward, somehow you become scrutinized, rather than the actual issues that count."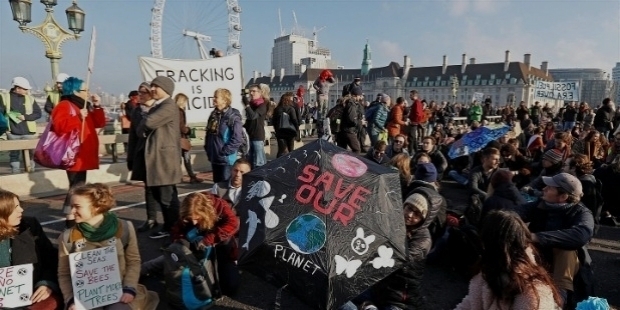 She has come a long way since then. Dr. Bradbrook initiative has successfully pushed the UK government to work for one and all for a better future of all the children. In Dr. Gail's view – biodiversity loss, water shortages, crop failure, extreme weather and the impending collapse of civilization are the stark and existential threat for the world to ACT NOW!
Roger Hallam has been the brain behind XR's strategy and is the lightning rod for the group. He has written a book titled – Common Sense for the 21st Century. In the book, Hallam wrote, "We need only a few hundred thousand people to actively break the law and/or support such activities to put us in the ballpark of structural change." The XR group has distanced itself from 'lefty environment messaging' from an early stage.
Dr. Gail Bradbrook rightly puts XR's sole aim, "We refuse to bequeath a dying planet to future generations by failing to act now!" It is individuals like Dr. Gail Bradbrook, who makes the world to think Climate Crisis is real and the world needs to ACT NOW!
Want to Be Successful?
Learn Secrets from People Who Already Made It
Please enter valid Email