Malcolm X Success Story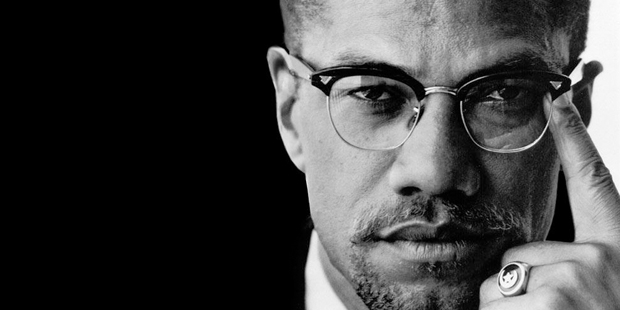 Childhood
Born as Malcolm Little in Omaha, Nebraska, Malcolm X's early life was far from comfortable. The son of a passionate Baptist minister that supported well-known Black Pride figures, his family was a constant target of local racist groups. After moving to a small town in Michigan to escape threats against his family, Malcolm saw his father assaulted and killed by a moving car in his new town
The family's insurance company refused to compensate the family for his death, forcing the Little family into poverty. Malcolm's mother, Louise Norton, rented space in the family's home for a tiny source of income, while the boys took turns hunting local animals for food. After his mother had a nervous breakdown, the family was split up, the Malcolm moving to Boston to live with his sister.
Malcolm X's early life and ambition were driven to extremes by an event that occurred during his high school education. Aspiring to become a lawyer, he shared his dream with the class, only to be shot down by his teacher, who claimed that a 'nigger' couldn't possible become a lawyer. Just a few weeks later, Malcolm left the school and started one of the most prolific self educations in history.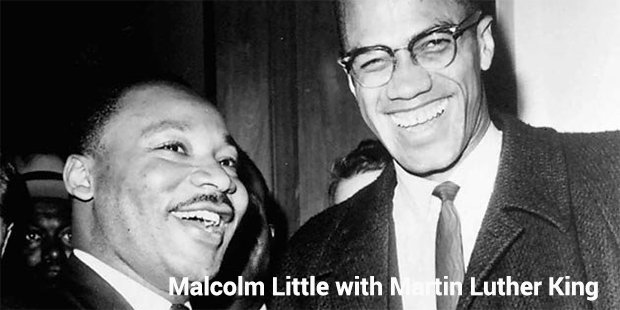 Malcolm Little with Martin Luther King Jr.
Early Life
His residence in Boston came with an incredible new amount of freedom. Instead of being bound to the rules of his family, Malcolm was free to explore the city. He became an early 'hipster,' wearing a flamboyant purple zoot suit and spending big on credit. After realizing the mistakes of his ways, he vowed never to accept credit again from anyone, swearing that debt turned into a form of slavery.
From odd jobs shining shoes to small acts of criminality, Malcolm eventually turned into a prolific thief. He picked locks and broke into homes, using the proceeds to fund his lifestyle. After moving to New York City in the early 1940s, he took part in a major theft campaign against the city's high society, stealing luxurious watches and jewelry and reselling them to cover his expenses.
This criminal activity eventually resulted in incarceration, with Malcolm serving almost ten years behind bars after being convicted of theft. He spent his time in prison turning his life around, with the majority of his day spent reading and teaching himself about the world. During his later career as a civil rights leader, he claimed that he had no formal alma mater 'aside from his books.'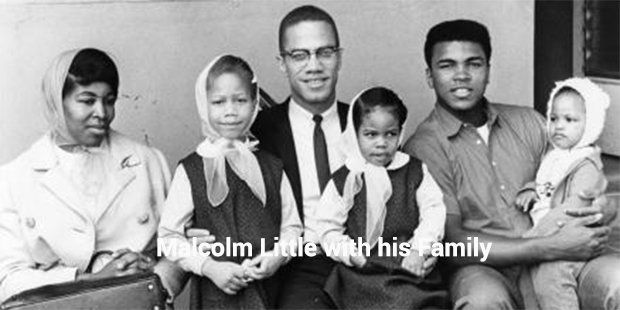 Malcolm's time in prison also resulted in a new religion, and with it a new identity. From Malcolm Little to Malcolm X, he joined the controversial Nation of Islam and identified with its struggle for an America without prejudice against Africans. His militant approach to race relations earned him a great deal of followers, and an even greater amount of enemies in the United States government.
The future belongs to those who prepare for it today - Malcolm Little
On February 21st, 1965, while giving a speech in New York City, Malcolm X was gunned down by a member of the Nation of Islam, the group that Malcolm had split from years earlier. One of the first true leaders of the Civil Rights Movement, he is a perplexing and controversial figure. Some look at him as an enabler of racism and militancy, while others are inspired by his passion and discipline.
Whatever the case, and whatever your views are on Malcolm X, it's tough to deny that he was one of the world's most ambitious figures. A voracious reader, his time behind bars was spent learning, both about himself and about the world as a whole. For self-educators around the world, he serves as a role model, inspiring people to question the value of school and to always educate themselves.
Awards
1994

NAACP Image
1993

MTV Movie
1992

New York Film Critics Circle
Malcolm X Interview at UC Berkeley
Full Name :

Malcolm Little
Born :

19th-May -1925
Birth Place :

Omaha
Nebraska
Education :

West Junior High School Minnetonka
Occupation :
Industry :
Want to Be Successful?
Learn Secrets from People Who Already Made It
Please enter valid Email