America's Next President: Pete BUTTIGIEG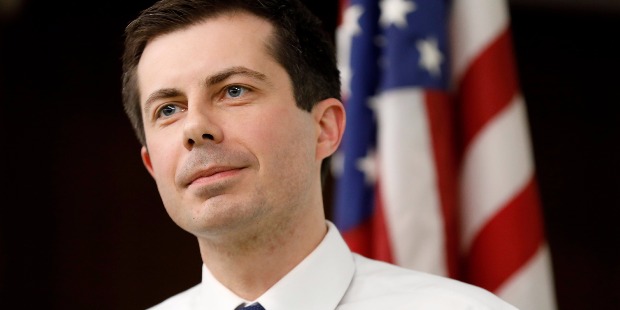 He is young, bold, confident, an able leader, great human being, a devoted Episcopalian and above all, open about his life. Pete Buttigieg has created an amazing wave among the Americans to stand behind him with their strong support for his 2020 Presidential bid. His popularity is stupendous among the Democratic Presidential candidates, in spite of him being the only millennial in the race.
Pete Buttigieg's popularity among the voters has created an immense fear among the Republicans, who are targeting him left, right and centre. From the Vice President to multiple Republicans, Buttigieg's sexual orientation for being gay has become a focal point for the opposition. It is amazing to see, how smartly and intelligently Buttigieg trample his Republicans' opponents with his cool and composed replies.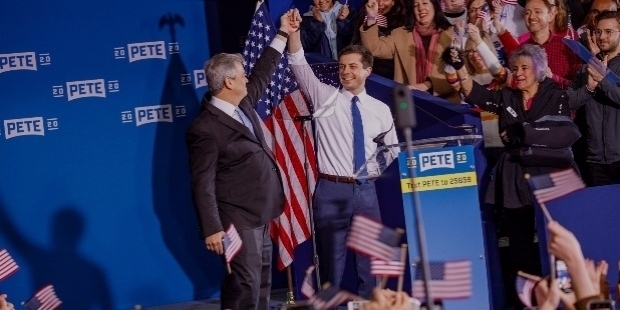 Buttigieg shut Vice President Pence by openly telling his supporters, "How could Pence allow himself to become the cheerleader of the porn star Presidency? Is it that he stopped believing in scripture, when he started believing in Donald Trump?" Pence accused Buttigieg for attacking his Christian faith. Buttigieg gave the Vice President stating, "What Pence doesn't realize is that his quarrel is with my creator. My marriage has moved me closer to God and I wish he respected that. Buttigieg is open about his marriage to his husband Chasten Glezman.
Young Americans are rallying their strong support for the only gay Democratic candidate for Buttigieg's openness and being honest about what he believes in. He shares the platform with his husband Glezman. This open act about his life has shaken the Republicans, who are attacking him day in and day out. Pete Buttigieg has an amazing track record unlike other candidates. Johnny D elucidates the successful journey of Pete Buttigieg.
He is a navy veteran, who served the United States from 2009 t 2017. He travelled across Afghanistan for 7 months as a counterintelligence officer. He is also the Mayor of South Bend, Indiana. He is highly qualified and graduated from Harvard College, majoring in History and Literature. He was awarded a Rhodes' Scholarship. In the year 2007, Pete Buttigieg received a Bachelor of Arts with first-class honors in Philosophy, Politics and Economics from Pembroke College, Oxford.
2020 Presidential BID:
On the Palm Sunday, the 14th of April 2019, South Bend Mayor Pete Buttigieg launched his Presidential campaign and introduced self, "My name is Pete Buttigieg. They call me Mayor Pete. I am a proud son of South Bend, Indiana. And I am running for President of the United States." The crowd cheered him with a sound applause for his announcement.
Buttigieg stated, "I recognize the audacity of doing this as a Midwestern millennial Mayor. More than a little bold at the age of 37 to seek the highest office in the land. But, we live in a moment that compels each of us to act. There's a long way for us to go. Life here is far from perfect. But we have changed our trajectory and shown a path forward for communities like ours. And that's why I'm here today to tell a different story than 'Make America Great Again'.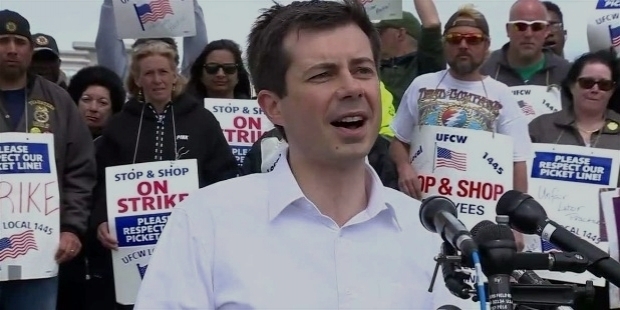 Because, there is a myth being sold to industrial and rural communities: the myth that we can stop the clock and turn it back. It's time to walk away from the politics of the past and toward something totally different. That's why, this time, it's not just about winning an election – it is about winning an era." Before his announcement, Pete Buttigieg was an unknown American around the world. In less than 15 days, he has become the No. 3 candidate in various polls, behind veterans Joe Biden and Bernie Sanders.
Pete Buttigieg is likely to win the 2020 Presidential election against Trump, because he has the knack to take on the Republicans by its horns. Americans may elect their youngest and the first openly LGBT American President in 2020.
Early Life:
Peter Paul Montgomery Buttigieg was born on the 19th of January 1982 in South Bend, Indiana. Father Joseph Buttigieg hails from Hamrun, Malta. He works as a Professor at 'The University of Notre Dame' at South Bend. Mother Jennifer Anne Montgomery also worked as a Professor at 'The University of Notre Dame'. Peter is the only child of the family. He is fondly called as Pete by one and all.
Peter Buttigieg graduated from the St. Joseph High School in South Bend. In the year 2000, he won the first prize for the JFK Profiles in Courage Essay Contest awarded by the John F. Kennedy Library in Boston. A bright student, he has had the opportunity to meet Caroline Kennedy and other members of President Kennedy's family, while accepting the award.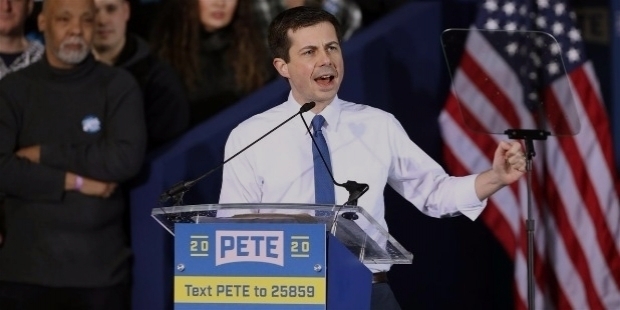 Peter Buttigeig graduated from Harvard College in 2005. He was very popular in the college. He was the President of the Harvard Institute of Politics Student Advisory Committee. His undergraduate thesis was written about the 'Influence of Puritanism on U.S Foreign Policy'. After his graduation, Peter earned his Rhodes' Scholarship. In the year 2007, Peter scored a first class Honours in Philosophy, Politics and Economics from Pembroke College, Oxford.
The Journey of Success:
Pete Buttigieg was bright from his early childhood. His amazing success in life is attributed to his multifaceted individuality. During his teens, he worked as an investigative intern at WMAQ-TV, Chicago's NBC news affiliate. In 2002, he served as an intern for Jill Long Thompson's Congressional campaign. In 2008, Buttigieg served as an adviser to her gubernatorial campaign.
Buttigieg worked as Conference Director for the former U.S Secretary of Defense William Cohen's international strategic consulting firm – The Cohen Group in Washington D.C from 2004 to 2005. He also worked for Senator John Kerry's Presidential campaign in 2004 for several months. Pete worked as a Policy and Research Specialist. Soon after his Oxford degree, he became a Consultant at McKinsey & Company. He worked at the firm from 2007 to 2010.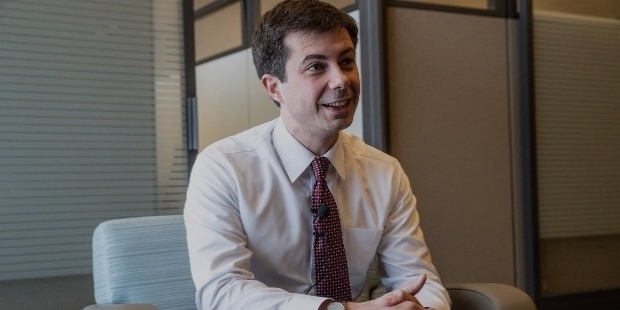 In the year 2009, Pete Buttigieg was commissioned in the Navy Reserve as a Naval Intelligence Officer. In 2014, he was deployed in Afghanistan. He returned to South Bend after completing his 7-month deployment in Afghanistan. Buttigieg remained a Lieutenant in the Naval Reserve till 2017.
In the year 2011, Pete Buttigieg became the Mayor of South Bend at the young age of 29. He became the second-youngest Mayor in South Bend history after Schuyler Colfax III became the Mayor at age of 28 in 1898. He took office in January 2012 to become the 'Youngest Mayor' of a U.S city with less than 100,000 residents.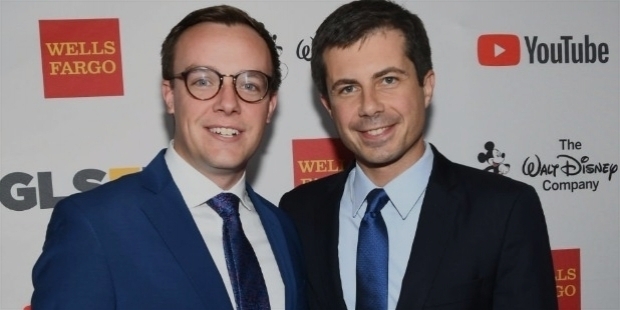 It is interesting to note that Buttigieg has been very successful as the Mayor of South Bend, Indiana. Way back in 2016, a New York Times columnist had raised the question if Buttigieg could be elected as the 'First Gay President of the United States'. The time has really come for Americans to make the 2016 question into a reality in 2020. If a megalomaniac like Trump can become a President, Pete Buttigieg would be a far better President than him.
In November 2015, Pete Buttigieg won the second term as Mayor of South Bend. He won the election with more than 80% vote than his Republican opponent Kelly Jones. Buttigieg became the leading opponent against the 2015 Indiana Senate Bill 101 – the original version of allowing discrimination against the LGBT people. He openly came out being gay and expressed his solidarity.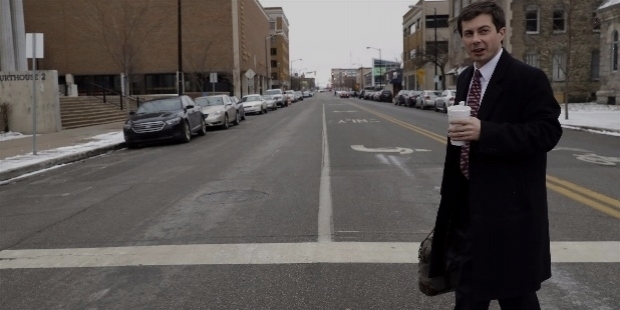 As South Bend Mayor, Pete Buttigieg has been credited for really amazing work during his two terms. He raised private funds of $700,000 to create a nightly laser lighting display along downtown South Bend's St. Joseph River trail as public art. The 'River Lights' installation was unveiled as part of the city's 150th Anniversary celebrations on the 25th of May 2015. In the year 2018, Buttigieg had declared that he won't be running for the third term. Now we know, his plan was to run for the President in 2020.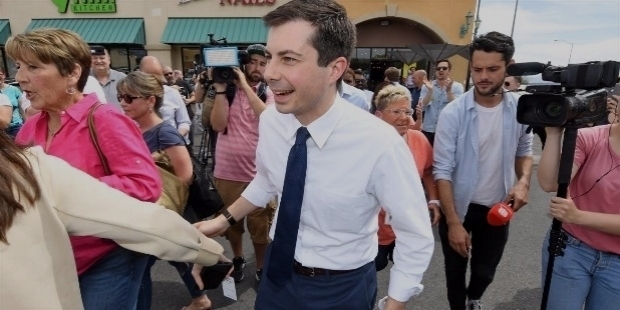 In January 2017, Pete Buttigieg announced his candidacy for 'Chair of the Democratic National Committee in the 2017 Chairmanship election. However, he withdrew from the race on the stipulated day of the election.
Personal Life:
Pete Buttigieg is a devout Christian. He is a member of the Episcopal Church. He is a congregant at the Cathedral of St. James in downtown South Bend. He has been highly religiously influenced by St. Augustine, James Martin, and Garry Wills.
Buttigeig is a superb polyglot, who can speak Spanish, Italian, Maltese, Arabic, Farsi, French, English and Norwegian. He also happened to performed with the South Bend Symphony Orchestra as guest piano soloist in 2013.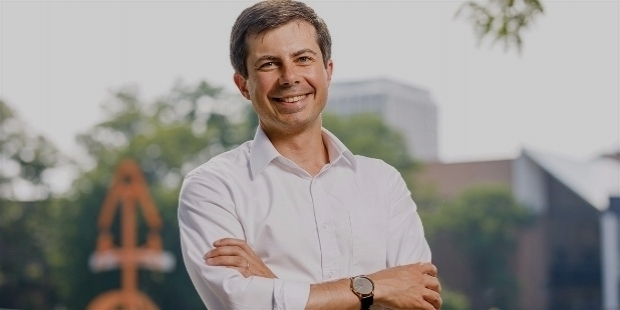 In June 2015, he became the first openly gay Municipal Executive in Indiana, when he wrote an essay in the South Bend Tribune. People love him because of his openness and kind heart. He is a man of true action. In December 2017, Pete Buttigieg announced his engagement with Junior High School teacher Chasten Glezman. The two had met on the dating app 'Hinge' in August 2015. On the 16th of June 2018, they both tied the knot.
Full Name :

Peter Paul Montgomery Buttigieg
Birth Place :

South Bend
Indiana
USA
Occupation :
Industry :
Want to Be Successful?
Learn Secrets from People Who Already Made It
Please enter valid Email