6 Inspirational and Creative Music Videos of Björk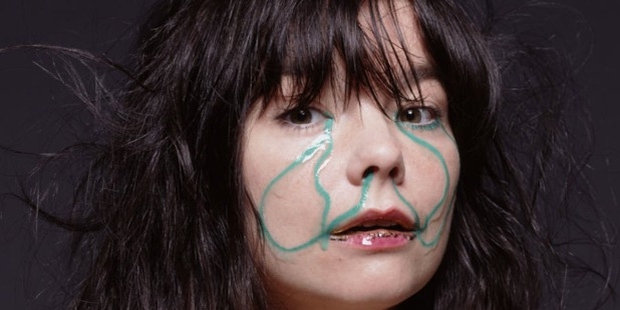 With her incredibly emotive music and lyrics, her well-defined musical compositions and her distinctive vocal pyrotechnics, Icelandic singer-songwriter Björk has left a truly valuable impression in the world of arts and entertainment. She possesses the astonishing capability to travel in between the worlds of the mainstream and the avant-garde. With her prolific body of work that has transcended beyond her recorded albums, Björk has redefined what it means to be an artist in the modern era of music.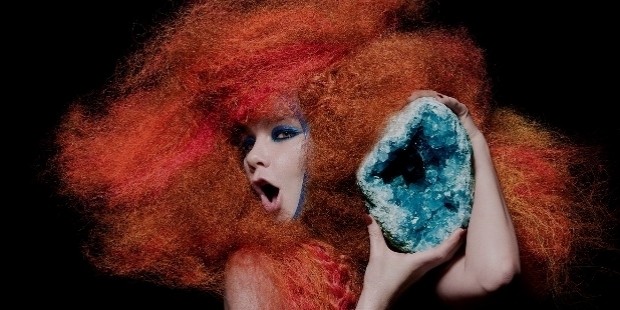 She has also fearlessly explored the endless possibilities of constantly evolving technological advancements, thereby allowing her to produce work that sets her apart from everyone else in the music business. With her proudly Icelandic origins, Björk was able to prove that music with an arctic inclination can possess qualities like vibrancy and passion. Millions of her fans and a large majority of the professional music press consider her as an indomitable force of unlimited creativity and inspiration to the field of arts, as well as being a vanguard artist who marches to the power of her own militant beats.
Most importantly, Björk was way ahead of the curve when she realized the atavistic power of visual demonstration of music to explicitly convey the depth and complexity of her fantastically produced songs. She has made great strides in pushing the format of music videos to their absolute limits by collaborating with the best of innovative film directors and photographers to come up with stunning videos that are akin to modern works of art. Björk remains one of the very few musicians today whose visual aesthetic can never be truly defined since she is constantly creating exciting new microcosms and adding splendid new magnitudes to her music. Here are six stellar examples of the most inspirational and creative music videos that Björk has done in her entire oeuvre.
Hidden Place (from Vespertine)
Directors: Inez Van Lamsweerde & Vinoodh Matadin + M/M Paris
There is something to be said about a music video that continually loops the same effect for the majority of its running time. Past examples of this specific include D'Angelo's "Untitled (How Does It Feel?)" and FKA Twigs' "Water Me", where repetition and emphasis on specific body parts of the artists were the key to the seductive appeal of both of the promotional clips. In the case of Björk, the focus is entirely on her pale, elfin face while the stuttering downtempo electronic beats serve as a fitting soundtrack to the cyclical nature of the clip.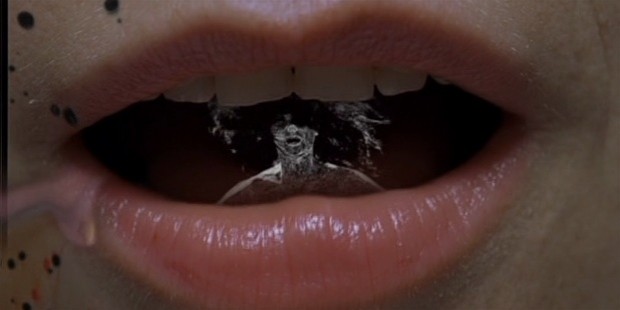 Watch as the camera zooms intimately close as possible upon Björk's visage while it follows multiple trails of colored CGI fluids in varying viscosities that travel all around her key facial orifices. Mesmerizing and minimalistic, "Hidden Place" proves that Björk can still wield her aura of eccentricity even when all she has to do is sit is to sit in front of the camera and do nothing but blink and twitch her lips. Watch the video here.
Triumph of a Heart (from Medúlla)
Director: Spike Jonze
Spike Jonze is no stranger to helming films that border on the absurd but with a dash of believability, as evidenced by past works like Being John Malkovich and Where the Wild Things Are. Jonze's playful touch in "Triumph of a Heart" is evident through several bonkers elements such as the rambunctious and alcohol-fueled beatboxing-and-acapella-singing jam session that Björk and her friends created in a humble Reykjavik pub or the hundreds of animated pink hearts shooting out of Björk's mouth as she sings the song on a lonely Icelandic road at dawn after her chaotic night out on the town.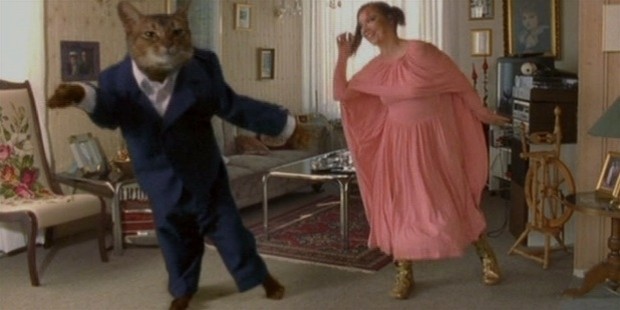 But the real kicker to this strange and entirely out-of-control narrative of the video is all because of Björk's marriage troubles to a household tabby cat, which she reconciles with at the end of the clip with a crazy and synchronized dance sequence. It's certainly a big step up from Jonze's first collaboration with Björk via the surrealist musical world he imagined in "It's Oh So Quiet", and in this video he created during her Medúlla era, Jonze is at the top of his game and showing he can still bring out the best in Björk. Watch the video here.
Big Time Sensuality (from Debut)
Directed: Stéphane Sednaoui
Following her departure from The Sugarcubes in 1992, Björk embarked on a solo career that began with her album Debut back in 1993. From that record, it was the music video of fourth single "Big Time Sensuality" that would put Björk into mainstream pop culture consciousness. Receiving heavy airplay on MTV back when the channel focused more on featuring music videos as opposed to their current scripted programming, the straightforward black-and-white video had a novel idea that would have anointed this piece to major viral status had the internet and the powers of YouTube existed back then.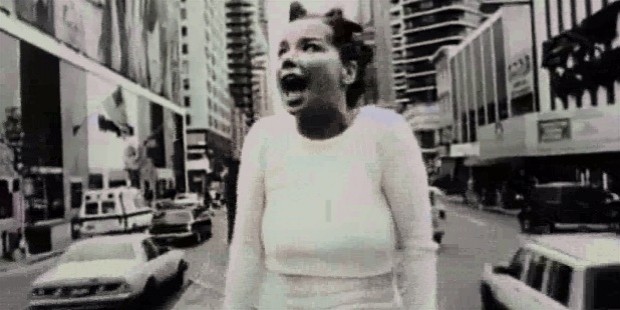 The clip features a jubilant Björk—replete with her then-signature miniature bantu knots on her head—singing and dancing to the song on the back of a flatbed truck as the vehicle slowly navigates the streets of New York City. What has made this video so enduring in her illustrious catalogue of visual statements is its simplicity and execution. The citizens of New York might have paid no heed to this strange woman cavorting with such optimism on the back of a truck, but Bjork carried on regardless because as she accurately sang on the track, "It takes courage to enjoy it." Watch the video here.
Wanderlust (from Volta)
Director: Encyclopedia Pictura
Björk has always embodied a specific character for each of her album releases in order to relay the themes of the record better on a visual standpoint. During her Volta era, she can be seen on the album cover sheathed within a colorful body sculpture against a bright red-orange background. This persona was evident in her 3D music video for "Wanderlust", where she portrayed a stalwart Mongolian sherpa leading a herd of gigantic yaks drifting on a turbulent river nestled within a verdant mountainous landscape.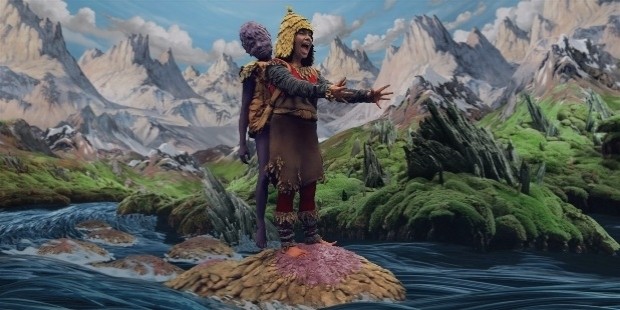 And as if that wasn't weird enough for the average viewer, Björk has to confront a mythological dragon-like deity of water that poses a threat to her journey upriver while simultaneously battling a demonic presence emerging from her backpack where she and the malevolent entity engage in a fight that would make contortionists from Cirque Du Soleil cheer with applause. Stylistically, this was the perfect complement to the song defined by crunching and bombastic beats mashed with a blaring horn section that adds up to a powerful anthem of one's desire to travel. Watch the video here.
Mutual Core (from Biophilia)
Director: Andrew Thomas Huang
Iceland's biggest musical export reached peak levels of multi-disciplinary ambition when she entered her Biophilia era in 2011. Björk concocted a record that took on the themes of nature, music, and technology and supplemented it with a full suite of mobile apps that corresponded to each song on her eighth studio album. Her album was augmented with the creation of brand-new hybrid instruments—such as the gravity harp, Tesla coil, and gameleste—made specifically to create the inimitable sounds on her record and to replicate them during her extensive world tour that followed after the release. This unique experimental approach to recording a concept album sparked the interest of Los Angeles' Museum of Contemporary Art (MoCA), where they commissioned a music video to one of Biophilia's standout tracks entitled "Mutual Core", and the result was nothing short of dazzling.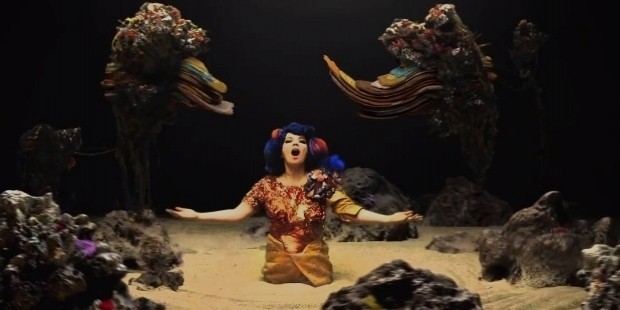 Clad in a blue afro-style wig resembling cotton candy and a golden dress by fashion designer Michael Van Der Ham, Bjork is buried waist-deep in sand while she is surrounded by rocks and boulders that come to shape-shifting life as the song builds to its bass-dropping climax. Where the song talks about shifting tectonic plates in its lyrics, the video does a solid job in capturing the intention of the track through its colorful and volcanic visuals. Watch the video here.
Alarm Call (from Homogenic)
Director: Alexander McQueen
Lady GaGa and Beyoncé might have worn the clothes of Alexander McQueen in their music videos, but only Björk can hold the sole distinction and bragging rights of being the only artist in the world to have tapped the late and great fashion designer in dressing and directing her in a music video. The visionary English couturier incorporated his signature themes of romantic naturalism and primitivism for her lesser-known Homogenic single "Alarm Call" where he sent Björk lying on a raft adrift in a jungle river that may or may not be in the Amazon Rainforest. Looking both untamed and seductive in a custom white McQueen dress of shredded chiffon and lace, the Icelandic chanteuse writhes and twitches onboard the wooden raft as various species of fauna observe her peculiar performance of the track from their animalistic point of view.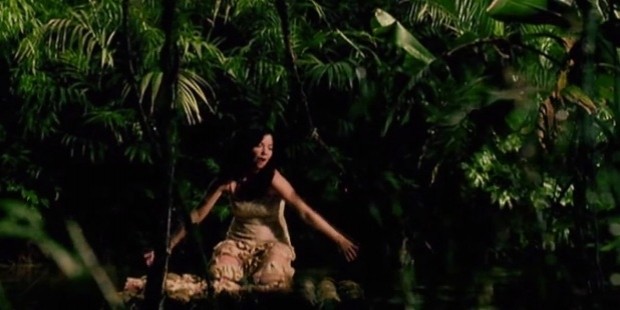 And before pop princess Britney Spears even canoodled with a giant snake onstage at the MTV Video Music Awards, Björk already paved the way for her by fondling a huge boa constrictor slinking its way from between her lace-covered thighs and all the way to her breasts. Judging from the final output and the unexpected plot twist featured at the end of the clip, it's safe to say that Alexander McQueen did his friend justice by creating a video that fused both their creative and visual sensibilities. Watch the video here.
Want to Be Successful?
Learn Secrets from People Who Already Made It
Please enter valid Email