Eurovision Song Contest: Revisiting the Modern Day Winners of the Biggest Music Competition in the World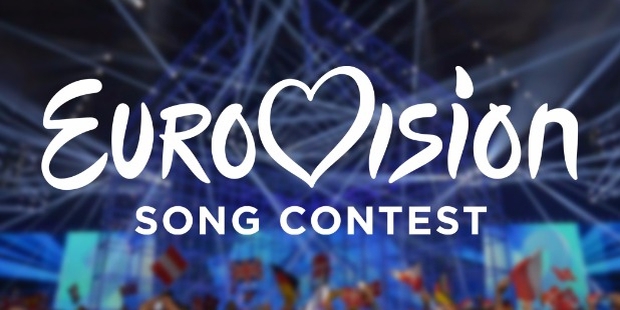 It has long been said that music has the power to unite humanity by transcending language and cultural barriers while simultaneously celebrating the breadth of diversity that society has to offer. This statement holds a significant amount of truth given that people everywhere are quite passionate when it comes to music. In fact, before the advent of popular televised singing competitions such as The Voice or The X Factor, there has been one music contest that has reigned supreme above all others and continues to be a globally beloved event that has—in recent times—crossed over to international mainstream appeal. We are, of course, talking about the Eurovision Song Contest.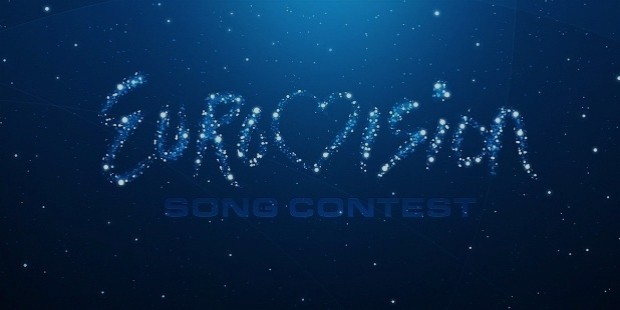 To the uninitiated, here's a brief history of the Eurovision Song Contest (referred to in French as Concours Eurovision de la Chanson and often shortened to its acronym ESC or simply Eurovision): the competition was originally created by the European Broadcasting Union (EBU) as a response to unite the citizens of Europe via a "light entertainment programme" after the devastating effects of World War II during the 1950s and invited several countries who are members of the EBU to compete in a musical contest that was based on the format of the annual Sanremo Music Festival held in Italy. The very first Eurovision Song Contest was held in Lugarno, Switzerland in 1956 and had seven original participating countries consisting of Belgium, France, Germany, Italy, Luxembourg, the Netherlands, and the host country of Switzerland.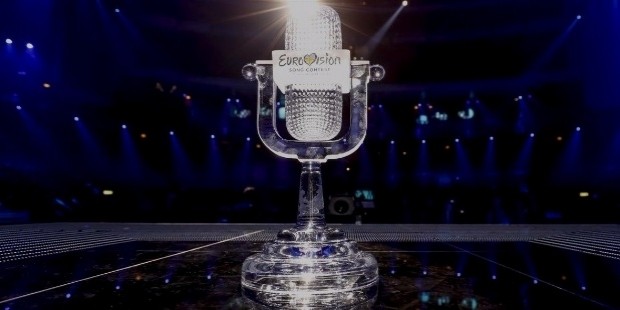 Since the inception of Eurovision, the contest has steadily grown in international participation and musical spectacle over the decades and gradually amassed a strong following within Europe, particularly in its early years. As time passed by, the European Broadcasting Union has frequently amended the contest rules—chief among them song length, language usage in song lyrics, a system of awarding points from professional music jurors and televoting, and a steady membership within the EBU—as more and more countries started showing interest in showcasing their musical output in Eurovision. Because of the evolving nature of Eurovision over the years, the contest has welcomed participating countries that aren't even part of the geographical continental borders of Europe—such as Morocco, Israel, Azerbaijan, and even Australia—since an EBU membership (whether full or associate) and strict adherence to the union's rules are enough to secure a performance slot in the ESC.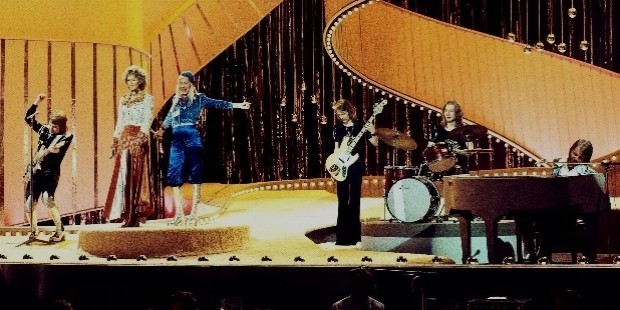 Eurovision has even produced several bonafide international superstars when certain countries sent out artist representatives who have gone on to win the contest. One of the contest's biggest bragging rights includes Swedish pop band ABBA, when they represented their home country of Sweden with their smash hit "Waterloo" (pictured above) and won the 1974 edition held in Brighton, United Kingdom. Their victory in Eurovision was considered by music critics and historians as a significant career breakthrough, since ABBA have gone on to conquer the international music scene and even successfully crossing over to the United States where many of their songs such as "Mamma Mia", "The Winner Takes It All", "Thank You For The Music", and "Dancing Queen" became iconic chart-topping hits.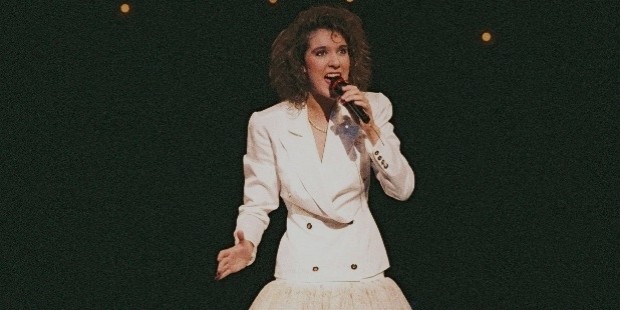 Another famous and highly successful Eurovision alum is Céline Dion, who is technically from Canada but was selected by Switzerland as their representative for the 1988 contest held in Dublin, Ireland. Dion won the contest with her uplifting French-language pop power ballad "Ne Partez Pas Sans Moi" (English: "Don't Leave Without Me"; pictured above) and just narrowly edged out second-placer Scott Fitzgerald representing the United Kingdom with just one single point, which is considered as one of the contest's nail-biting closest finishes. Since Dion's win at Eurovision, her music career took off with meteoric success as she entered the 1990s with her powerful vocal prowess and established herself as an international pop music diva who has dominated both sides of the Atlantic, particularly when she was selected to sing the Academy Award-winning and memorable love theme of Titanic in the form of "My Heart Will Go On".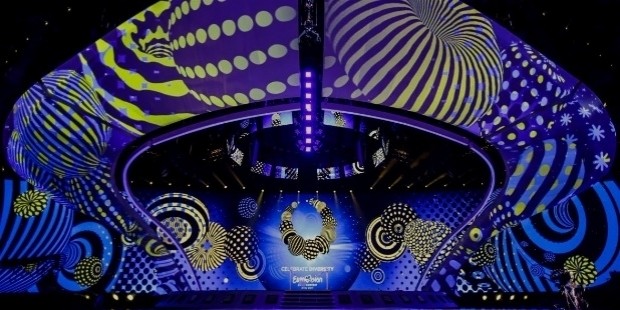 Today, the Eurovision Song Contest has transformed into a highly-anticipated annual event with fans eagerly following the competition from Europe and beyond. It still holds the record for being the longest-running annual internationally televised song competition in the world, and with the advent of the internet and social media, the ESC has also become a beloved topic of discussion from the show's most ardent fans. The contest itself has gained traction in recent years owing to the fact that multiple countries have sent out entries that have embodied the fun and entertaining element, as well as serious and sober entries, that makes Eurovision so endlessly watchable year after year.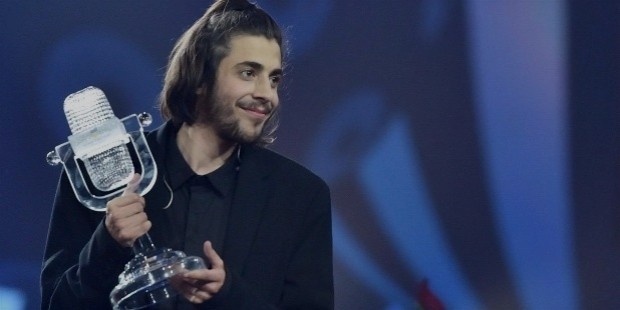 Most recently, the 2017 edition of the contest concluded last May 13 which was hosted in Kyiv, Ukraine and was won by Salvador Sobral (pictured above) who represented Portugal with his timeless bossa nova-tinged ballad entitled "Amar Pelos Dois" (English: "Love For Both"), which currently holds the record for the highest number of amassed points from both the juries and televoters with his song garnering a grand total of 758 points. Salvador Sobral officially joins an illustrious group of modern-day Eurovision winners whose genres have run gamut from Nordic heavy death metal to Eastern European world beat flavors. Featured below are some of Sobral's winning predecessors who have defined and pushed the direction of the Eurovision Song Contest to a brand new era.
"Wild Dances"
Ruslana (Istanbul 2004)
Ukraine is a relatively new entrant to the ESC, having only debuted in 2003. Their newcomer status, however, didn't stop them from winning the whole she-bang (quite literally!) just one year later when they sent out famous Ukrainian pop star Ruslana with her dance track, "Wild Dances" (pictured below). The first of Ukraine's two Eurovision wins, Ruslana wowed the rapturous crowd in Istanbul and TV audiences everywhere when she gave a totally fierce and fiery performance of her song infused with upbeat ethnic elements.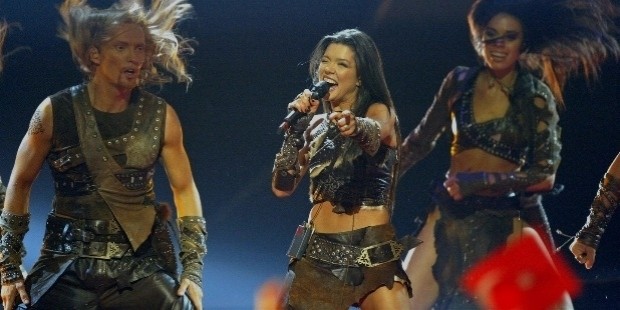 It certainly helped that she was backed by a troupe of equally gorgeous backup dancers and singers—all dressed in sexy leather outfits evoking the "wild" theme of the song—who kept up with Ruslana's energetic pace and didn't even miss a note or a beat during their intense choreography. Furthermore, this was one of the first winning songs of modern Eurovision where the lyrics were bilingual, as Ruslana's song featured both English and Ukrainian verses. Check out Ruslana's winning performance of "Wild Dances" at the grand final of Eurovision here.
"Hard Rock Hallelujah"
Lordi (Athens 2006)
The history of Eurovision has been largely defined by so many pop songs ranging from radio-friendly uptempo tracks to slow and moody ballads. That all changed in 2006 when Finnish heavy death metal rock band Lordi (pictured below) defied all odds and expectations to actually win the contest with their powerful, loud, and unapologetically eye-popping performance of their soaring anthem called "Hard Rock Hallelujah". With blaring electric guitars, pounding drums, and relentless rock-and-roll vocal stylings, it's definitely a refreshing and welcome turning point for a song contest that once handed the win to very timid-sounding ballads of yesteryear.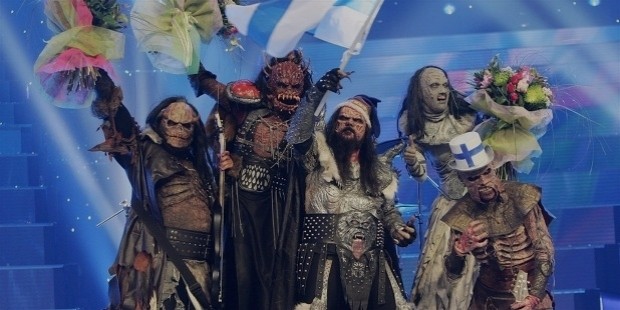 What's even more surprising about this particular entry is the fact that all the members of Lordi look like they could be intimidating foot soldiers from Sauron's scary Orc army in the Lord of the Rings films. Indeed, the band is widely known for dressing up in grotesque head-to-toe monster outfits complete with realistic 3D makeup effects during their public performances. Lordi bravely stormed the Eurovision stage in Athens and practically obliterated the rest of the competition with their over-the-top theatrics that included lots of pyrotechnics and even an impressive costume transformation mid-performance. Check out Lordi's winning performance of "Hard Rock Hallelujah" at the grand final of Eurovision here.
"Molitva"
Marija Serifovic (Helsinki 2007)
Due to the inherently flamboyant nature of Eurovision, it has long attracted queer fans and audiences and the contest itself has openly embraced and welcomed its massive contingent of LGBT viewers. It should be noted that the ESC was a pioneering ally when it crowned Dana International—an openly transgender artist who represented Israel—as the winner of the 1998 edition. Therefore, it was only a matter of time when another queer performer would succeed Dana International as the winner of Eurovision.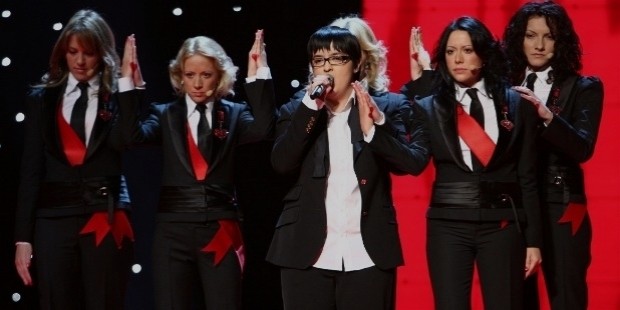 That manifested years later in the 2007 contest with Marija Serifovic (pictured above) and her emotional power ballad called "Molitva" (English: "Prayer"), which was sung entirely in the Serbian language. Although she came out as a lesbian in 2013, there was no denying that Serifovic was a proud member of the LGBT community when she performed her winning song onstage sporting a boyishly short haircut and wearing a tailored suit and was flanked by a phalanx of female backup singers also wearing tuxedos, all exuding fierce lesbian chic. Check out Marija Serifovic's winning performance of "Molitva" at the grand final of Eurovision here.
"Fairytale"
Alexander Rybak (Moscow 2009)
If there's one thing that Eurovision fans love, it's a song that features a powerful instrumental hook aside from great lyrics. And one of the best examples of this well-known Eurovision trope is exemplified in the song "Fairytale" performed by Alexander Rybak (pictured below) who represented Norway in the 2009 contest. Apart from being an accomplished singer, Rybak is also known for being a skilled violinist and he puts his instrumental talents to perfect use when he infused his ESC-winning entry with a catchy and memorable violin hook that pretty much underscored the lyrical story of his song that compares a bittersweet love story to a fairytale.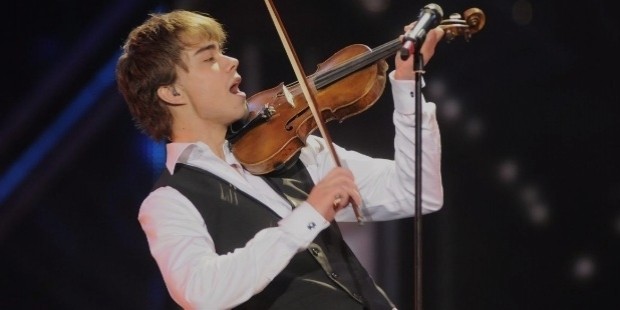 The staging of his song was just as memorable as Rybak both sang and played the violin on the stage in Moscow with lively vigor; moving in sync with the sweeping camera angles and even added just the right amount of Eurovision flair by incorporating two lovely female backup singers dressed in colorful and flowy gowns as well as a trio of male dancers performing incredible feats of acrobatic choreography around Rybak and his backing vocalists. Check out Alexander Rybak's winning performance of "Fairytale" at the grand final of Eurovision here.
"Satellite"
Lena (Oslo 2010)
One of the most curious things about the Eurovision Song Contest is that the massive costs of staging the event itself is largely funded by the contributions of five members of the EBU apart from the host nation: France, Italy, Spain, the United Kingdom, and Germany. Because of their monetary heavy lifting year in and year out, these so-called "Big Five" countries of Eurovision enjoy the rare privilege of automatically qualifying to the grand final of the competition each year and bypassing the semi-final qualifying rounds that the other EBU member nations must go through. Since the inception of this arrangement back in 2000, only one Big Five nation has won the contest since, namely Germany who achieved victory with their representative Lena (pictured below) and her song "Satellite".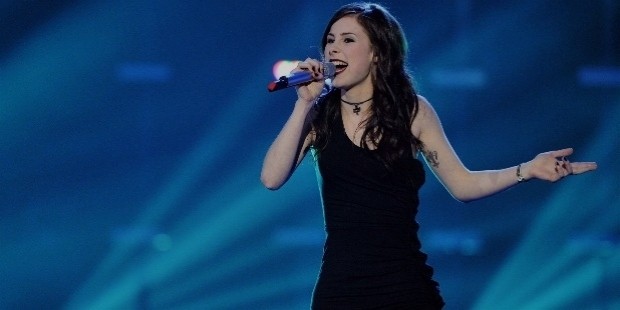 Lena charmed the crowds in Oslo and is a rare example of winning the contest in its modern incarnation without relying heavily on flashy theatrics or cliche staging gimmicks to rightfully earn the votes of the jurors and televoters. The feisty and beautiful German brunette simply danced, shimmied, and sashayed her way to victory bathed in the twinkling blue lights of the stage and clad in nothing but a form-hugging little black dress and the power of her undeniably catchy and radio-friendly pop track. Check out Lena's winning performance of "Satellite" at the grand final of Eurovision here.
"Euphoria"
Loreen (Baku 2012)
Sweden has long been a major power player in the Eurovision Song Contest considering that they've racked up an impressive six wins since they began participating in the competition back in 1958. Although it was only in the modern years of Eurovision that this Nordic country has reasserted its dominance considering that Sweden has had a long and proud history of producing such incredible musical acts from past to present. And in 2012, the Swedes once again notched another deserved mark on the winner's scoreboard when the Eurovision community fell in love with Loreen (pictured below) and her song "Euphoria".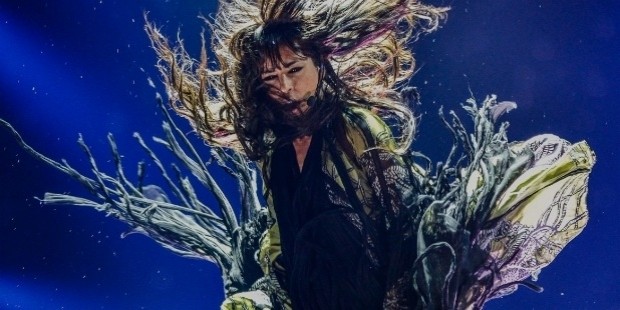 Loreen's success was attributed with a combination of great timing (this was a time when electronic dance music was on the rise) as well as performing a truly euphoric and iconic track (an uplifting number with polished Swedish music production) that it wasn't surprising in the least when Sweden garnered the most votes during the announcement of the points. Despite the bombastic and anthemic nature of the song, Loreen chose to execute a minimalist staging at Baku where she utilized the contrast of lights, shadows, fake snow, and the reliable power of wind machines to give her interpretative dance come to life. Check out Loreen's winning performance of "Euphoria" at the grand final of Eurovision here.
"Only Teardrops"
Emmelie De Forest (Malmö 2013)
Denmark is certainly no stranger to being a multiple Eurovision winner, given that this popular Scandinavian nation has previously won the contest in 1963 and 2000. While the gap between their first and second wins may be huge, it's thankfully much shorter between their second and most recent win back in 2013 when fresh-faced singer-songwriter Emmelie De Forest (pictured below) proudly waved the flag of her home country and won with her anthemic pop ballad entitled "Only Teardrops". And much like Alexander Rybak's beloved entry, De Forest's song utilizes a key instrumental hook that won the hearts and votes of Eurovision fans everywhere when she performed it in the 2013 edition held in Malmö.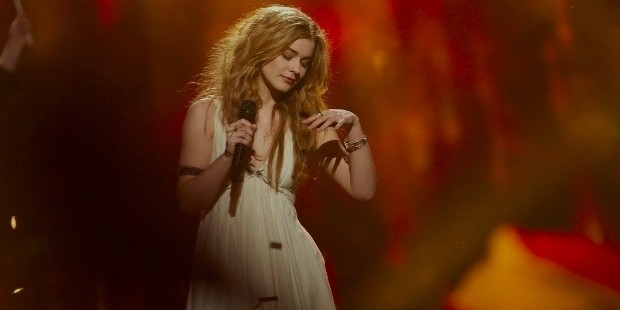 Featuring a distinctive tin whistle melody and a militant percussive drum instrumentation, Emmelie De Forest blends traditional folk elements into a thoroughly modern pop song that simply oozes Eurovision goodness. And though her song carries a towering grandeur, De Forest kept her look simple and earthbound for her staging; opting to perform barefoot while wearing a hippie-inspired white dress that perfectly complemented her wavy golden blonde tresses and natural good looks. Check out Emmelie De Forest's winning performance of "Only Teardrops" at the grand final of Eurovision here.
"Rise Like A Phoenix"
Conchita Wurst (Copenhagen 2014)
Eurovision and the LGBT community has had a friendly and symbiotic relationship given that so many ESC fans happen to be queer audiences and the contest has anointed winners who have identified as transgender (Dana International of Israel) or lesbian (Marija Serifovic of Serbia). Naturally, it was another win for the LGBT fans of Eurovision when both ESC jurors and televoters rallied together to crown not just a gay man as the winner of the 2014 edition hosted in Copenhagen, but a gay man who also happens to perform the winning song as a drag queen. Conchita Wurst (pictured below) reigned supreme and brought victory back to Austria when she slayed the competition thanks to her orchestral power ballad called "Rise Like A Phoenix".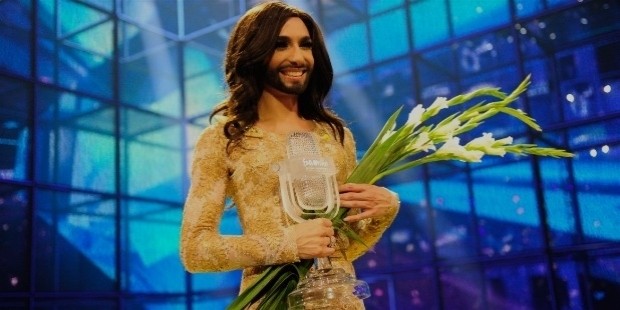 This fierce and flawless drag queen with her signature bearded face and dressed in body-hugging evening gowns battled a barrage of homophobic comments from critics in the lead up to the contest proper, but held her head high and didn't stoop to the low levels of her haters. Instead, Wurst belted out her James Bond-inspired pop song with fierce determination and received an overwhelming amount of support from the Eurovision community and beyond, which ultimately led to her well-deserved victory. Check out Conchita Wurst's winning performance of "Rise Like A Phoenix" at the grand final of Eurovision here.
"Heroes"
Måns Zelmerlöw (Vienna 2015)
One of the surefire recipes for winning Eurovision is submitting the perfect song and presenting it with an incredibly astonishing stage performance. With the contest getting bigger and bigger with each passing year, the EBU members who take Eurovision seriously are known to be quite meticulous when it comes to submitting a song that won't just stand on its own when played on the radio and on various streaming platforms on the internet, but also one that looks really good when performed live on stage. That's exactly what happened when Sweden once again blew everyone else out of the water in the 2015 contest when their representative Måns Zelmerlöw (pictured below) triumphed with his empowering dance track aptly titled as "Heroes".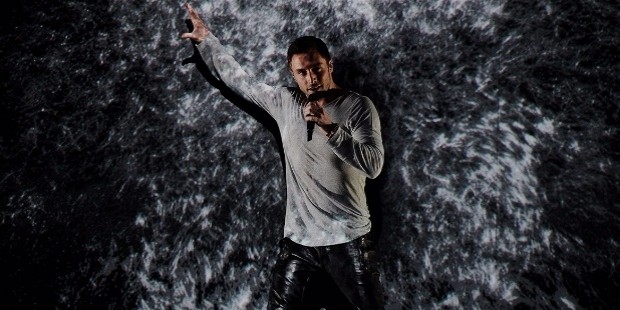 With his smolderingly handsome good looks, charismatic stage presence, and superb vocal abilities, Zelmerlöw came into the contest as a strong fan favorite even before the contest proper took place and bookmakers even placed him highly as the one most likely to win the competition. Indeed, when Zelmerlöw finally revealed his high-tech staging that employed the use of interactive animation and graphics projected on a massive LED screen, there was just simply no denying that Sweden has confidently returned to reclaim their rightful place on the Eurovision throne for that year. Much like "Euphoria" before it, Zelmerlöw's song is considered as one of the beloved winning entries of modern day Eurovision. Check out Måns Zelmerlöw's winning performance of "Heroes" at the grand final of Eurovision here.
"1944"
Jamala (Stockholm 2016)
Sometimes, Eurovision is not afraid to bestow its highest honor to a song that doesn't necessarily come across as an instant radio-friendly hit, but one that succeeds on the strength of its artistry and message. This was the case with Ukraine when they won for the second time in 2016 as their representative Jamala (pictured below) climbed to victory with her genre-defying track called "1944". Aside from the fact that the song is bilingual—sung with English verses and a chorus in Crimean Tatar—this was one of the rare Eurovision entries where the music production and lyrics were composed and penned by the performing artist, and indeed, it's quite the impressive achievement for Jamala, who also happens to possess an impressive vocal range that helped elevate the song to lofty heights.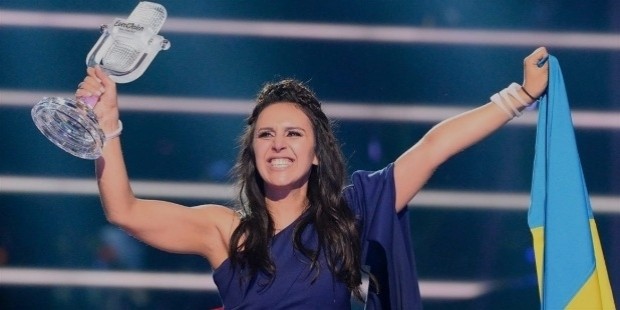 The title of the song is a reference to the period where Jamala's great-grandparents suffered during the war-torn period and is a mournful tribute to the personal losses that her ancestors faced during World War II. The emotionally affecting chorus in particular, which is sung in the Crimean Tatar language, speaks about Jamala's great-grandmother who reflects upon the loss of youth which could not be experienced in her homeland because of the forced deportations she experienced during the war. At once traditional and modern, the song is a perfect distillation of past and present blending together to form a truly futuristic sound that fits well with the illustrious canon of modern day Eurovision winners. Check out Jamala's winning performance of "1944" at the grand final of Eurovision here.
Want to Be Successful?
Learn Secrets from People Who Already Made It
Please enter valid Email