Pema chodron Quotes
Pema Chodron is a teacher at Gampo Abbey- a western Buddhist monastery. Her teachings are truly inspirational. Throughout her teachings, she calls upon all of us to be inclined positively towards accepting peace rather than conflict. Because peace begets happiness and joy. Pema teaches us the truth that if we purify our thoughts we can live a happy and contended life. If our mind or thinking is spoilt it will take us to the world of suffering.
About Life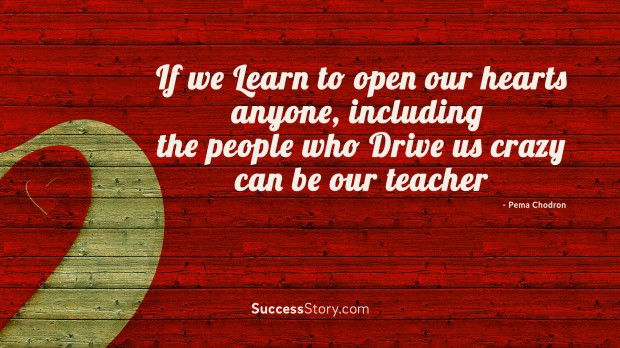 "If We Learn To Open Our Hearts Anyone, Including The People Who Drive Us Crazy Can Be Our Teacher"
Pema Chodron was born as Deirdre Bloomfield in NewYork later came to be known as Pema Chodron. Many of her teachings are reflected in her quotes. The crux of her teachings and quotes is to share with us the secret to lead a delightful life. In one of her quotes she says that to love others, we should first love ourselves. Then only we will be able to understand other's feelings. What could be more inspirational than this? She says you have to purify our heart and soul to learn good things from others. Even our enemies can be a good teacher.
People use anger as a means to justify their actions. It is a way to escape from being blamed for the mistakes we commit. It results in the worsening situation and relationship. What Pema Chodon suggests, is to control our anger by practicing patience. Go to the roots of the problem to find out the cause of anger. Then only you can get rid of the evil called anger in you. This will make you and the people surrounding you happy.
Want to Be Successful?
Learn Secrets from People Who Already Made It
Please enter valid Email