Cassandra Clare Quotes
Judith Rumelt is better known by her pen name Cassandra Clare, is an American author of young adult fiction. As a child, Clare traveled frequently, spending time in Switzerland, England, and France. She felt that the main thing to remember when writing a novel is to stay true to the characters. And write what you love – don't feel pressured to write serious prose if what you like is to be funny.
Healing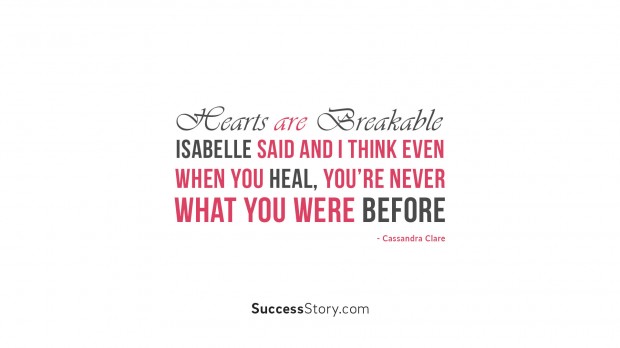 "Hearts Are Breakable Isabelle Said And I Think Even When You Heal, You're Never What You Were Before"
Cassandra said that only the very weak-minded refuse to be influenced by literature and poetry. She further states that people aren't born good or bad. Maybe they're born with tendencies either way, but its the way you live your life that matters. Cassandra also worked to a disciplined schedule which she felt was necessary by working on a word count basis, so that she must write three thousand words a day. She may write them in the morning, or can write them in the evening; as long as they get done.
She intended that there were so many stories about boys becoming heroes, learning their powers and becoming incredibly heroic. There have to be those stories for girls, too. She got lot of her inspiration from research in mythology and folklore. She realized that the stories people told each other thousands of years ago were still relevant now. She works with a realy positive approach while writing and firmly believes that you can't get a good movie without risking a bad movie. A good adaptation of your book is worth it because it is such a wonderful experience to see your world translated onto the screen.
Want to Be Successful?
Learn Secrets from People Who Already Made It
Please enter valid Email